Anderson Varejao was a 21-year-old power forward for FC Barcelona in Spain when he received a phone call from his agent on July 23, 2004. His NBA rights, owned by the Orlando Magic, were included in a trade that sent Varejao, Drew Gooden and Steven Hunter to Cleveland in exchange for Tony Battie and two-second round draft picks. He would enter the NBA for the first time the following season as a member of the Cleveland Cavaliers, playing alongside a veteran center from Lithuaina and a basketball prodigy from Akron.
"I remember when my agent called to tell me I was going to Cleveland," Varejao told SLAM. "The first thing I asked was, How is the city? Of course, I'm Brazilian, I'm playing in Barcelona, and I wanted to know what it was like. He said, 'It is really, really cold' [laughs]. Then he told me about the Rock 'N Roll Hall of Fame, and some of the other buildings downtown. But before I got to Cleveland, Sarunas Jasikevicius also told me about Z. They were friends from growing up in Lithuania. So I knew about the weather, a couple of the buildings, I knew about LeBron, and I also knew about Big Z."
Jasikevicius, a Euroleague legend who played with Varejao in Barcelona, told Zydrunas Ilgauskas that Anderson was a young player worth lending a helpful hand and watchful eye. From the day he first arrived in Cleveland, that's exactly what Ilgauskas offered.
"It was Z who really helped me a lot with everything when I first joined the Cavaliers," Varejao said. "He really tried to take care of me. So I just try to do the same with the younger guys now when they come from overseas, the same things that Z did for me when I got here."
While coming off the bench in 2007, Varejao partnered with Ilguaskas and Gooden to form a trio of underrated bigs who helped LeBron lead Cleveland to the NBA Finals. They were eventually swept by the San Antonio Spurs, but being as close as he was to the ultimate goal has continued to fuel Varejao's championship drive ever since.
"Sometimes I think about it," Varejao admitted, while imagining what it might be like to ultimately deliver a Championship to the city of Cleveland. "I really believe it would be—the city would just stop to celebrate the Championship. I always say it's too early, and we have a lot of work to do. We have to get better as a team, we're learning new things right now. But, you know, sometimes we catch ourselves thinking about, what if we win? It would be amazing. No other place wants to win more than Cleveland. Just thinking about it, I get excited."
Varejao's efficient play has been exciting this season for David Blatt and the new-look Cavs. As the starting center, alongside the Big Three of LeBron James, Kevin Love and Kyrie Irving, Varejao has been extremely effective at both ends of the floor. He currently ranks No. 5 in the NBA in field-goal percentage (.576) and is averaging 10.1 points to go along with 7 rebounds in 26 minutes. But despite production that projects to All-Star caliber numbers over 48 minutes, Varejao's focus remains unchanged.
"I'm just playing off them—I play off LeBron, Kyrie and Kevin Love," Varejao explained. "All I'm doing offensively is just trying to be ready whenever I get the ball. I've been working on my game, working on my jump shot. And then if I have a chance to shoot the ball, I just want to be able to make it—so that's why I'm working on my shot [laughs]. I've actually been in my family room at home and had to explain to my wife why I'm shooting such a high percentage this year. And like I told to her, I'm not sure."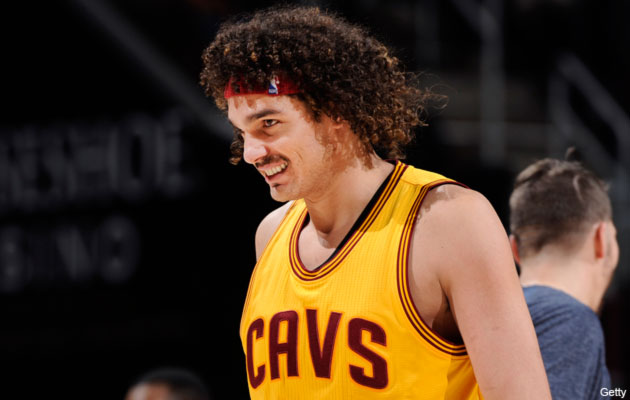 It's that likable personality combined with his on-court passion that's helped make Varejao's bond with Cavs fans last long after his playing days conclude. His signature hairstyle has been passed out in wig form on giveaway nights and his "Wild Thing" nickname is thunderously announced when he steps onto the floor. It's a special bond between player and city that Varejao credits with his ability to succeed at the NBA level.
"When I came to Cleveland, the city helped me a lot," Varejao said. "I didn't speak any English at all when I came to Cleveland. But every time I would step on to the court, I knew I had their support. To be making that transition from Brazil, to Europe, then to the US, that really helped me. They were so great right from the beginning. That's why I'm so grateful for Cleveland, and to the fans. They really supported me from day one. All I try to do is give that back to them by giving everything I have on the court."
Varejao's hard work, leadership and production was rewarded in November by a three-year, $30 million contract extension to remain in Cleveland until 2018—potentially his 13th NBA season. Despite battling a series of injuries, Varejao helped earn that contract by averaging 9.9 points and 10.8 rebounds during the last four seasons. But even while the Cavs made annual trips to the Draft lottery, he never asked for a trade to a contending team during that stretch, despite consistent interest around the League.
"The reason I never asked for a trade or anything is because I always knew we were going to turn things around," Varejao told SLAM. "When you have an organization that wants to win, like we have in Cleveland, they did everything. They tried everything they could to get players here. And it just didn't work out. We didn't make the Playoffs, but I saw that we were trying to get better every year. It wasn't one of those things that like, 'Oh OK, LeBron left, Z left, that whole team that we had that went to the Finals, they left,' and then nobody cares anymore. It just wasn't like that.
"We were trying to get better. We were trying to do things the right way. Nothing really changed from when we had LeBron there during those last four years. I'm talking about treatment from the owners, to the organization, to the players. We had everything the same way. On the road, in Cleveland, the practice facility, the food, everything that we had, it was all great. The goal of winning never changed. That's why I never asked for a trade."
Part of the reason Varejao was never traded is also because he still adds significant value to the Cavaliers roster. While shooting a career high from the field, he has continued to make a significant impact on the glass alongside Kevin Love and Tristan Thompson. But it's also his ability to shoot, pass and dribble effectively at nearly 7-feet tall—after previously being considered a hustle, energy big exclusively—that's been critical to the Cavs recent run of success.
"During your career in the NBA, you become more comfortable," Varejao explained. "You get to know all the players a little bit more. You get to develop your game. For me, I feel like I had those aspects of my game already, but I never had the chance to really do it on the floor. It's just different. Everything that I play for, the most important thing to me is just to be an important part of why we're winning. I don't really care about the other stuff. If I have the chance to show other things, I'll be ready for it. But everything that I play for, I try to do what the coach wants me to do and focus on the things that are most important for helping us win."
One of the most important things Varejao now does for his team is lead. Back when they went to the Finals together, Andy was only 24 and LeBron was 22. Even with all that's happened since, though, not much has changed for the now 32-year-old Varejao and nearly 30-year-old James in their seventh season together as teammates.
"Nothing changed," Varejao said, of his relationship with LeBron. "I told him after the first week at practice that it felt like he never left. It takes you right back to the way it was. So yeah, it's the same way now as always, now that he's back. As far as leadership, a lot of what I try to talk with the younger guys about now is a lot of game situations. Or it could be how to approach a game, how to talk to a referee, or how to conduct an interview. Even if you don't want to be a leader, you catch yourself being a leader because you know so much about the game based on all the situations you've been through."
The situation the Cavaliers have been through lately began with a 5-7 start. Following a win over the Toronto Raptors, however, the Cavs have now won eight-straight to push their overall mark to 13-7. The turnaround is something Andy expected, even if it may have taken longer than some had hoped.
"We knew we had to do something different when we lost a couple games in a row," Varejao said of the Cavs' early season struggles. "I believe our defense is a lot better right now, our offense is better too. We're getting better as a team. We're getting to know better what to do on offense as well as on defense. We knew it was going to take some time, and we had to be patient. We are learning how to play with each other and everything, and we only have five players back from last year. We have a new coaching staff, a lot of new players. It does take time, but I really believe we're on the right track right now."
Varejao is also on an individual track that may very well end with his jersey being retired by the Cavaliers someday. But even after watching Cleveland celebrate the guy he first learned about in Barcelona, when Z's jersey was raised to the Quicken Loans rafters last season, that's not anything Andy's trying to think about.
"I actually never thought about it," Varejao said, when asked about the possibility of his No. 17 being eventually retired by the Cavs. "I've had people telling me that I would be the next. But that's something that I don't really think about. I'm still playing right now, and I'm only focused on winning."