SLAM 214—featuring Boogie and AD, plus a lot more—is officially on sale the first week of February, but we couldn't wait to show off our latest cover designed by the legendary Pen & Pixel. We have a ton of dope stories, videos and photos coming soon, but for now, enjoy our cover and cover story on the NBA's most dominant frontcourt. 
***
It's early January, which means the NFL playoffs are in full swing, and the buzz floating through the Ochsner Sports Performance Center in New Orleans is all about the Saints. Team staffers are gearing up for Sunday's Divisional Round matchup with the Vikings. It's the only thing anyone is talking about.
After a light practice, a monstrous player with bulging, tattooed arms and a frame wide enough to make you wonder how he even fit through the door walks out in full uniform. He looks like he'd be a savage of a defensive lineman, or play tight end better than Rob Gronkowski. A few minutes after his arrival, in walks another player. This dude has the build of an all-time wide receiver freak like Randy Moss—only six inches taller.
But we aren't even in the football facility. Adjacent to the Saints' practice fields here at Ochsner are the hardwood practice courts that DeMarcus Cousins, Anthony Davis and the New Orleans Pelicans call home. It's here, inside these walls, where the two aforementioned Monstars lock horns in scrimmages, games that often get so physical that, honestly, they may as well be on the football field.
"The practices we do go against each other, it's very intense," Cousins, 27, says of his behind-the-scenes battles with the 24-year-old Davis. "It's usually our best practices, because we try to bring out the best in each other. We already had a lowkey rivalry before we were teammates, just being brought up as the best two bigs, Kentucky, all of that. And the rivalry sort of creeps back out in the practices—they're very competitive."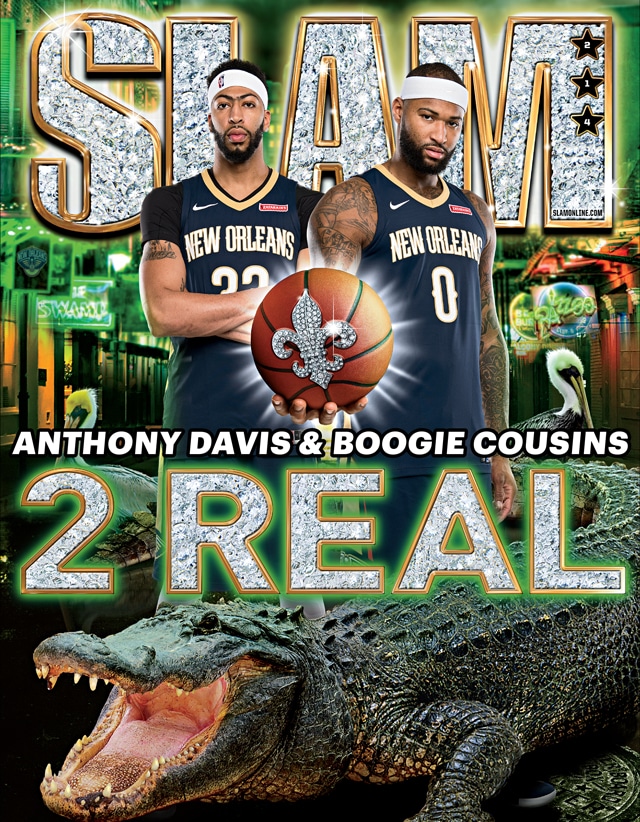 Veteran Tony Allen—who has seen plenty of battles during his lengthy career—says he's witnessed it in practice plenty of times. "To see two of the top premier bigs go at it pay-per-view style in practice, it's fun to watch. But most importantly it makes them better, when they're playing against other guys who aren't as talented as them. It pushes them to be great," says the Pels' old head, who compares Davis and Cousins to Tim Duncan and David Robinson of the Spurs—only with a hell of a lot more shit talking. "I like when they jawing at each other," TA adds. "The trash talk is at an all-time high when they play against each other. I approve."
With Davis averaging 26.7 points and 10.5 rebounds per game and Boogie's numbers at 25.6 and 12.9 (both players are top-10 in the NBA in each of those categories) as we went to press, the modern-day Twin Towers had the Pelicans sitting in the 6-spot in the Western Conference (25-21) at press time. They are the only teammates in the history of the game to both average 25 points and 10 rebounds a night. Halfway through the 2017-18 season, Cousins already has 12 games with 20-plus points and 15-plus rebounds, and Davis has eight such performances. Charlotte's Dwight Howard is the next closest on that list, having done it six times this year. Davis is even shooting a career-high 36 percent from three-point range, same as Boogie. Oh, and they're both averaging career-highs in assists, too. Good luck trying to stop a pick-and-roll involving these guys together. In an era when small-ball is all the rage, New Orleans has something no other team does: two big men who are flat-out better than most guards, even at doing guard things.
Future's "Solo" plays from a laptop as Davis (a five-time All-Star) and Cousins (a four-time All-Star) pose for photos sitting in the bleachers facing the near court of the practice facility. For a brief moment they look like your average kids at an AAU tournament waiting on their next game, joking and flipping basketballs in the air—just supersized. Their long frames unfold over four or five rows of benches. Their attention quickly turns to the far court, where Allen is running sprints, working his way back from a fractured left fibula. Today happens to be The Grindfather's 36th birthday, and Boogie and The Brow are letting him have it.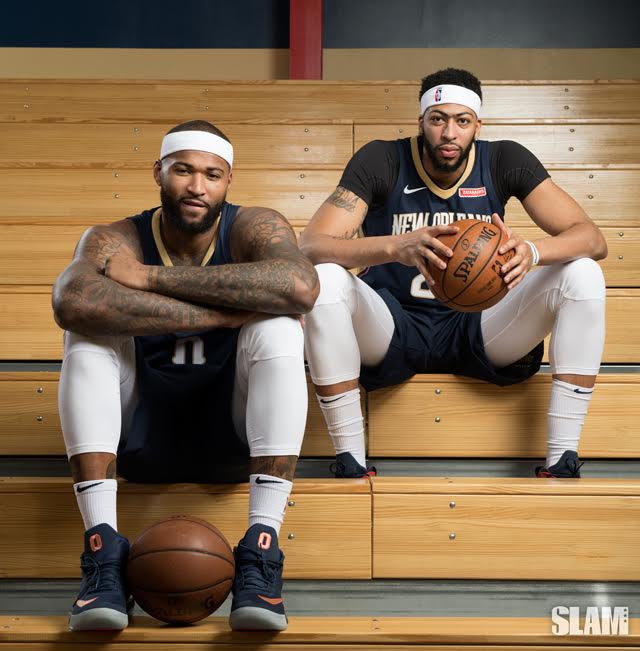 "Hey, TA, go sit down!" yells Davis.
"How old you turn today?!" Cousins laughs.
Around these two, there is never a dull moment. Darius Miller, who played one year each with Cousins (2009-10) and Davis (2011-12) during his career at the University of Kentucky and is now teammates with both of them in NOLA, confirms that both former 'Cats are the same fun, goofy dudes they were in college. "They haven't changed," Miller insists.
The pair's playful spirit manifests itself in constant bickering. Like an old married couple, they argue about everything. Who's taller? Who eats more? Whose Kentucky team was better? Which one is Batman and which one is Robin? ("Two Batmans," they finally agree.) But ever since the stunning All-Star Weekend deal last year that sent Boogie to the Big Easy, it's been all love between the two.
Neither can believe it's already been a year since that crazy-ass weekend. Davis won the All-Star Game MVP in his home arena, and after the game all hell broke loose on #BasketballTwitter (OK, and in real life, too) when the Kings traded Cousins to New Orleans for a package of players and picks. At the time, it was an unceremonious breakup for Boogie, who felt betrayed after Kings management went out of its way to publicly promise he'd stay in Sacramento. After all, he'd remained loyal despite never having the pieces around him to win more than 33 games in any of his six previous seasons in Sac. Now, though, that's all in the rearview.
***
SLAM: What do you remember about All-Star Weekend last year, when the trade was finalized?
AD: When I found out, I went immediately to our GM's [Dell Demps] office in the arena downtown, and I was like, Is this true? So then I texted Cuz, like, "Are you still in the arena?" He was like, "I just left. But it's crazy…TEAMMATE." He ended up coming back a few days later, and it was all surreal. Like, he's really on my team.
DC: It was rough. It was tough to deal with. That's supposed to be a weekend of celebration and relaxation, but it was the opposite for me. I wouldn't wish that situation on anybody. But that's the nature of this business. That's the nature of the beast. I think everything happens for a reason. There's a reason I was sent here. I'm the type of guy that tries to make the most of any situation I'm put in.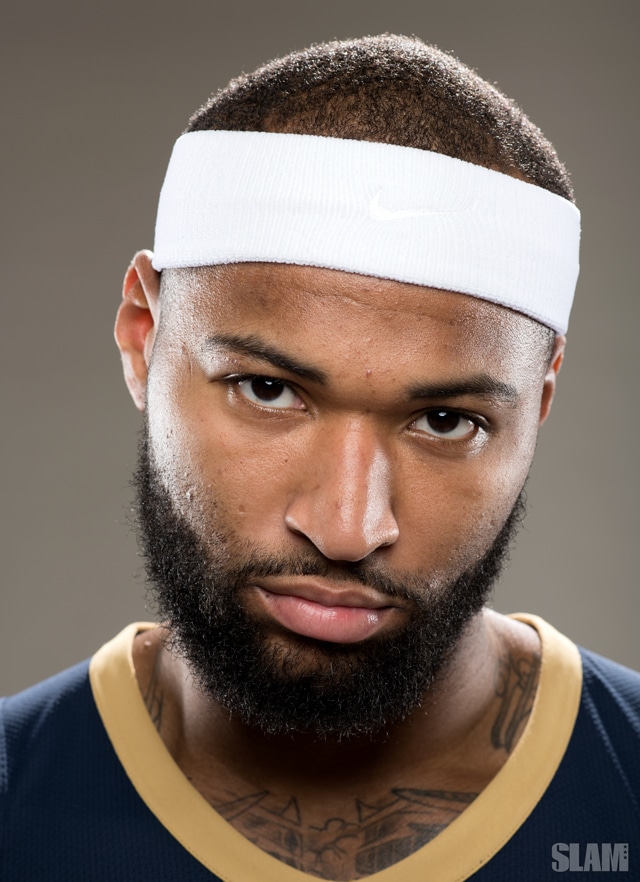 SLAM: The way things went down—in terms of your departure from Sacramento—didn't sit well with you. How long did it take before you were able to put those feelings behind you completely?
DC: After I got a couple games under my belt, I was OK. Like, I'm back playing basketball. To say I was completely fine and it was out of my mind? No. And part of that is due to the storyline that everybody wanted. To me, it was over. It was time to move on. But to the outside world, they weren't ready to let it go. Because of course they wanted the story. It took a while, it did. Time has flown by. I've gotten accustomed to the changes, to New Orleans, to my teammates. It's a normalcy for me now. Last year it was kind of awkward walking into the building all the time.
SLAM: What was your guys' friendship like prior to the trade?
DC: Me and him were cool before this. That was the bro before this. Our relationship hasn't done anything but grow since. He made this transition easier for me. The coaching staff, Dell [Demps], they all made this transition easier for me—as easy as possible. They understand it was a tough time, a rough transition.
AD: I'd see him, we'd compete on the floor, during the offseason we'd meet up somewhere. All that. I had his number. It's been fun so far getting to know him better on the floor—I know him well off the floor, but getting to know him on the floor—spending this time and sharing this experience with him.
SLAM: What's the hardest thing about guarding one another?
AD: The hardest thing about checking DeMarcus is that he's versatile. He can score on the block, he can score from three, he can take you one-on-one isolation. So trying to guard different actions, especially when we're scrimmaging, you just don't know what he's going to do. He shoots the ball so well, but when you close out on him, he's able to drive by you and get a layup or a dunk, so that's the toughest thing. It helps us, for the simple fact that when we're in a game and we're guarding someone with his skill set, it's easier to defend.
DC: The hardest thing about guarding AD? I would say it's him in 2-on-2 action. When he's in a pick and roll situation, if he's popping or he's rolling to the rim, it's damn near impossible to guard, with his shooting ability and his ability to put it on the floor. And I don't think there's a big in the League that's able to jump with him, so it's kind of a lose-lose situation.
SLAM: What one skill would you take from each other's game, if you could steal something?
DC: I'm taking his athleticism, all day.
AD: What I'd take from DeMarcus' game is his passing. He's a tremendous passer, sees the floor very well for a big.
SLAM: What's something about DeMarcus that you've learned, that media and fans don't know?
AD: He's soft, man—he's a teddy bear, honestly. Of course he gets this rep about being a certain type of guy, but honestly he's really not like that. Off the floor he's one of the coolest guys I've ever been around. He gets perceived as this angry type of guy. You really just gotta know him to know him, honestly. You just can't go off what the media tries to perceive him to be.
DC: [AD is] that guy that they try to make me out to be! [Everyone laughs.]
AD: The roles are really reversed, honestly.
DC: He's the meanest guy you'll ever meet. He's grouchy every morning.
AD: Everybody says I play too much.
DC: He plays all day. He's a big kid.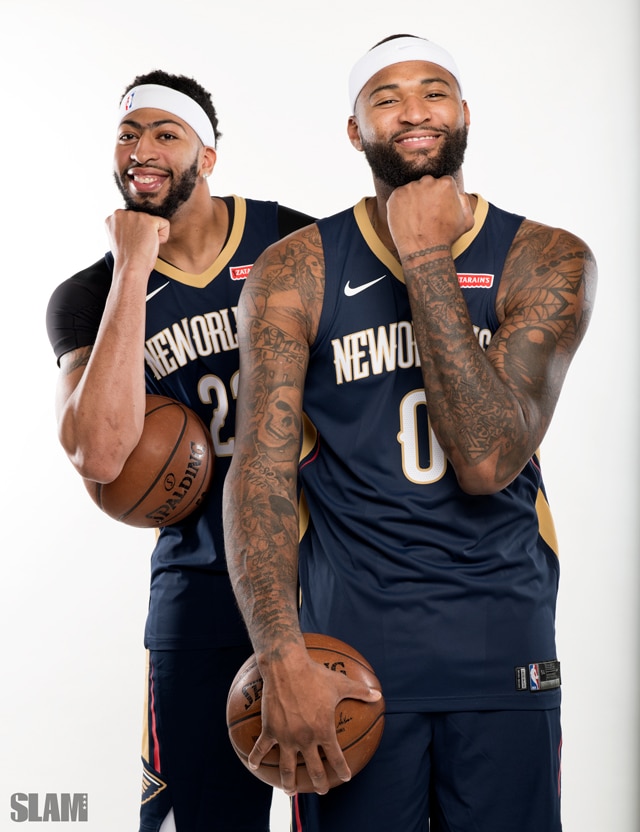 ***
The night after our shoot, New Orleans beats Portland 119-113 at home. AD goes for 36 points, 9 boards, 2 assists and 2 blocks, while DeMarcus puts up 24 points, 19 rebounds, 8 dimes and 2 blocks. Light work. Two days later at Madison Square Garden—with much of the city of New Orleans focused instead on that Saints playoff game—the Pelicans pull out a 123-118 OT win over the Knicks off the strength of 48 points, 17 boards, 4 steals and 3 blocks from AD. Meanwhile, Pelicans TV play-by-play man Joel Meyers mentions something about Cousins "just not having it today from the field." And though he's right (4 for 16), Boogie still finishes with a ridiculous 15-point, 16-rebound, 7-steal, 5-assist, 3-block stat line. How's that for an "off" night?
Most recently, DMC hung 44 points, 24 rebounds, 10 assists, 4 steals and a block on the Bulls in double-OT, a performance the likes of which only he, Elgin Baylor, Oscar Robertson, Kareem Abdul-Jabbar and Wilt Chamberlain can lay claim to.
And that's what makes this duo the most underappreciated tandem in the sport right now. On some Batman-and-Batman-type shit.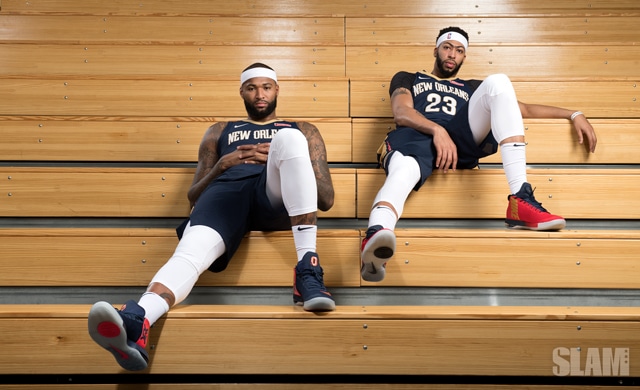 "It's fun," Cousins says of suiting up next to a fellow top-10 player every single night. "It's a pleasure to know I got one of the most talented players in the world as my teammate. It's not every day you get a chance to play with a talent like that. I'm grateful for it, and I'm sure he feels the same way. We've both been in situations where we've been the guy on our team, and we go out and score 30 every night and go home with Ls. We're past that part in our careers. We see the bigger picture, we want the bigger picture, which is a chance at winning a championship. We're putting in the work every day, putting in the sacrifices to make it work. I think we're growing and getting better every day. And eventually, things will click."
—
Abe Schwadron is the Managing Editor at numberFire and a former Senior Editor at SLAM. Follow him on Twitter @abe_squad.

Additional reporting by Yaron Weitzman
Cover design by Pen & Pixel Graphics
Portraits by Rayon Richards
—
SLAM 214 is on sale in early February. More coming soon!