Growing up in New York City teaches you the importance of family. Not just mother and brother family, or even uncle and cousin family. Nah, it teaches you about the family on your block and in your neighborhood. Because growing up in New York City isn't easy.
See, the thing that nobody who's from here wants to admit, but we all know, is that we're all crazy. We're crazy for living this way, on top of each other, people all around.
And because there are so many sounds, people and moments packed into one day, New Yorkers are forever bonded together into one frantic Cup of Noodles, with a whole bunch of different flavors that only we know the taste of.
Anthony Mason is family for me. We both come from Queens. We both love basketball. And that's where our similarities end. But that's completely fine, because for me, and the rest of Queens and New York City, Anthony Mason is family. He represented everything we were raised to believe.
But this isn't my story. Or even Mase's story. This story belongs to Mase's son, Anthony Jr.
Anthony Jr is Mase's oldest son. He's 29 now, and has stopped playing professional ball, turning his attention to helping youth realize how important it is to be more than just an athlete. And he's of course keeping his father's name alive. Family.
"It's about your family," Mase says. "It's all about what you're gonna leave behind for those that are around you."
We're sitting outside his father's favorite barbershop, Cutty's Hair Studio, in Jamaica, Queens, when he says that. Before we park ourselves on the sidewalk, Mase introduces me to his uncle and daps up everyone sitting in the shop. The walls are lined with Knicks, Hornets and Heat jerseys. Pictures and newspaper clippings of one Queens' most influential men are everywhere. It's all love in there, family roots running just as deep as the F Train beneath us.
Anthony Jr just hung up his sneakers last year. He carved out a nice pro career, earning a training camp spot with LeBron's 2010 Miami team, making stops overseas in Cypres, Venezuela and Italy. He also averaged 15 points, 5 rebounds and 3 assists in three seasons for the Sioux Falls Skyforce. With a big smile he says he's still got people out in South Dakota.
These days Mase is living full time in Queens. He grew up in Memphis with his mother, coming back up to New York on the regular to spend time with his father. Then when he committed to play for St. John's, he was just 20 minutes from where his father grew up.
After four years at St. John's, Junior's game was similar to Senior's. They both came at you in waves, punishing you for even trying to compete against them. They were on-court bullies. And while Senior was a relentless force who made plays for others, Junior became a relentless force who made the rim his personal punching bag.
Off the court, though, the Masons couldn't be nicer. The first time I met both of them was 2007, at Senior's basketball camp in upstate New York when they both came up on the last day of camp. Senior chopped it up with every single camper and counselor who was there, putting on dribbling and shooting exhibitions. His handle was too tough.
He didn't think I was from Queens when I was introduced to him. Then he saw me pass and dribble a few times and he quickly corrected himself, patted me on the head and with a big, full laugh, said, "You a good passer, my man." Damn. Family.
Family is on Anthony Jr's mind every day. He feels the need to provide for the community that his father grew up in and the one that helped to shape him.
"You should give back to your community that you grew up in," Mase says. "It flourishes the community, the people around it, it flourishes your environment. It's too many stories of, 'I'm the only one from my town.' Why? Like, why? If you is, go back. More of us need to go back, see what's up."
But Mase is doing more than just seeing what's up. He and business partner Vance Toure have started Family on Three, a youth enrichment program designed to show inner city kids that there's more to life than just sports.
On the weekends, Mase, Toure and whoever else they pick up, (DJs, entertainers, former ball players) take a group of 30-40 kids and teach them about financial literacy, health and nutrition, resume building and of course, basketball. They break the day up by splitting the class up, sending some of the kids to the court and some of the kids to study hall, a lesson Mase learned during his time at St. John's.
"You get your brain fixed on 'I gotta go to class and I gotta get this court work in.' [St. John's] always teaches us both off the court and on the court, you gotta be prepared," Mase says.
Family on Three started in November 2015, when Toure brought a few quiet, shy kids to talk to Mase about life and sports.
"When he brought them over there I was interacting with them, they were so…"
Mase's eyes get big and his shoulders get higher. He shows how animated they got. He did for them what his father did for me.
"He was like, 'Bro, you gotta do something that's catered to us speaking to these kids!' That's how we really got it."
And of course, Anthony Jr is doing all of this with Anthony Sr heavily on his mind.
"It's in honor of my father. If you know about his career, he's an on and off the court type of guy too.
"It's the only thing to do," Mase continues. "Why wouldn't I be doing something to honor my pops? If I wasn't, you know how quick stuff passes. How great this man was, it doesn't matter. The thing about my pops, he's a real iconic figure for New York. It's a responsibility because of who he was. He's bigger in New York than a lot of people."
It goes back to family. Mase says Patrick Ewing and Charles Oakley still keep in touch. And John Starks gave the initial start-up donation for Family on Three and still shows much love for the foundation.
"Out of all them stars, he was the hometown kid," Mase says. "He was the one that grew up in your backyard."
Junior has gone back to that backyard to honor Senior as much as he can. It started with the renaming of the court at Springfield High School, where Senior made a name for himself. After Mase Court, Junior worked closely with the Senator's and Councilmen's office to get the city to name 147th street and Rockaway Boulevard, Anthony Mason Way.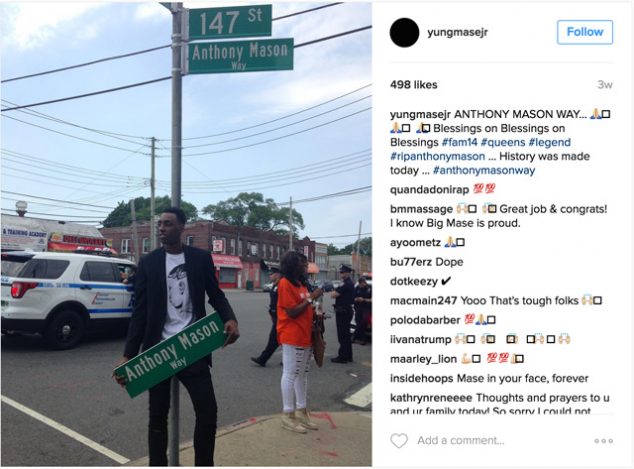 "People feel like that man was family in New York," Mase says. Facts. "He's the heart and soul of the New York Knicks at the best time when they were the New York Knicks." Facts. "Other than the original greats, Anthony Mason was that for the Knicks.
"He was ahead of his time. He was too live. If there was social media when my pops was in the NBA? Oh my God. It would've been over. His haircuts? He was in rap videos. He was doing movies."
Anthony Jr. knows he's ahead of his time with Family on Three.
"You don't wait 'til you 39," Mase says. "Don't wait 'til you're an old head, retired. Start now when you still relate to your community. Kids can relate and listen to what I got to say. When kids look at older people, they see authority. They kinda shy away. Whereas, when they look at me, they feel like I'm one of them."
That trust is what's driving Yung Mase to eventually expand into more schools and open up his own facility with a big-ass "Family on Three: Business, Arts and Athletics" sign on the outside.
"You gotta teach them that balance," Mase says. "If you move a kid and expose him to more than just one thing, the things that come along with, then you'll be able to take more advantage of what's going on. Like what Jay Z said, 'You're not a business, you're a business man.'"
Mase has a whole bunch planned for the future, including a radio show, a tournament at O'Connell Park in Queens (!) and more expansion for Family on Three. His passion for creativity and storytelling is bleeding over into Family on Three. He's using his commutations degree (he studied film production and writing at SJU) to help kids create something bigger than themselves. He's building a family that includes all of New York.
"My pops was always talking about family," Mase says.
Family.
Mase and I are walking along Parsons Boulevard, just talking about nothing and everything. It's been damn near 10 years since I met him for a split-second in upstate New York. But it doesn't feel like that. It feels like we've been talking to each other all throughout those years. Family.
Mase is pretty much a carbon copy of his father. His face and height, his droopy eyes that are just waiting to come to life when the moment's right. His people-first attitude, the ease of talking to him. The only thing that's different is Junior's slight southern drawl. Words ooze out for him. They jumped out for Senior.
One of the final things Mase says before I put the recorder away is striking. It would make his father proud.
"Be you," he says. "You might miss out on something that you could be really good at. You never know. You just never know."
160