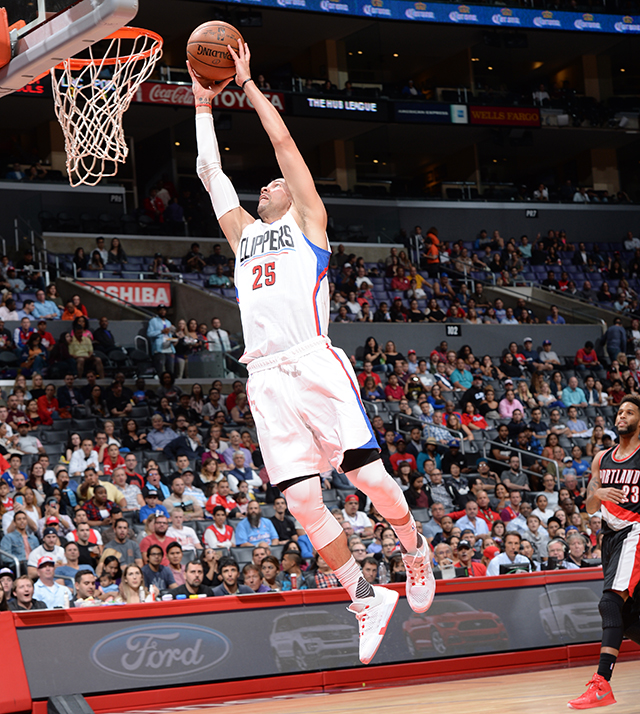 When your dad plays in the NBA, you're going to grow up surrounded by the game of basketball. Ditto for those with a father who coaches in the NBA, naturally. So if you're Austin Rivers, whose pops accomplished both before his son turned 8 years old, you're more than likely going to wind up playing ball—and you're probably going to wind up being pretty damn good, too. I spoke with the Clippers guard and Florida native about his path to the L.
SLAM: Tell me about your earliest basketball memories.
Austin Rivers: I started around 6 [years old]. To be honest, it started from the movie Space Jam. I watched the movie Space Jam and I fell in love with basketball. My parents went and got me this six foot, maybe five foot, Space Jam basketball hoop. It was this legit-looking goal. They put it in the backyard. It wasn't one of those cheap-looking ones. They nailed it to the ground and everything. I would go there every day and pretend I was Michael Jordan and Tracy McGrady. I would have warmups and layup lines by myself and pretend like it was an actual game on TV. And then I graduated from that goal to a real goal, eventually.
SLAM: What did your dad teach you about the sport?
AR: If I could say I learned anything it's just commitment to the game. Just watching him invest so much into the game, I started to pick up on all those habits, to the point where when I was in middle school, I was working harder than your average middle school kid.
SLAM: Where'd you evolve into someone who could really play?
AR: My AAU coach would take me to this place called the Smith Center. It's in a rough neighborhood in Orlando. He used to take me there every Sunday, every Saturday. That's where I played all the older kids. I would just get my ass kicked every single time. But I'd keep coming back. I'd go at 8 a.m. and I'd work with my coach for an hour and then all the guys would come. And eventually I just started getting better and better to the point where, ninth grade, I was the best player there. Better than all the seniors, juniors—it didn't matter. That's where it all started for me, playing at the Smith Center.
SLAM: Do you have any memories of meeting NBA players through your dad when you were a kid?
AR: I gotta be honest with you: I really did not hang around NBA players much at all. I knew Paul [Pierce]. It's crazy now that I'm on the same team as Paul. When Paul was a rookie with the Celtics, I was 5 years old. Just think about that. And then I'm hanging around him 14 years old, 15 years old, as my pops was coaching him. I came to a couple practices here and there or a game just to say, 'What's up?' to him after the game, because I looked up to all of these guys because they were doing what I wanted to do. And now me and him are teammates—he's still in the League, 18 years in, which is incredible. It just shows you what hard work  and commitment can get you. It's a beautiful thing.
SLAM: Do you remember the first basketball you owned?
AR: Yeah, it was a tiny little ball. It was Looney Tunes, the Space Jam ball. Bugs Bunny was on it. It was red with white lines on it. That was my ball. The thing I used to drive my mom crazy with was early on, when I was young, I used to grab a hanger and make it into a circle and close it at the top of the door, make it into a basketball hoop. And me and my friends used to have dunk contests on the hanger and play actual games on the little hanger in my room, on some hood shit, knowing damn well I had a court outside—but we chose the little hanger. It used to drive my parents crazy.
SLAM: How about the first jersey you wore regularly?
AR: My first NBA jersey was a pinstripe Rockets Steve Francis jersey. It was his rookie-year jersey. I wore it everywhere. Then my second jersey was an Allen Iverson jersey.
SLAM: That's funny, because you grew up to have a style of play molded after both of those guys.
AR: Yeah, scoring guards. Go figure that my parents got me those.
SLAM: First pair of sneakers?
AR: The first pair of sneakers that mattered a lot to me were the Jordan XIIs. My dad got me the Jordan XIIs when I was in, I want to say, fourth grade. They're called the Taxis. They're just white and black—the white and black XIIs. And I was scared to wear them. I never wore them to the point where when I finally wanted to wear them, I outgrew them. Those are my favorite shoes. I remember they mattered so much to me. Another shoe that meant a lot to me was the original Gary Payton shoes.
SLAM: The Gloves, with the zipper?
AR: Yeah, I used to have those. Man, I thought those were really cool.
SLAM: You grew up in the Orlando area. Were you a Magic fan?
AR: I was a Magic fan when T-Mac was there. I just liked Tracy McGrady—that's it. Whatever team Tracy McGrady was on, I was watching. When he went to Houston, I was a Houston fan.
SLAM: So you weren't into any specific team.
AR: Nah. I always wanted my pops to do well, obviously, and then T-Mac. That's it.
—
Adam Figman is a Senior Editor at SLAM. Follow him on Twitter @afigman.
Share your photo with #TrueToTheGame #Sweeps on Twitter and Instagram for a chance to win Spalding NBA product, exciting trips and more. Visit spaldingtruetothegame.com to get in the game.