Ben Simmons certainly doesn't look like a rookie. After missing all of last season with a foot injury, Simmons has exceeded expectations in his first year with the Sixers. The Australian native is averaging 17.2 points, 9.1 boards, and 7.9 assists while shooting 51.1 percent from the field for the season. Even though there are four months of regular season basketball left, Simmons has all but locked up the Rookie of the Year award—barring injury.
Now that he's making his mark felt around the League, Simmons is getting the star treatment. The rook is the face of Champs Sports' holiday campaign and we caught up with him to talk Champs, the And1 Mixtape Tour's influence on his game, his French Bulldogs, and much more.
SLAM: I read that you were influenced by an AND1 Mixtape Tour stop in Australia when you were a kid. What do you remember about that day?
Ben Simmons: I had watched them on the internet and when they came to Sydney, Australia, I actually got to go see them play and compete and I tried to get a spot to play against them later that night for a national game that they host. I did that and I think I was 8 years old when I tried out. It was a different style of play, it was a lot of fun.
SLAM: Who were some of your favorite street ballers?
BS: My favorite would definitely be The Professor. I actually worked out with him when I was about 16. We worked on some ballhandling stuff and he showed me his handles.
SLAM: Has his style influenced the way you play now?
BS: I think I have a little flair when I play with different passes and dribbling moves. That plays a little bit into it.
SLAM: You've had a ton of pets over the course of your life. Do you have anything now down in Philadelphia?
BS: I have a couple Frenchies—Wonder and Flash. I love animals. Growing up in Australia, there was a ton of wild life around me, so I've always been in love with animals.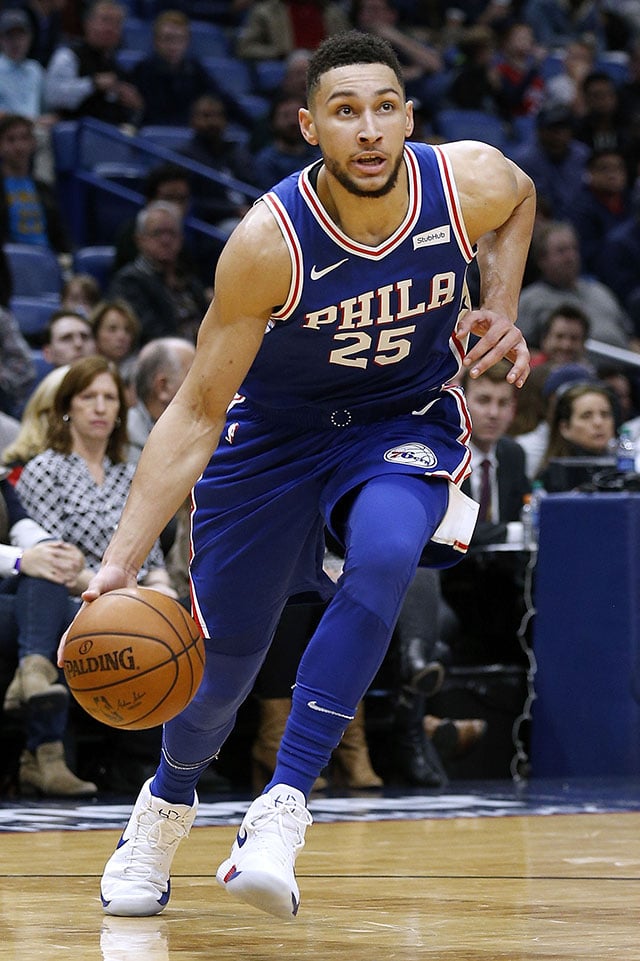 SLAM: Who takes care of the dogs when you're on the road? 
BS: My parents live down the street so they watch them. They don't mind at all.
SLAM: How did sitting out last year and watching from the sideline prepare you for your rookie year?
BS: I think it made me more mature about taking care of my body and being prepared to play. Off the court, I was making sure I was doing the right things to be ready to come back on the court. It took a lot of time, but it was definitely key to this year.
SLAM: A lot of rookies say that the speed of the game is the hardest adjustment. Did you feel like you were more prepared for the speed of the game when you took the court this season?
BS: I don't think the game is that quick. If anything I think I speed it up because of my size. I haven't really been shocked by anything honestly.
SLAM: You haven't been surprised by anything?
BS: No.
SLAM: Who has been the toughest player to guard so far?
BS: Individually, it would probably be John Wall or Kyrie. They're so quick and can handle the ball so well.
SLAM: When you were in college you wore a ton of custom LeBron XIIIs. Are you still heavy on NIKEiD these days?
BS: I go on there sometimes, but for now I just go with what I'm sent, which is different colorways of the Nike Hyperdunk. There's a few different colorways I've been wearing and that's definitely the shoe I want to keep wearing this year. The Hyperdunk is a light shoe for me, I'm a fast player that gets up and down so the sneaker would have to be sturdy. It's a great shoe for me.
SLAM: Do you want to play in the Off-White Hyperdunks?
BS: I haven't played in them yet, but I'd be open to it. It depends on how they feel.
SLAM: Can you tell me a little bit about partnering with Champs Sports and the holiday campaign you're doing with them?
BS: It was a great opportunity and I had a lot of fun recording the voiceover of myself. I think it turned out great.
—
Peter Walsh is a Senior Editor at SLAM. Follow him on Twitter @peter_m_walsh.
Video via Champs Sports
Images via Getty Images