Excerpted from Tanking to the Top: The Philadelphia 76ers and the Most Audacious Process in the History of Professional Sports by Yaron Weitzman. Copyright © 2020 by the author and reprinted with permission from Grand Central Publishing. All rights reserved.
—
Joel Embiid is fond of comparing his life to a movie. The story, in his account, begins with a scout discovering him on the streets of Yaoundé, the capital of Cameroon, where Embiid grew up. It's a good opening scene, but not exactly true.
The story actually begins with an email.
"Best wishes brother!!!" Didier Yanga wrote to Joe Touomou in January 2011. "I'm sending you pictures of my nephew…Thomas' son, who is 2m06 tall and 17 years old. He's in 11th grade."
Eighteen months earlier, Yanga's nephew Joel Embiid had watched his first NBA game, a Finals matchup between Kobe Bryant's Los Angeles Lakers and Dwight Howard's Orlando Magic. Joel had grown up around sports. He excelled in volleyball, was an avid soccer fan, and also the son of a professional handball player. Yet something about the NBA spectacle was different.
"I had never seen anything like that," Embiid recalled. "The way they moved, and the athleticism, I thought it was the coolest thing in the world. I had that moment like, I just wanna do that." He found a run-down hoop nearby and started playing regularly. "Kobe!" he'd shout after each shot. He'd extend his right wrist and freeze it in the air, just like he'd seen on TV.
He begged his parents to let him play. "But my brother wanted Joel to have excellent grades and not be distracted by anything else," Yanga said. Thomas served as a colonel in the Cameroon military. His three kids knew his edicts were not to be violated, and his wife, Christine, was just as strict, forcing Joel to memorize his school notes before playing outside and forbidding him from staying up late to watch NBA games. "I didn't even have any friends because all I ever did was sleep and do homework," Embiid recalled.
As Joel grew older he became more rebellious. After school he'd arrange a bunch of highlighted textbooks on his family's kitchen table and slip out to a nearby soccer field. He'd play until spotting his mom's Mercedes driving down the street, then dash back, hide his sneakers, and greet her from behind a stack of study materials.
Thomas and Christine planned for Joel to leave for France after high school, where he'd enroll at the National Institute of Sport and Physical Education. He'd continue his volleyball training—a sport they understood—and maybe earn a spot on Cameroon's national team. Thomas had followed this path and look at the life he now lived: Three beautiful children. A spacious home. A wife driving a Mercedes. The family even employed a maid.
But Joel didn't care about any of that. What he cared about, what he wanted, was to play basketball, to be like Kobe. Slowly, Thomas began reconsidering his stance. He reached out to his brother, who had played some high-level amateur basketball in the Ivory Coast and coached a bit too. Yanga wasn't an expert, but he knew enough to recognize the potential in his 6-foot-7 volleyball-playing nephew. He thought of an old friend of his, a man named Joe Touomou, one of the few bridges between Cameroon's cracked courts and America's lavish gyms. Touomou had grown up with Thomas and Yanga before leaving to attend Georgetown on a basketball scholarship. He was the first Cameroonian ever to play Division I and had worked as an international scout for the Indiana Pacers. He was the perfect person to illustrate all the opportunities basketball could provide.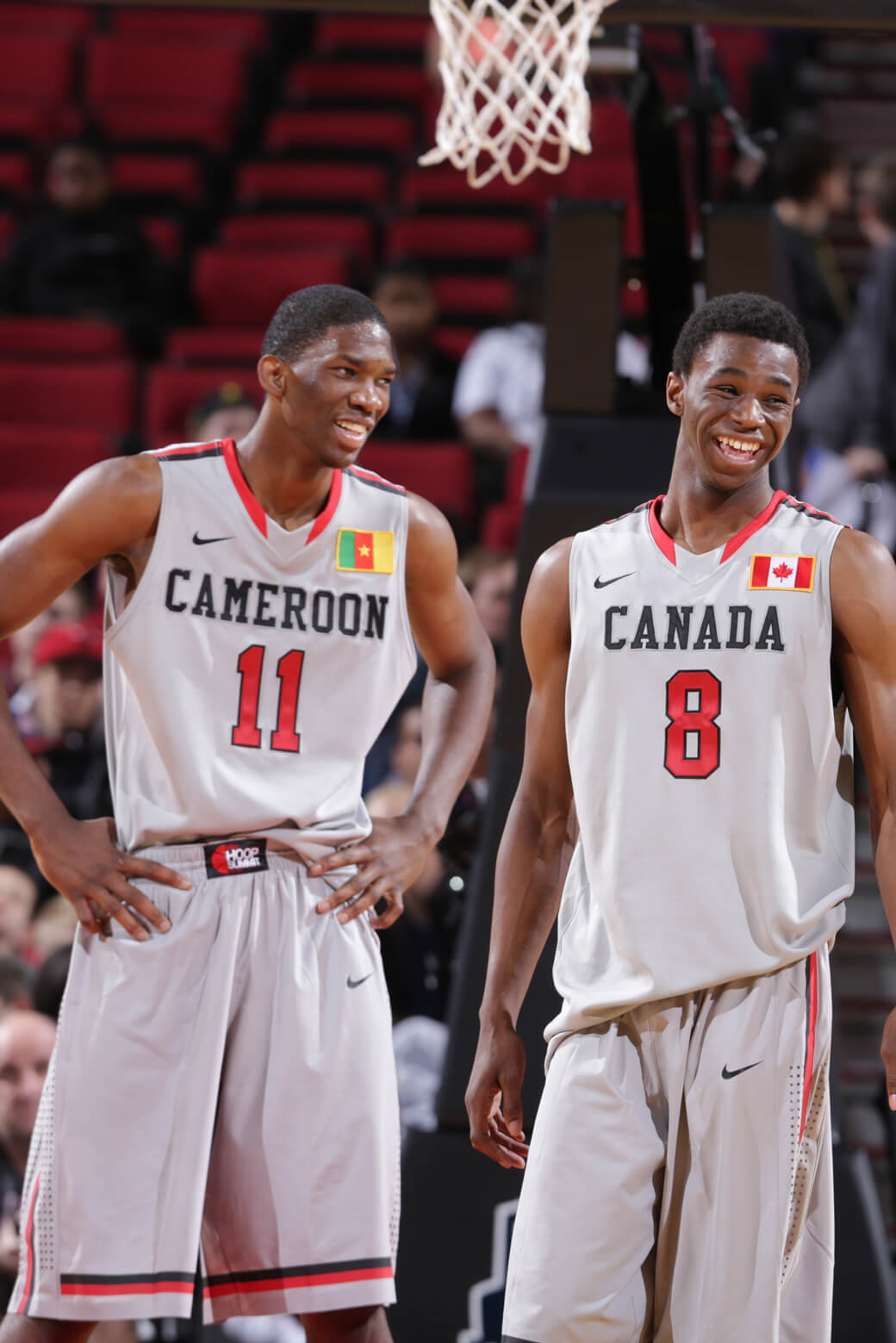 Yanga explained the situation to Touomou, then sent him pictures of Joel posing in front of a doorway, to accentuate his height. Touomou received the photos on a Saturday afternoon. He saw how tall Joel was. He knew how athletic Joel's father was. He booked a flight to Cameroon and a few weeks later was in the Embiid home handing Joel a gym bag stuffed with leftovers from a previous camp—basketball jerseys, shorts, and a size 16 pair of white sneakers.
Thomas and Christine told Joel to wait upstairs. They sat with Touomou in the living room. Touomou began by explaining the potential he believed Joel possessed. He said he knew a local coach who could help him harness all that potential.
"Joel is stubborn," an unmoved Thomas said.
"All he wants to do is play sports," said Christine. "He needs to focus on school."
"Basketball can get him into the best schools," Touomou responded. He was armed with examples. Look at Ruben Boumtje-Boumtje, he said, the first Cameroonian to ever play in the NBA. And look at Luc Mbah a Moute, an NBA forward whose father, in a similar conversation eight years earlier, Touomou had swayed. Both, thanks to basketball, had earned college scholarships.
The three spoke for more than an hour. Touomou could tell that the education pitch had softened Thomas and Christine. He told them to think it over, that he'd be back soon. Two days later, he returned to the Embiid home. Joel sat with them this time, and Christine served food. She and Thomas told Touomou that Joel could play, as long as he promised to remain focused on his academics. Joel looked on quietly, hiding his excitement.
In February, Thomas signed paperwork allowing Joel to join a local team led by a coach named Guy Moudio. Moudio gave Joel a tape of Hall of Fame center Hakeem Olajuwon to study. He used a medicine ball to build up Joel's strength. Moudio had to teach Joel some of the game's more basic skills, but he was impressed with what he saw and how Joel, despite being a novice, seemed to have an innate feel for the game. He mentioned his new pupil to Francois Nyam, a former French professional basketball player whose father was from Cameroon. Nyam was a cousin of Mbah a Moute's and had since become a fixture in the country's basketball community. He and Mbah a Moute were opening a basketball camp in Cameroon; that summer five attendees would earn an invite to Basketball Without Borders, a program organized by the NBA with the intention of spreading the sport across the world. An invite there was an opportunity to audition in front of a group of people with the power to fulfill the loftiest of dreams.
Joel was invited to participate, but while getting dressed on the morning of the camp's first day, he began thinking about all the players he'd be competing against. They were so advanced and he was still so raw. Anxiety overcame him. He spent the day at home playing video games with his younger brother instead.
The next morning, Moudio showed up at the Embiids' house. This was Joel's chance, and Moudio wasn't going to let nerves ensnare his prized pupil. He ushered Joel to the Yaoundé Sports Palace, and for most of the camp Joel was overmatched. "He couldn't catch a basketball, dribble, or anything," Nyam said. But like Moudio before, Nyam and Mbah a Moute were both impressed with the way Joel absorbed the game. "You could show him something completely new and he'd pick it up after, like, three tries," Nyam said. That was all the group needed to see. About a month later, Joel was standing on a court in Johannesburg surrounded by a group of NBA coaches and some of Africa's top prospects. He was skinny and raw, but also tall and agile. "His feet," said Monty Williams, a former NBA player who worked as a coach for that camp, "were unreal."
Impressed, Mbah a Moute and Nyam arranged for Joel to enroll as a junior at Montverde Academy in Florida, Mbah a Moute's alma mater and home to one of the country's top high school basketball programs. In September, Thomas and Christine drove Joel to Yaoundé Nsimalen International Airport. Joel was scared, but excited too. He barely spoke English, but he recognized the opportunity in front of him. He hugged his family, not knowing when he'd see them next, and boarded the plane.
—
Tanking to the Top: The Philadelphia 76ers and the Most Audacious Process in the History of Professional Sports is available now.
Photos via Getty.