No prodding is necessary. All it takes is a simple question for Bradley Beal to acknowledge what both Wizards fans and basketball analytics advocates have been clamoring about for nearly two years.
"The biggest thing for me is that I want to stop taking so many long twos," Beal says when asked what he's worked on this offseason. "I want to take more floaters and threes."
Even when he was a boy, Beal's shooting stroke was picturesque. His mother Besta, a former Kansas State basketball player, made sure of it. Kelvin Lee, who coached Beal at Chaminade College Preparatory School in West St. Louis, tells the following story.
One afternoon about 10 years ago, Doug Taylor, a Phys Ed. teacher in Chaminade's middle school and assistant coach for the varsity basketball team, came running from the school's small gym into Lee's office. You need to see this, he said to Lee, and so the coach got up from behind his desk and went to check out what the fuss was all about.
"I get to the gym and there's this sixth grader taking, like, real jumpers from behind the three-point line," Lee recalls, before adding the kicker, "and making every one."
Beal's jump shot was initially honed in the car-width driveway of his parent's one-story St. Louis flat where attempts were mostly limited to the area around the foul line. He eventually moved on to the hoops at nearby University City High School and Vinita Park. His two older brothers, Brandon and Bruce, both former college football players, would put him through the ringer: suicides, left-handed layups, dribbling around cones.
Beal's father, Bobby, a jovial and gentle man and like his wife a former Kansas State athlete (he played football), would get in on the fun, too, as would the family's baby twins, Byron and Bryon, both now offensive lineman for Central Methodist University.
But it was Besta, the more vocal and stern parent, who taught Bradley the intricacies of shooting. To keep his elbow in and at 90 degrees. His feet squared to the basket. His eyes level. To maintain balance at all times. It wasn't uncommon for Beal and his mother to head out to the local YMCA following high school practices in order to get up an additional 1,000 shots.
That, Beal's high school coach loved. "You're the man, ma'am," Lee used to tell Besta. What he didn't enjoy was Bradley's propensity for drifting out toward the three-point line. "It can ruin you sometimes," Lee adds, so sometimes during practices he'd change the rules and prohibit his team from shooting from deep. Or he'd have his players run three-man, two-ball shooting drills and only permit them to shoot from the midrange. "We'd put a lot of emphasis on those shots," Lee says.
Roy Pierce, a coach for the St. Louis Eagles, the AAU team Beal played for, taught the game in a similar way.
"When Bradley was 15, he was kind of just a three-point shooter and wouldn't go toward the basket a lot," he says. "We definitely worked on that."
Beal's focus wasn't solely on shooting—he used to don a pair of special calf-strengthening shoes and run the mile-and-a-half back and forth to his grandmother's house in an effort to improve his vertical leap—but it was the effortless and beautiful shooting stroke that caught the eye of Florida coach Billy Donovan.
And yet, Beall struggled during his one year in Gainesville. He shot just 34 percent from behind the arc and just 25 percent off the dribble (according to DraftExpress.com). But he did improve as the season went on and, well, his jumper was just so smooth. Beal could be standing in a phone booth and have no issue getting his shot off. Even before he entered the NBA it became commonplace to invoke Ray Allen's name when discussing Beal's J.
(Perhaps not coincidentally, Beal, similar to the notoriously obsessive compulsive Allen, is known as a neat freak. According to Wizards guard Garrett Temple, Beal's apartment is always "tidy," his clothes are always folded and his locker is always the cleanest in the room.)
The Wizards took Beal with the No. 3 pick in the 2012 Draft and immediately assigned him to assistant coach Sam Cassell. The two quickly connected. Early on Cassell started referring to Beal as "my son." He also put Beal to work, and for Cassell, a former player who built his 15-year NBA career around burying shots from the 15-19 foot range, that meant developing the mid-range game.
"We did a lot of shooting together," says Cassell, who's now an assistant in L.A. with the Clippers. "Quick shots, pump fakes, pull-ups off the dribble. I know basketball analytics now say not to take that mid-range shot, and it is a tough shot, but I shot it at a 51 percent clip. I told and tell Bradley to take the shots you can make, and he can make the mid-range shot."
Problem was, Beal wasn't really making them, at least not in games. In his three years in the NBA, Beal has never shot over 43 percent from the field—this, despite being a career 40 percent three-point shooter. He did average 15.3 points per game last season, along with 4 rebounds and 3 assists. But he realized he could be an even more proficient scorer if he even slightly altered his approach.
Here's the math: Last year Beal hit just 34 percent of the five mid-range shots (as defined by NBA.com) he attempted per game, the second-worst mark in the NBA among players who averaged at least four such shots. Also, most of those attempts came off the dribble, as opposed to the catch. Beal had spent years perfecting the art of shooting. His form had become impeccable. But by taking difficult shots in crowds, he was holding himself back. It was like seeing The Flash race with his shoelaces tied.
The Wizards, and specifically head coach Randy Wittman, never took issue with Beal's shot selection. "If you're open, he wants you to shoot it," Beal says. But the epiphany came over the summer when Beal's trainer and long-time friend, Drew Hanlen, presented the Wizards guard with these numbers. The two friends reviewed them and also watched film together on Hanlen's laptop. It was then that Beal decided he needed to change his game.
"It's the worst shot you can take," Beal says. "I always knew I was doing it, but when you see the percentages, and then you review the film and go, Man, if I just take one step back there I'm behind the three-point line…it's just common sense and knowing where you are on the floor."
Beal doesn't plan on ceasing to shoot all mid-range shots, but he would like to cut down on those beyond 18 feet. He also intends to take more floaters this season. He says he's always had that shot in his repertoire but was never comfortable shooting it in games. So this offseason he and Hanlen made the floater a priority. They worked on left-handed and right-handed ones, off the dribble and off the catch.
"I want to get to the point with the floater where it becomes instinctual," the 6-5, 205-pound Beal says. "At the beginning of the summer I was thinking about it too much, but now I'm moving past that.
"It's a tough shot, but definitely a better one than those long twos," which, Beal points out, since harder than a layup and worth less than a three-pointer, is exactly the shot opponents want him to take.
"We used to always joke with him that he was taking the worst shot in the NBA," Temple says. "But that's a shot he's been comfortable with and that defenses give him."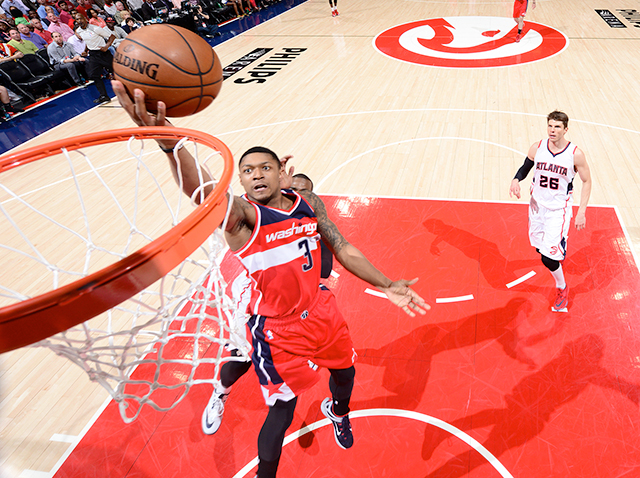 But Temple is also quick to note that Beal's shot selection hasn't presented any issues during the Wizards' Playoff runs the past two seasons. Despite being just 22 years old, Beal has already played in 21 Playoff games. His career post-season averages: 21.2 points, 5.2 rebounds, 4.6 assists. He's helped lead a Washington franchise that hadn't won a Playoff series since 2005 to consecutive first-round victories. In Beal and dynamic point guard John Wall, the Wizards have one of the NBA's top backcourts, a pairing that should have Washington contending in the shallow Eastern Conference for years to come.
Of course, that would require Beal, whose current contract expires after this season, to remain with the Wizards. As of early September the two sides had failed to make any progress in contract negotiations.
"It's something that [Wizards general manager] Ernie [Grunfeld] and I have been talking about all summer," says Mark Bartelstein, Beal's agent. "Whether or not something does get done, I can't say at this point. Twwhere are a lot of variables that go into it and that's the process we're going through right now."
Beal, for his part, isn't interested in discussing his contract situation—and, well, who can blame him? He already bought his parents a new house, one that his older brother Bruce says "is too damn big for two people." This summer he got to visit South Africa, China and Taiwan. He's able to get Imo's Pizza, a St. Louis classic and his favorite, delivered to wherever he wants, as evidenced by the chain's willingness to ship four pies out to Beal in Chicago last April. And he's achieved his dream of buying a dog and naming him "King" in reference to a bit by his favorite actor, the late Bernie Mac, in House Party 3.
For now, though, all Beal is focused on is the upcoming season. He's healthy, something that has not always been the case, and excited to see what profits his new approach yields. That Beal has spent his entire basketball life taking the wrong shots is no accident. But now it's up to him to shake the very habits that have gotten him this far. It's not an easy task, but it is one that could make all the difference—for Beal, as he enters his contract year, and for a franchise trying to win multiple Playoff series for the first time in 37 long years.
Yaron Weitzman is an Editorial Assistant at SLAM. Follow him on Twitter @YaronWeitzman.