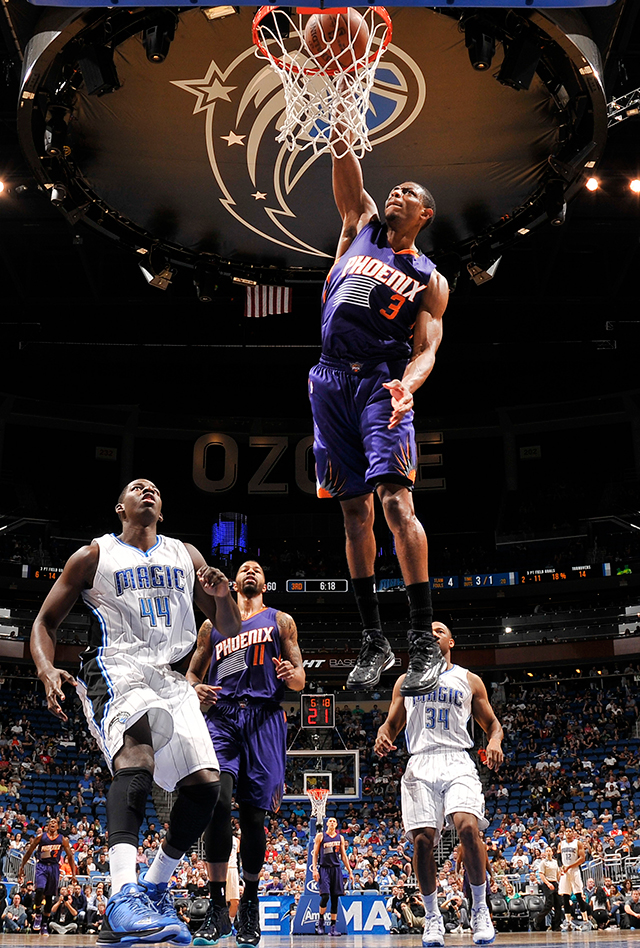 "This is something that you only see in the movies," remembers coach David Beckerman.
The classic scene was set: A high school team down double-figures in the closing minutes of a tournament game; nothing going right for the good guys; the end of a season drawing near; a stop-the-bleeding timeout; excitement on one end of the floor, heads bowed on the other; a weary coach locking eyes with his superstar.
"Brandon looked at me and said, 'Coach B, what time's practice tomorrow?'"
Brandon Knight chuckles over the phone when reminded of his old coach's favorite story. He's in high spirits—his five-year, $70 million contract with the Suns was officially announced this week. An ankle injury limited Knight to 11 games with Phoenix following a mid-season trade last year, but the Suns quickly identified a cornerstone in the 23-year-old point guard.
"I just remember my teammates had a sad look on their face like the season was over," he says. "I was like, I don't know why you guys are looking like this—we got practice tomorrow!"
The clichéd comeback rolled on following Coach B's timeout, as Knight quickly collected two steals and buried a pair of threes. Knight, twice the National Player of the Year, finished with 52 in a 4-point win. The Miami native led Florida's Pine Crest to the 2009 state title a few days later.
That's mostly the way it went for Knight back then. Nineteen points per game as an 8th-grader on varsity. A pair of state championships. A 4.3 GPA (weighting honors courses). A game-winning three in the 2010 McDonald's All-American Game. A commitment to Kentucky, where, despite averaging 17 ppg en route to the Final Four, he made his most significant contributions off the floor.
"Brandon single-handedly changed what was happening for us academically," says UK coach John Calipari. "Since he left, our team has never been under a 3.0 (GPA) for a school year. He changed the culture.
"I would come back to my office at 11:30 at night and he'd be at the practice facility. He'd say, 'I had a chemistry test I was studying for. I had to get it done, so I'm here now.'"
The distinctive balance of character and skill intrigued the Pistons, who selected Knight with the No. 8 pick in the 2011 Draft. But in Detroit, for the first time in a long time, Knight was unsuccessful.
The Pistons won just 25 games during his lockout-shortened rookie season, and 29 games the following year. Knight spent those seasons moving on and off the ball, on and off the bench. He averaged an unspectacular 13 points and 4 assists per game. There didn't seem to be much improvement from Year One to Year Two. This was not the way it was supposed to go.
In late July of 2013, Knight, then just an enigmatic combo-guard, was shipped from Detroit to Milwaukee in what was billed as The Brandon Jennings Trade.
Cemented as the Bucks' point guard, Knight posted nearly 18 and 5 per game over his first 82. This past season, his second in Milwaukee, began beautifully from both a team standpoint (the Bucks were playing Playoff ball following a 15-win campaign) and a personal one (for 52 games, only Knight and Stephen Curry averaged at least 17, 5 and 4 while shooting above 40 percent from deep), but was jolted by another bump on an unexpectedly jagged NBA road.
As February's trade deadline wound down, a three-way deal spun Knight (a restricted free agent to-be) to Phoenix and his replacement, Sixers PG Michael Carter-Williams (whose rookie deal runs through 2017), to Milwaukee.
"When I got traded from Detroit, I was surprised, but I knew it was possible," Knight remembers. "This time I was like, No way. But it still happened."
Knight's versatility and sharp shooting likely drew the Suns' interest initially. Once he arrived, however, it was his renowned intellect that impressed.
"There are 34-year-olds in the League, slow as molasses, whose understanding of the game allows them to play at the top levels," Suns coach Jeff Hornacek says. "[While injured], Brandon would be talking to and helping his teammates behind the bench during games. I consider Brandon a veteran, even though he's only 23."
It's easy to understand why. In addition to possessing a high hoops IQ, Knight's already been through the NBA wringer. He was told he didn't belong at his natural position. He was dragged through three borderline tank jobs. He was dealt twice on his rookie contract, a rarity for quality players. Nobody is taking Brandon Knight under his wing.
"Nah," he says with a laugh. "Those days are kinda over for me."
Leo Sepkowitz is an Editorial Assistant at SLAM. Follow him on Twitter @LeoSepkowitz.