It was only six years ago that NBA All-Star appearances and video game covers were the norm for Brandon Roy. The sixth pick of the 2006 NBA Draft was, at the beginning of this decade, a natural ad versatile scorer, and he made it all look so easy and smooth.
The 6-6 guard earned the 2006-07 NBA Rookie of the Year award almost unanimously while a member of the Portland Trail Blazers, and by the following season was already selected to play in the NBA All-Star Game—one of three consecutive invitations. He was named to All-NBA teams twice within his first four seasons in the League.
But, nagged by knee injuries, Roy's career began to slow down drastically in 2010 when tests showed that a lack of cartilage in his knees was giving him trouble. He would go under the knife twice within a 9-month period, and it became evident that his issues were likely irreversible. By the fall of 2011, Roy's knees had degenerated so much (lost cartilage between the bones of both knees) that he decided it was best to retire from the game.
He would attempt a comeback for the 2012-2013 season, this time with the Minnesota Timberwolves. But just a handful of games into the season, he had season-ending surgery on his right knee. This time, he walked away from the game for good, with career averages of 19 points, 4.7 assists and 4.3 rebounds per game.
Since then, Roy has kept a low profile. He refers to the last four years of his life as a period where he finally had time to "relax" and reevaluate life. That was until spring of this year, when his name once again began making the rounds in the basketball universe. He had suddenly decided to return to the game, this time as a coach—at Nathan Hale High School in his hometown city of Seattle, where he took over for a team that went 3-18 last season.
For Roy—who attended Garfield High in the city's central district—to take a coaching job at the high school level, guiding a team that barely won any games last season? That's a rarity for a former NBA All-Star.
Just a couple weeks into this season, though, Nathan Hale finds itself ranked among the top 15 programs in the nation. The team is already off to a 5-0 start—thanks to some additions the program made during the offseason. Yes, bringing in Roy was definitely a huge get. The other summer acquisition for Nathan Hale was 6-10 Class of 2017 prospect Michael Porter Jr, who is touted among the top-3 recruits in the senior class. Porter Jr, who (like Roy) will be attending the University of Washington next fall, relocated from Columbia, MO, after his father accepted an assistant coaching position with the Huskies in May.
"The main things he's been helping me with is the efficiency with my dribbles, my footwork—he was a master with his feet—so I feel like my footwork has gotten a lot better since I got up here," says Porter Jr. of Roy. "He started teaching me those NBA moves. I'm definitely blessed to have him as a coach."
As he begins his coaching career and next chapter in life, we caught up with the 32-year-old Roy to talk about dealing with the injuries that led to his shortened NBA career, what he learned from the experience, what led him back to high school ball in Seattle and much more.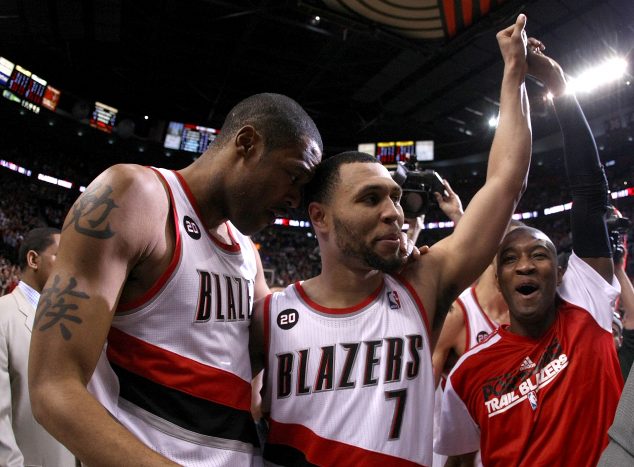 SLAM: What were those first few months like when you came to the realization that your playing career was over? You kept a low profile for a while.
Brandon Roy: The biggest thing is, it's different but the same for everyone. I had a few veterans tell me that. So my last real game was when I was like 27 or 28. And a couple of veterans, and I won't say their names, but they all reached out to me and said, 'Hey, B, it doesn't matter if you're 38 or 28—this thing is not easy to walk away from.'
So the first thing you have to do is understand that it's normal to feel the way you do. That helped me so much. Even the greatest player ever came back from retirement—twice! Because this isn't easy to walk away from.
For me, the first thing I had to do was say, OK, it's normal for me to be a little sad about this. And the first thing we all want to do is feel sorry for ourselves. I got that for a little bit. I didn't want to jump into something just because people think you have to work to take your mind off it. I was more of like, You know what? This is the first time in my life that I don't have to get up and go work out. I don't have to travel and leave my family for two weeks at a time. I don't have to mentally prepare myself to play against the best players in the world.
SLAM: That's a really good point.
BR: At my position, I had to match up against Kobe, LeBron, Dwyane Wade, Ray Allen—those were the guys I had to get ready for. In 2006, these are the best players around. All that stress and all that work. So I just said, I'm going to relax. I just relaxed and finally said, Hey, I don't have to play anymore. When it's over you get to relax and not have to go through that anymore.
Once that was over, I started to think. People were saying, "How about business?" But I was like, I like basketball! You know, I was fortunate enough to play basketball and people sometimes think that because you made money playing basketball you must be really big into business. But I wasn't really a businessman. I like hoops. I like the competition of strategizing against another team. I tried some radio stuff, which I liked a lot. And a few people asked if I wanted to do TV, but it just wasn't giving me that feeling like I have now being on the sidelines and in the locker room. So it just developed. I was working guys out. I would get some of the top high school kids and we would work out in the gym. And then it just kind of slowly went from there.
SLAM: When did it become clear that you wanted to coach?
BR: For me, I wanted to coach about a year ago but I didn't want to commit to it. And then I finally had to tell myself—when you stop committing to things like I did for four years, it's hard to get back into it—I said, Brandon, you have to get back into the real world. You gotta commit to this and be there everyday for these kids. And then in the spring I finally said I'm ready to do this. And I knew it would be a journey but it's one I'm enjoying being on.
SLAM: What are some of the lessons you learned from your NBA career that you now find yourself applying to your coaching philosophy and emphasizing to your kids?
BR: I tell these kids to maximize their opportunities. And the reason you say that is because you can't worry about the things you can't control. You can't control injuries but what you can control is what you do every day that you're healthy. I think sometimes with these kids, they're young and the best thing about being young is that you can dream. Reality hasn't set in yet. My knees aren't going to let me play in the NBA—that's reality right there. I try to tell these kids keep dreaming but make sure you live in the moment. I learned that from my own experience.
At the end of the day, you want to open up your book and you want to know you dominated every single phase of it. Because when you're done, that's all you have. Now that I'm done with basketball, all I have is my memories and everything I did while playing. So when people say, "Brandon, how does it feel? Are you okay with your career?" I'm great! Because I did everything to the fullest of my abilities in basketball. And when the body said I couldn't, I didn't harp on it.
SLAM: Did you specifically want to coach at the high school level?
BR: I had a lot of people reach out, even NBA people that I'm good friends with asking if I wanted to do something at that level. Also, there were colleges asking if I wanted to do something at that level. It just felt right to be around the high school kids. Look, I've played in the NBA, and it's hard to get those guys to adjust. And honestly, I didn't think I was ready to step in and help a professional get better. But I thought I had a pretty good idea of how I could help high school kids. That's why I felt like the high school level was where I wanted to start my coaching career. And I do call it a career because it's something I'm enjoying and want to continue to pursue. It almost feels like when I was playing I had to go to high school and college to get ready for the NBA. So that's where I'm at in coaching—start at the bottom and develop my skills.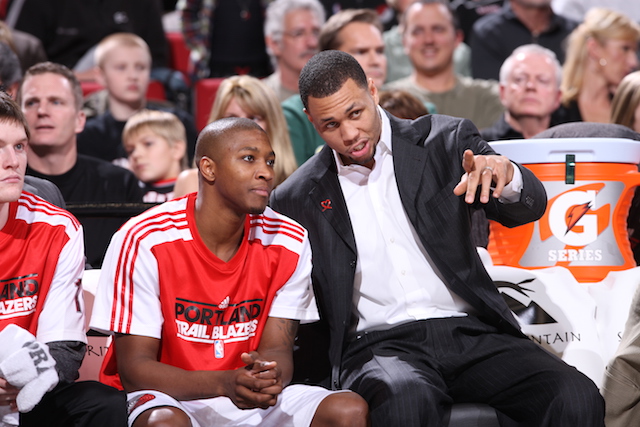 SLAM: Nathan Hale went 3-18 last year. Is the thrill of the challenge itself part of what made you decide to start there?
BR: Most guys that have big-time careers, they don't step into situations like this. Some of it is because a lot of guys are afraid to lose. But I'm not afraid to lose. I want to win. I've always heard of the saying, 'I'm more afraid to lose than I want to win,' but I'm little bit of the opposite of that. I had an older brother growing up, so I always lost. So being afraid to lose for me is like, So what! I always lost. But when I won, that was the best feeling in the world. That's the thing with coming to the high school level, I know a lot of these high school coaches are like, 'Oh, he was an NBA All-Star and now watch me beat him.' But I like that challenge, knowing that all 30 coaches that we'll play this year didn't play in the NBA. So I'm the minority here. I get to overcome something really cool. I think I put the pressure on them to beat me because this is my first year.
SLAM: You have one of the top players in all of high basketball on your team in Michael Porter Jr., who is ranked top-3 in the country. What are some of the things you're looking to emphasize to him on the court?
BR: Biggest thing is just wasted motion. I'm a huge basketball fan, so I watch other NBA players and I always think, If that guy used less energy and was more efficient with his movements, he'd be a better player. It's hard to teach a 25- or 28-year-old All-Star because he's already so good. But with an 18-year-old kid like Michael, I can kind of put all of that stuff in and he's geared to be like, 'Perfect, what's next?' I always tell him, high school won't have as many guys that can push him. But that doesn't mean he can't add to his game. In college, they'll have a few more than high school but when he gets to the NBA, he'll start playing in playoff games, and I never played in the Western Conference Finals, but the games just get tougher. And so I'm just trying to prepare him like, Look, in the Western Conference Finals, they're not going to let you do that move right there. But working with him—he'd make any trainer look like a genius.
SLAM: What's been the most challenging part of coaching so far?
BR: Teaching and then seeing kids apply it is probably the most challenging part. You can draw it up and it'll look perfect. And then the kids can practice it and it looks perfect. And then they get in the game and get a little rattled, and all of that great practice goes out the window. And you're like, Where did it go?! So getting kids to understand and trust the system is probably the toughest adjustment. Trust the "we" and not the "me" is probably the hardest part.
SLAM: Being around kids now as a coach, how would you compare the culture of the game now to how it was when you were coming up in the early 2000s?
BR: The biggest difference is just the social media. When I was a kid, our world was so small. It was just my high school and that's the only kids I knew. And now, these kids are best friends with kids from across the country because they can talk everyday. They can see each other online. In my era it was a little easier to be yourself. I only knew a couple of other guys that went to other high schools. I would never talk to them like that, I just knew them in passing. So it was easy for me to say, Hey, I'm going to be Brandon Roy. But nowadays the world is so small that kids get on the Internet and there's all this popularity going on. And so I think kids are even more insecure as they try to fit in even more now because they see what everyone is doing in the world. When I was coming up, it wasn't like that. It was just, Hey, what are the other guys doing in your neighborhood? I think there's more pressure on them because there's so much attention and media, and so everybody is a critic now. When I was in high school and I lost or didn't do well, if you didn't read the newspaper then you wouldn't have known. I just try to tell the kids, Don't let anyone outside of this locker room put any extra pressure on you.
—
Franklyn Calle is an Assistant Editor at SLAM. Follow him on Twitter @FrankieC7.
Photos via Getty Images