He saw the Taj Mahal, one of the true wonders of the modern world, the majestic ivory-white marble mausoleum that has been standing for nearly 400 years. He took in an IPL Cricket game among cheering crowds in Mumbai. He found himself on national Indian television, covering the playoffs and connecting with local fans.
But Brook Lopez found his real passion when he got down to a familiar space: the basketball court.
This week, the Lakers center flew over to India for a short trip, on a mission to support youth basketball initiatives. Lopez spent the majority of his time at the NBA Academy India – located in Greater Noida near the capital New Delhi – to witness and train the best young players from around the country.
"There's so much positive momentum around basketball in India and I'm glad to play a part in the growth of the game," he said.
The NBA Academy India – an elite basketball training center connected to similar NBA Academies around the world – opened last May, with a goal to provide promising young players with what the League has called a "holistic, 360-degree approach to player development with focuses on education, leadership, character development and life skills." The Academy has had a few dozen players admitted permanently over the past year and welcomed Kevin Durant last summer for a special development program.
At the Academy, Lopez attended the Reliance Foundation Jr. NBA National Finals to see the boys and girls competing for the opportunity to represent India in the first Jr. NBA World Championship in August. Over the next few days, he was also present at the ACG-NBA Jump Finals to help identify the top prospects who will receive scholarships to attend the Academy. Indian basketball star Amjyot Singh – who played for the G League squad OKC Blue last season – also took part in the event along with Lopez.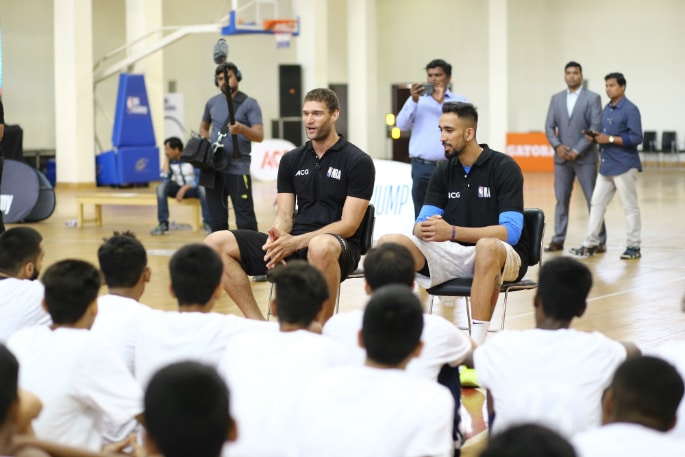 Brook was not the first of the Lopez Twins to make India a part of his summer itinerary. Two years ago, his brother Robin took the same trip, where he trained young players, visited the Taj, and more. Upon returning, Robin advised his slightly elder brother to follow his footsteps to witness the rise of Indian basketball.
In the midst of his travels, SLAM caught up with Brook to discuss the passion and potential of young Indian players, training the youth in India between post and perimeter play, NBA Avengers, and considering a Bollywood role with his twin.
—
SLAM: How has your time in India been so far? I know that it can be a sensory overdose at first, but what was the thing that surprised you the most?
BL: It's been great. I've met a lot of very special people, people who have made my time here very enjoyable. A lot of the good that I've experienced has had to do with basketball. There are so many unique young players who have made it to the Academy here. What has surprised me most is the talent level and the passion that the young players have for the game. I was glad to witness it in person among the youngsters in the junior NBA boys' and girls' championship. I could see their passion and excitement as they cheered for each other off the bench!
I really enjoy travelling, so I was super excited to come here. It's normal to have some expectations when you come to a new place, but this country has surpassed all the expectations I had! My trip to Taj Mahal was great. You've seen pictures and videos of the Taj Mahal, but to see it in person was inspiring and humbling. It's hard to put into words. It was gorgeous and pristine, and there were so many people around to share this experience that made it really overwhelming and beautiful.
SLAM: You witnessed a lot of young Indian basketball players at the Jr. NBA Finals and ACG-NBA Jump program. What has been your takeaway from seeing the players in action here?
BL: It was really surprising to see how many talented kids there were here. The Academy gives the kids of this age a chance to grow their game, learn from their coaches, learn what they need to do, and continue to achieve their goals.
SLAM: Of course, it is often said that India's large population is a great opportunity. But where else do you see potential for Indian basketball players to join the ranks of the top players in the NBA?
BL: I think that something big for India, besides having so many people, is the diversity of the people itself. You see all kinds of kids coming into the camp, from so many different backgrounds from vastly different regions. It's cool to see their differences. They have different body types, different characteristics, and all with passion for the game.
SLAM: What would be your advice to young players and scouts on how to develop their skill-sets going forward as the game changes?
BL: I just tell them to work on the entirety of their game. Don't focus on just one thing, but be the best player they can be overall. They have to be as smart as possible, develop a high basketball IQ, and not limit themselves to certain traits of "center" or "point guard." Work on everything.
SLAM: That said, do you think post-play & under the basket offense is becoming a lost art among the young players? What did you see among the players in India?
BL: I definitely saw some flashes of [post-play]. I look at the way the game is going, and it's becoming more "small ball." But post-play still has a place. There were great examples of it at the camp. I saw many players at the Jr. NBA Championship that had a great instinct of the game. They just need to keep working at it.
SLAM: To shift away from basketball a little: I know you are famously a big comic-book fan – but I hope you got a chance to watch 'Infinity War' before you travelled?
BL: Oh yes, I did!
SLAM: Who would you say are the Avengers equivalents of NBA players in the Playoffs? I like to think of LeBron James as the Iron Man and KD as Captain America. Any other comparisons that you can think of?
BL: Well, I think of someone like Steph Curry as the Hawkeye, the sharpshooter. My brother is a huge Thor fan – I think that typifies him well! My favorite Avengers growing up were Black Panther and Hawkeye.
SLAM: Your brother has obviously been here before and experienced Indian basketball and the Taj Mahal. What did he tell you about India before you came?
BL: He told me that he just loved it. He had a great time. But he only brought back a small gift for me when he came back!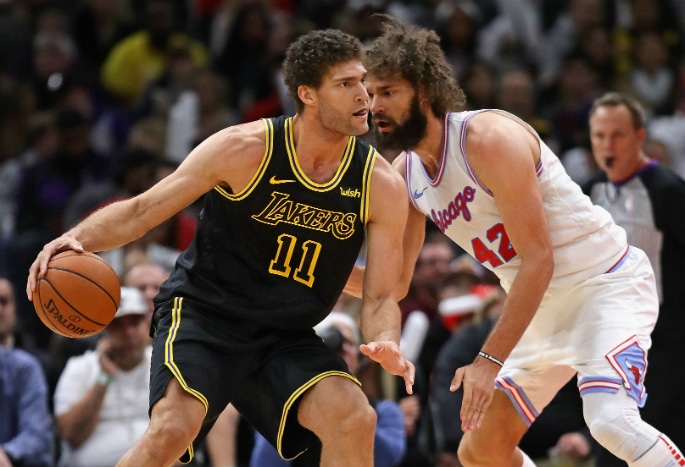 SLAM: In India, there are a lot of Bollywood films with a "double role" storyline, where the same actor plays two estranged twin brothers. Would you and Robin consider a 'twins' version of your own Bollywood film?
BL: Oh, we would absolutely, 100 percent, be down for that!
SLAM: Let's talk about the Lakers a little. This upcoming offseason, it seems like everyone is rumored to join the team: LeBron, Paul George, Kawhi, etc. Do you think about these rumors?
BL: I mean there's a lot going on. There are a lot of different options, and clearly, they all can't happen. It's definitely going to be an exciting offseason. But I wanna focus on what I can control. The one thing I can guarantee is that we are going to put in a lot of work in the gym.
SLAM: You've been a pro for almost a decade now, but this was your first time on a new team. How do you handle the off-court distractions of being on a new team, the midseason trade for Isaiah Thomas, stuff like that?
BL: Yes, there was a lot of change and transition this season. But we are a great group of guys – my teammates, the coaching staff, people in the training room, and all the way up. They made the transition as easy as possible for me. They were no qualms. It's a great group of people and we were out there playing for the right reasons.
SLAM: The Lakers have so much young talent: Ingram, Randle, Ball, Kuzma… What do you think is the ceiling for this team?
BL: I think we have an opportunity to do great things. You look at what a team like the Warriors did by keeping their young core together and improving that way. There's a lot to be said about their continuity. I think we want to have a solid foundation and build on it for a few years, continue to grow that way.
—
Karan Madhok is a SLAM contributor. Follow him on Twitter @Hoopistani.
Pictures via the NBA and Getty.