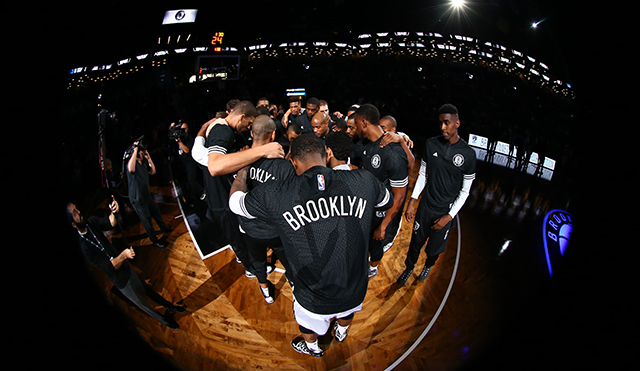 Is this a prayer session? If so, it's appropriate. I mean, seriously, gang, what happened? Where's the confidence, the presence, the power, the titles, the buzz, the pizzazz? Things were better than this in Newark. Heck, things were better than this in good old Teaneck, back when you started in the American Basketball Association in 1967 as the Americans.
The Nets came to Brooklyn in 2012, after what seemed like a hundred years of planning and moving around, and there in the centrally located, spanking-new Barclays Center, the place with every subway and commuter train in the world underneath and Manhattan just across the East River, the Nets were supposed to light the way for Brooklyn itself, suddenly the hippest place on Earth. It didn't happen. Man, how it didn't happen.
No titles, no chemistry, no glory, no Knicks-destroying dynasty. Only a fading hum that started as a D train roar of excitement. And there are some horrendous player contracts, ridiculous trades and acquisitions that have come along the way. Plus lots of management pleas of, "Stick with us, fans!" The Barclays Center, for sure, is great for concerts, and there's even a pro hockey team—the Islanders—there now (though the arena wasn't built properly for an NHL rink and stands).
But the basketball, the sport that majority owner and Russia's third-wealthiest man Mikhail Prokorov bragged was going to be the best anywhere in five years? Hoo-ha. The Nets battle cry should be, "Thank God for the 76ers!" As I write this, the Nets are 4-13, right down in the muck with the Pelicans and Kobe-sagging Lakers. They're in second to last place in the Eastern Conference, trailed only by the aforementioned 76ers, a pickup team that somehow snuck into the League.
It would be foolish to list everything that has helped pop the Nets dream, that contributed to a promising 49-33 start in 2012 but led to last year's blah 38-44 record and this season's mess. But consider this a start: thinking an "oligarch" can outspend everybody for talent, having four head coaches in four years, trading high picks for fossils like Kevin Garnett and Paul Pierce, letting general manager Billy King play darts with deals, thinking point guard Deron Williams was a leader, and selling Julius Erving to the—No!—76ers. OK, that last boo-boo occurred when the Nets left the ABA for the NBA almost 40 years ago and the 76ers weren't a legendarily bad team. But sometimes odors linger—no matter how cool your Jay Z-designed uniforms and herringbone hardwood might be. Or how sweet was the hype.
—
Originally published in SLAM 195