Bruce Bowen's French teammates on ALM Evreux weren't exactly friendly to him during his lone season there. He remembers, for instance, walking into a team meeting to which he wasn't invited. It wasn't until only a couple weeks remained in the season that he found out many of them spoke English. Before that, they feigned ignorance when he addressed them. The unending practice drills—"like I had run in high school," he says—angered him. And there were actually times when coach Michel Veyronnet had the nerve to take him out of the game. Yep, France wasn't Bowen's favorite place back in the mid-1990s.
He knew he belonged in the NBA, so playing in a mid-tier league in Europe wasn't exactly his idea of the big time. Bowen wasn't coachable. He felt he was better than everybody else. Instead of learning what he could and embracing the various life experiences that came from living and working in another country, Bowen was surly.
"I had to learn to be a better individual, be a better player," Bowen says now.
Eventually, Bowen stopped trying to control everything. He realized that making $100,000 per season for 10 years in France, he could rack up a million dollars. That ain't so bad.
"It wasn't until I let go that I made it to the NBA," Bowen says. "I was content in my life."
Having logged two years in Europe, Bowen sandwiched another season in France between a pair of stints with the Rockford Lightning of the now-defunct CBA. He signed a 10-day contract with the Miami Heat in March of '97, but wound up playing a grand total of one NBA minute. "I was learning to deal with things that I didn't have control of," Bowen says. "It's a really good lesson, and it helps make us better people."
Bowen's odyssey through basketball's lower reaches would ultimately pay off, though, since today he can look back on a 13-year NBA career that made him a three-time NBA champion and a five-time member of the NBA's All-Defensive First Team. The Spurs even retired his No. 12 jersey in 2012 (though it's been temporarily "unretired" for LaMarcus Aldridge). The guy who actually had to apologize to Veyronnet when the Spurs visited Europe one preseason grew into a championship fixture after coming up a grouchy youngster.
During his prime with the Heat and Spurs, Bowen was the NBA's best wing stopper, capable of guarding all three perimeter positions, thanks to a blend of quickness, toughness and psychological tactics. Bowen was a key part of three San Antonio title teams, and he complemented his nasty D with a sweet three-point stroke that actually led the League in '03. The kid from Cal State Fullerton, who endured a rough childhood, made it through four years of basketball purgatory to become a full-on NBA standout. There are more remarkable tales in the pro basketball world, but not many.
"You have to take advantage of the opportunities you have," Bowen says. "I had opportunities, and I chose to listen to others and learn from them. A lot of times, we just want to do our own thing."
To many, Bowen's "thing" was defense and, admittedly, any player named to the All-Defensive First or Second Teams for eight straight years is certainly going to be known for shutting down his opponents. But Bowen was so much more.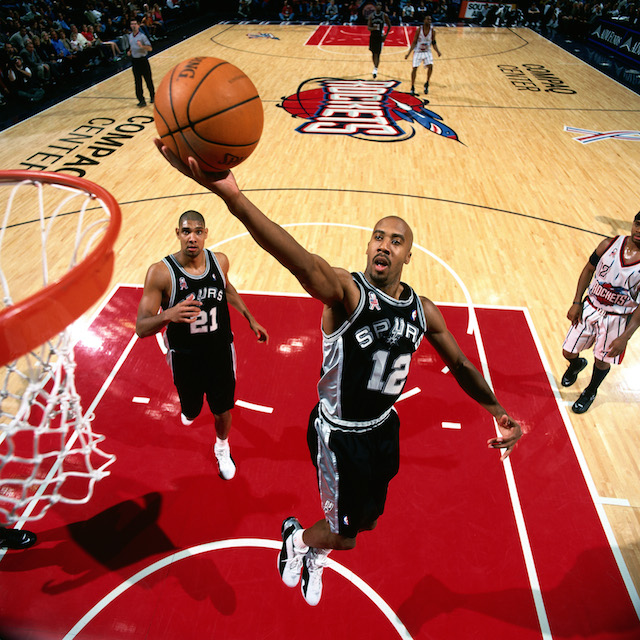 He's quick to tell people that in the late '90s, when he broke in, "the NBA didn't have one-dimensional players." Bowen averaged 16.3 ppg at Fullerton. In the NBA, he was a 39.3 percent three-point shooter for his career.
"I couldn't score like [former NBA players] Isaiah Rider and Lucious Harris, two guys who came into the League when I did, but I could score," Bowen says. "I knew I could be a defensive guy, but I didn't want to be taken out of the game in key offensive situations."
Bowen knew his place in the starting lineup came because of his D. Maybe if his first starting gig hadn't come in Miami, where Pat Riley had his teams dug in at the defensive end like World War I trench warriors, Bowen might have hung up more points. And perhaps if he hadn't ended up in San Antonio, where Gregg Popovich already had Timmy, Tony and Manu to score for him, Bowen could have gotten more buckets. But that was his path, and it worked out pretty well for him.
"He was the perfect guy to fit in with San Antonio, personality wise," says Steve Smith, a current NBA TV analyst who played with Bowen for two seasons with the Spurs and against him for many more. "He was a fantastic guy off the court, and he had a little nastiness on the court. He could guard anybody who played 1, 2 or 3, and if he couldn't, he was going to let you know he would try."
* * *
After shootarounds and practices, NBA players have lots of down time. On the road, there's usually a meal and a nap before the trip to the arena. At home, players might retreat home to their families or relax to let the effects of a workout dissipate. Not Bowen. He took tremendous care of his body—"He was in unbelievable shape," Smith says—but he usually had something going on beyond the court. Instead of sleeping or relaxing, Bowen might be at a museum or "making a stew," according to Smith. "He was very well-rounded," Smith adds. Bowen's specialty? Oxtail, and he would cook for anybody who was hungry. Smith also grudgingly refers to Bowen as a "pretty good salsa dancer," thanks to Bowen's turn on Dancing With The Stars.
But no matter how well he cooks or dances—or shot three-pointers, for that matter—Bowen will forever be remembered for his ability to stop other people from scoring. He never had crazy steal numbers, and his blocked shot totals were extremely modest. What he was, to quote Smith, was an "irritant." He delighted in disrupting top players' rhythms. No one can shackle a binge scorer completely, but there's a difference between a star piling up 35 points with ease, versus a frustrating, 6-17 shooting performance that creates doubt in the gunner's mind during key moments at the ends of games. Bowen had tremendous quickness for somebody who is 6-7, and he checked almost every superstar from the 2000s you can name, from Jordan and Kobe to Iverson and LeBron.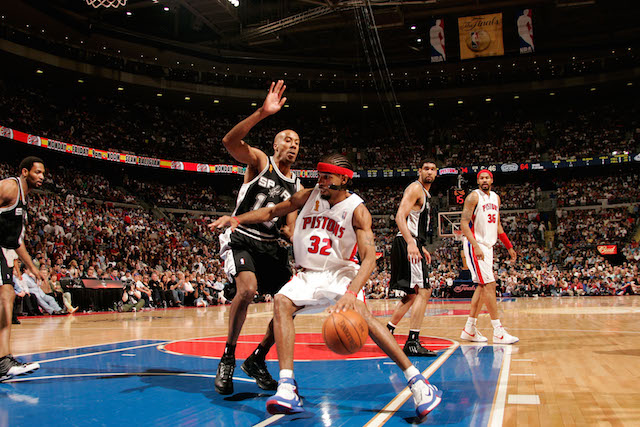 "I never saw anybody that big move his feet like him," Smith says. More than anything, though, Bowen wanted to play defense, in large part because he knew that was the role that suited him best on the Spurs. Due to a childhood made difficult by his mother's struggles with drug addiction, Bowen developed a toughness that helped him square up against the NBA's best. It also taught him to appreciate anything he had or earned.
"When you want to complain about what's going on in your world, think about someone else," Bowen says. "You have to be careful when you say, Woe is me, because someone else is worse off."
Bowen was the perfect player for Popovich's system in San Antonio— curious, committed to the whole, willing to sacrifice for his teammates. It was an ideal spot for him, because he came to understand the value of playing for someone like Popovich, whose demanding style was designed to build a strong team and stronger men. Bowen calls Popovich "the MacGyver of coaching" because of his ability to succeed with whatever was at his disposal.
"He's able to piece things together and get them to work," Bowen says. Popovich brought perspective to the Spurs beyond the court, whether he was getting them to understand the sacrifices of those in the armed forces, giving them books to read throughout the season or putting them in team building situations designed to build camaraderie. That was the perfect setting for Bowen, who thrived within a team setting meant to create players for whom basketball wasn't the only thing that mattered.
"There were so many lessons Pop would share that had nothing to do with basketball and everything to do with humanity," Bowen says. "He wanted us to be aware of what was going on in the country. He would say, 'You think you're having a bad day because I got on you in practice or you shot 3-10 in a game, but what about the young men who are sacrificing their lives for your freedom?'
"The thing I miss about Pop is the daily lessons about life he would share."
Popovich convinced Bowen to play a role that kept him in the League for 13 years, brought him three rings—not to mention plenty of money—and appealed to Bowen's wider worldview. It wasn't all basketball with Popovich, just as it isn't all ball for Bowen.
"Pop taught me to take the high road in certain situations, even when you've been wronged," Bowen says. "Keep moving forward."
After he retired in 2009, Bowen continued his progress. As a TV analyst for ESPN, he has the ability to relay his perspectives on the game to an audience that might be only looking for highlights but who will end up learning something about the sport's broader concepts. Just as Bowen had to understand the value of surrendering to things he couldn't control while he was working his way to the NBA, so too, viewers need to understand that just because a player can score doesn't make him a great player.
"I enjoy broadcasting," Bowen says. "I get a chance to educate people on things I know. It's not arrogant. Because I've been through things and been on bad teams and good teams, I feel like I have a special perspective.
"I can go back to the experiences I have had."
—
Photos via Getty Images