During All-Star Sunday this past February, Buddy Hield was at home in New Orleans, getting ready for a night out. His Pelicans were hosting All-Star Weekend, and though the main game had just wrapped, plenty of celebrating remained. Before leaving, Hield heard the jingle of an ESPN alert. He mindlessly picked up his phone and read off the screen. Change of plans. He was going to Sacramento in a deal for DeMarcus Cousins.
For Hield, a rookie, to be traded at all was bizarre, and to go to Sacramento was stunning. Sacramento? It was as far as could be from his native Bahamas, and nowhere near the southern states where he spent his teenage and college years.
"I didn't watch Sacramento, didn't know what they did," Hield says. "I was caught in a daze. But I had to go on to the next team. I decided to try to turn the franchise around."
That's a tall order. The Kings have not been good in more than a decade. In 2002, Chris Webber, Mike Bibby, Peja Stojakovic and Vlade Divac led a memorably selfless team to the Conference Finals. Sadly, though, a litany of injuries and odd trades cursed that era and plagued the ones that followed. Just a few years ago, the franchise nearly left town altogether.
And yet, Hield's goal is not out of reach. Yes, hope springs eternal in Sacramento thanks to one of the League's more intriguing young cores. This season, the Kings will feature 10 players with zero-to-two years of NBA experience, with nine first-round picks among them. Hield is the movement's centerpiece.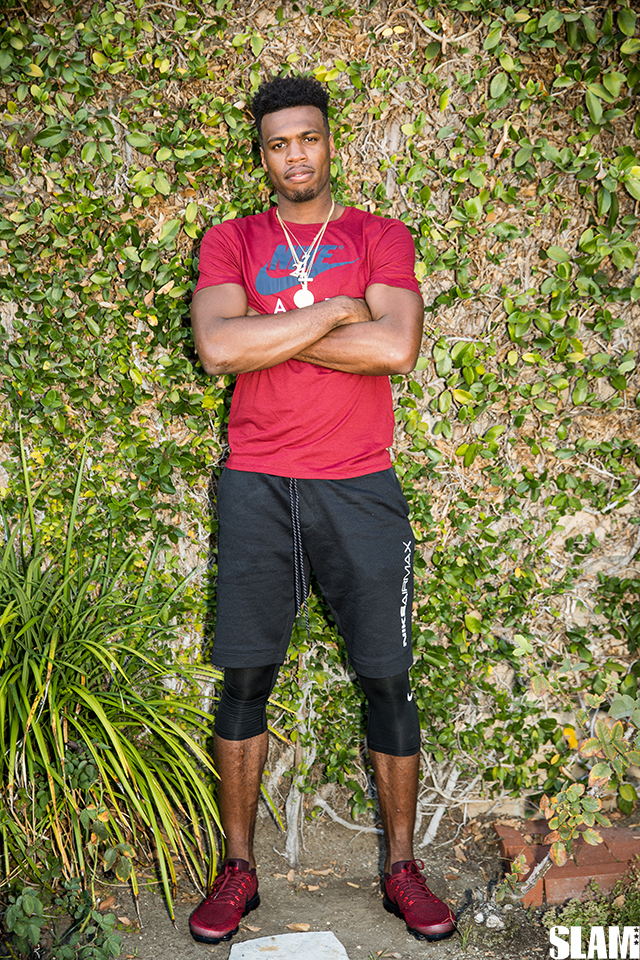 Following the big trade last year, Hield started 18 games with Sacramento. In those starts, he averaged around 16 points, 4.5 rebounds, 2 assists and 2.5 threes per game. He hit 47 percent overall and 43 percent from deep. If done over a full season, those numbers would stand alone across the NBA—last year, no player scored as many points and hit as many threes at higher clips.
On the floor, Hield moves with a purpose. He likes to approach half-court sets at a measured pace, surveying the floor. At 6-4, he has excellent handles in traffic; at 215 pounds, he's comfortable attacking the rim. Most of all, though, he loves to stroke it.
Hield has a simple, quick release from deep, but shoots in a thousand unorthodox ways from inside the arc. He's shown a Dirk-ish turnaround, a Pierce-esque leaning jumper, a Parker-like floater. Sometimes, those moves will converge, like on a funky 20-footer that he releases with one hand, falling forward, or on a physically improbable fadeaway floater.
"In the NBA, everyone is so athletic, the defense is so good, you just try to find a way to get a shot off quick," he says. "I enjoy watching Paul George, Steph Curry, CJ McCollum—guys who score the ball a lot. I try to nitpick their moves. But I just be me on the court."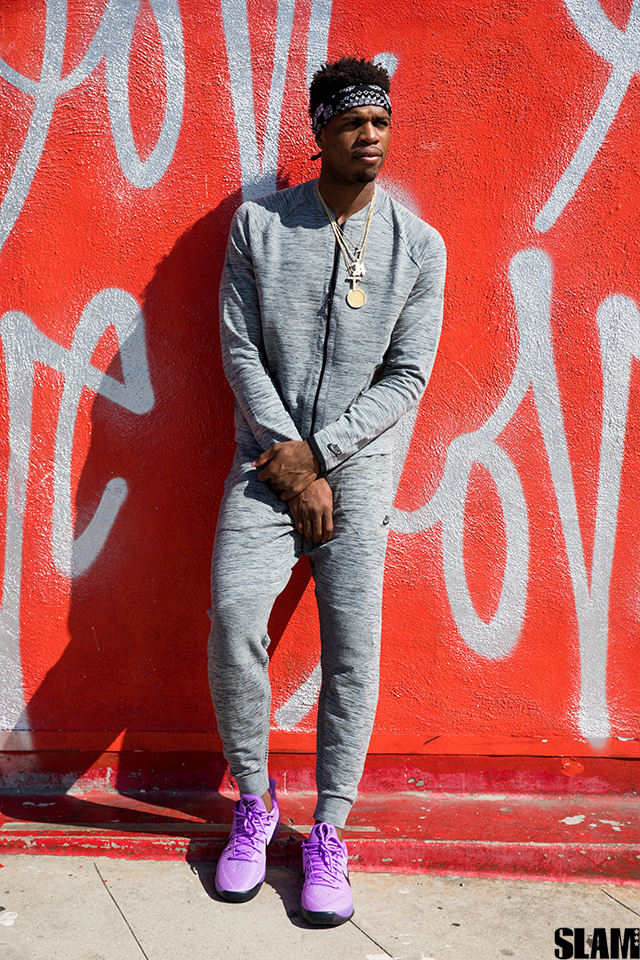 Hield is calling from L.A., where he's been training ahead of his sophomore season. He speaks quickly with a heavy Bahamian accent (he was born in the town of Freeport). He likes to say that he has three alter-egos: Buddy Buckets, Buddy Fresh and Buddy Love.
His sister Jalisa, 27, describes them: "Buddy Buckets is for on the court—the raw talent. Buddy Fresh is him red-carpet ready. He has swag. He has a feel about himself that separates him from everybody else. Buddy Love is a big heart. That soul is divine. He's patient, he's humble, he's genuine. It's all about love."
Hield grew up in a three-bedroom home filled with seven children, one grandmother, and Hield's mother, Jackie Swann, who worked as a housekeeper. It was no doubt a modest beginning, one that Hield still carries with him.
This past summer, Hield hosted a number of camps to raise money for victims of Hurricane Matthew, which swept through the Islands last year. Two programs were in the Bahamas—one in Nassau, the other in Freeport. He would donate 150 pairs of Nikes, plus endless backpacks and necessities, to Freeport locals.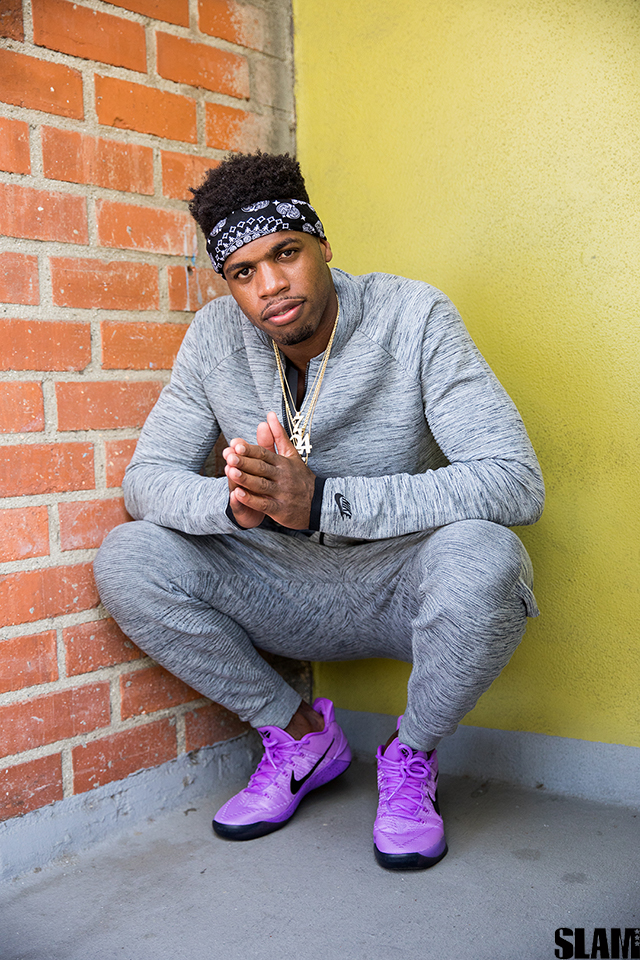 Says Jalisa, who helped organize the camps, "Buddy is a big deal there, but for him, it's not about being a big deal. It's about the sacrifice—teaching kids to sacrifice. His wish is not to just get kids to the NBA, but for them to go beyond and do greater things, and to then come back for the community."
Hield also held stateside camps in Wichita, KS, where he played high school ball, and in Oklahoma, where he spent four years as a Sooner.
In his final season at OU, Hield was a first-team All-American and won several player of the year awards en route to the 2016 Final Four. His numbers that season were outrageous: 25 points and 4 three-pointers per game while shooting over 50 percent from the floor. Still, at the time, few imagined Hield finding similar success in the NBA.
Before the draft, Bleacher Report wrote that, "the biggest concern with Hield is his lack of ability to create shots for himself off the dribble. There was a JJ Redickian quality to his game [at OU]." This was a common complaint.
Hield would go No. 6 to New Orleans, who began the season 0-8. Most nights, the rookie was stuck behind the likes of Solomon Hill and E'Twaun Moore—a glosomy sign.
In February, when Hield headlined Sacramento's return package for Cousins, the deal was met with unanimous shock.
Sports Illustrated called the deal "horrible" for Sacramento, and wondered about a potential rebellion against the front office. The Ringer quoted a league source as saying, "They gave Cousins away for a three-piece meal at Popeyes lol."
Even NBA players, who usually reserve their negative opinions out of respect for their peers, couldn't help themselves. CJ McCollum asked if the trade was real. Isaiah Thomas wondered if it would even be allowed by the lenient trade-approvers in NBA2K. Many more players dropped "Wows" and various stunned emojis.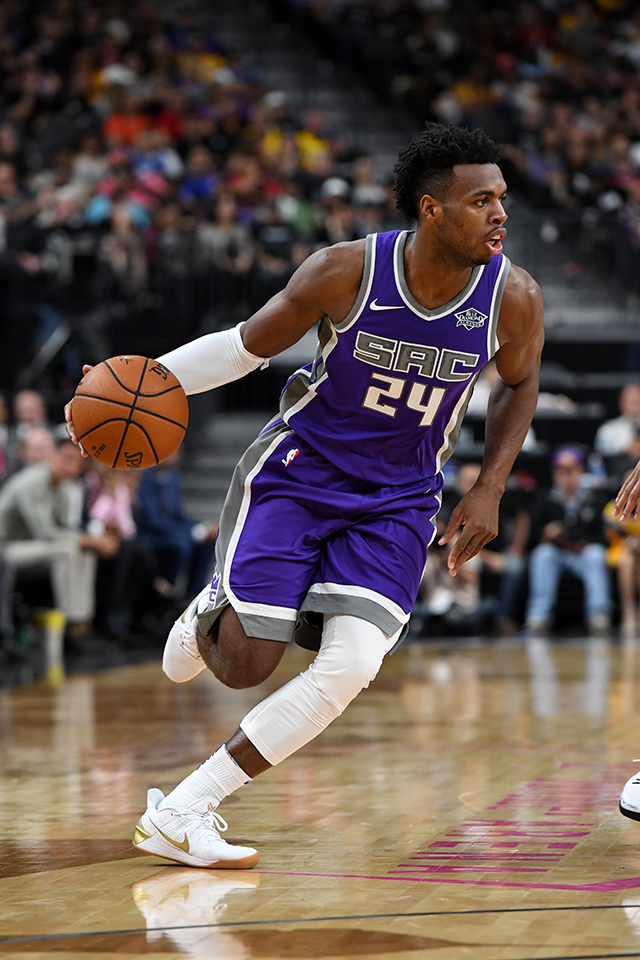 The disbelief didn't last long. Hield scored 16 and then 15 points in his first two games with the Kings, a taste of what was to come. "Sacramento freed me to open my game," he says. "I was able to figure out the NBA speed. I found my feel for the game—don't be in a hurry, be under control."
His supporting cast developed, too. Specifically, three front-court pieces, who were given increased playing time swith Cousins out of the picture, showed great promise.
Skal Labissiere (21 years old), at 7 feet tall, has a sweet jumper and rebounds well. Willie Cauley-Stein (23) averaged around 13 points, 8 boards, 1 steal and 1 block following the trade. Georgios Papagiannis (20) is on his way to a bruising, double-double-filled career. Each player impressed Hield.
"When I got there, I said, Yo Skal is not bad!" Hield says. "He can shoot over anybody, and he's progressing every day. He has that swagger when he walks and talks—that he's it. I like guys like that."
As for Cauley-Stein: "I love Willie," Hield says. "He's a great defender and rim protector."
And Papagiannis: "That's a big body, man."
This summer, the Kings did an admirable job building around Hield and their three bigs. In June, they selected De'Aaron Fox, the lightning-quick point guard, at No. 5. They then flipped a draft pick acquired in the Cousins trade for two lower first-rounders and grabbed Justin Jackson, a three-year wing from UNC, and Harry Giles, a raw, more athletic prospect from Duke, who was projected to go in the top-10 before knee injuries slowed him down during his lone season in college. In the second round, they picked Frank Mason III from Kansas, the reigning National Player of the Year.
In July, the team added veterans George Hill, Vince Carter and Zach Randolph via free agency. Additionally, Bogdan Bogdanovic, the highly regarded Serbian swingman, will make his NBA debut this season at age 25.
"When we made that decision [to trade Cousins], we knew exactly where we were going," Divac, now the team's GM, recently told The Boston Globe. "So far, it's exactly what we want. We have nice, young, talented kids, and obviously with the addition of veteran guys, [they] are going to teach them on a daily basis what it takes to win, what it takes to be a pro."
Some lessons will also come from the Kings royalty that remains involved with the franchise. In addition to Divac, Doug Christie (local TV analyst) and Stojakovic (GM of G-League affiliate) are constantly around the team, preaching to Hield about defensive intensity and three-point shooting, respectively.
Drawing advice from those guys is sweet, though tapping into their old team success would be even sweeter. These Kings may not be the Webber/Divac Kings—not yet—but perhaps they can emulate the group that preceded that Conference Finals squad.
In '98-99, following a decade of Kings basketball worse than this one, C-Webb arrived from Washington, Divac from Charlotte, and Stojakovic and the devilish Jason Williams debuted as rookies. The team played to a 44-win pace in a lockout-shortened year.
For Buddy Hield's Kings, such a revolution begins now. As he says, the pieces are in place—it's just up to the team's youngsters to catch up to the resident vets. Indeed, it won't be long before the young Kings have the rest of the league looking up at Sacramento.
—
Leo Sepkowitz is a Senior Writer at SLAM. Follow him on Twitter @Leo Sepkowitz.
Portraits by Cassy Athena.
Action shot via Getty Images.