Cleveland Cavaliers rookie Joe Harris was forced into extended action recently due to injuries to Matthew Dellavedova and Dion Waiters at the shooting guard position. During a home victory over Anthony Davis and the New Orleans Pelicans, Harris first capitalized on his opportunity by providing effort and energy for 20 minutes off the bench in support of LeBron James, Kevin Love and Kyrie Irving.
The No. 33 overall pick in the 2014 Draft followed that appearance with 19 more minutes highlighted by a monster three on the road against the Celtics in a much-needed win for Cleveland. Harris then logged 21 minutes against Atlanta, totaling 12 points in a blowout win. While helping his team win each of the three games he's played, Harris has caught the attention of not only Coach David Blatt, but also King James.
"He was huge," LeBron James said last week about the spark Harris is providing off the bench for Cleveland. "Joe Harris is going to be a big piece for our team."
The support from James has been earned by consistent work ever since Harris first set foot in the Cavaliers facility. He's worked hard on the conditioning program, embraced his role, and quickly adapted to Blatt's system at both ends of the floor. That work has resulted in the 6-6 shooting guard connecting on 7-of-14 shots from the field during this recent run, while averaging 7.7 points per game. Defensively, he's also earned high-praise from the coaching staff each time he's stepped on the floor.
If you ask Harris how a second-round pick has broken into the rotation on maybe the NBA's most talented roster, though, he'll simply shrug and say he owes it all to the "Cavs Bench Mob."
"My whole game is about coming out and providing effort all the time," Harris told SLAM. "Just come out and bust your tail giving energy. That's the mentality you have to have, and that's what is going to help us have the most success as a team this season. Then, at the same time, you're getting after it, trying to wear the other guys down that we're playing against while you're out there so that when our guys get back in their job is hopefully easier. That's just what we try to do, and that's why we call ourselves the Cavs Bench Mob."
The Cavs Bench Mob features six players, each of whom could be on the outside of Coach Blatt's 9- or 10-man rotation on any given night. This group includes Harris, James Jones, Lou Amundson, Will Cherry, Alex Kirk, and CBM "founder" Brendan Haywood. The NBA champion and 12-year veteran from North Carolina is focused on continuing to lead in his current role with the contending Cavaliers, and is proud of what his guy Harris is accomplishing.
"The Cavs Bench Mob is just about camaraderie, and getting extra work in because all of us don't always play as much," Haywood explained. "With some teams, guys on the bench are angry that they're not playing. We embrace our role. We know that we're there when the team needs us, and we're almost like a little family. When Joe Harris hits a three, it's like me and Lou hit a three, too. We're hype for him, we're excited, and we want to see everybody do well."
Much of what has helped Harris emerge from the Cavs Bench Mob to do as well as he has on the floor relates to his simplified approach. Harris, 23, has a clear understanding of what his role is on the Cavaliers. Unlike other rookies, the playbook and NBA way of doing business hasn't served as much of a learning curve, either. He knows where he's supposed to be, what he's supposed to do, and how he needs to play each time he enters the game.
"My role on this team is to come off the bench, bring a lot of energy and get after it defensively," Harris said. "Playing a lot fewer minutes, I just need to go in there and bust my tail. Go out and just give a lot of energy, lot of enthusiasm, and then I'm going to try to space the floor offensively. I'm not trying to do anything that I can't do. I understand my role, space the floor, knock down shots, and run hard off of cuts. Help make sure that spacing and rhythm and flow is good for LeBron or Kyrie or Dion—whoever it is that we're out there with that are our offensive threats. I'm just trying to make their job easier, and then just knock down shots when they're available for me."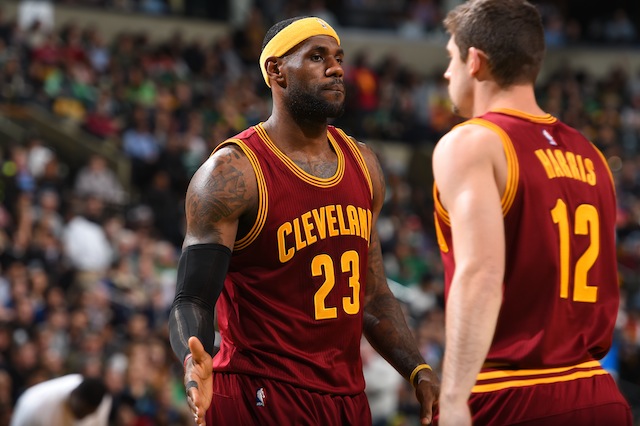 Regardless of where the emergence of Harris goes over the next several weeks—with some even suggesting he could start for the Cavs eventually—Haywood believes the healthy environment of the Cavs Bench Mob will continue to yield dividends throughout the season.
"It's one of those things where everybody wants to play," Haywood added. "But when you get to the end of the bench, you want it to be a happy environment. An environment where you're not satisfied with your role, but you're cheering everybody on and you're ready to play when your number is called. Games of 3-on-3 after practice, the extra work we're putting in, it's paying off already. You see how great Joe is playing. Joe comes in, he's ready. It didn't look like he was going to play at all and now he's getting minutes, and his role is probably going to continue to grow. So the Bench Mob, we're happy for him."
Happy is a common theme for the NBA players who make up the end of a Cavaliers bench led by three All-Stars and one of the greatest players to ever live. Fellow Cavs Bench Mobber Will Cherry, an energetic, hustling point guard from Oakland, certainly fits under the umbrella of happy. He's smart and mature enough to understand what he's a part of, both in terms of the bench mob family and the Cavaliers unit collectively.
"We're witnessing greatness every night," Cherry, the University of Montana product, said. "Especially between the spectacular plays that No. 2 and 23 make—those two guys right there, watching them makes the game exciting. When you get to go to work with those guys, along with K-Love, whenever they pick their time to start taking over games and making spectacular plays, I'm always on my feet. They always have to pull me down because they can't see behind me. But you just need to feed off that energy, especially at home with the fans going wild. Us as bench players, we're just like fans too. When we're sitting down there, we got the best seats in the house. Then when we're in the game, we're energized and ready to go because we've been locked into all aspects of the game from the bench the whole time. That's our role, to keep the energy up no matter what and always be ready."
The Cavaliers veteran who created the awareness for family, support and hard work at the end of the bench couldn't agree more with the youngsters he's working to help succeed at the professional level. Just as in life, so much of success is simply about approaching everything with a positive enthusiasm.
"It's all about having positive energy and supporting your teammates," Haywood said. "That's the best way to be ready when you're number's called, and help your team continue to get better."
As far as helping him improve as a player since joining the Cavaliers, Harris is quick to credit Haywood for his recent success. He also refers to the 7-foot center as the "Godfather of the Cavs Bench Mob."
"Brendan [Haywood] was just talking with me earlier," Harris said. "He was saying he's proud of me, glad to see me doing it for the bench mob. He told me, 'when you succeed, we all succeed. And that's just the approach we're all taking on this team.' That's why Brendan is the Godfather of the Cavs Bench Mob. James Jones is definitely the Godfather of the team overall, but Haywood is our Godfather on the Bench Mob."
While certainly acknowledging his support for Harris, Haywood laughed away the "godfather" title when relayed the message.
"That's just Joe being funny man," Haywood laughed. "Like I said, it's one of those things where we support him, and we tell him—like the other night, me and Lou told him—listen man, we probably won't get in tonight. But when you get in, play for us. We're living through you; we're going to support you. Do your thing. And he had a bigtime role in helping us win that Celtics game. We couldn't have done it without him. And it couldn't have happened to a better kid—Joe Harris is a great kid."
Brendan Bowers is an NBA writer who covers the Cavaliers and the NBA in Cleveland for SLAM. Follow him on Twitter @BowersCLE. Images via Getty.