Right before the 2008 Olympics kicked off in Beijing, China, five members of the USA Basketball National Team were waiting in California for a flight. LeBron James, Chris Paul, Dwight Howard, Deron Williams and Chris Bosh pulled up to a Wendy's that was attached to a gas station. Bosh was heavily into making YouTube videos at the time and he filmed a part of their meal.
"We were just hanging out," Bosh says with a laugh. He's at Katsuya, a sushi restaurant right near Staples Center, a few hours before All-Star Saturday Night starts. "We had six hours before our flight. So we went to Best Buy, went to get some food and we were just hanging out. And I'm obsessed a little bit with filming stuff. So I showed it."
It's those little moments—just chillin' and having a few laughs with teammates—that have been stripped from Bosh. The big man hasn't played since 2016, when he was forced out of the game due to life-threatening blood clots in his lungs and in his legs. But the 11-time All-Star says his playing career isn't over yet.
"I tell people that I never said I was done," Bosh says. "I'm just letting everybody know that I've been a dad, I've been taking care of my family. That's the first priority for me. I've been doing that and I've been working out. That's what I do. I don't play 5-on-5, but that's always been my intent. That's always been my goal—to get back. I haven't been shy in letting people know that. I feel that I at least have to try. And if it doesn't work out that's fine."
Before the career and life-threatening injuries, Bosh was one of the premier big men in the League. In five of his seven seasons with the Toronto Raptors, Bosh averaged at least 22.5 points per game. When he linked up with fellow Team USA teammates LeBron James and Dwyane Wade in Miami, the trio formed one of the best teams in NBA history, appearing in four-straight NBA Finals and winning two titles.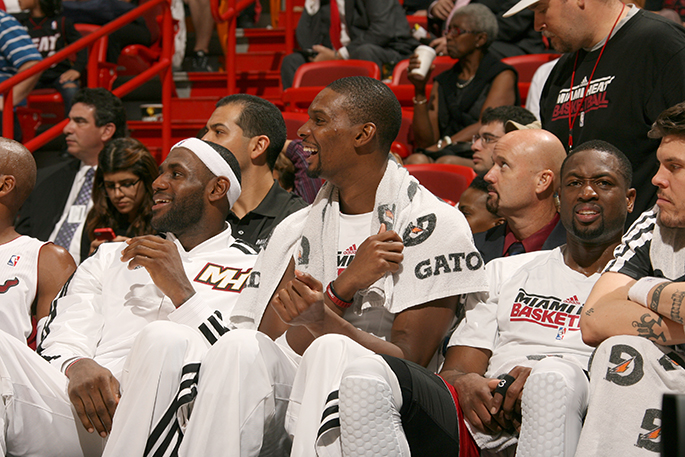 With the Heat, CB showed off the versatility and skillset that makes him a lock for the Hall of Fame. When things didn't automatically click in Miami, head coach Erik Spoelstra depended on Bosh to accept a smaller role on offense and a bigger one on defense. The coaching staff asked the 6-11 Bosh to play center, step out and switch onto guards in pick-and-roll coverage and then get back to crash the glass. And they also asked him to expand his jumpshot.
"I played a lot of five in Toronto," Bosh says. "We kinda had that feel back then—they were trying to peg us as the Phoenix of the East. We were playing that fast-paced kind of ball. A lot of threes at the time. It was a normal transition when Spo asked me to do it."
Bosh became a knockdown midrange shooter. His jumper reached its peak in the 2012-13 season, when he connected on a highly efficient 52 percent of his midrange shots. After the Heat won the 'chip that season, big men all around the NBA started getting more shots up. Take a look around the League today and every single new-school big is expanding their game to the 3-point line. Bosh, who put up 19.2 and 8.5 over the first 13 years of his career, helped influence an entire generation.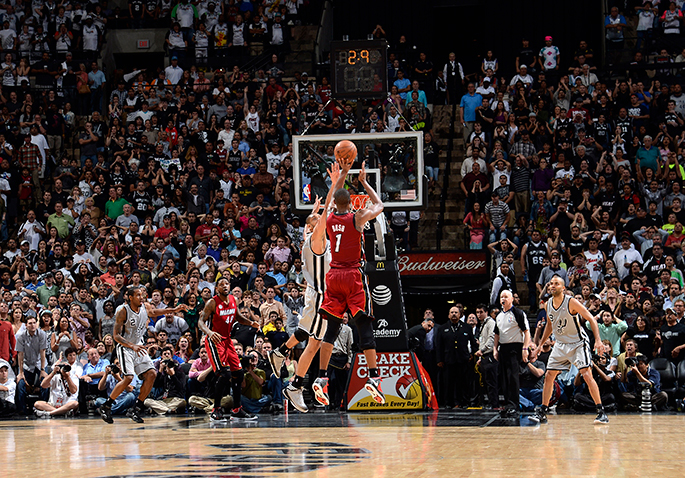 "You see how the game's evolved," he says. "Now I feel like I'm missing out. This is what I saw. Now it's happening and it's great for the younger generation. And it's like, I got moves for that. You work a lifetime to play this style of basketball, and now it's everywhere. It sucks to be a pioneer."
Bosh, with a mix of vulnerability and pride, goes on to talk about how it's difficult to see his guys from the 2003 draft class still being so successful. He says it's "one of the tough parts" of being in his situation, but in true team-first fashion, he quickly adds that it's "good to see those guys continue to affect the game."
Bosh is still a team player, operating with the same combination of self-confidence and generosity that made him one of the best players in the NBA. And if he gets his way, one day soon we'll see him back on the hardwood, helping another team to greatness.
–
Max Resetar is an Associate Editor at SLAM. Follow him on Twitter and Instagram. 
Photos via Getty Images.
8,506