More than 17,000 career points, 7,000 rebounds and 900 blocks. Six seasons of 20+ points per game. Eleven All-Star games and an Olympic Gold medal. Two NBA championships. That's 13 years of work for Chris Bosh. He's a lock for Springfield.
Even if he never scores another point, CB solidified himself as a leader, a professional and a winner a long time ago. LeBron James and Dwyane Wade wanted him on their team. So did Jerry Colangelo and Mike Krzyzewski. A reputation can't get much better.
Bosh has always shown that he's not just a basketball player, though. He takes pride in being a well-rounded person. He used to have a YouTube channel with vlogs, interviews, even a behind-the-scenes series about getting his first tattoo. He's become a talented chef and he's appeared in movies and on television.
And these days, the Dallas native has picked up a new, more harmonious hobby: the guitar.
"I started playing because of my situation," Bosh says. "I had a lot more free time on my hands. I always wanted to learn music. About eight years ago I tried picking up playing the piano. My cousin would give me lessons. Of course, I didn't pursue it. It got too hard and I stopped. I always thought the guitar was cool. So I said, If I pick it up and don't put it down, I can learn how to play the guitar."
Even with all of his accomplishments on the court, Bosh has a relentless desire to keep learning new things. He begins by rattling off the legends who have inspired him: "Freddie King, BB King, Stevie Ray Vaughan. Freddie King's from Dallas."
He pauses there. "I was like, Damn, one of the Texas blues OGs is from Dallas. That's super cool. Then of course, Jimi Hendrix, David Gilmour. I listened to a lot of Led Zeppelin, Jimmy Page."
Bosh says his father used to play the old blues legends while he was growing up. "I have very fond memories of [guitarists] like that," he says.
* * *
Young Chris Bosh averaged 20 and 9 through seven seasons in Toronto. He led the transition from the Vince Carter era and got the Raps to the playoffs twice. He was a dynamic first option. Seriously, go back and watch the tape. CB was dunking on everyone. In his final season up north, he averaged 24 points and 11 rebounds in 70 games. But the Raptors missed the postseason yet again.
As we all know, Bosh took his talents to South Beach in 2010. In joining the Heatles, Bosh entered the League's brightest spotlight. When the Heat lost to the Mavericks in the 2011 Finals, it was Bosh who had to take the longest look in the mirror. Fans thought it was easy to laugh at him when he broke down and cried right after that series was over. The weight of it all hit him.
Bosh was 27 at the time, one of the 10 best basketball players on the planet, in the prime of his career. He could have quit, gone back to running his own team. Yet he understood that he was the one who was going to have to sacrifice the shots, the stats, the attention, the All-Star votes and the respect of every stupid troll on the Internet.
And he did it.
The Heat began to dominate. James got the awards. Wade got the love. Bosh flew under the radar. He was the team's backbone. He was its most underappreciated piece, versatile enough to play center, locking down the paint, quick enough to switch off picks to contain the League's fastest guards on the perimeter. After two seasons in Miami, he even developed a lethal outside jumpshot.
Trace it back for a second. Every big man in the League shoots jumpers now. But with the Heat struggling to beat Roy Hibbert, David West and the Pacers in the 2013 conference finals, Bosh had to step out to the three-point line and hit timely buckets from downtown. He made the third-most threes on the team in that series. He completely flipped his game, going from a rim-attacking power forward to a pace-and-space center. He was still playing down low, though. In the next series, he grabbed the critical rebound and made the pass that led to Ray Allen's legendary Game 6 three-pointer.
From one of the best individual hoopers in the world to its most willing teammate to the small ball catalyst, Bosh didn't hesitate to do whatever it took to win.
By 2014, fans finally understood that the Heat wouldn't be the Heat if Bosh didn't play his role. In the season after James went back to Cleveland, Bosh returned to superstar form. He was averaging 21 a game until the All-Star break.
People didn't overreact too much when he was a late scratch in that year's All-Star Game. A few days later, Bosh found out he had blood clots in his lungs. It was the start of a long road that's left everyone uncertain about his future on the court. [That same blood clot condition took him off the court again in 2016.—Ed.]
Sidelined from his normal daily activities, Bosh started by taking a couple of guitar lessons from guys in Miami and Los Angeles.
"I had a teacher in L.A.," he remembers. "We just did two lessons, though. He actually was just a guy that did our construction and we ended up talking about guitar one day. He said, 'I can give you a few lessons.'"
Bosh lets out a full laugh. He laughs a lot. It's the chuckle of a man who's at peace, comfortable and happy.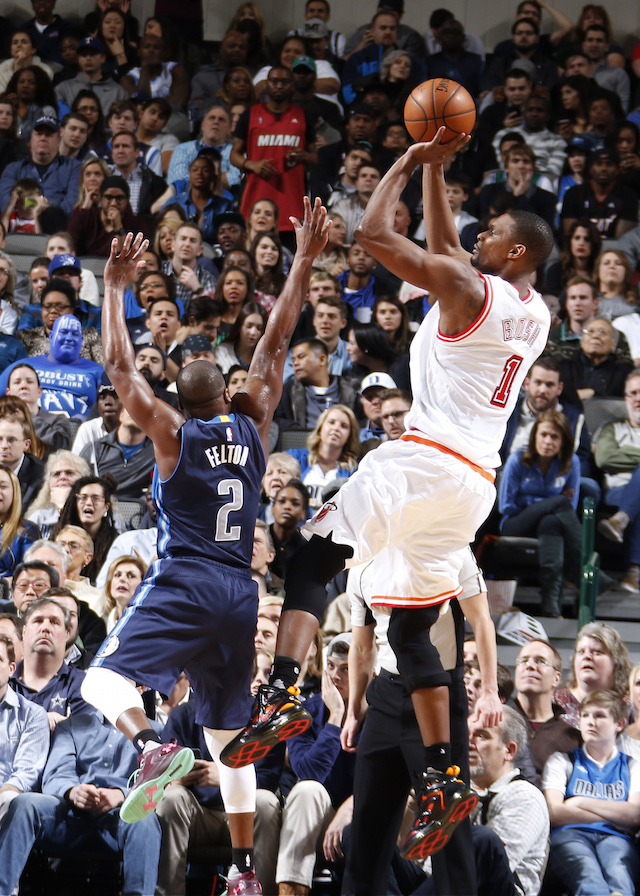 He talks about the six-string with ease now. He likes to play the blues minor pentatonic scale and he likes the way the F chord transitions to the C chord. Every now and then, clips of him playing pop up on his Snapchat account. Sometimes he's wearing Rolling Stones t-shirts; sometimes he's rocking cowboy hats. Sometimes he picks up the acoustic; sometimes he rocks out with the electric.
He plays more notes and scales than chords, and plays along with records more than he jams with other musicians. He's mostly figuring things out for himself, trying to find the sounds that interest him, he says.
"Things just started making sense a little bit," Bosh says. "I started getting into music theory, the simple basics. You start to see how the pieces of the puzzle fit." He laughs again. "When I tell you I'm all in, it's no joke."
Just as his father was into the blues, today, his wife Adrienne and her father are connecting with him through music.
"She grew up on grunge," Bosh says. "Grunge and Stevie Nicks. And the Steve Miller Band.
"My father-in-law, we connect," he continues. "We listen to old rock-and-roll records all the time. My wife, she'd go to rock festivals, Ozzfest [founded by heavy metal singer Ozzy Osbourne in the '90s] all the time growing up. She just has a great ear for music. When we were dating, she turned me on to new music. I knew who Nirvana was, but she'd be like, 'Listen to this Nirvana song.' Or, 'This is Nine Inch Nails.' Or, 'This is Sublime.' Different kinds of bands. It's interesting to talk to people about music."
Bosh is probably one of very few NBA players who regularly listen to Nine Inch Nails. He's definitely the only one to jam live with Miguel, the angel-voiced singer with hits like "Do You?" and "Adorn."
"One time this summer, we were hanging out in Nashville," Bosh says. "Miguel is a really good friend of ours. It was me, him and we were supposed to go see Gary Owen that night at a comedy club. We all ended up hanging out at my room.
"I was talking to Miguel and they brought out the guitar. He was like, 'You play the guitar?' I was like, Yeah! And my wife, she's always like, 'Yeah, he plays the guitar! Sing, play for 'em, babe!' She put me on the spot right away. So I said, 'OK, damn, Miguel, you're here. I have to jam with you.' That was probably the coolest moment so far."
Bosh went from playing his acoustic Recording King guitar by himself to being afraid of playing with people ("At first, [jamming] was like jumping off a cliff") to singing backup to Miguel in a city with one of the richest musical histories in America.
But Bosh's ascension as a guitarist should come as no surprise. He's a workhorse—and a quick study—in whatever he does. Basketball, comedy, cooking—Bosh has always figured out a way to succeed.
Unlike roundball, though, he doesn't have anything to prove or win by learning guitar.
"Playing music is therapeutic and I wanted to be able to do that," Bosh says. "I had never had a feeling like that about anything else outside of basketball. Of course, basketball, my wife, those are the times you get those feelings, but I got that feeling watching people play music. I'm like, man, you know what? I'll do that. I'll do that for free, by myself. If I could do that, I'll be happy."
—
Max Resetar is an Assistant Editor at SLAM. Follow him on Twitter @maxresetar. Photos via Getty Images.
1,417