It's no big secret how it begins, how the Clippers score time and again: Chris Paul stands at the top of the arc and dribbles.
In this instance, he is guarded by Danny Green. Paul's teammate, JJ Redick, approaches him from the right wing and runs past him, dragging Green into the far corner, away from the play. The man who had been guarding Redick—this time, LaMarcus Aldridge—is left to guard Paul, whom he is too big and too slow to cover. On a December night in Los Angeles, the Spurs are toast, and the Clippers know it.
DeAndre Jordan jogs toward Paul to set a screen, and his defender, Pau Gasol, follows. The paint is now unprotected, as Gasol and Aldridge are lost to the perimeter, vaguely challenging Paul but mostly just looking nervous. Paul sees all of this and charges toward the basket, causing both defenders to step forward toward him. This is Jordan's cue. He breaks for the rim, and Paul hits him in stride with a firm one-hopper. A two-handed flush ensues. The whole play takes only four seconds. It is a simple motion, just a high screen-and-roll, one that's common at every level of basketball, from your local rec league on up.
The Clippers soon try it again. This time, the Spurs counter by hedging against the roll—Gasol and Aldridge move to defend the rim, preventing another Jordan finish (thank goodness). But they've left Paul wide open beyond the arc, his dribble still alive—briefly, anyway, before he buries a three. By halftime, Paul is nearing a double-double, and the Clippers lead by 12.
This is the way things have gone for Chris Paul for more than a decade. He is a master of harnessing his teammates' skills to maximize his own—and vice versa—so that, for instance, his passing precision empowers Jordan as a roll-man, meaning the defense has to keep its eyes fixed on Jordan, meaning nobody's watching Paul, so he then comes alive as a scorer. And once that happens, forget about it—Jordan can basically stroll right up to the hoop, where Paul will find him. All point guards engage in such a give-and-take. But Paul, more than any other, makes it visible, displaying the whole point and beauty of basketball in plain sight.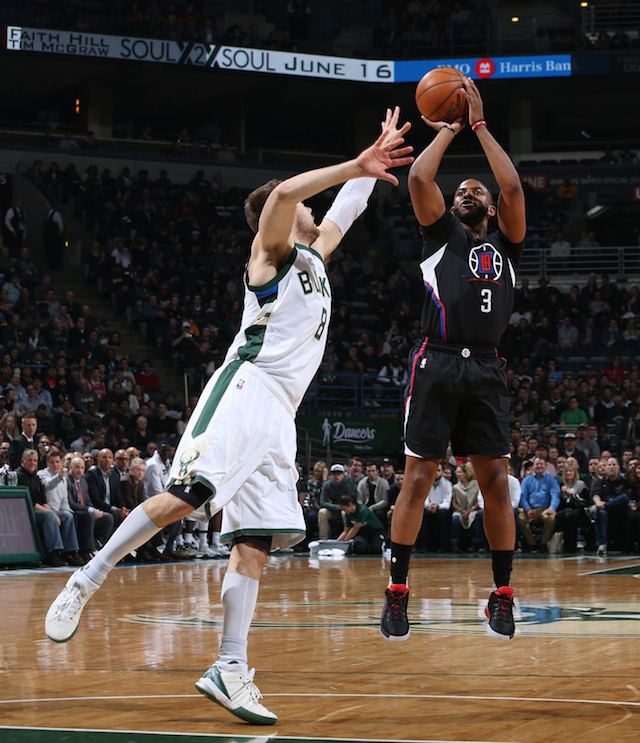 In the era of the self-sufficient point guard, Paul fits the old prototype. He is a careful distributor, a lockdown defender and a timely scorer. This year, he is the only player averaging 15 points, 7 assists and fewer than 2.5 turnovers per game. Throughout his career, he has averaged more takeaways than turnovers five times, more than any Hall of Fame guard. He is the most dependable player at his position, an old-school honor in a futuristic age.
"It seems like, every game now, the point guard is the guy," Paul says. "Every night, [coach Doc Rivers] says, 'Alright now, you gotta slow this guy down and we'll be OK,' and eight out of 10 games, it's the point guard."
Several hours before facing San Antonio, Paul, 31, sits courtside at the Clippers' practice facility in Playa Vista, CA, 15 minutes from the Santa Monica Pier. Outside, Los Angeles is happily accepting a needed downpour.
The Clippers stand at 21-8, and they'll beat the Spurs tonight. L.A. will secure a sixth consecutive postseason appearance, which makes nine straight for Paul himself (OK, we're not counting '09-10 when he missed 37 games due to injury). Entering the Western bracket with such consistency is impressive, but Paul has famously yet to advance past the second round, an increasingly curious trend. To finally triumph this spring, he will have to survive a battle of clashing playing styles. His adversary will be a group of new-age super-point guards—think Russell Westbrook, James Harden and Stephen Curry.
"What Russ is doing, what James is doing—scoring, assisting, handling—it takes a special player to do that," Paul says. "Point guard has been a dominant position since I've been in the League, but it's even more dominant now."
Paul's rookie season can be viewed as the transitional moment in point guard history. Then, in '05-06, practitioners of the old game (Jason Kidd, Steve Nash, Andre Miller, Paul himself) intersected with a fringe group whose members preferred to score themselves (think Allen Iverson or Gilbert Arenas).
"I remember my rookie year, I had to learn how to play defense," Paul says. He faced every type of point guard that season. "My coach was Byron Scott, and he was like, If we're playing against J-Kidd, you're playing against J-Kidd. If we're playing Iverson, I had Iverson. I had to guard Baron Davis and Chauncey Billups, you know?"
In the 11 years since Paul's debut, the score-first style once embraced only at the League's margins has moved to the center.
Today in the West, Harden, Curry, Westbrook and Damian Lillard score upwards of 25 points a night. In the East, Isaiah Thomas leads all scorers, with Kyrie Irving, Kemba Walker and John Wall not too far behind. Meanwhile, pass-happy, defensive point guards, like Ricky Rubio and Rajon Rondo, are hardly welcomed anymore. (The same largely applies to offensively limited centers, at least outside of L.A., where Jordan thrives in a system created by Paul and Rivers, a 1980s PG.)
"It's totally different now," says Jamal Crawford, a teammate of Paul's who entered the League in 2000. "Back then, it was frowned upon if you were scoring as a point guard. Now they all get 25, 30 a game. Chris is rare because he's a true pass-first point guard at the top of the heap. He always knows what to call, who to get a shot for—he's in total command of the offense. He's just top-shelf."
In the words of Kidd, Paul is, simply, "the best."
"There's so many talented point guards doing incredible things today, filling up the stat sheet," Kidd says. "But when you look at Chris, he can control the game on offense and defense, and that's a rarity."
Byron Scott has coached Kidd, Paul and Kyrie (in that order). He also played in the NBA for 14 years, many of them alongside Magic Johnson. He understands the point guard transformation as well as anybody. "CP is more of a throwback player to me," he says. "He could have played in many eras. He's a true point guard—a facilitator, a leader who commands the offense and loves the challenge defensively. When we played Cleveland, he wanted to guard LeBron. He takes it personal when his guy scores, and he's able to adapt if he has to score. He reminded me of Isiah Thomas. He had that big ol' smile, but, inside, he's an assassin."
Longtime vet David West, Paul's old teammate under Scott in New Orleans, separately echoes the same idea. "Particularly when he was younger, Chris scored the ball like Isiah," West says. "He could just dominate the offensive possession. When he got it going, he was getting the rebound off the glass and taking matters into his own hands. When he wants to win, he just digs in."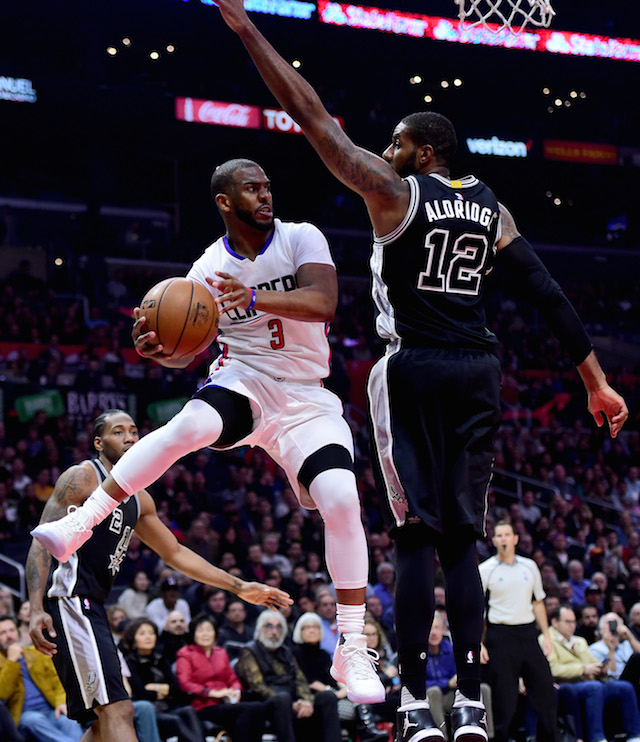 And yet, Paul's seasons have invariably fizzled.
Some recent knockouts were particularly disheartening. In 2014, the Clippers eliminated Golden State, then lost to OKC in six. In 2015, they eliminated San Antonio then lost to Houston in seven. Last year, Paul and Blake Griffin suffered serious injuries in the opening round against Portland, sealing L.A.'s fate.
The team can't afford another letdown—Griffin, Paul and Redick are impending free agents. As offseasons grow increasingly volatile, the return of this core is no given.
To keep everybody committed here, L.A. may need to offer substantial evidence that this thing is working; another flop could shake the franchise and, in turn, the NBA. Adding to the organization's pressure is Paul's own—across the League, only Paul blends such a frustrating past, such high expectations and such an uncertain future.
After all, his free agent status is not the only long-term consideration here—there is also the need to complete a nearly perfect career, to leave no doubts about it. For now, some injuries and oddities are parts of Paul's story, but eventually those footnotes will slip the collective mind. Years from now, who will recall that Paul missed the first two games of the '15 Rockets series with a strained hamstring? Who will believe that, much to L.A.'s dismay, nobody could have stopped Josh Smith and Corey Brewer from carrying Houston to the conference finals? That memory is already hazy—mostly all that's left is the notion that Paul's Clippers flatly blew a 3-1 lead. So it goes.
Only so much of even a great career can be remembered vividly. Over time, the sweet details that distinguished a player are often obscured and outlived by digestible, shallow narratives. Snapshots of a player unhinging a defense just by dribbling the ball 30 feet from the hoop; of him creating shots for his teammates; of him maintaining an approach to basketball that was last cool a decade earlier—all of those can someday be undercut by a printer-friendly PDF of his postseason résumé.
For now, Paul is having another signature year despite missing a month with a torn ligament in his left thumb. In his second game back from the injury, in late February, he tallied 17 assists with 0 turnovers. He's done that twice this year.
Meanwhile, Jordan and Griffin are healthy and thriving, too, and the Clippers' bench is deeper than ever. Maybe that's enough to change everything.
"It takes a team to win, not just one guy," Crawford says. "For Chris, and for us, it's just about doing it together. He's always going to be who he is—that throwback point guard, so to speak. He's probably the best point guard of this generation."
No question Paul's game is timeless.
Still, the clock ticks.
—
Leo Sepkowitz is a Senior Writer at SLAM. Follow him on Twitter @LeoSepkowitz.
Photos via Getty Images