Time doesn't seem to be a concern for CJ McCollum.
More than an hour has passed since Portland's practice has ended and yet McCollum still remains in the team's facility. It doesn't matter that he just sat through a lengthy interview, or that a photo shoot—where his black Blazers uniform, diamond chain and Li-Ning PEs were perfectly on point—immediately followed our sit down. It doesn't matter that he then had to shoot choreographed jumpers as a videographer documented his every move. McCollum is in no rush.
If the time commitment isn't a problem, perhaps it's because he's gotten used to things slowing down a bit.
At least that's how it appears on the court, as McCollum has made a habit of freezing time during games in order to victimize hapless defenders with a series of deft moves. The exact method to the victimization always varies, yet more times than not, the result is the same.
McCollum takes great delight in besting his opponents like this. So much so that he has created a dishonor roll of sorts, playfully entitled "Law & Order: CJ's Victims Unit," which is a semi-weekly social media video series of him scoring on his adversaries. Each episode is well-made and very amusing. It also serves as an ever-growing video document of how potent of an offensive player McCollum has become.
"There's guys who can score and there's guys who are scorers," Clippers coach Doc Rivers says about McCollum. "He's a scorer. He's a born scorer. A professional scorer is what I call him."
Last season, McCollum averaged 23 points per game while shooting 48 percent from the field, 42.1 percent from three and a League-leading 91.2 percent from the stripe. McCollum's scoring average was 20th overall in the League—higher than players like Klay Thompson, Kyle Lowry and Carmelo Anthony.
"His shooting numbers are unreal," McCollum's teammate Evan Turner says. "It shows the type of work he puts in and the confidence he has."
Now in his fifth season, expect McCollum to continue his offensive onslaught on the rest of the League, having publicly set high expectations for himself based on his game getting better every year. But it's easy to forget that McCollum's mercurial rise to being one of the game's best offensive players was relatively slow to develop.
Drafted 10th overall in 2013, McCollum broke his left foot at the tail end of training camp before the start of his first season—an injury made even more devastating because he'd broken the same foot his senior year at Lehigh. And while McCollum was able to bounce back from that injury, the fact that it happened again less than a year later led to a whole bunch of uncertainty.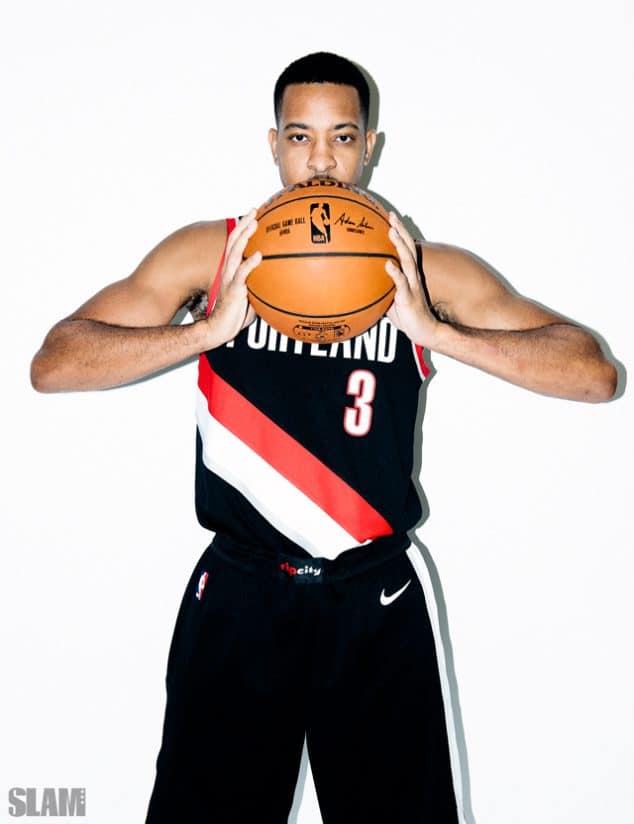 "It was a tough blow for me, honestly," McCollum says. "I was picked by the rookies to win Rookie of the Year. I felt like I was going to have a good season. I just remember getting the X-ray, looking at [Portland general manager] Neil [Olshey] and crying. Because I'm like, This is it, again. This is two breaks in less than a year. What's going to happen with my life?
"I just remember him saying, 'Ten years from now, we won't even remember this.' And that's how I carried myself. Put this in the past and [focus] on playing so well and preparing so much that as I get older, no one will really remember what happened my rookie year."
Olshey's seemingly simple words of inspiration resonated deeply with McCollum, in large part because he was raised to always maintain an optimistic outlook. His parents passed the ideals of positivity, hard work and belief in oneself—all qualities they exemplified themselves—to McCollum and his older brother Errick, who has made a name for himself playing overseas.
"[My parents] always taught us that no matter what happens in life, prepare," CJ says. "Because you don't blow an opportunity by not getting the opportunity. You blow the opportunity by not being prepared when it comes."
Taking this message to heart, McCollum went through the rehabilitation process hyper-focused and eventually played in 38 games during his first season. He showed flashes of offensive potential as a rookie, but in his second season, he only averaged around 16 minutes a game while playing behind Wesley Matthews and later Arron Afflalo.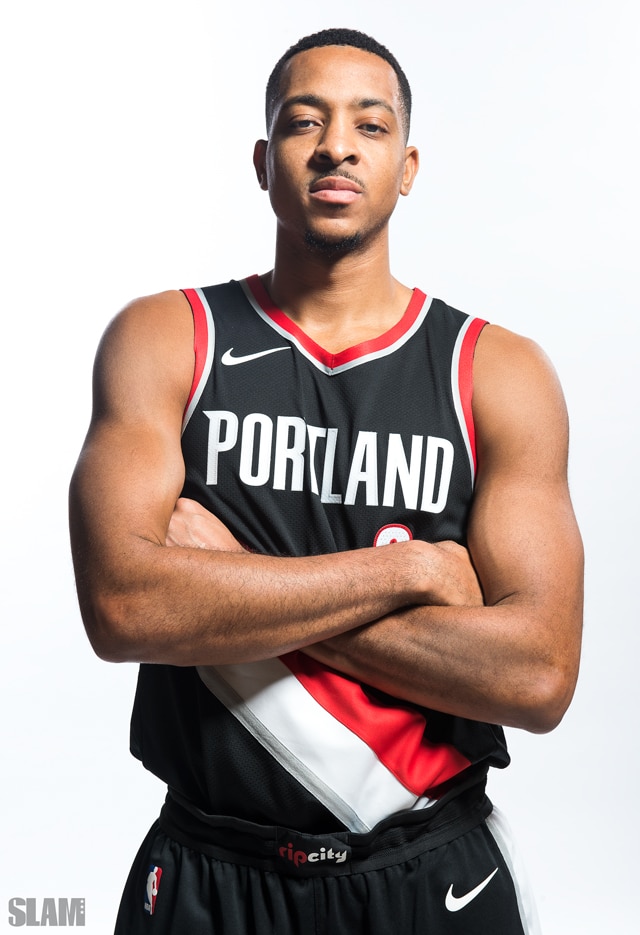 An injury to his index finger sidelined McCollum for close to a month in his second season. And when he returned, his minutes were inconsistent and on a few occasions, he didn't even play.
"I [used to] show up to the arena, my girl might be here, my family is in town and I know I'm not playing," McCollum says. "The most humbling thing you will ever experience is going to your job, knowing you're not going to play and people are there specifically to watch you. And you know you're good enough to play—but you're not playing."
The NBA's history is littered with players in similar instances who fade out of the League's consciousness. But McCollum remained undeterred. His work ethic and internal hunger fueled his confidence, which made him work even harder on his game and in practice. And when Matthews tore his Achilles and Afflalo injured his shoulder, the Blazers were essentially forced to give McCollum a larger role. A role that he fully embraced and one that was on full display during the Blazers' 2015 first-round matchup against the Grizzlies.
That playoff series, which the Blazers ultimately lost in five games, turned out to be McCollum's coming out party. He struggled at the start of the series but ended up scoring 26, 18 and 33 points respectively in the final three games. And based on that performance, McCollum solidified his role as Portland's starting 2-guard for the foreseeable future.
Promoting McCollum to a starting spot immediately proved to be the right move for the Blazers, as he thrived in a larger role and won the 2015-16 Most Improved Player award with averages of 20.8 points, 3.2 rebounds, 4.3 assists and 1.2 steals.
"You can always judge someone based on how they respond to turmoil," McCollum says. "I struggled and I overcame it."
"CJ never seemed to view himself the way the basketball market viewed him," Lakers legend Kobe Bryant, the man CJ modeled his work ethic after, tells SLAM via email. "He always felt like he was better than what people viewed him to be. Because of that, I think he has always played with a chip on his shoulder. He's always worked harder than everyone else to prove what he believed his value was."
The me-against-the-world mentality that Bryant talks of is quite apparent when you watch CJ play. His swagger is almost unrivaled. And as "Law & Order: CJ's Victims Unit" shows, McCollum will not only humiliate you—he'll gladly demonstrate how he did it.
"I think you have to have a humble arrogance about yourself to be successful at your craft, in the sense that you believe in yourself," McCollum says. "Like, I have the utmost confidence regardless if I miss free throws down the stretch or if I airball a three. The next shot is still going up because I've prepared so much. I've put myself in a position where in my head, if I fail, the next time I'm going to succeed."
This is likely why he is able to play so effectively alongside Blazers PG Damian Lillard. The two forged a bond way before they were NBA teammates. During his senior year at Lehigh, McCollum reached out to Lillard—also a mid-major alum out of Weber State—looking for some advice, and Dame was the right guy to dish it out.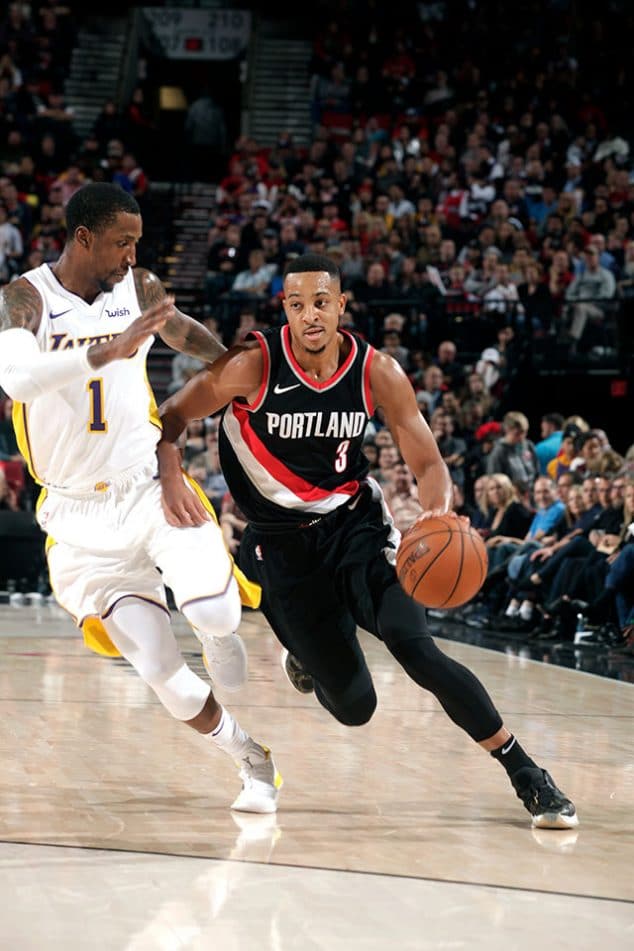 "Nobody just gave him anything," McCollum says of Lillard. "He went to Weber State, where he probably took ice baths in trash cans just like me. He wasn't in the position where schools were trying to get him, so he worked hard."
The two frequently texted and Lillard even helped McCollum through the recovery process after he broke his foot during his senior year. Lillard had also broken his foot at Weber State.
That texting relationship has since blossomed into a professional partnership and close friendship. Despite similar games, the two play together seamlessly and complement each other on offense well.
"We genuinely want to see each other succeed, and that's how we're able to get along so well on the court," McCollum says. "We want to see each other be great."
As he frequently does, Lillard offers up similar praise for McCollum. He even reveals that he's often in awe of CJ's offensive arsenal.
"My whole life, I've always had that knack for scoring," Lillard says. "It will look like I'm stuck and I can't do nothing. But then I can make something happen. For me, that's normal. Everybody else, though, will be like, Oh, how you do that? CJ gives me that feeling where I'm like, How did he get out of that?"
But while Lillard and McCollum rarely find themselves stuck on offense, the Blazers as a squad have been treading water as a low-tier playoff team for the last couple of seasons.
A second-round playoff appearance in 2016 did heighten expectations, but last season the Golden State Warriors swiftly defeated Portland in four games in the first round. And with the Warriors still being the Warriors, and other teams like the Thunder and Rockets adding superstars, they'll have to work hard to avoid another first-round exit.
The Blazers do, however, have reason for optimism. Big man Jusuf Nurkic, acquired last season, is in the best shape of his young career and will now be with the team for a full season. Power forward Ed Davis is healthy and provides some necessary depth in the frontcourt. Turner seems far more comfortable in his second season with the team and 24-year-old Pat Connaughton has evolved into a steady rotation player. Oh—and the Blazers still have Lillard and McCollum.
CJ, for his part, doesn't sound too concerned. A little adversity is nothing new—he's used to a fight.
"The motivation still comes from within," he says. "Because I always remember the struggle."
Related
Deserve It — SLAM 213 Cover Story on Draymond Green
Savage Mode — SLAM 213 Cover Story on Devin Booker
—
Ananth Pandian is a contributor to SLAM. Follow him on Twitter @Ananth_Pandian.
Portraits by Atiba Jefferson
—
SLAM 213 is on sale next week! Pick it up at newsstands and bookstores nationwide.