Now, Kris Dunn can look back at the journey and smile. He's 22 and about to be a millionaire, playing in the NBA. Life wasn't always a breeze, though.
All things considered, it wasn't that long ago—sometime around late 2002—when 9-year-old Kris and his 14-year-old brother John Jr were on their own, forced to fend for themselves in Alexandria, VA. Their mom was in jail, and their dad, who was trying to find his kids, was totally in the dark as to where they were. "It was just me and my brother," Kris says. "Our mom was in a bad situation. We had to survive as young kids. I know it sounds crazy, but we had to do it."
Kris and John Jr survived, doing whatever they could to get money for food. They'd gamble on basketball games they played at a local park. They played cards—Texas Hold 'Em, Remy, Omaha—with whoever wanted some action. They played dominoes. John Jr, always a fashion-forward kid, sold his clothing. "There were times I was gambling and didn't have no money in my pocket, so if I lose, and I ain't got no money, that's 15-, 17-year-olds that I'm gonna have to fight," Kris says. "We didn't want to be, as people say, those thugs. But we had to. We had to survive."
Kris leaned on John Jr. "Imagine being 14, basically a father. Without him I don't know where I'd be."
John Seldon, the boys' father, and Pia Dunn, their mother, split up years earlier, and Pia brought her sons with her to VA a few months after Kris was born. Seldon spent years trying to find out exactly where they were. John Jr visited Seldon the same year the boys were living alone, but Seldon had no way of getting in contact with them, according to a 2015 ESPN report. What he did have was a phone bill with calls to Alexandria, and when he called one, he got one of Kris' coaches, who, per ESPN, was the person who told Seldon that the boys' mom was in jail and told him of their location. Seldon went to a courthouse, got permission to take custody of the kids, and hopped in a van to go get them. (Dunn passed away in 2013 at 50. Kris carries her memory everywhere he goes now, signing his Instagram posts with "R.I.P Mommy!!!")
Though it was uneasy at first, the boys adapted to life in Connecticut. "New London was my safe place," Kris says. "Once my dad came in, he put that discipline and structure in us. At first, we didn't like it because we weren't used to that. But he was teaching us how to grow up."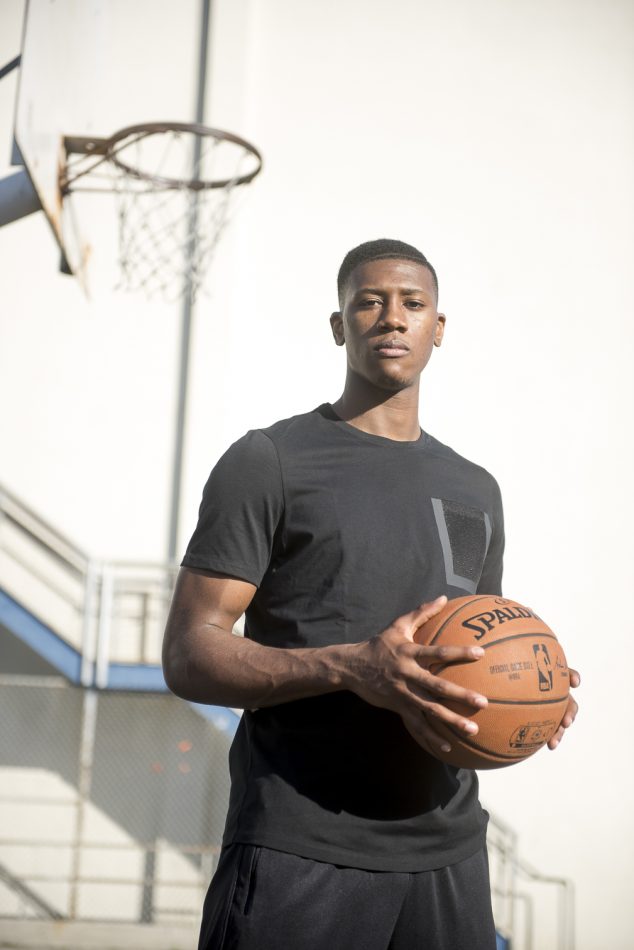 Seldon bonded with his sons through sports. Kris was better at football than basketball, but he hated the cold—and playing football in CT requires a lot of standing in the cold. He also took to basketball, which he learned from John Jr and his friends. And he was good. Like, really good.
"[Kris] was in a rec league, and in his first or second game, he was taking the ball, going for lay-ups like five or six times in a row," John Jr says. "They had to tell him to stop and not to pick up anyone until they crossed halfcourt, because he was taking the ball and going for lay-ups every time."
Kris was named a McDonald's All-American as a senior—that was the moment he realized he had a real future, he says—and went to play for Coach Ed Cooley at Providence. Injuries clouded his early career and he missed the beginning of his freshman year after he tore his labrum the summer before the season. He then missed the majority of his second year because of another shoulder injury.
Dunn broke out in his redshirt sophomore season, earning Big East POY and DPOY, averaging 15.6 ppg. The consensus was that if he went to the Draft, he'd be selected in the first round. But he chose against it, returning to Providence, to graduate.
"That close to getting my degree—why not get it?" he says. "My dad always wanted me to graduate. I wanted to get my college degree not for me, but for people who didn't have the opportunity to go to college.
"On the court, I knew I wasn't physically or mentally ready to go," he adds. "That was my first full year of college basketball. I didn't wanna rush it."
He balled out again this season, averaging 16.4 ppg and 6.2 apg and getting a second straight Big East POY and DPOY. Now he's set to be a top-10 pick.
What comes next is obvious. "In order to have NBA success, I've gotta be a good teammate, a good leader, and I've gotta make sure I'm on point with my game," Dunn says. "There's a lot of great players in the League. It's not gonna be easy."
—
Adam Figman is a former Senior Editor of SLAM. Follow him on Twitter @afigman.
Portrait by Atiba Jefferson