Everybody's got a favorite player. Maybe yours hit a buzzer-beater at your first NBA game and you loved him from then on. For others, it runs deeper. Think of the modest kid who feels connected to the soft-spoken Kawhi Leonard, or the baller practicing to shoot off one leg like Dirk or to fade like Kobe.
Robert Covington has a favorite, too. His was a star on his hometown team. As a kid, Covington adopted the dude's number and played just like him, or at least tried to. Actually, he still does.
"My idol is Scottie Pippen," he says. "People tell me I emulate his game."
Covington stands 6-9, 225, maybe an inch taller than Pip and roughly the same playing weight. Now in his fourth season with the Sixers, he's a modern, trigger-happy take on No. 33. A standard night has him guarding the opponent's best scorer, getting a few steals and blocks, and sinking threes—lots of them, actually, maybe 3 or 5 or 7, often from laughable distance.

Philadelphia may not have a Jordan but they do have ascending superstars in Ben Simmons and Joel Embiid, products of The Process, a rebuild so shameless it developed a cult following. Covington is the ideal complement, that elusive piece that fills the gaps. While Simmons and Embiid occupy overlapping low-post and mid-range space, Covington stands confidently 30 feet from the hoop. While Simmons and Embiid are excellent defenders, it's Covington who spends all night chasing wicked scorers around screens and staying in front of them off the dribble.
"When we got him, he was an unbelievable shooter. Deep range, great form, good size—that was the scouting report," says Lloyd Pierce, a Sixers assistant since 2013. "What we had no clue of was that he can defend 4s because he's stronger than you think and can move laterally against wings because he's quicker than you think."
This season has been Covington's best in Philly, with nightly averages of roughly 13 points, 5.5 rebounds, 2.5 threes and 1.5 steals. In November, he signed a four-year, $62 million extension.
"The way this team has been put together, it's incredible how everything unfolded," Covington says. "There's so much we're capable of." In addition to the big three, there is Markelle Fultz, June's No. 1 pick; Dario Saric, a creative second-year forward; Richaun Holmes and TJ McConnell, who thrive in bench roles; and JJ Redick, who is JJ Redick.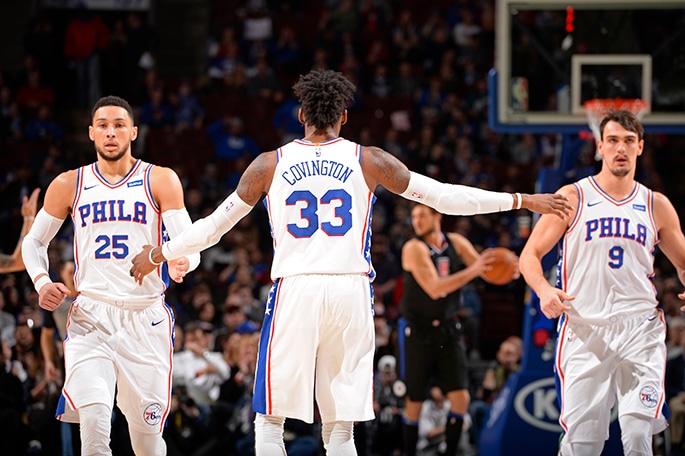 "I want to be looked at as a guy who does his job and doesn't step outside that boundary," RC says. In practice, he and Pierce have an 80-20 rule: 80 percent of their time is spent on shooting, 20 percent on what Pierce calls the random moments of basketball, like slashing or finishing with the wrong hand. "I don't step outside myself," Covington adds. "I don't do anything that will make my teammates or coaches look crazy at me like, What is that?"
Covington, 27, is spending an afternoon at Spin, a ping-pong lounge by Philly's Center City. He's a regular—in fact, he attended this spot's ribbon cutting ceremony—and he likes to boast about the backspin he puts on serves. Since childhood, he has welcomed any competition—in ping pong, basketball, football, hockey—you name it.
Covington grew up in what he describes as a stable home. His stepfather, whom he calls his dad, worked at a post office. "He was around all the time," Covington says. "How I carry myself is based off what my dad told me."
Covington's mother worked at a sporting goods store, and the family received discounts on company products. All the extra merchandise made Covington and his two younger brothers local heroes. "Our home was like a haven, everyone would come and have fun," he says. "My mom put a rim in the backyard, and all summer, we was outside playing basketball."
Still, as a teenager, Covington was unheralded. He didn't have the strength to shoot from deep, and his coach at Chicago's Proviso West High picked on him for being soft. Into his sophomore year, he rode the pine, playing behind a dude four inches shorter than him.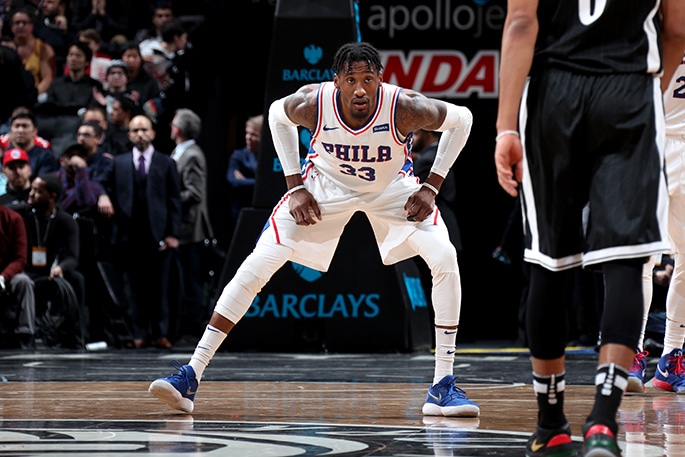 With limited burn, one could say that Covington's trajectory began not on court during games but on off-days in the gym. The facility had a track with lines on the court, and he used them to devise an odd training regimen.
He'd start on the track line nearest the hoop, holding a medicine ball. He had two chances to convert from that distance, and if he succeeded, he'd step back one line, and try it from there, and so on, until he could retreat no farther without missing two straight. Then he'd swap out the medicine ball for a regular Spalding and fire away. At times, he could reach past half court, back by the opposite free-throw line.
By his senior year, Covington was a force. He emerged as not only a lights-out shooter but an adaptable defender, too. At one point, he took over at center for Proviso West and set a school record for most blocks in a game with 35 (yes, you read that correctly). College coaches started coming by, but for a while, there were no D-I offers. Before graduation, he attended a showcase for unsigned seniors in Deerfield, GA. That's where Dana Ford first saw him.
"He was scoring, rebounding, assisting, blocking, stealing—a little bit of everything," remembers Ford, who had just been hired as an assistant at Tennessee State University. "His demeanor was Pippen-ish. He wasn't a very loud player, just really focused. He just went about his business, and you look at the stat sheet and he's got 2 of everything, and that's what Pippen was to me."
Covington spent four seasons at TSU (a notch up from Pippen's Central Arkansas). He posted impressive numbers but went undrafted in '13, perhaps arriving a beat too soon, just ahead of the 3-and-D boom.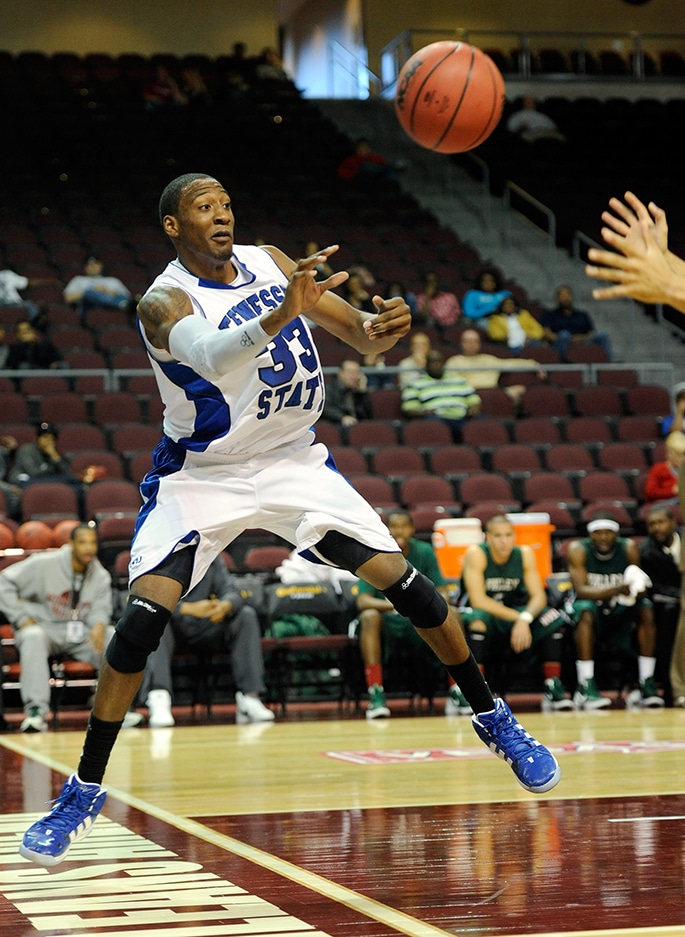 After the draft, Covington signed with the Rockets and spent most of his first season in the D-League, where he won Rookie of the Year. He was waived in the fall of 2014 amid a roster crunch and the Sixers quickly signed him.
As The Process dragged on through three seasons, RC logged heavy minutes and refined his game. On a team that needed everything, he shined: a couple steals here, a few boards there, a bucket or two and so on. Last year, Embiid debuted alongside him, and this year it was Simmons' turn. And now the Sixers are in the playoff hunt.
Embiid has stated that The Process does not and cannot come to completion. Instead, one Process rolls into the next and the next after that, that "it's just a cycle," that life is The Process.
One could take this to mean that Covington's Process is nowhere near finished, and that it never belonged to or began with him, anyway. After all, he's not the first No. 33 from an unsung school whose two-way power propels a captivating team. We've seen that Process before. Robert Covington just picked it up where it was last seen—back in Chicago, in the '90s—and reshaped it, pushed it forward, brought it into an age when, as it happens, one 3 always demands another.
—
Leo Sepkowitz is a Senior Writer at SLAM. Follow him on Twitter @LeoSepkowitz.
Photos via Getty Images.