"Even that game, I was hurt."
Dajuan Wagner is reminiscing about a game he played his junior year of high school, in January of 2000, against Philly powerhouse  Roman Catholic. In that matchup, Wagner, a star guard for Camden (NJ) High and the No. 1 rated player in his class, was playing against the No. 1 player in the senior class, Eddie Griffin, and his talented teammates. It was the first time I ever saw Juanny, as people called Dajuan, play in person.
"In high school, I left a lot of points on the fucking board," Wagner says. "Just with injuries and that one year we could only play 17 games. That probably would have been another 1,500 points, man. That shit's crazy."
It probably sounds like he's embellishing, remembering his playing days as better than they really were. But if you ever saw Juanny play in high school or are at least familiar with the numbers (a state-record 3,462 points in his career, 100 in a single game and 42.5 ppg as a senior), you know he's just being honest.
"Truthfully, I get mad at my high school career because I think it could have been better," Wagner says. His voice is raspy. "I missed a lot of games. I didn't shatter that record the way I wanted to. I could have at least had like 4,500, so I get mad, man, when I think about high school and then I lost [the state championship game, to Bob Hurley's St. Anthony team—Ed.] my senior year. So I'm not satisfied. I get mad, I'm not even gonna lie to you. I didn't even accomplish enough."
Don't take these words the wrong way: the 31-year-old Wagner is one of the most humble, down-to-earth ballplayers you'll ever meet. What makes his brief career seem that much more remarkable was that even when he was in the brightest of spotlights, he didn't crave the attention.
Not when he was scoring 100 points in a game, breaking state scoring records and winning New Jersey state titles as the nation's No. 1 player during his storied high school career, or when he was a one-and-done phenom at Memphis, and certainly not during his too-short stint in the NBA. That's why it makes perfect sense, now that he's faded from the memories of most, Dajuan Wagner is back in Camden, where it all started, dabbling in coaching at "The High."
"I never really left, though," says Wagner. "I was always around the program. But this year, I was more into it."
A quick primer on the boys' basketball program at Camden High: The South Jersey school, right over the Woodrow Wilson Bridge from Philly, was once among the most heralded prep powerhouses in the country, producing Wagner, his father, Milt, a former Louisville star and Laker role player, and a host of other high school stars in the '70s and '80s, as the team consistently won championships and stayed near the top of the national rankings.
Given his family background and storied career, Wagner is like royalty in the poverty-stricken city, as evidenced by his nickname, "The Messiah." But even when he was at his peak as a soft-spoken youngster, Wagner didn't put on airs on or off the court, making his post-NBA transition, while somewhat reclusive, smoother than many others whose playing days ended prematurely.
"It's the same. They still—you know. Since I was young, from my dad, they looked at me that way. It's the same," he humbly explains, with the "you know" meaning the adulation he received from the community seemingly since coming out of the womb. "Every time I see them, they always ask me what I'm doing, 'What you gonna do?'"
If his city can't let go of the past, it's understandable, as Wagner's NBA career was quicker than his explosive first step. Drafted sixth overall by Cleveland out of Memphis in 2002, Wagner averaged 13.4 ppg in 47 games, starting 24, and while the undersized shooting guard only shot 36.9 percent from the field for a poor-performing Cavaliers squad a year away from getting LeBron James, he had enough virtuoso scoring performances—an early season run of 29, 28, 25 and 29 points in consecutive outings, a high game of 33—that a future as a high-level instant-offense scorer seemed likely.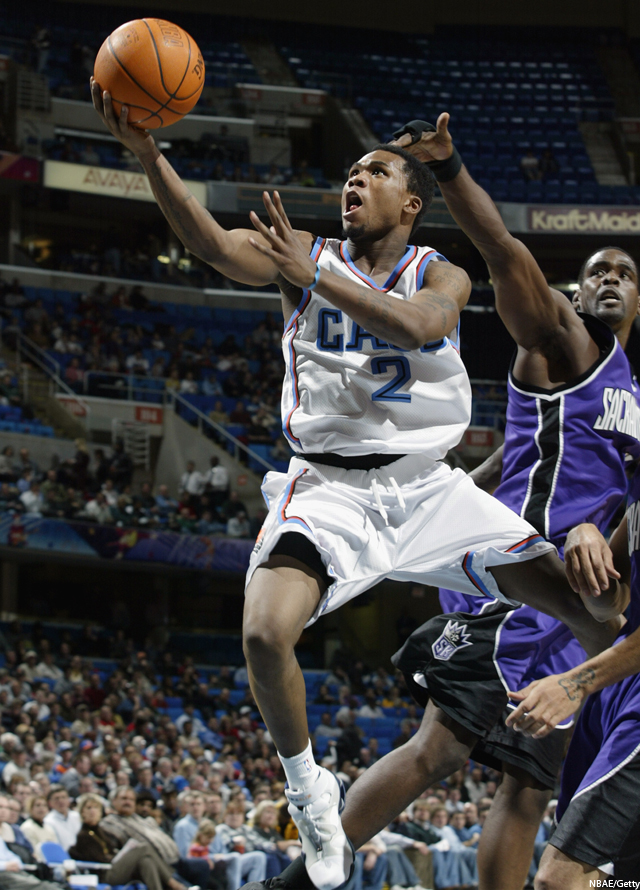 "Aw man, listen: I remember hearing about this kid, the one who threw up 100 points in Camden, NJ, and everybody was talking that he was gonna be the next AI—and that's a hell of a reputation to build for yourself, especially at a young age," says former teammate Carlos Boozer, a second-round pick the same year Wagner was drafted. "We got to practice in Cleveland to get ready for summer league and Juanny—I had never really been around him that much until then—I was just blown away."
Boozer continues, "The way he was able to score, never got tired. The kid could do push-ups for days. All he wanted to do was do push-ups. He could shoot from anywhere, threes. He has a crazy move where he would come in the lane, get contact, float it and he would get it off against anybody, anytime, anywhere, inside, outside. It didn't matter. Obviously, he killed summer league. Then, when the season started, the first 10 games, he was unbelievable. The first 10 games, they were talking about Juanny being Rookie of the Year."
Unfortunately, Wagner had myriad health issues during his three seasons with the Cavs, culminating in a mere 11 appearances in the 2004-05 campaign and zero in 2005-06 season following surgery to remove his colon after a nasty bout with colitis.
"That's tough, man because one day Juanny was in practice with us, the next day, he wasn't. We didn't see him for like a week. He was in the hospital, going through different things with his body," says Boozer. "If Dajuan Wagner would have stayed healthy, man, who knows? He could have been a three- or four-time All-Star, easily—easily, especially because the next year, we got LeBron. Who knows what could have happened down the line? He could have been up there in the scoring ranks because that's what he did. He was a scorer. He was small, but his heart, the way he played, he was above and beyond what his size was.
"He was a great teammate and still a very good friend of mine, and it's crazy to think about what could have been because to me, he was a franchise kind of player," Boozer adds. "He was the kind of guy that you get the ball to and you see what happens. End of the game, he was that kind of guy for us. I know we were young, I know his career was so short nobody got a chance to really see how great he could be at this level. But he could have been amazing."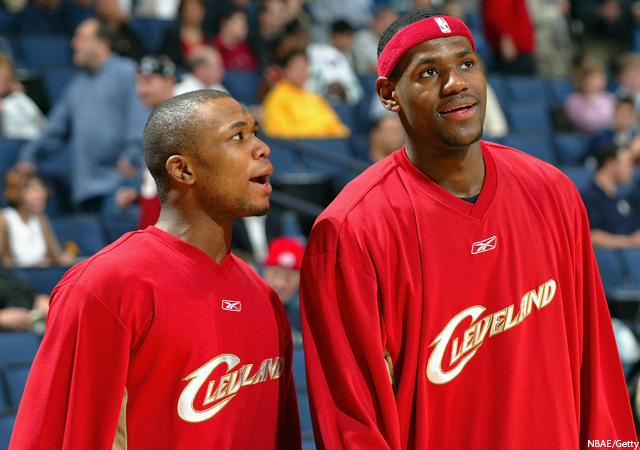 Wagner gave it one more go after his 2005 surgery, rehabbing through the winter and then in the summer, creating a buzz throughout Philly, South Jersey and the entire Delaware Valley region by rekindling his past scoring exploits in high-level pro-am competition. Juanny cooked all comers—including the likes of NBA point guards Kyle Lowry and Alvin Williams—in summer leagues, putting up ridiculous numbers like he was playing for Camden all over again. Often shooting from a shade inside halfcourt and having clear-outs called every other time down the floor, anytime he suited up, the word was out to get to whatever sweltering gym he played to get a seat, especially since the Camden faithful would surely be making the trip en masse.
While working on a feature story about Dajuan and his comeback in '06, I tracked him for the better part of six months, watching his private workouts and seeing the scintillating summer league shows, up until he left for California after signing a two-year deal with Golden State. As healthy, strong and explosive as he looked, you couldn't have told me, regardless of the numbers he put up, he wouldn't be back in the League for good. But his health once again betrayed him and after training camp, preseason and a lone regular-season game, the Warriors waived him, buying out his $1.6 million contract.
"Yeah, I think about it. Just the injury part, that's what makes me do it because I never could show my talent in the NBA.
"I just showed a glimpse and the little bit of time I was a little bit healthy, I put in work. I had a spurt my rookie year where I was averaging 24, 25 and even when I came back my second year—I was coming off the bench—there was a spurt where I was averaging around 17 and only playing like 20 minutes. So that's the part that hurts right there, knowing that if I was healthy, what I could have been doing. But you know—you gotta live with it, man. You gotta live with it," Wagner says. "Really, it's the health. The basketball part was easy. I never had a full training camp and the minutes I did play in the League, I did well. I don't have any doubts about the basketball part. But if I was healthy, you know me—I think I'd be mentioned with the best of them. I was never 100 percent in the NBA, at all. My first training camp, I got sick, I got hurt."
While he's nowhere close to bitter about how things ended up, it's only natural that Wagner, like most people who saw him play, thinks about what could have been.
"LeBron wouldn't have had to leave Cleveland. If I would have stayed healthy, he wouldn't have had to leave. If I was healthy from the beginning, hell no. With Boozer, with Z [Zydrunas Ilgauskas], nah," he says, recalling a young and talented—if not successful—Cavs team. "We could have done some things."
Wagner seems content, as his personality, albeit not his flashy game, was always suited to be in the background. The way his NBA career went was unfortunate, but not tragic, as he has his health and has moved on, remaining in basketball, just channeling his passion into the next generation in the city that's always had his back.
"Juanny's happy, he's matured a lot and when you go through certain things in life, you learn, no matter what. If it's a good thing, you learn from it. If it's a bad thing, you learn from it, and he's learned from his life," Boozer says. "Of course he's gonna have basketball. It's in his blood. He's gonna be around basketball his entire life and I'm proud of him. A lot of people, they have one thing on their mind. They want to do one thing and if I don't make that one thing, some people crumble and he didn't, and I'm proud of him for that."
Although he still ponders making a second comeback—"I'm gonna see how I feel this summer because I'm starting to feel good"—at 31, he doesn't come off as delusional and seems comfortable in his new role. Juanny is still in Camden these days (he resides in a well-heeled nearby suburb) but not as a cautionary tale; the prodigal son is giving back to Camden High by trying to help the basketball team's tradition thrive once again.
"Really, I got attached to the kids," explains Wagner, who saw his alma mater win the South Jersey title and advance to the New Jersey Group Two championship game this past winter. "It's different, coaching and playing, especially with these kids. It's just different, man. With the coaching, as a player being dominant in high school like I was, I think you ask too much from the kids, going by how I used to play.
"So it's hard, man. It's hard and I'm still playing. Sometimes I wanna sub in. It's that competitive, man. I'm fresh out of playing. You seeing Kevin Ollie on the sidelines? That's my boy right there, too. Real good dude, man," he goes on to say, shifting between a desire to coach and still knowing he has some basketball left in him as a player. "We got some young boys at Camden High that's gonna be all right. They're different. When we were coming up, it was do or die. That was our life. If we lose a game, that was the world to us. Nowadays, they lose a game, it's regular, man. So we're just trying to put that back in 'em. But you know, they did well this year."
And if that's the path for Juanny Wags, getting more involved with coaching—a doting father, his 8-year-old son is playing sports, too—and starting a second chapter on his own terms, he'd have no regrets.
"Yeah, I'd be at peace, man, because there wasn't anything I could have done," he says. "I did everything I could do. Sometimes it happens that way. It's not like it was my game. I could see if it was my game, but that part was easy."
1,134