With more offensive explosion than we'd seen from him before, along with the same clutch play he's shown since he entered the League, Damian Lillard is at the top of his game.
"That's the challenge for me."
It's a balmy Wednesday in January, and Damian Lillard is in Portland, on the campus of adidas' North American corporate headquarters. He's tucked away in a back room on the second floor of a building just south of the makeshift gym where minutes earlier he hosted a couple hundred of his biggest fans for an exclusive event to launch his first-ever signature sneaker, the adidas D Lillard 1, which included a bashful live #4BarFriday freestyle from the man of the hour. On the outside of the door, the word "basketball" is printed vertically, all lowercase, in large white lettering. Inside, the Trail Blazers PG leans forward in one of those tall director's chairs you see in the movies, looking almost as if he's about to pull a megaphone out from behind his seat and begin barking out orders. He's wearing a red and black snapback hat with his brand new personal logo facing forward, the brim casting a slight shadow over his steely, unyielding stare.
Even with the larger-than-life posters of him palming a basketball draped on half the edifices within a few square miles, it's still hard to believe Lillard, in just his third NBA season, can already talk about his legacy in the League like this:
"There are a lot of people that can say that they were a one-time All-Star or a two-time All-Star, and made the Playoffs, but didn't ever make it to the Finals or win the Finals. But it's hard to be a perennial All-Star, to be in the Playoffs ever year, go deep in the Playoffs every year. I think that's what the challenge is, and that's how you separate yourself—to be able to be at that level for longer than everybody else can be at that level."
See, last year, around this same time, Dame graced our cover for the first time. Then the reigning Rookie of the Year and a first-time All-Star, we and others were excited about the young star in the making. "Lillard Time" was the hottest new catchphrase in the NBA and its namesake was about to compete in like a zillion All-Star events.
But beyond Dame's undeniable, effervescent cool factor, questions remained about his staying power. Were his late-game heroics just a case of NBA beginner's luck? Had he simply caught lightning in a bottle or picked up some supernatural old kicks like Bow Wow in Like Mike? Was this the beginning of a long career or simply a flash in the pan? And for all his efforts, might the Blazers wind up first-round losers anyway?
"We've been fooled before. We have put expectations on certain guys in this franchise and then have been disappointed," says Mike Barrett, the Trail Blazers' TV play-by-play broadcaster for the last 15 years, referring most recently to cats like Brandon Roy, Greg Oden and even Sebastian Telfair. "If there ever was a fan base or people around the team who tried to really curb expectations—just to save our own sanity—it would be this team."
Lucky for Rip City, a year has passed, and the legend of Lillard Time has only grown. All Dame's done over the past 12 months is go above and beyond expectations. Again.
A few months after his first ASG experience, in an opening-round Playoff series against the Rockets, Lillard hit what he later called "the biggest shot of my life"—when he came around a screen atop the key with 0.9 seconds left and drilled a fading three-pointer at the buzzer in Game 6 that sent Portland to the Western Conference semifinals for the first time in 14 years. (Prior to "The Shot," the last player to hit a buzzer-beating three to win a Playoff series was John Stockton in the '97 Western Conference finals.)
And this season, Lillard Time is so real it's not even funny anymore. In December, he dropped 40 points in a win against Oklahoma City, including a three-pointer to send the game into overtime that was a near-mirror image of the now-famous shot against the Rockets last May. That win over the Thunder came just four days after Lillard scored a career-high 43 in a triple-OT victory against the defending champion San Antonio Spurs.
In his last game before we linked in PDX, Dame drove the lane with no regard for human life and made a poster out of both Jordan Hill and Ed Davis at the same damn time, capping off a 106-94 road win against the Lakers—prompting even the L.A. fans to stand and cheer in amazement, and Blazers star power forward LaMarcus Aldridge to tell NBC Sports afterward, "It's fun to watch, I just wanted to get some popcorn and grab a seat."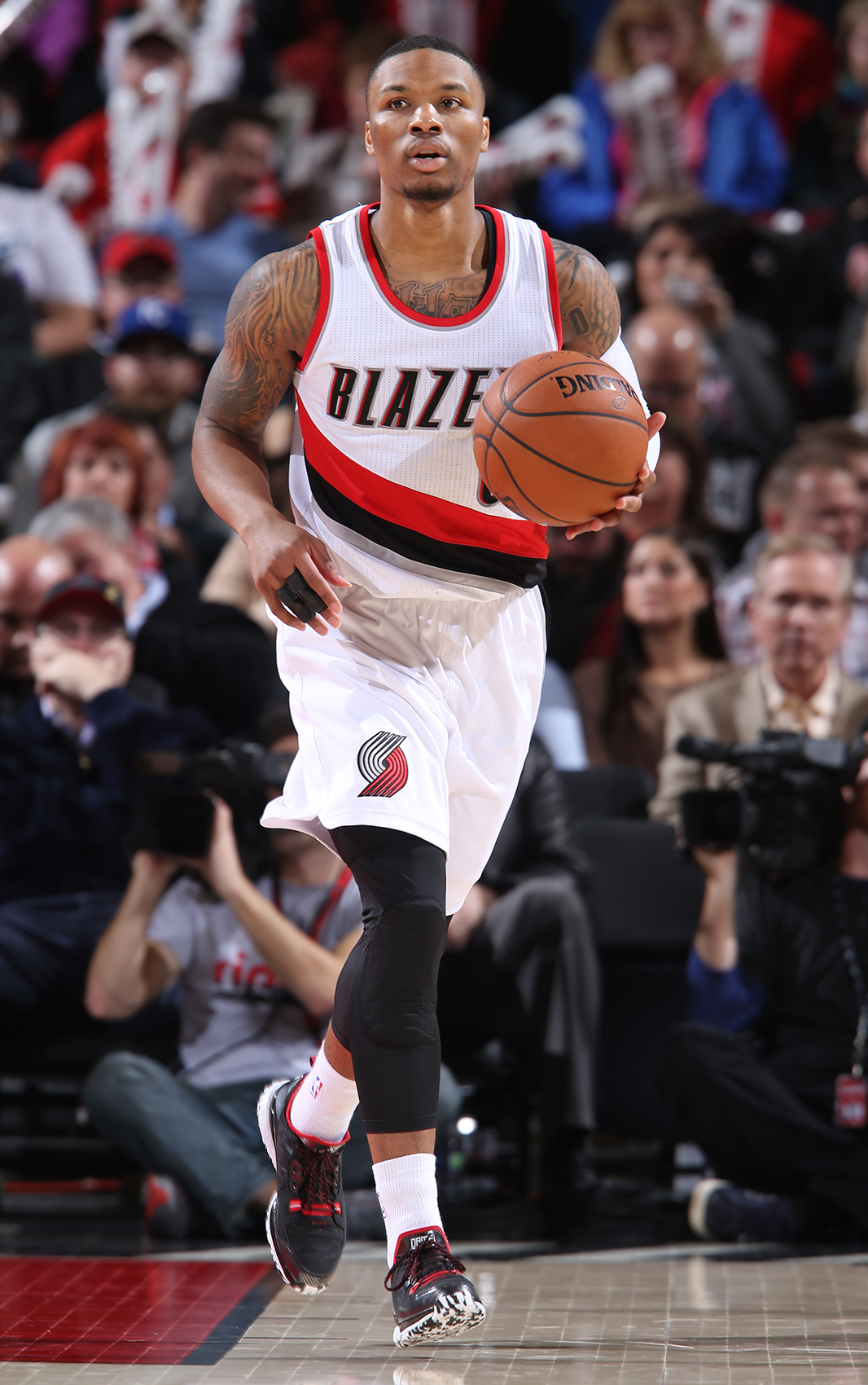 Not a week later, Dame would split a Darren Collison-Jason Thompson double-team and stuff a game-sealing tomahawk dunk with 34 seconds left to finish off the Kings, punctuated with a primal scream for the home fans. Hell, Dame dunked it so hard that Sactown forward Derrick Williams opted to duck and cover rather than contest him at the rim and suffer the same fate as the Laker big men he'd no doubt seen embarrassed on SportsCenter. (Of his fearlessness in the lane, Dame, the inner-city Oakland native, says only, "I grew up around too much to be scared of anything that's on a basketball court.") The Blazers broadcast immediately flashed a #LillardTime graphic on the lower-third of the screen, and panned to a woman in the crowd holding a home made "Lord Lillard" poster.
Damian Lillard is, point blank, the most clutch guard in the NBA today. Just don't tell him that. Sure, he knows all about Lillard Time, but to him, it ain't even that complicated.
"I wouldn't even call that a part of my game," Lillard says when asked about his constant crunch time heroics.
"At the end of the game, you either win or you lose. And that's dependent on if your best players step up or they don't step up," he explains, simply. "I go out there and I don't want to lose."
We hear you, Dame. Loud and clear.
On the surface, it's as if nothing's changed. The big shots keep falling, and the Blazers keep winning. But that doesn't mean that Lillard has given up the underdog mentality that's gotten him to the superstar level he's unlocked.
"Mentally, I'm the same person, as far as how I see things or how things make me feel. I made the All-Star team last year, but I still see lists of 10 point guards that I'm not on, and I get offended by that," he offers. "I didn't make Team USA. I just find things that drive me or make me want to prove myself."
Dame claims he doesn't clip and save articles or headlines that dog him—"I don't need to, because I know I won't forget it. I keep mental notes"—but his social media says otherwise. Like when he posted the #TBT screenshots on Instagram of fans saying he'd be a bust after the 2012 NBA Draft. Or when he tweeted "It's always been this way" along with NBATV talking heads Isiah Thomas' and Greg Anthony's "Top-5 Point Guard" lists in December, neither of which had his name on it.
And Dame won't accept that an East Coast media bias might keep his name from blowing up, either. "Nah, I think that's an excuse," he says. "I show up, I play, I do what I have to do off the court. I guess I'm just not that popular to some people.
"I'm definitely a Top-5 point guard. Especially with the lists I've seen, they've said Top-5 point guards this season. I'm one of two or three point guards that average over 22 points, 6 assists and 5 rebounds. If we're talking about this season, I'm winning and I'm producing at a high level. I put myself in there."
Statistically, it's hard to argue with him. As of the All-Star break, the Blazers were 36-17, good for third in the insanely competitive Western Conference behind only Golden State and Memphis, with Dame posting 6.3 assists per game, plus career-highs in points (21.5 ppg), rebounds (4.5 rpg), steals (1.5 spg) and field-goal percentage (43.3 percent). Among starting point guards, only Chris Paul and Stephen Curry were more efficient than Lillard's 1.17 points per possession through the first half of the 2014-15 season, and no PG in the League had played more total minutes.
The 6-3, 195-pounder has taken over to the point that he might mess around and win MVP. Like, this season.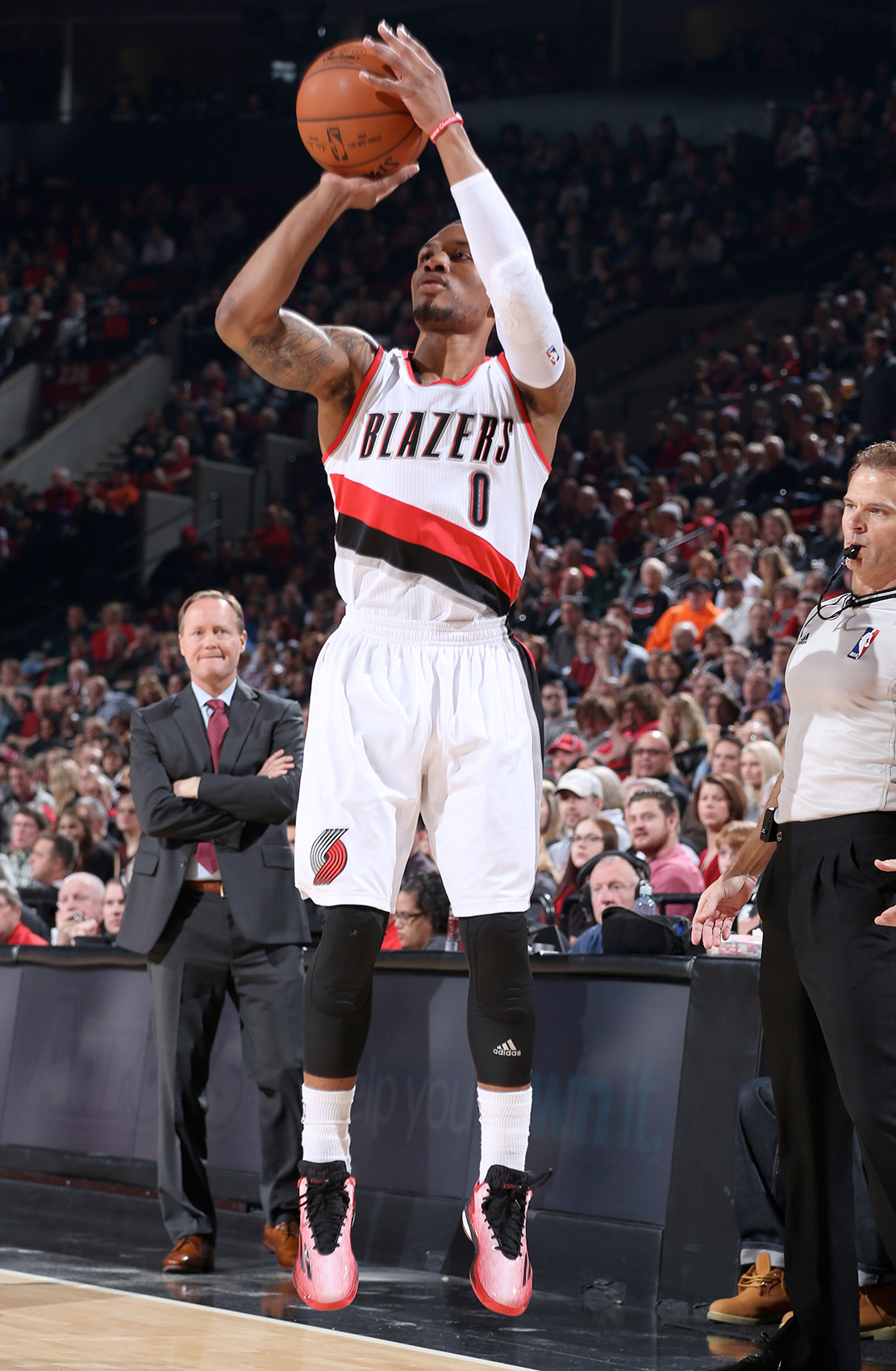 Yeah, that's right. Let that sink in for minute. Twenty-four-year-old Damian Lillard: Your 2014-15 NBA MVP. An 80-to-1 longshot in Vegas before the season started, he'd have to fend off the electrifying Stephen Curry (just flip the page once we're done here to read Steph's side of the story) and the unstoppable James Harden, not to mention the last two men to win the award: LeBron James and Kevin Durant. But with the  Blazers rolling, LMA by his side and a wide-open West for the taking, Lillard Time is ticking ahead of schedule.
"It's gotten to the point where we have to stop putting a ceiling on where we think this guy is going to go," explains Barrett, "because every time we try to establish a ceiling for him, he busts right through it."
Despite being smack dab in the thick of it, Lillard says he isn't thinking about the MVP race. He says the Blazers aren't thinking past the next game on the schedule. Truth be told, he's probably not even thinking past his next meal, since he replaced all his favorite sugary and salty foods with fruits and veggies this past summer, even giving up lemon pepper wings from WingStop, which used to be part of his routine two or three times a week. (The diet was necessary, he says, "so the engine could run better.")
But the reality is, in Portland, Dame is already the MVP. His love affair with the fans in the City of Roses is as strong as any other superstar NBA player's  relationship with his team's home city (except for Kobe)—and it was forged long before  #LillardTime was a trending hashtag.
"It's the support, that's the biggest thing. I'll never forget, when I first got drafted to Portland, the way people were tweeting me and showing me as much love as they did, and I hadn't even played a game yet," Dame says. "My rookie year, we finished the season on a 13-game losing streak, and they was there every game, they cheered like we was in the Playoff race. That reminded me of how it was in high school and AAU, and when I was in college. It reminded me of that type of support system. That's why they've grown on me and I've grown on them."
When the Blazers hit the road, Barrett says Lillard can often be found signing autographs in the away city, even if it's 2 a.m. when the team finally makes it to their hotel for the night. No cameras, no coverage, just Dame dedicating time to make his fans feel appreciated. When Portland plays regular season games in Utah, busloads of Weber State fans show up at EnergySolutions Arena, often taking up an entire section on their own. Dame knows most all of them by name, having never forgotten the opportunity the community in Ogden afforded him on his journey road to NBA stardom, from unheralded prospect and four-year college player to MVP talks.
"People feel such a connection with him because he allows it," says Barrett. "He understands—maybe more than anyone else I've ever been around—he understands his own importance."
According to Barrett, billionaire Blazers owner Paul Allen likes to compare Lillard to the young leader of the other pro sports team he owns: Super Bowl-winning Seattle Seahawks quarterback Russell Wilson. For that comparison to work, Dame has to help Rip City raise a trophy, too.
Abe Schwadron is an Associate Editor at SLAM. Follow him on Twitter @abe_squad.