Damian Lillard has long been one of the League's most electric scorers, blessed somehow with wild range and a knack for getting to the rim. Last year, he set career-highs in scoring, free throws, and field goal percentage. He also dragged his team to the playoffs. And yet, there is another gear for Lillard and his Blazers.
To see what that might look like, we can look to last winter. On February 13, center Jusuf Nurkic arrived from Denver via trade. His presence sprung an amazing hot streak from Lillard.
From February 15 through March 30, playing alongside Nurk, Lillard led Portland to a 14-6 record. During that stretch, Lillard averaged 28.7 points (47.3 percent overall), plus 6.1 assists and 3.4 threes (42.4 percent). At one point, he won Player of the Week by averaging 35.3 points on 55.1 percent overall. Watch the tape from those games and you'll see peak Lillard.
Many plays in the half-court began with a hard screen up top from Nurkic, who stands 7-foot, 280. On a night like March 19, when Lillard hung 49 on Miami, any breathing room created by Nurkic equaled a Lillard bucket. Portland won by 11.
For Lillard, an equally impressive game came on March 30, against the Rockets. That night, Houston did everything it could to stop the Lillard-Nurkic tandem, namely letting Patrick Beverley hound Lillard well beyond the arc and having bigs play up on Nurk's screens. Didn't work. Lillard still dropped 31 (10/18 shooting) and tallied 11 assists. Portland picked up a sweet home win.
It should go without saying that Lillard could score long before Nurkic showed up. He's never averaged fewer than 19 points per game, and his scoring has gone up in each of his five pro seasons. Last year, before the Nurkic trade, Lillard was averaging 26 points on nearly 44 percent overall.
But down the stretch, with Lillard, Nurkic, and CJ McCollum clicking, the energy changed in Portland.
"When you put Nurk in the picture, it takes it to a completely different level," Lillard said in April. "When we added him, we became a better defensive and offensive team, and we started to win a lot more games."
Yes, in the 20 games immediately following the trade, Portland, who was 23-32 when Nurk showed up, played to a 57-win pace.
Of course, the Blazers may not win 57 this year, but they might come close.
Consider the Boston Celtics of last year, whose 53 wins earned them the top spot in the East. They chugged along all season behind Isaiah Thomas, whose numbers almost exactly mirrored those of Lillard in the Nurkic Era. IT averaged 28.9 points (46.3 percent overall) with 5.9 assists and 3.2 threes (37.9 percent).
Boston wasn't particularly loaded with talent, but they had the right pieces around Thomas: an excellent wingman at shooting guard, a versatile center, and a bevy of balanced guards and forwards.
Portland has similar pieces. We know about their shooting guard, McCollum, and center, Nurkic. The Blazers' depth on the wing includes Moe Harkless, Al-Farouq Aminu, and Evan Turner. Not bad.
Now, all Portland needs is for Lillard to stay on top of his game at age 27—to be the Lillard who delivered throughout the stretch run last year.
It's time.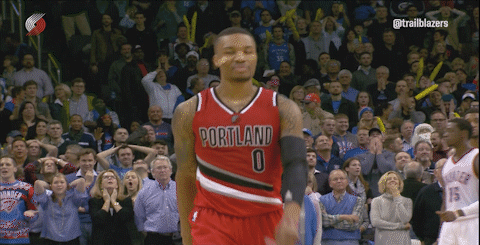 Previous Rankings:
2016: No. 10
2015: No. 16
2014: No. 17
2013: No. 28
Rankings are based on expected contribution in 2017-18—to players' team, the NBA and the game.
No. 50 – Dion Waiters
No. 49 – Ben Simmons 
No. 48 – Brook Lopez
No. 47 — Harrison Barnes
No. 46 — Jrue Holiday
No. 45 — Lonzo Ball
No. 44 — Myles Turner
No. 43 — Goran Dragic
No. 42 — Andre Drummond
No. 41 — Al Horford
No. 40 — LaMarcus Aldridge
No. 39 — Kevin Love
No. 38 — Paul Millsap
No. 37 — Hassan Whiteside
No. 36 — Andrew Wiggins
No. 35 — Marc Gasol
No. 34 – DeAndre Jordan
No. 33 — Bradley Beal
No. 32 — Kemba Walker
No. 31 — CJ McCollum
No. 30 — Devin Booker
No. 29 — Nikola Jokic
No. 28 — Joel Embiid
No. 27 — Mike Conley 
No. 26 — Kyle Lowry
No. 25 — Rudy Gobert
No. 24 — Gordon Hayward
No. 23 — Kristaps Porzingis
No. 22 — Carmelo Anthony
No. 21 — DeMar DeRozan
No. 20 — Blake Griffin
No. 19 — Draymond Green
No. 18 — Chris Paul
No. 17 — Klay Thompson
No. 16 — Jimmy Butler
No. 15 — Isaiah Thomas