Back in 1995, the Isiah Thomas-led Toronto Raptors front office used the expansion franchise's first-ever draft pick to select point guard Damon Stoudamire out of the University of Arizona. The Raptors had opted to introduce Canada to pro basketball with an undersized point guard rather than with UCLA's Ed O'Bannon, the reigning NCAA Player of the Year.
Dubbed "Mighty Mouse" thanks to his generous listed playing height of 5-10 and a prominent tattoo of the cartoon character he on his right bicep, Stoudamire went on to average 19 points and 9.3 dimes per game and took home Rookie of the Year honors. In the spring of '96, Stoudamire appeared on a very rare triple split SLAM cover, the others being Jerry Stackhouse and Magic Johnson. The cover line read "Leader of the New School" and it looked like the 22-year-old point guard was well on his way to joining the NBA's elite.
In late '97, Thomas sold his share of the team and resigned as Executive Vice President of the Raptors. An unhappy Stoudamire made his exit shortly thereafter, shipped to the Portland Trail Blazers at the '98 trade deadline. A Portland native, the lightning quick point guard helped lead the talented yet oft-troubled Trail Blazers to two straight Western Conference Finals and pushed the Lakers to the brink in '00. While his individual stats dipped with Portland, his role as floor general and co-captain helped the Blazers make the Playoffs six seasons in a row.
As his tenure in PDX wore on, Stoudamire popped up in headlines for the wrong reasons. Over the course of '02 and '03, Damon was busted for weed on three different occasions and was one of many players on the now infamous "Jail Blazers" teams mired in controversy.
In early '02, cops responded to a burglar alarm at his Lake Oswego, OR, home and found a pound of pot. Stoudamire was not home during the police visit and charges were dropped after the warrantless search was deemed illegal.
In November of that same year, Stoudamire and teammate Rasheed Wallace were passengers in a yellow Hummer that was chauffeuring them back to Portland following an 89-85 win over the SuperSonics in Seattle. The car was pulled over for speeding and cops smelled weed when approaching the vehicle, leading to a misdemeanor possession charge that was eventually plead down after Damon agreed to drug counseling.
In July '03, Stoudamire was popped for carrying an ounce and a half of bud through the Tuscon, AZ, airport. He was fined $250,000 and suspended for three months by the Blazers front office. He also entered and completed a 90-day rehab program. The incident led to one of the more bizarre player-media interactions in league history.
In March of '04, The Oregonian columnist John Canzano gave Stoudamire a random drug test after practice. With head coach Mo Cheeks as the witness, Stoudamire obliged and his urine came back weed-free. While the NBPA was outraged over a non-sanctioned drug test, the clean result went a long way to rehabbing Stoudamire's image and he was greeted with a standing ovation at the Blazers' next home game
Damon left Portland in '05, and after stints in Memphis and San Antonio, he retired in '08 and entered the coaching ranks. Following gigs with Rice University, the Memphis Grizzlies, the University of Memphis and University of Arizona, the 13-year vet accepted the head coaching position at University of the Pacific.
We caught up with the 42-year old to talk Toronto, the Jail Blazers era and everything in between.
—
SLAM: What was your initial reaction when you found out you were getting a SLAM cover?
Damon Stoudamire: It was big. SLAM was like that inner city Bible for basketball. I was honored to be in SLAM, it was like I made it. That was big time for both myself and the Raptors organization.
SLAM: Were you surprised Toronto decided to draft you instead of a big man?
DS: I knew they were pretty high on me and I had been told that if Kevin Garnett wasn't around at the seventh pick they were gonna take me. To be hand picked to be a cornerstone of a franchise, that in itself was a big deal for me.
SLAM: Isiah Thomas ultimately made the call to draft you. Did you look up to him?
DS: I think any little guard aspired to be like Isiah. For us little guys, he was basketball royalty. I was humbled and honored to be able to pick his brain and get advice and do certain things for those few years we were together.
SLAM: As the face of the franchise, were you embraced by the fans right away or were the Canadian people a little slow to welcome pro basketball?
DS: After I played a couple games in the preseason my status immediately elevated. When I played well everything fell into place. I also think being a short player made me identifiable and relatable.
SLAM: Culturally, what was the biggest change going from the United States to Canada?
DS: Man, the speed limit was in kilometers! I remember one time I was driving on Lake Shore and doing 75 and got pulled over. And I was like, 'Man, it says I can do 75!' And the cop said, 'Nah, man this is kilometers.' So I was like, 'Aw, damn. My bad.'
SLAM: The Raptors brought you out during 2016 All-Star Weekend and the fans cheered for you. Was that always the case after you were traded?
DS: [Laughs] Nah, it definitely wasn't always like that. When I first got traded there was some hard feelings but as time moved on, I think everything was forgiven. At the end of the day, I was one of the original Raptors and helped the city of Toronto. It's a great feeling to know that I had an impact on people's basketball lives up there.
SLAM: Between 1995-98, the Raptors drafted you, Tracy McGrady, Marcus Camby and Vince Carter. Do you ever think about what could have been?
DS: I think about it from time to time. Those guys turned out to be hell of ball players. You have to give a lot of credit to Toronto for drafting the way they did. To come back-to-back-to-back-to-back with myself, Marcus, T-Mac and Vince Carter…If you keep that together, I mean, damn man, it don't get any better than that!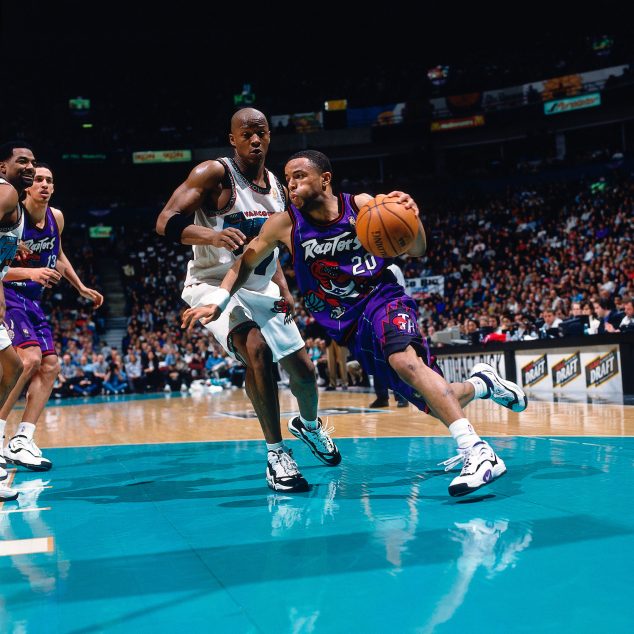 SLAM: When you were traded, were you worried that your personal life was going to interfere with your professional life?
DS: I didn't really know what to expect to be honest with you. I knew that I was going back home, I knew the team was good and I knew that I was going to have a chance to win. You go back home and you sacrifice a lot because the way they did it in Portland and the way they did it in Toronto was totally different. To me, we had a deeper team with more good players. The points and assists weren't there for me like in Toronto, the way I was able to impact the game just wasn't the same, but I was still able to have success and the team had success.
I had some bumps in the road off the court. For me, if I had to do it over again, from a basketball standpoint it looked like, Well, man, he should have stayed in Toronto. That wasn't the thing that was actually the problem in Portland. It was going home at too young of an age. It was too much of a distraction. It wasn't the basketball; the basketball would have taken care of itself, it was too much of a distraction. I didn't need to go home and when I really reflect on my life and how things were, that was one of the reasons I didn't go to the University of Oregon because I didn't want to be close to home.
SLAM: Were the people around you a distraction?
DS: Nah, I just didn't need to go home. It wasn't like there was bad people around or I was hanging around with bad people, it was just too much, man. Everybody knew me, I knew everybody. I settled into it as time went on but when you're away from home you grow up. To me, it's always easier to go home and visit. I look at a cat like LeBron James, he embraces home like that. I love home—don't get me wrong, I'm not ashamed of where I'm from. But when I look back, I know why I didn't go to the University of Oregon. I needed to get away.
SLAM: That have anything to do with the way you were treated when your off-court life made headlines?
DS: Nah, it didn't have nothing to do with that. I brought that on myself. I knew everybody in the city, there was no break. You know the milkman from when you were in fourth grade, that's too much [laughs].
SLAM: Was the John Canzano-administered drug test the most bizarre thing you encountered in your career?
DS: I was good with all that, man. I'm not worried about being humiliated, the worst was already done. I'm 42 years old and people still talk about those incidents like they happened yesterday and that shit is all dead, man. There are more important things in life than rehashing those things. Probably the most frustrating thing about my time in Portland is people talk about the bad more than the good and the reality is we had some good teams and left a lot on the table. The franchise hasn't had as much success since we left.
SLAM: What were those "Jail Blazers" teams like?
DS: Great group of guys, man. We hung out a lot and did a lot of stuff off the court together. We were really connected and if one person went out, we all went out. We had a lot of fun together, we really did.
SLAM: Do you think the Jail Blazers stigma is overblown?
DS: Way overblown. We got in trouble but it was way overblown. That's one thing that got lost in Portland; guys got in trouble, no question, but guys were in their 20s. Guys weren't in their mid-30s making mistakes, they were in their 20s. They give these guys in today's era more breaks than they gave us. I'm not crying over spilled milk, though. You learn from it and you move on.
SLAM: When you look at the landscape of sports now, most of what you guys did was tame by comparison.
DS: I don't disagree with you. I watch the Blazers, they're doing a heck of a job now, but sometimes when I watch I wish they gave our team some of the credit we deserve instead of focusing on the incidents. I don't really like to talk about the Portland days because you're not even talking about basketball no more. Then it starts to seem like you're defending everything, when in reality you're not defending nothing. I wish that people would look at it for something different because guys are human. Guys were making mistakes for stuff that is now legalized. That doesn't make it a good thing or a bad thing. I'm just saying, that's what it has become.
SLAM: What were those runs to the Western Conference Finals like?
DS: The playoffs were always a fun time, especially for us, we would lock in and try to put everything else to the side and move forward as a team. We had our opportunities; we had a team that was capable of winning it all. Unfortunately for us, we had the Kobe-Shaq dynamic and couldn't get past that. We had our time, we had our shine and ultimately we couldn't get it done. There's a lot to be said about making the playoffs six straight times and to get to two straight conference finals. We had fun, it wasn't always the way people wanted it to be, but we were still able to get to the playoffs every year, fight through adversity and figure things out. We could never get over the hump.
SLAM: Your style of play as an undersized scoring guard is en vogue right now. If you played right now, do you think you'd put up even better numbers?
DS: The game is different, you can't touch guys and do what we did back in our day. I think I'd be able to get a lot done. But at the same time, I don't even compare eras no more like guys try to. It's totally different, man. My kids, they don't think Michael Jordan was the best player because they didn't see him play. It's like apples and oranges, I've learned to enjoy it for what it is and watch these guys play. I would say this, for me one guy that I look at in this era of ball and say, He could do it in our era too, is Russell Westbrook.
SLAM: Did you start to think about a coaching career when you were in Memphis and an Antonio?
DS: I wanted to stay close to the game and coaching was a way for me to do that. I went around and watched a lot of high school games and talked my old coaches at Arizona to get a feel for it. I then went on to Rice University as director of player development and then the Grizzlies with Lionel Hollins and got my feet wet.
SLAM: Did you learn anything from the way Pop ran his team?
DS: They were so professional and always talked about getting their kind of guy and never deviated from that. It's a top-notch organization and although I wasn't there a long time, I was able to see some things that I carry with me right now.
SLAM: Now you have a head coaching position at the young age of 42. Were you expecting to climb up the coaching ranks this fast?
DS: This is just the start. I'm moving forward and helping Pacific get back on the right track. I'm not even getting ahead of myself. I'm looking at this situation as a win-all for everybody involved. I got an opportunity here and that's all I care about.
—
Peter Walsh is an Associate Editor at SLAM Magazine. Follow him @Peter_M_Walsh.