D'Angelo Russell likes to pick up the sticks and play video games when he's not working on his game. For Russell, 21, chilling with his closest friends while playing games like Call of Duty helps take his mind off the rigors of an 82-game season.
With Russell as a central building block, the Lakers' rebuilding process is well underway, as the front office continues to put pieces of the puzzle together to bring the purple and gold back to its championship prominence.
After going head-to-head against Devin Booker in Call of Duty: Infinite Warfare Continuum this week, we spoke with Russell about COD's growth, his second year in the League, Magic Johnson and more.
SLAM: How did you grow in your second season?
D'Angelo Russell: A lot—playmaking abilities, competing. I just feel like throughout the season, I've gotten way better with a lot of things.
SLAM: Individually, what grade would you give yourself this past season?
DR: I would say a B.
SLAM: What'd you tell your teammates when you've had yet another roller coaster-type of season (26-56 record)?
DR: I would say every team goes through struggling and can't get a win. In practice, I would let guys know this was where we buckle down and take every second of practice seriously because it's going to translate over to the game.
SLAM: There was some debate about whether the Lakers winning five of the last six games was good or bad, considering the NBA Draft implications. Does any of that matter to you?
DR: I don't even know how it works. I'd be lying if I said I knew the ins and outs and the percentages and stuff. I have no idea how that works.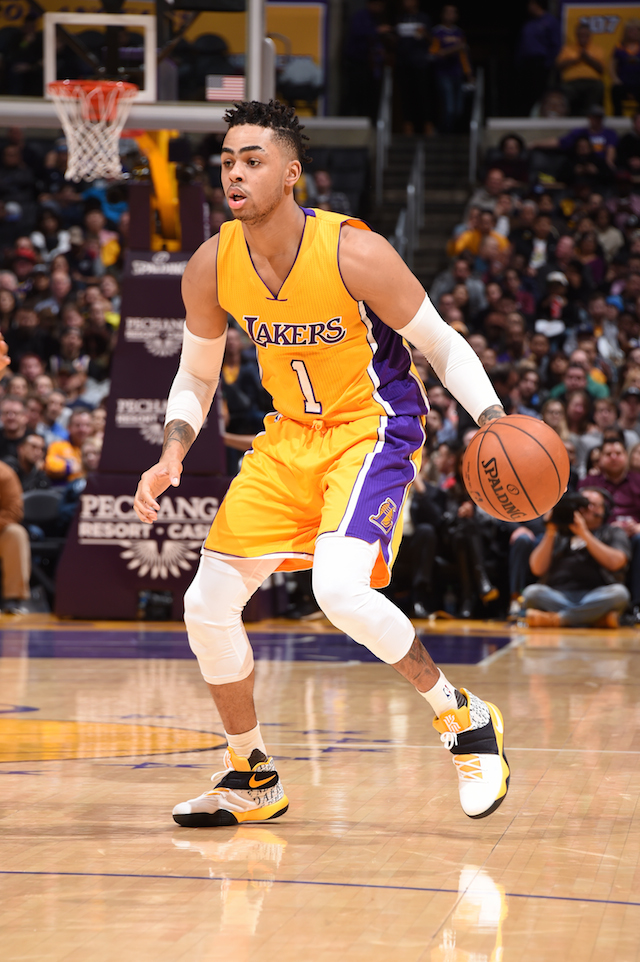 SLAM: The average NBA spectator thinks certain teams tank on purpose. How do you react to that?
DR: I don't know. This year was the first year I got to be part of a—what you would consider—tanking. Last year I was too, but with Kobe, I had no idea what that meant. This year, I guess we were supposed to lose, you know? We started winning and a lot of fans were getting upset. It plays a percentage or whatever in us getting better with that pick, but I just don't understand why you want to lose. How can you go out there and try to lose?
SLAM: Magic Johnson and Rob Pelinka are now key figures in the organization. What were some things you've already tried to pick their brain about?
DR: Just what I can do to be the best I can be for the team. It's easy for a front office to think they can get somebody better than you, but I try to ask them and figure out what I could do to be the best I could be for myself and for the team.
SLAM: And what are some of the things they've told you they expect from you?
DR: Being an all-around better leader, a player that comes out every night on a consistent basis and dominates the game the way I know I can, and just try to change my body. I'm a skinny guy that you wouldn't consider a strong, athletic guy, so try to change that and better myself for the eye test. 
SLAM: There are reports of Brandon Ingram going to workout with Kobe. Will you be working out with Kobe too?
DR: I'm going to definitely reach out to him. I just feel like there's so many guys reaching out to him, tugging his way.
SLAM: Ingram got off to a slow start and picked it up later in the season. Did you tell him anything in that process?
DR: Yeah, I let him know that what he was going through was what I was going through last year. I let him know that it'll all get better, especially the struggling and not playing the way he could play and that it'll get better and it'll get easier. The time from Summer League last year to Summer League this year, it was so easy for me. It was way easier than last year, so I could imagine for him.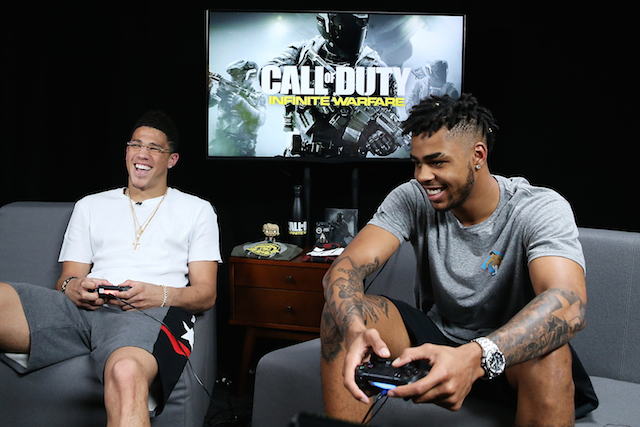 SLAM: You told us last September you were a big Call of Duty head. What are some of the new features you're really enjoying?
DR: Definitely the new maps. The advantage the maps give you throughout the game is unbelievable. If you know a map or you're familiar with it, you can use that as your advantage going into games or playing online.
SLAM: Games like Call of Duty can be real intense but therapeutic at the same time. Does it relax you during your downtime?
DR: It's just another way to compete, honestly. I feel like if you're a professional athlete, you have to compete of some sorts. A lot of the time, professionals in [my] profession are successful. Getting an opportunity to compete in something different is even better like video games, card games, anything like that. Like you said, it's therapeutic, but at the same time you have to be competitive to win.
SLAM: What's is been like to see Call of Duty's growth from its early stages till now?
DR: It's great. The fans all over the world have been keeping up with very little movement and update added to the game. It's been like under a microscope—everybody knows everything about it. That's pretty sick. I can imagine in a few years from now.
—
Action photo: NBAE/Getty Images, Video game photo: Phillip Faraone/Getty Images