It was the middle of the year 2000, and an 18-year-old stud named Darius Miles had just been drafted No. 3 overall by the Los Angeles Clippers. The Clips, of course, were perpetually lowly, but now, suddenly, they were loads of fun—they featured the high-flying Miles, sharp-shooting Quentin Richardson, uber-athletic Corey Maggette, impossibly smooth Lamar Odom and, the following summer, acquired the super-tough Elton Brand. They wore fitted hats and du-rags and shiny jewelry, and played basketball the way few else in the League did, or even could—fast and above the rim, as if a randomly thrown-together streetball squad snuck into the Staples Center night after night. They were very young, and their future was very bright, but more than that, it was unknown, and if you were a basketball fan of a certain age at this time, so was yours; they were the NBA version of you, or so you liked to believe, at least.
Miles had plenty more going for him than his spot on this electrifying team. He was a young star, a high school phenom, and his No. 3 selection was the highest a prep-to-pro player had been drafted at the time. He was signed to Jordan Brand—probably the coolest kicks company in the market—who laced him with both a fat sneaker contract and as many retro Js as he could stuff into his closet. He graced the cover of Sports Illustrated alongside Kevin Garnett, and then a year later was posted up alongside Brand and Odom on an iconic cover of this magazine.
Considering what could lay ahead, a Darius Miles jersey seemed a pretty wise investment, and it was one that many made—by 2002 Miles' jersey was in the top 10 of NBA jersey sales worldwide, alongside superstars like Allen Iverson, Kobe Bryant and Vince Carter.
And by 2009, before he hit of the age of 28, Miles was out of the NBA for good.
"Nobody could tell me what transpired with him was going to happen," says Larry Butler, Miles' AAU coach and the man who guided him into the NBA as a teenager. "Nobody could tell me that."
Nor could you successfully explain the future to anyone who watched Miles play ball during his high school years. Miles, raised in East St. Louis, IL, where he was pushed into hoops as a youngster by his mother, sprouted to a lanky 6-9, with the slick handles of a guard and the dynamic athleticism of a wing. "When he was in the eighth grade, I said this kid is gonna be special," says Rick Lewis, then an assistant at East St. Louis High. "He just had a special thing about him. Once he was on the floor, you couldn't stop watching him. You just knew he was gonna make something exciting happen.
"In East St. Louis, there has not been a player to really ever come through there that has been as exciting of a player, that can do things so quickly and could control the excitement from start to finish, in transition, from defense to offense, offense to defense," Lewis continues. "The gyms were packed for every game—everywhere we went people were excited for us coming into the gym, home games and away games. Our home fans followed us all over the country. It gave everyone in the community something to look forward to."
"Darius was electrifying," Butler says. "He was a high-energy, big-time athlete."
The Clippers were happy to bring Miles aboard in June of '00—he likely would've been snatched up by the Bulls, the closest thing Darius had to a local NBA team, had he fallen to fourth—and Miles was certainly happy to bring his raw skills to the City of Angels. The Clips had won just 15 games in '99-00, but Miles, Richardson and Co. helped them improve to 31 wins in '00-01, and then 39 in '01-02. Miles averaged a decent 9.4 points and 5.9 rebounds his first year, then 9.5 points and 5.5 boards his second.
"There was so much young talent on that team," Brand says. "We were all just coming into our own, learning how to play together. The thing about that era, just the constant highlights, SportsCenter Top 10s, [Miles] and Q banging their heads together—just constant joy. [Miles] played with a lot of joy."
But those Hollywood lights shine very bright, and to a college-aged kid from a rough section of East St. Louis, they can be blinding. In The Youngest Guns, a documentary about Miles and Richardson's friendship and first few years in the League, Miles recanted the social excitement of it all: "When we first got to L.A. last year, it was like, Man, we in L.A. with all these beautiful women—we finna be in the club almost every night." As Miles spoke, Richardson nodded. "You couldn't keep us out of the club. We were going to the club late, late night. We'd leave games, go straight to the club, then show up at practice the next morning in the same outfit we wore to the game."
"Being in L.A. was not good for him at that time," Butler says. "They had some good, young talent, they just didn't have the leadership there to help them get through those rough stages. Sean Rooks was an elder statesman for them, but he was not the kind of guy who was gonna sit them down and have some long chats with them."
Those "rough stages" refer to the second half of '01-02, when the Clippers seemed poised to make a postseason run but unraveled as the season wound down. Miles was shipped to Cleveland that summer in exchange for Andre Miller.
"I'm 20 years old, turning 21, going to a team where they want me to be The Man and they want me to be a leader," Miles says in The Youngest Guns, in an interview conducted after the trade was announced. And it's true—perhaps the Cavs did want him to be The Man and a leader, but this was during a tank-it-away season where the organization's main goal was to win the subsequent year's lottery and scoop local hero LeBron James. Miles' numbers remained consistent—9.2 points and 5.4 rebounds during '02-03—and head coach Paul Silas, along with his son and assistant coach Stephen, put in extra work helping Darius round out his game after they were hired for the '03-04 campaign.
"He listened to what I had to tell him," Paul Silas says. "We really worked on his shooting, I remember that. He started shooting better. I would have each player shoot 100 shots before every practice, and after practice I would get him and my son and the coaches would go over his shooting with him, and he really started feeling good."
But Miles ultimately clashed with management and, despite occasional flashes of brilliance, couldn't find his footing in Ohio. Days after sleeping through a practice in January of 2004, he was traded to the Portland Trail Blazers for Ruben Boumtje-Boumtje and Jeff McInnis.
Miles' best statistical years came in Portland, when his points per game jumped to 12.6 in '03-04 and 12.8 in '04-05. (He also scored a career-high 47 points in April of 2005.) It's also where he earned his biggest paychecks, as the Blazers fattened his pockets with a six-year, $48 million in the summer of 2004.
Yet things went sour there, too. In January of 2005, Miles and Blazers coach Maurice Cheeks squabbled during a film session, leading to a two-game suspension for Miles. (According to various reports, Cheeks had been breaking down a series of errors Miles made one by one, causing the Portland forward to flip out, berating Cheeks and screaming "That's right, run to your daddy!" as Cheeks left the session and headed toward General Manager John Nash's office.) The Blazers had undeniable talent that season—Zach Randolph, Damon Stoudamire, Shareef Abdur-Rahim and Ruben Patterson joined Miles on their roster—but lacked the structure needed to become anything resembling a true contender in a tough Western Conference.
"Portland could've been a great spot for him, but once again, him being young and him thinking, I'm with Zach—my boy Z-Bo—things are gonna fall for me," Butler says. "[But] his attitude during that time in the Cleveland and Portland stops—it wasn't centered properly for him to succeed. He was almost unapproachable."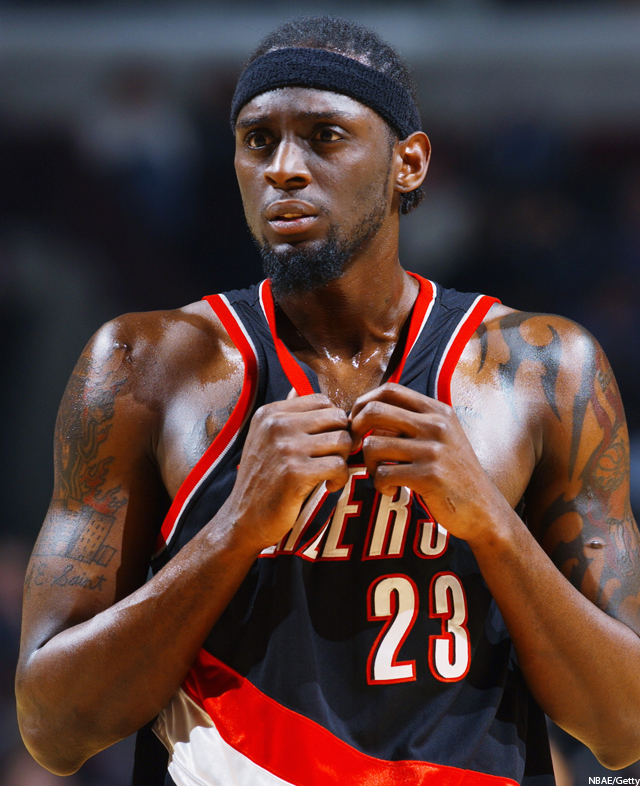 Knee injuries plagued Miles through '05-06, and then in November of 2006, during what was reported to be a simple routine arthroscopic clean-out, doctors decided a more drastic measure was needed and performed microfracture surgery on Miles' right knee. He missed the remainder of that season, and the following one, and his once-promising career never recovered. He'd play a controversial set of games for the Memphis Grizzlies in '08-09—due to a league rule, those games ruined the Blazers' attempt to push Miles' contract off their books—but by then it was clear the otherworldly athleticism with which his style of play relied on had faded into the distance. He attempted another comeback in 2010, suiting up in a few preseason games for the Charlotte Bobcats, but was waived just days before the regular season began.
There were off-the-court hiccups during this time period as well. While attempting his eventual comeback in 2008, Miles was suspended 10 games for violating the NBA's Anti-Drug program, reportedly for taking the appetite suppressant Phentermine, a weight-loss drug. Then in 2009 his car was pulled over for failing to use a turn signal; during a search of the car a small amount of marijuana was found. (He was ticketed and charged with a misdemeanor.) Then in 2011, with his NBA career fully in the rearview, Miles was arrested and charged with attempting to bring a handgun through security at Lambert Airport in St. Louis. (A St. Louis County Prosecutor told SLAM that Miles pled guilty to the misdemeanor charge of Attempted Unlawful Use of a Weapon and was fined $100.)
We reached out to Darius to discuss his winding road through the League and how and where he's settled down since, but through his stepdad, Donnell Dunn, he declined an interview. Though he didn't provide a specific reason, we understood; his tale certainly doesn't contain the Hollywood ending that'd align nicely with his entrance into the League.
But his career is also evidence of how dependent an NBA player's professional life is on circumstance and environment. Could Darius have treated his time in the League differently? Of course. The money and the fame and the women and the life most likely hit him at too young an age, and unfortunately he wasn't in the right place—professionally speaking—to handle it. (The captain of those '00-01 Clippers was then-21-year-old Lamar Odom, the youngest C in League history.) When he landed in Cleveland, the Cavs had just ditched their top three scorers—Andre Miller, Lamond Murray and Wesley Person—as they prepped to toss away a season with their eye on the following year's Draft. Not exactly an ideal place to develop. Then he wound up amongst a cast of characters nicknamed the "Jail Blazers." Enough said, unfortunately.
D-Miles may not have had the proper mindset to handle NBA life as a teenager and young adult, and if not, his decision to leap head first into NBA waters at age 18 is on him and only him. But unlike so many other players whose careers begin slowly before they find the proper support system within the right franchise, Miles never wound up with the right franchise—or even one that was accomplishing much of anything positive whatsoever.
Could he have added muscle and tried harder to slide into the post, like Kevin Garnett, whom he once shared that SI cover with? Probably. Or could he have spent more time working on his jumpshot and attempted to become an all-around scorer like Tracy McGrady, whom scouts compared him with before he was drafted? Again: probably. But a plethora of knee issues plagued the latter years of Miles' career, and his athleticism was robbed years before he likely ever expected to have to undergo a full on-court transformation.
Terms like "bust" and "cautionary tale" get thrown around when discussing guys like Darius Miles, but those words shadow the context required to understand why a career like Miles' unwinds the way it does. And though you can talk about how his career ended—quietly, with nary a press conference or even on-the-record interview to rehash it—many of the things Miles accomplished during the early 00s were nothing short of spectacular, and the highlights and memories so many of us have of those days will never be erased.
"There were flashes of pure greatness," Brand says. "Crossovers, windmills from the dotted line—he was a special talent, man."
Originally published in SLAM 180
1,165