In SLAM 210 (still on sale!) we chronicled one important old school player from each of the past four decades. For the 1980s, we focused on Darrell Griffith, a high-flying guard who led Louisville to the 1980 title before embarking on an 11-year NBA career with the Jazz. —Ed.
—
Darrell Griffith hasn't played ball since 1996—16 years after he led Louisville to its first-ever title. The springs that lifted the man named Dr. Dunkenstein into the air have lost their bounce. And though his playing days are over, Griffith remains in top shape and is still working hard in the service of his hometown school.
"I'm still at the weight I played at professionally," Griffith says. "One of my goals when I retired was to stay in good physical shape. God made me a world-class athlete, and I have to take advantage of that. I want to sweat. I like that."
The Cardinals' 1980 National Championship team was one of the most colorful, exciting and talented in NCAA history, with Griffith the star attraction, a 6-4 human pogo stick whose aerial acrobatics helped make U of L the nation's must-see team.
Griffith grew up in Louisville and was the nation's top prep player while at Louisville Male HS (KY). Everybody wanted him, but he narrowed his options to Michigan and the Cardinals. Oh, and he could have turned professional, too. Both the NBA and the ABA's Kentucky Colonels were ready to make him a part of their roster, and Griffith considered the offers carefully. "My dad reconsidered for me," Griffith says with a laugh. "He put it all in perspective. Going to college was the right move."
When Griffith held his press conference announcing he would stay home to play for the Cards, he channeled Louisville native Muhammad Ali by promising a title. As he entered his senior year without a championship, Griffith was aware that his guarantee and his rep were in jeopardy.
The Cardinals overcame a late-season slip-up against Jim Valvano's Iona squad at MSG to win it all, but it wasn't easy. Louisville needed OT to capture its first two tourney games and trailed Larry Brown's UCLA team at halftime of the finale, before Griffith told his team during intermission to loosen up and play with the same fun and abandon that characterized their first 35 games. He sure did, finishing with a game-high 23 points in Louisville's 59-54 victory.
Instead of riding back on the team bus, Griffith made the trip with his brother, Michael, because he wanted to drive through town and see fans celebrating in the streets where he had played pickup during his youth. Today, in his capacity as Director of Community Relations for his alma mater, Griffith encounters people all the time who want to reminisce about that team. He never fails to oblige.
"My job is a great opportunity to connect and be with the people who saw me play," he says. "Everybody's experience is different, and I always enjoy their perspectives, what they remember, what they were doing and what it meant to them."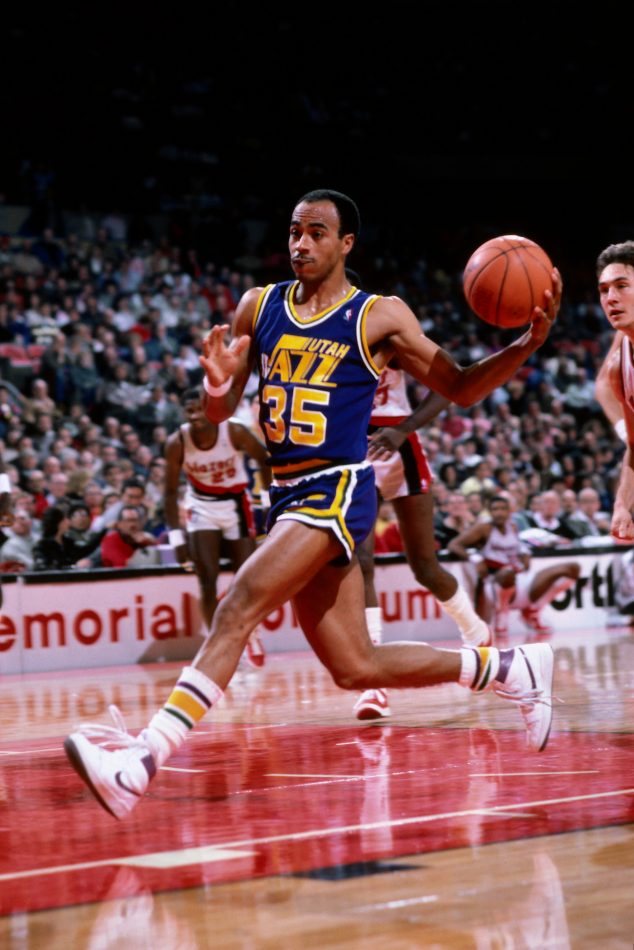 His playing career as a Cardinal still means a lot to Griffith, more than his 11 years with the Utah Jazz did. He "never left Louisville" and would return to the city during every NBA offseason. In 1990, as his pro career was winding down, he and members of the '80 title team took apart Louisville's 1986 championship squad in a charity game at Freedom Hall. He still cherishes the opportunities to spend time with former Louisville coach Denny Crum, and the two men talk basketball all the time.
Griffith averaged 16.2 ppg during his NBA career and topped 20 a game for a season four different times. When he arrived in Salt Lake City, the Jazz were coming off a 24-win season. In Griffith's fourth year, Utah won the Midwest Division title. Griffith laments that he didn't land in a major market but does say Utah fans "were good to me." He enjoyed playing for fast-and-loose Frank Layden at the beginning of his career and had the chance to watch John Stockton and Karl Malone blossom under Jerry Sloan. "[Sloan] was totally different than Frank," Griffith says. "He was a great coach with a great basketball mind. He was awesome to play for."
A classic car enthusiast who enjoys keeping track of his four children and six grandchildren, Griffith continues his outreach on behalf of his alma mater in the city he loves, marvels at the details fans recall about the title run and delights in sharing his passion for Louisville. The man who made good on his guarantee is enjoying his post-basketball career and is happy to be home. When asked why he stayed in town to play college ball, he has a simple explanation. "My hometown won me over," he says.
Years later, the love affair continues.
—
Michael Bradley is a Senior Writer at SLAM. Follow him on Twitter @DailyHombre.
Photos via Getty Images