On December 4, 2009, I was in the building to witness history. The building was, specifically, a desolate Izod Center, and the feat was the New Jersey Nets winning for the first time that season after five fruitless weeks. "TONIGHT: 1-18," read one fan's inspiring sign. Sure enough, New Jersey got there that evening, on the backs of Brook Lopez, Devin Harris and a Bobby Simmons-led second unit.
The following May, the mediocre Wizards snatched the rights to the first overall pick (sure to be John Wall) in the Lottery from the Nets, who were already eyeing their 2012 move to Brooklyn. The misfortune spawned a multi-year, dual-conference ripple too wacky to fully rehash, but which, to some extent, has roped in Deron Williams, Dwight Howard, Carmelo Anthony, something called a Blueprint For Greatness, potentially Kevin Durant, and roughly 6,000 more words of strange happenings.
Much of the mess could have been avoided had the Nets embraced their 2010 consolation prize, Derrick Favors, whom they selected third overall that June. Surely, nearly five years later, they wish that they had. Favors, now 24, has since grown into the dream power forward: 6-10, 265, stable on his worst nights and exceptional most others. He's upped his game year after year to patiently achieve what so many have failed to—to simply, improbably, pan out. He is the realization of immense potential, the stuff of pipe dreams, the kind of triumph typically only advertised by hopeful teams looking toward the future. The Jazz appeared to be one such team in February of 2011, when they traded the All-Star PG Williams for Favors and some accoutrement.
"I didn't feel like I had to replace [Williams]," Favors says. "But I felt that I gotta try to win the Jazz fans over—let them know that they didn't trade their best player for some guy who's gonna come in and just bullshit around."
When we speak, the normally mild-mannered Favors is in Philadelphia, where his Jazz are prepping for a Friday night game against the Sixers (they'd win by 28). The Atlanta native speaks with a soft accent, most noticeable when he rounds "you all" down into one word. If there's pressure on him to make another leap in Year 6—one that just might mirror his team's—it's undetectable. He's thoughtful and calm while reflecting on his jarring rookie season, on his reluctance to submit to the stretch-4 craze, on filling—or not filling—Karl Malone's size-billion shoes. ("I don't even try," he says of replacing the Mailman.)
At this exact moment, Utah is 0-1 on the young season, though that's hardly the fault of its star power forward. Favors was excellent in Wednesday's opening loss to the Pistons, displaying an array of offensive moves only lightly rivaled in today's game. In the early minutes, he drilled a free-throw line jumper after peeling off of a high screen. He later took poor Ersan Ilyasova to work, attacking the paint, spinning toward his right shoulder and returning the other way, before leaping from outside the restricted area for a two-handed jam. Then a little shimmy off the baseline into a fade-away jumper. Then a trip to the line off the dribble. All in a (first) quarter's work. He finished with 26 on 10-15 shooting.
That type of night is now the norm for Favors—last season, only Anthony Davis averaged more points per game at a higher shooting clip, and Favors expects the ball to continue to come his way more frequently. He's certainly capable of handling a lead role—following last February's trade of center Enes Kanter, Favors' offensive usage rate climbed to 26.3 (sandwiching him between Wall and Damian Lillard), and the Jazz played their best ball of the season.
It's been a long road here. Early in his Jazz tenure, Favors provided Utah with only defense and energy off the bench—a noble if frustrating duty. Still, his minutes and usage increased over his first three seasons, tangible signs of growth.
Things bloomed in the summer of 2013, when the Jazz extended Favors' contract for four years and $49 million before inserting him into the starting lineup for the first time. He answered with a breakout season: 13 points (52 percent), 9 boards, 1.5 blocks and a steal in 30 nightly minutes…and has improved those numbers in the season-plus since.
The success was not exactly surprising. Favors had been an all-world prospect and SLAM HS All-American while at South Atlanta HS, pegged as perhaps the top dog in a 2009 recruiting class that also featured Wall and DeMarcus Cousins. He stayed in-state to attend Georgia Tech, where he posted around 12.5, 8.5 and 2 blocks per game in his lone collegiate season.
But Favors entered the 2010 Draft as an intriguing 18-year-old known for running and jumping and blocking and fouling and showing little patience on the offensive end. That's a fairly common prototype, the raw athlete, always captivating and difficult to project. Many have started raw and ascended to stardom, and many more have started raw and remained so, long after their potential's mystique wore away. How good Favors might become was anybody's guess.
So when the impatient Nets selected him at No. 3, they viewed him as a trade chip. After all, New Jersey had visions of pairing Carmelo Anthony and Dwight Howard, or something like that. So, depending on which report you were reading after the Draft, Favors would soon be headed to Denver or Utah or anywhere but Brooklyn.
The Nets held onto him for 56 games following a summer of "imminent" trades, but finally dealt him away in February of his rookie season.
"It was tough because that was the team that drafted me—I wanted to play for that team, be a part of the future, but they had other plans," Favors says. "My mindset was, if you're gonna keep me, then I'm here, I'll work hard, I'll do whatever. If y'all gonna trade me, trade me."
Whoops.
***
If you want to establish the perfect environment in which to develop the 19-year-old Derrick Favors, fresh off of a bizarre eight-month limbo finally resolved by a blockbuster trade to an unassuming yet unfamiliar city, here's what you do.
You get two veteran big men to shoulder major minutes and a respectable team while Favors finds his way. Tanking is cool and all, but it's hard to imagine a player being better off for having been exposed to unabashed misery early on. You make sure that those two dudes embrace being mentors, and you have them offer different perspectives to young Favors. Maybe one guy is a footwork savant who finds his inner peace with his back to the basket on an isolated left block, and the other is more of your modern, versatile forward. Maybe the first guy has walked in one of Favors' shoes, as the gem who gets caught in the eye of a big-name trade, and the second has walked in his other shoe, as a promising youngster riding the pine. Now, ideally these guys are Southern-born, too, for comfort's sake, but that seems like asking for a lot at this point. Oh, and you like for them to be on, say, three-year deals, so that just as Favors is ready to take the reigns, he can step in, they can step out, and everybody can win.
Meet Mississippi's own Al Jefferson and Louisiana's own Paul Millsap.
"Those two guys are who I studied every day for the first three years of my career," says Favors. "When I got to Utah, they were big on post games before all this stretch-4 stuff became popular. So I used those years when I was playing behind Al and Paul as a blessing to learn post moves. Whether it was going against them in practice, seeing how they worked, talking to them, being around them—it all helped."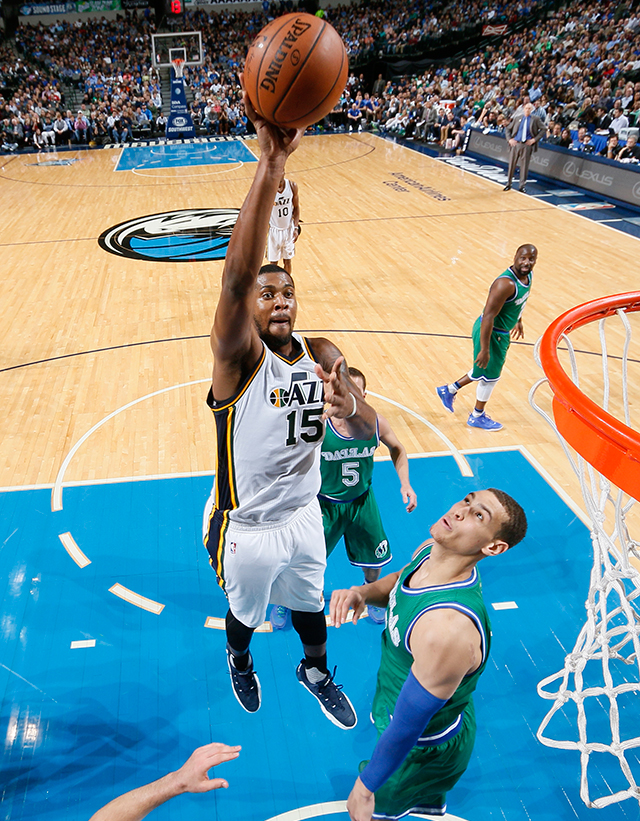 Perhaps most important were the occasional conversations that broke from talk of baby-hooks and 13-footers. Favors arrived in Utah aspiring to improve as a player, sure, but he also needed to find comfort away from the game.
"I was 19 at the time, basically still a kid, figuring out how the NBA works, still trying to find myself, still trying to adapt to being on my own without my mom there. Just growing up," he says. For months, Favors lived out of two suitcases in a Utah hotel room. "Me being from Atlanta, going to Georgia Tech for one year, then being drafted, going all the way up to New York, and then I get traded, so I gotta go out to Utah—it was all happening in the span of, I don't know, six, seven months or whatever. It was tough."
Says Jefferson, simply: "Derrick came in with a confused look on his face."
It was a familiar look for Jefferson. In 2007, Big Al, then 22, headlined Minnesota's return package in the Kevin Garnett deal.
"Sometimes you get caught up in a big trade," Jefferson continues. "When a team trades its star, it needs to get a young star back. That's not a bad thing. I tried to help Derrick wrap his head around that."
Once some of Favors' personal distractions were sorted, he could focus on ball.
"He was always open to listening and learning," Jefferson says of his protégé. "I used to get the best of him, but he wouldn't get mad, he just wanted to learn. He wanted to know how I get my [right-handed] hook shot off every time. I said, 'I can't teach you everything! But you can use both hands—you can be better than me.'"
Favors has plenty more to prove before he surpasses his old professor, but he's clearly on his way there, slow and steady.
"He's gone from a guy who can dunk to a guy who can get the ball down on the block and do what he wants," says Millsap, who spent his first four seasons in Utah playing behind Carlos Boozer. "He can turn around and shoot it, he can spin, he can take guys up and under. I've seen his post game develop so much."
The progress won't slow now. Favors is hesitant to follow Chris Bosh and Serge Ibaka beyond the arc, but he's always fine-tuning an offensive repertoire that, not long ago, was limited to put-backs and alley-oops.
"If anybody does a move on me, or I'm watching TV and see them do a certain move or take a certain shot, I try to remember it the next day so I can work on it after practice," he says.
The immediate next step, it seems, would be to lead the Jazz through the Western wringer and into the Playoffs—last season's 19-10 finish is cause for hope and even expectation. Maybe No. 15 will sprinkle in a sky hook or Dirk's weirdo off-balance thing along the way.
For now, though, all we know with any certainty is that the methodical Derrick Favors won't be getting ahead of himself.
"We've still got a lot of work to do before we can be considered a for-sure Playoff team," he says. "I'm not gonna put too much pressure to say, let's have the best record, or be the best team. Right now, it's baby steps for us. So just keep improving. We have a lot of work to do."
—
Leo Sepkowitz is an Editorial Assistant at SLAM. Follow him on Twitter @LeoSepkowitz.
Images via Getty