Derrick Rose is still finding his footing with the New York Knicks during his first season in the Big Apple. After an offseason that saw him traded from his hometown Bulls to the Knicks, plenty of "super team" talk and a civil suit trial that kept him away from the team for most of the preseason, DRose is starting to settle in.
On the season, Rose is averaging 16.4 points, 4.8 assists and 4.1 boards per game for the 9-9 Knicks. At 28 years old and with one year left on his contract, the former MVP is looking to continue to improve throughout the season to ensure that he not only racks up plenty of wins, but a nice contract, too. On Monday, Rose went head-to-head with Russell Westbrook and scored 30 points, grabbed 7 boards and dished out 4 assists and looked more like the DRose of old—a good sign for Knicks fans who haven't seen their squad make the playoffs in three years.
Last night, DRose and teammates Kristaps Porzingis, Willy Hernangomez and Kyle O'Quinn kicked it at the new adidas store in NYC. Between cracking jokes with KP, Hernangomez and O'Quinn, Rose chopped it up with SLAM about the D Rose 7, Russell Westbrook, Tom Thibodeau and taking on more of a leadership role on the Knicks.
SLAM: How have you liked playing in the D Rose 7 so far this season?
Derrick Rose: I love the 7, man. It was the only shoe I had total control over and seeing everything develop on the shoe. The [D Rose 8] and [D Rose 9] that's coming out over the next few years, I'm involved in making the shoe. It means a lot to me and my partnership with adidas.
SLAM: A lot of guys are getting low cut sneakers now—do you think you'll get something like that in the D Rose line?
DR: I don't know, man, I don't know. If they make it for the fans, I'll probably put it out but my personal shoe will still have to be a mid-cut [laughs.] As far as right now, I love for my ankle to feel secure in a mid-cut shoe. I don't want it high-top, but mid-cut is good for me.
SLAM: The Knicks are 6-4 in the last 10 games. Are you guys starting to develop chemistry?
DR: It's taking time, man. Everyone is getting comfortable with each other and figure out a new system without making things hard for each other on the floor. Of course, I can't play the same way I played in Chicago with this team, like coming out and firing right away. I'll look dumb shooting all those shots I shot in Chicago with this team and with the talent we have with this team. It's about being patient, taking our time and letting it all click. At some point in the season, I know I'll be able to play the way I normally know how to play. First we gotta learn how to win.
SLAM: Last week you said something like "the vintage" is gone, but then you had 30 against Russell Westbrook. Was that a good measuring stick for you as far as where you stand in the League?
DR: I can still hoop, man. There's a time and place for all that. Me coming out and being aggressive, Coach wanted me to play like that and he wanted me to matchup with Westbrook. Then there's a game like last night in Minnesota where I only shot 12 times and we still won the game.
Finding out how we're going to win games, we got 10 new people on the team—it's not like they had a foundation here and we came right into it. We're building the culture. We're building the foundation now. I'm under a one-year contract so of course I want to play the rest of my life here. But it takes time, it takes patience to figure out how every one is going to fit, if it is going to fit and going from there.
SLAM: Right, it's only game 18 of the season. It's more important where you're at in game 60.
DR: Exactly. Our goal is to have fun while we're playing and get to the playoffs. After that, we'll see where we're at.
SLAM: Russell Westbrook is probably the biggest story in the NBA. What do you make of the season he's having thus far?
DR: This is the first time the League has seen something like this in a long time. It shows how hard he's working. It shows that hard work pays off.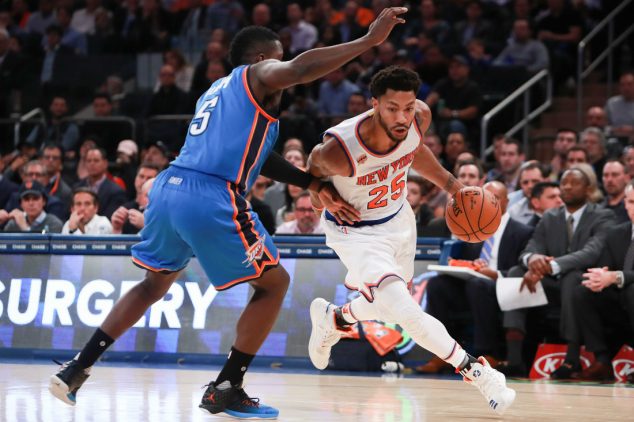 SLAM: After seeing you, Willy Hernangomez, Kyle O'Quinn and Kristaps interact, it seems like you guys really get along.
DR: Yeah, they're playful, man, they're really playful guys. Willy and KP, they played on their Euro team together so they got a lot of chemistry. They're young, and they listen and they want to win. I can talk to them however I want—not in a disrespectful way—like yelling on the court and they don't take it personal or disrespectful. That goes a long way in having chemistry on a team. You're dealing with guys in the NBA with egos an money and that ego and pride comes into place. You gotta talk to guys without hurting feelings or being disrespectful.
SLAM: When you came in with the Bulls, you were that young dude who had a lot of veteran leadership around. Do you feel like you're transforming into that role as a mentor for the young guys now?
DR: That's my goal, man. My goal is to help guys get better, help guys win and win along the way, get better and prove myself. When I got a guy like KP on my team, it's no point in me coming down and shooting some crazy shots, or make crazy moves like I used to. My job is to pick and choose my spots and go from there.
SLAM: We've noticed in the way you've been playing, you've been really crafty at the rim and using the rim as a weapon to keep shot blockers away. Is that something you worked on to avoid contact when going up for a layup?
DR: Yeah, that and putting different parts in my game to attack without thinking. The last three years I had injuries and when you're on the floor after you have injuries, you're thinking on the floor instead of reacting. Right now I'm attacking the rim. Second part of the season I'm going to have my jump shot. Third part of the season and the playoffs I'm going to have the trey ball. I'm working on pieces of my game so I'm improving and helping the team along the way.
SLAM: You guys played the Wolves on Wednesday and again Friday night. Have you talked to Thibs at all? He had a huge impact on you and your career—how do you feel about the way things have worked out for you guys after leaving Chicago?
DR: Yeah, I talked to him a little bit. I think things are going to work out well. Thibs, he's got a young group over there. I think we both have room and space for opportunity. We both work so hard at our craft and what we do that nothing but good is going to come from it. I think we're good people and we obsess for greatness. I think he wants success and when you have that and good people around you, I think you find your way to success.
—
Top photo via Jihad Dennis (@jihad_lb), action pic via Getty Images