"If it's someone that's under the radar right now that I believe is really, really, really going to be an All-Star in this league, it's Devin Booker from the Phoenix Suns." —LeBron James on the Open Run podcast
"I love Devin Booker, man … He'll talk shit, he'll rough you up. You better watch out for that boy, because he's nice. He next. I'm telling you." —Kevin Durant on The Bill Simmons Podcast
***
"I think people just respect the competitive nature," Devin Booker says. He's sitting in a quiet room on the fourth floor of Phoenix's Talking Stick Resort Arena, a few feet from where he'll soon pose for the photos that grace the pages of this magazine. A few floors below him, the Phoenix Mercury and the L.A. Sparks are about to tip off their WNBA playoff game, and a few minutes after that Devin will snake through the bowels of the arena and slide into his courtside seat to take in the action. But for now, he sits on a stool and wonders why all of the League's superstars—LeBron, KD, Jimmy Butler and Dwyane Wade, to name a few—keep saying his name when asked for their favorite up-and-coming NBA player.
"When I play against guys who are in college or when I go to pick-up games, I respect the kids that go right at me," Booker adds. "From competitor to competitor, I know the respect. When I go against [the superstars], there's a fire in my eye, 'cause those are the top guys in the League, and that's the position I'm trying to get in. Every time I get a chance to play against those guys, I'm not backing down."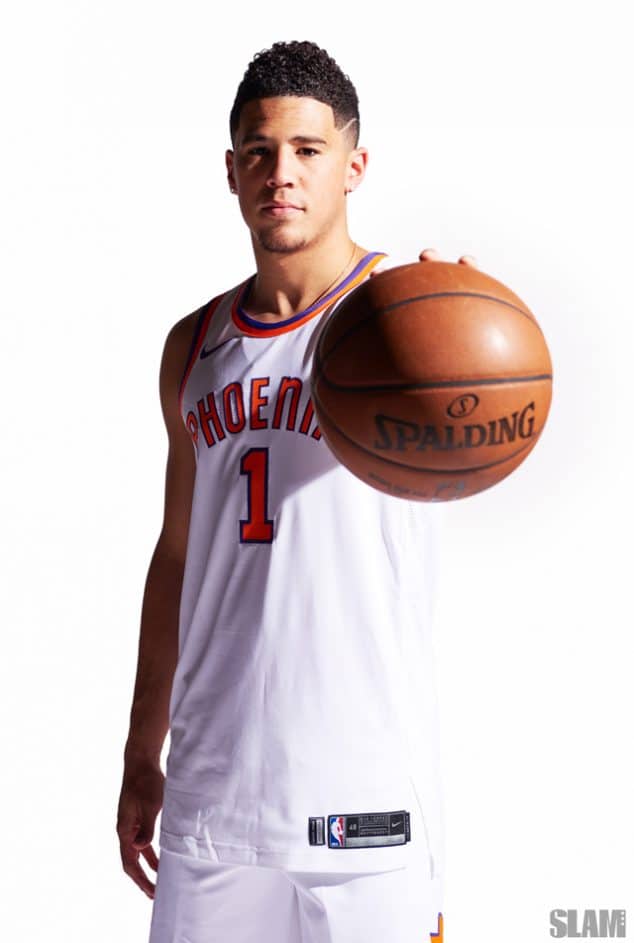 It's strange to think about how fast this all happened, how quickly he went from just another top recruit to the shortlist of NBA upstarts who have Next. Just one year in college and two in the L. One NCAA Tournament, one All-Rookie First Team appearance, one 70-point game, a slew of 30-something-point outbursts, a shit-ton of three-pointers and a lot of trash talk.
A whooooole lot of trash talk. Guys around the League have noted time and time again that D-Book loves to run his mouth on the court.
"Anytime I talk trash and somebody talks trash back to me, the level of the game just rises," he says, smirking. "If you're a competitor and somebody's talking trash to you and you're talking back, you're getting the best out of everybody. I feel like I'm built for that."
What you'd assume is that some kid with a take-no-prisoners approach would have such an outlook because he never really cared for the NBA bigwigs he's consistently staring down in the first place. But then you learn it wasn't too long ago that Booker owned a LeBron James jersey and had a Kevin Durant fathead on the wall of his bedroom. See, it's not that Devin isn't much of an NBA fan. It's that he's such a super-fan that he's been preparing for this moment since the beginning. The very beginning.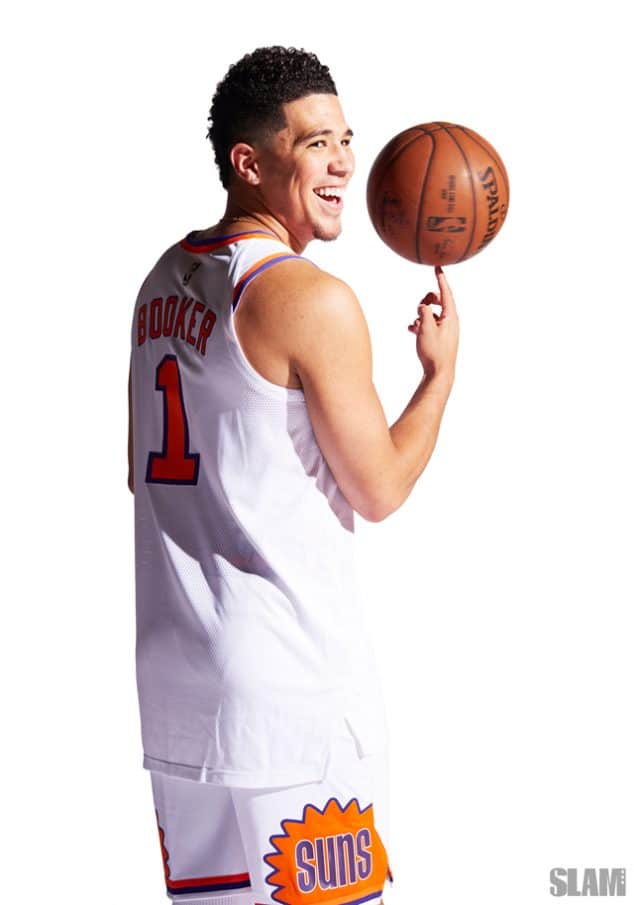 Devin was born and raised in Grandville, MI, a suburb outside the city of Grand Rapids. He lived mostly with his mother, Veronica Gutierrez, while his father, Melvin Booker, hooped professionally in Europe. You could trace Devin's path to the League back to those years—his pops played pro ball, so he wanted to, too. When he was around 11, Devin visited his dad in Italy and met Danilo Gallinari, who gifted him an autographed pair of his Reebok sneakers.
It helped that Devin was tall. "He was the same size as us," says Davon Wade, Devin's older brother by four years. "When he was younger he never wanted to play in his own age group, so he always played four years up, in mine. He'd come to my AAU practices and practice with us. He was at our skill level, but four years younger."
Ever competitive, Devin and Davon would battle in just about anything—video games, football, baseball and, yes, hoops. They'd play one-on-one and Devin would make Davon repeat the games over and over, unwilling to accept any defeat. Davon had an edge when the two were younger, but things evened up pretty quickly.
Davon still remembers the moment he realized Devin was a little better than around-the-neighborhood good. A local kid named David Krombeen who had attended Grandville HS and was considered to be the best young player in the area came back to play in a summertime open gym while he was a sophomore or junior at nearby Hope College, where he started and was co-captain during his junior and senior years. Meanwhile, Devin, who frequented those open gyms, was heading into his freshman year of high school. Despite the vast age and experience difference, a feisty Booker outplayed Krombeen by a wide margin.
"Then I was like, OK, Devin is gonna be something really special," Wade says.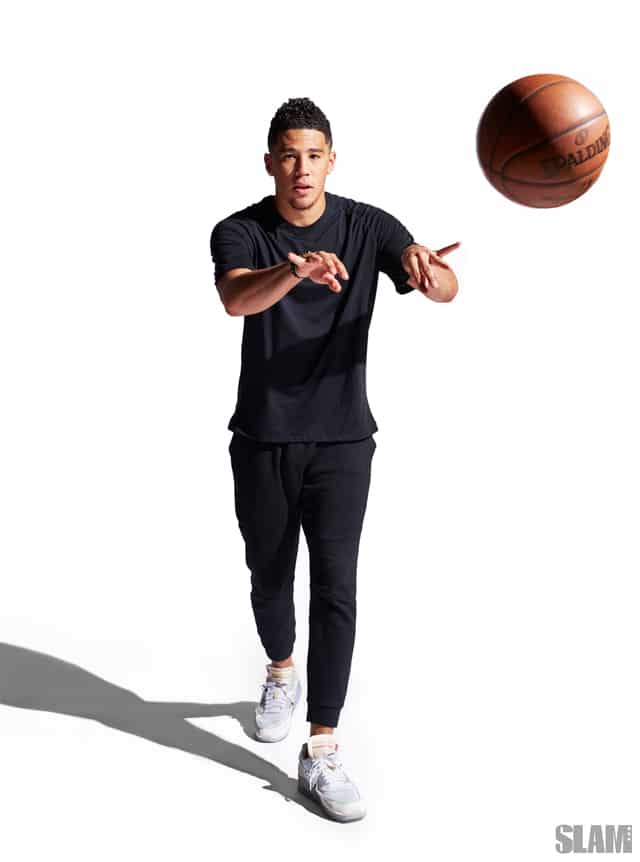 Twelve months later, Booker's life changed its course. His father turned down a two-year contract to continue his career overseas, opting to return to his home in Moss Point, MS, so Devin could leave Michigan and come down south to live and train with his father full-time.
Moss Point was…well, different. "We were a little nervous, because [Devin] grew up in the suburbs," Wade says. "He moved and literally went to school in the hood. Complete, total, polar opposites."
"He needed to be challenged," Melvin says. "It's nothing against suburban basketball, but it's a little different in the hood. It's just something that made him better. It's just another challenge that he took upon. And he took over the area. Took over the state, actually."
In Mississippi, Devin woke up at 5 a.m. to train on the beach with his dad before school. He played hard-nosed, in-your-face, inner-city basketball. His reputation grew, and as a result he faced double- and triple-teams regularly. He grew to 6-6, developed a smooth-as-hell jumpshot and evolved into a prototypical 2-guard.
He earned a scholarship to the University of Kentucky, which had become a factory for churning out NBA players. Even still, Melvin figured Devin had two or three years of college in him before he took off for the League. But within one week of Devin participating in UK training camp, Melvin received a call from a coaching staff member who told him he should plan on selling his house sooner than later, because he'd be moving to an NBA city the following summer.
"At the time I didn't believe it, but as the season went on and [Devin] started playing so well, it was like, Looks like I need to put the for-sale sign in my yard," Melvin says.
The Phoenix Suns drafted Devin with the 13th pick in 2015. (A fun, pointless hypothetical: Think about how different today's NBA would look if Booker fell just one more spot to the OKC Thunder.) He started his pro career slowly, but when Eric Bledsoe went down with a torn meniscus that winter, Book stepped up.
He hadn't been getting many minutes when the Suns visited Detroit for the first time, but Devin's friends and family from Michigan showed up in droves anyway. "We were telling our family, 'Look, he hasn't been getting much time, You can come see him, but we don't know if he's gonna play or not,'" Wade remembers. "Our whole family showed up, as did all of his friends. So we were a little nervous, like he might not even get in—we have no idea. The coach ends up putting him in and he rattled off, like, 12 straight."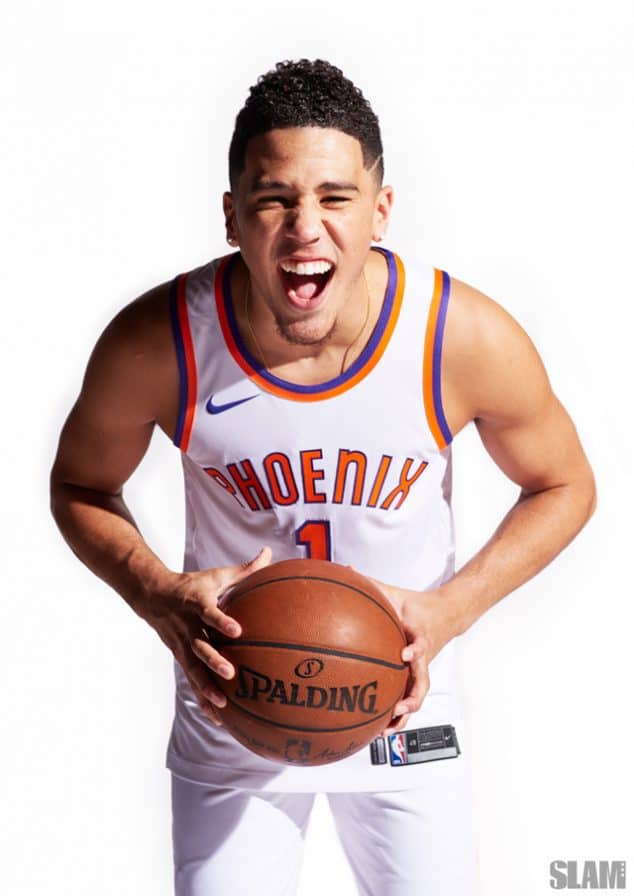 Devin finished that game with 18, then a career-high. "And I was like, Wow, he can do it at every level," Wade says.
A few games later, the Suns visited Chicago. Phoenix was down big in the fourth, so Devin got another opportunity. "I hit a couple big shots, and I was like, It's go time," Booker says. In the fourth, after teammate Mirza Teletovic hit a clutch shot, Devin mimicked Drake's "Hotline Bling" dance, which subsequently went viral. And the Suns won.
We're now approaching the two-year anniversary of that night, and Devin's career hasn't slowed much since. A solid rookie year—including an average of 13.8 ppg—landed him a spot on the All-Rookie First Team. He then made a name for himself throughout the '16-17 season by battling—and holding his own—against the NBA's best. His scoring jumped to 22.1 ppg; he drained a shade under two threes a game.
Then there was The 70 Point Game. March 24, 2017. Suns at Celtics.
And to think…before the game even started, Devin was tired.
"I was up really late the night before," he says. The guys were playing cards on the plane ride from New York to Massachusetts, and the game spilled into the hotel, which cut into some sleep hours. (For what it's worth, NBA players have their entire days to get ready for games, naptime included, so it's a little different than someone with a 9-5 losing some nighttime sleep.) "When I'm tired in warm-ups, I go super hard to get it all out, so I can catch a second wind before the game. And then the game was just incredible."
An understatement. Devin had 19 in the first half, then exploded in the second half, by scoring…and scoring…and scoring. He finished with a clean 70.
Davon watched the game from the apartment in Phoenix he shared at the time with his little brother. "My phone was just blowing up," Wade says.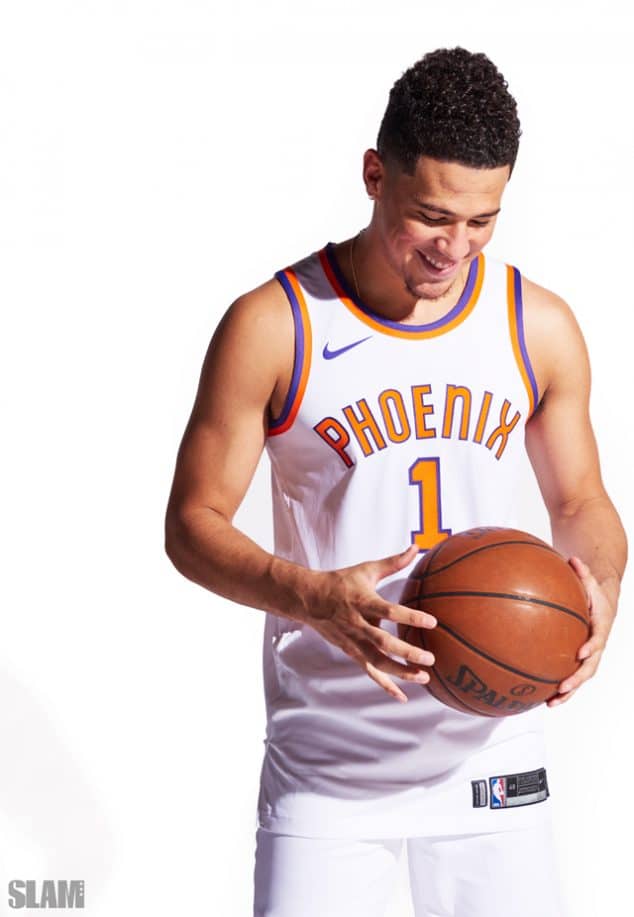 "That was a special game," Devin says. "Some games I surprise myself."
At this point in Book's young career, the 70-point game is often the first thing brought up when his name is mentioned. When Devin and his brother visited China this summer, people came up to them screaming, "Mr. 70!" It was there that the two realized how much weight that one game carried—being known in NBA circles is one thing, but fans lining up to get a picture or autograph on the other side of the globe speaks to a new kind of fame.
What's on deck is pretty obvious. He still hasn't made the All-Star team, still hasn't been the best player on a winning roster. But it's clear he'll get there. He spent last summer in Phoenix, working out and fixing up a house he bought, which should make Suns fans breathe easy, since nothing says, "I ain't going anywhere" in NBA-speak like a guy buying a house in the city he plays in. He took yoga classes, both hot and regular, once or twice a week, and even got in a few spin classes. He visited Asia. He popped up at trainer Chris Brickley's now-famous pick-up runs in NYC. And he prepared for the next step.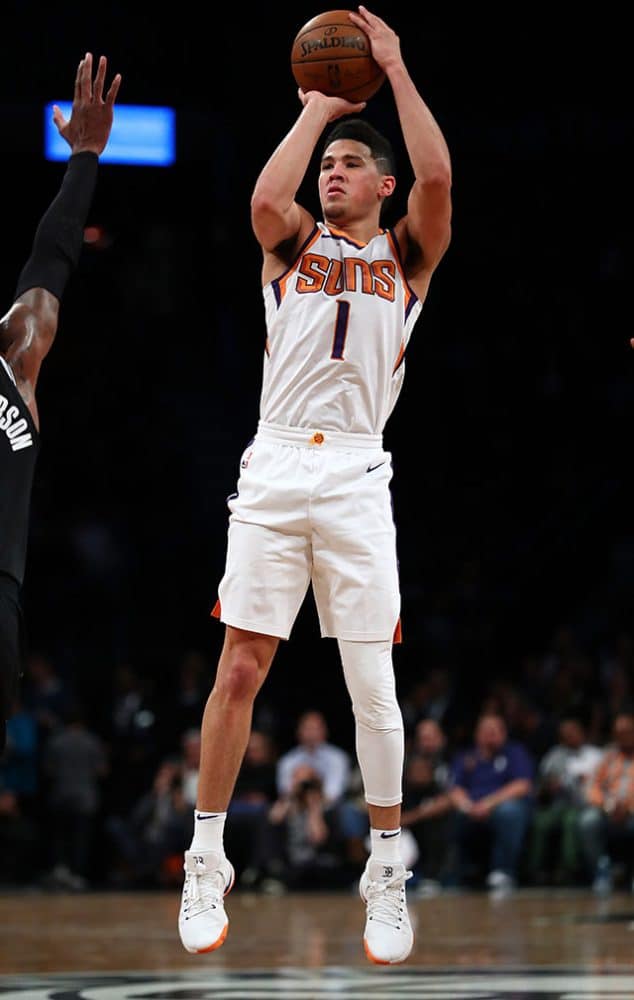 "Sometimes in the middle of a workout I'll be like, I gotta go harder," he says. "I'm not an All-Star yet, not where I wanna be. I can't be complacent. I know the second- to third-year jump, people say that's the time to make that jump. It's go time for me."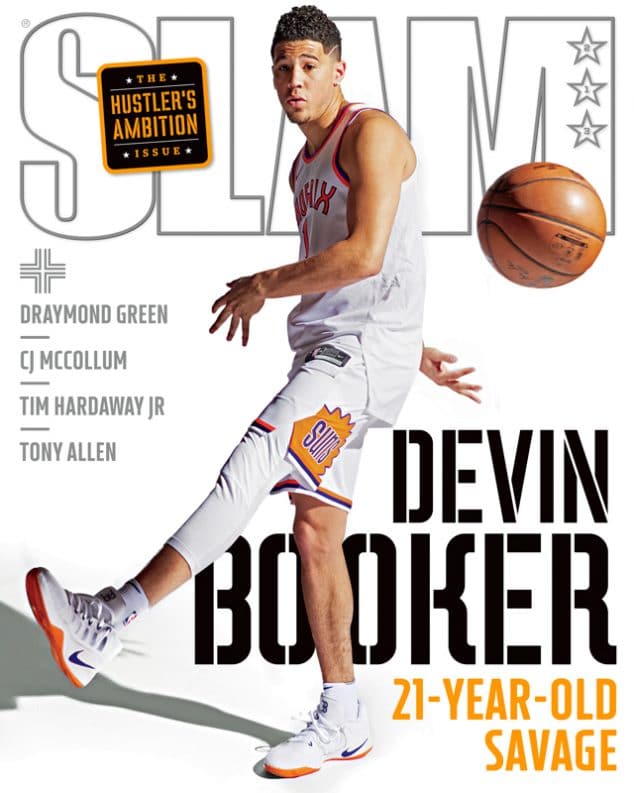 Seventy-point games aside (those don't make sense for anyone), there's a reason that, out of all the NBA's young'ns, it's Book who's risen to the top of the heap, and who looks like he'll soon rise to the top of the entire League. He's literally been groomed to do this. As a kid he hung on the sideline when he visited his dad in Europe—along with some time with the Denver Nuggets and Golden State Warriors, Melvin played in Italy, Turkey and Russia—studying the passion required to play professional basketball. As a teenager, he moved to Moss Point and trained like an NBA player early in the morning and late at night while spending his days in high school chemistry and literature classes. We don't know exactly what courses he took during his one year at Kentucky, but the "How To Be a Successful NBA Player 101" seminar they seemingly give to all of the men's basketball athletes was certainly one of them.
And of course there was the constant observing of the NBA stars he now talks shit to on a nightly basis. Booker always did keep a watchful eye on the NBA's best. Remember that fathead?
"That Kevin Durant thing, that is crazy," he says, cracking a smile. "I used to go to sleep and a picture of Kevin Durant used to be in my room. I still have respect for KD, but it's a totally different feeling now."
Ask KD, or any other star who's faced up against D-Book, and you learn one thing: The feeling's mutual.
Related:
Deserve It — SLAM 213 Cover Story on Draymond Green
The Beautiful Struggle — SLAM 213 Cover Story on  CJ McCollum
—
Adam Figman is the Editor-in-Chief at SLAM. Follow him on Twitter @afigman.
Portraits by Jonathan Zizzo
—
SLAM 213 is on sale next week! Pick it up at newsstands and bookstores nationwide.