"Oh, that's cold!"
Devin Booker isn't talking about his shot on this mid-May afternoon, though he was a little rusty down on the Phoenix Suns practice court.
It's been one month since the Suns played their last game of the 2015-16 season. One week since the 19-year-old returned from the beaches of Cancun. One day since he was named to the NBA's All-Rookie First-Team.
Yet here Booker is, cautiously slipping into the 53-degree water of a cool tub inside the team's clubhouse after working up a serious sweat, back in the gym where he plans to spend the rest of his "off" season. That is, when he's not doing Pilates or hiking Piestewa Peak with his PHX fam.
"I'm done with vacations for the summer," he says, elbows resting on the lip of the tub, settling in for a 20-minute cool down.
You see, the youngest player in the NBA this past season was already looking ahead to next season, even while the Warriors, Thunder, Cavs and Raptors were still fighting it out in the Conference Finals for the right to hoist the Larry O'Brien trophy.
While he had the best rookie run seen in the desert since Amar'e Stoudemire in 2002-03, averaging 13.8 points, 2.6 assists and 2.5 boards a game while shooting 38 percent from three-point range, Booker is far from satisfied with the All-Rookie recognition.
"Being the only guard on there, that was kind of a big deal to me," he says of joining one of his closest friends, Wolves big man Karl-Anthony Towns, along with Sixers center Jahlil Okafor, Nuggets center Nikola Jokic and Knicks forward Kristaps Porzingis on the honor roll.
"It just shows me that I'm on the right path, but there's a lot of people who have made First-Team All-Rookie and you don't know where they're at anymore. So I just have to use this as motivation to keep grinding, because I know that it comes with a bigger target on my back."
While he's not quite right about a "lot" of first teamers having gone MIA—all but four in the last decade were still in the League in 2015-16—you have to love his mindset. But a few other lists he added his name to during his first season may be more indicative of what success lies ahead.
For one, Book became just the sixth player in League history to record 1,000 points as a teenager, following in the young footsteps and singular names of KD, Dwight, LeBron, Carmelo and Kobe.
Booker became the second-youngest player (behind LeBron) ever to hand out 11 assists in a game, and was the first teen since King James to throw 30s up on the scoreboard in back-to-back contests, after mid-season injuries to the Suns' backcourt opened up minutes.
Moving into the starting lineup in late December, he blew up like fireworks entering the new year, collecting the most 30-point games by a rookie (six) since Blake Griffin in 2010-11.
In other words, the kid more than proved he belongs.
"I never had that worry in my mind about Devin succeeding in the NBA," KAT said after a March reunion with his fellow Kentucky alum, who flew under the radar in a reserve role with that "Blue Magic" squad (word to SLAM 187). "Whatever team he was going to get drafted to, they were getting a winner and one of the best shooters in this league, possibly that we'll ever see."
It wasn't his shooting percentages, his numbers or the elite company he joined that Booker will remember most from the past 12 months. It was a series of specific moments that he had been looking forward to since he was a child wearing a homemade paper mask, pretending to be Rip Hamilton in his Grand Rapids, MI, driveway.
Moments like his NBA debut on October 28, 2015 against Dallas.
"I got in late and we were down a lot, but it felt like I was in a video game," he says with a smile, recalling the years playing NBA 2K on Xbox. "You know, growing up, where you play My Career? You go through that whole draft process and then you finally get in a game for the first time…It was crazy."
The crazy moments continued in his second professional game, just two nights later. It was his 19th birthday, but he was just a guest at a party for one of greatest players to ever wear the purple and orange.
Born just three days before two-time MVP Steve Nash made his NBA debut as a Suns rookie in November of '96, Booker was inspired seeing the reaction and emotion from Phoenix fans, not to mention legends like Charles Barkley, Paul Westphal and Walter Davis, who were in attendance for Nash's induction into the club's Ring of Honor.
"It's bigger than basketball," Booker explains. "He's affected so many lives, not only here in America, but in Canada, too, and all over the world. It's just unbelievable what you can do, just playing this sport…and at the same time, earn everybody's respect to get all of those Hall of Famers back here to support him."
Ever envision yourself going into that Ring?
"Definitely," he answers, without hesitation. "I love it in Phoenix and I want to be one of those guys that gets drafted by one team and stays there the whole time. You know, they turn around the franchise, and they get love for that in that city like they're the mayor…People still wear Steve Nash jerseys here. That's definitely something I want to be."
If jersey sales in the Suns team shop in '15-16 are any indication, Phoenix fans will love the picture their new star guard paints in that last quote. Go ahead, read it again.
Speaking of reading, if Booker had kept a diary during his rookie season, and didn't mind us taking a peek, there would be several pages dedicated to All-Star Weekend. Replacing an injured Nerlens Noel on the roster, he scored 23 points in the Rising Stars Challenge.
Then, at the Three-Point Shootout, the young Sun had both Drake and Spike Lee jumping out of their courtside seats at Air Canada Centre, as he shot his way into the finals against the Splash Bros.
"I don't notice those moments until it's over and rewatch it," he says. "When I'm in that moment, I'm so competitive. I'm like, I'm better than them. I don't care who they are. I'm going to win this!
"But Steph and Klay are arguably going to go down as the best shooting backcourt ever. So that was a pretty big deal to be in the finals with those two."
The respect is mutual.
"Is he only 19?" a shocked Thompson asked after a mid-season matchup with the Suns. "He doesn't play like it. He plays under a lot of control. Beautiful shot. Underrated athlete. He's going to be a really good player in this league for a long time."
Those types of soundbites became more and more common as the season went on, whether from his peers, his teammates or the media. But there was no praise higher than the compliments that came from Kobe, one of his idols growing up.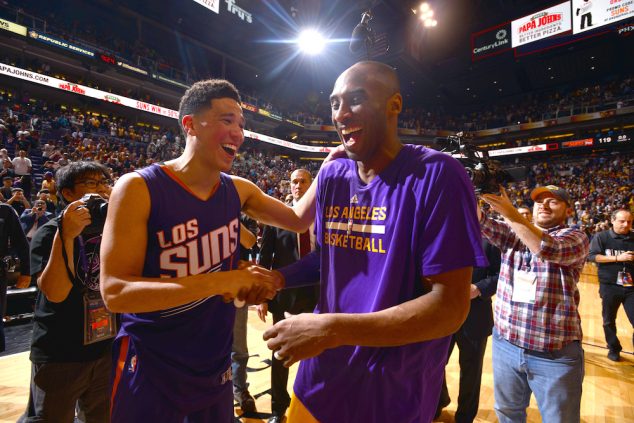 Early in his final game in Phoenix, Mamba found himself matched up with the Suns' youngster, who, once again, didn't shy away from the challenge. Catching the ball on the block, Booker immediately turned and shot Bryant's patented fadeaway jumper, although he missed.
"He went straight to my move," Kobe laughed in the post-game presser. "The first time he caught it! You're not going to beat me on my move, man! But it was great to see. It was absolutely great to see. I remember, I did the same thing with MJ.
"I think he's fantastic. He has the right attitude. He has the right competitive spirit."
Of course, not every defining moment from his rookie season was as positive as his meet-up with Kobe. Along with all the highs for Booker came a few lows. There were games in which opposing defenses were more physical and focused specifically on him. The losses, all 59 of them, were never fun to deal with.
But Suns head coach Earl Watson was pleased with Book's attitude in crunch time moments as a rookie.
"He's 19 and he's never afraid," says Watson. "That's what I love about him. He wants it. You have a lot of players in this league that say they want it, but when they get the chance to get it, they really don't want it. You can just see it. You can feel it. But this kid really wants it."
Booker has big goals. Just like the list he wrote down as a kid—make the high school team, make varsity, earn a college scholarship—he knows what he wants, even if he won't come right out and share it. It's personal. But you can see the desire in his eyes, and you can hear the passion in his voice.
"There's just something about basketball that always keeps me driving," he says. "If you don't want to win Championships, if you don't want to be the best player in the NBA, if you don't want to be a future MVP, I don't feel like there's a reason to play.
"I've always had that competitive nature to where I want to be the best at what I do. I want to go down as one of the greatest. I know it's far-fetched, but just to be the best player to have ever touched a basketball."
Locked away in a safe in his home, Devin has a pair of Nikes that were given to him by Kobe. They are autographed with instructions that perhaps best sum up his ultimate goal: "Be Legendary."
The legend of Devin Armani Booker is growing fast in Phoenix, but not just because he looks to be a star in the not-too-distant future. His fans love his contagious smile and off-court style, his toughness and on-court intensity. His teammates love his sense of humor and unselfishness. And everyone loves his heart.
Did you see the story of how he invited a 16-year-old Suns fan with Down syndrome, and her family, to attend the NBA Draft Lottery with him this year? How he held her hand walking down the busy streets of NYC? How he played one-on-one with her in Central Park, before taking her to lunch at Carmine's?
That's D-Book. Just a rook—at least until the day the 2016-17 season tips off, his vets tell him. Already, he's one of the coolest players in the NBA. And not just because he spent the last half-hour in the tub.