Dion Waiters' business manager, Chris Clayton, is wearing a shirt of Dion Waiters. More specifically, it's a black tee showcasing his mean-mugging boss at the defining moment of his season: a snapshot taken moments after Waiters drilled a game-winning, buzzer-beating trey over Klay Thompson back in January. Arms folded, snarling at the hometown Heat fans, Waiters' pose might as well have been a final warning to the NBA: I'm coming for y'all.
It's a torrid 90-degree day in Philadelphia and Waiters' manager finds himself at Suplex Philadelphia, a sneaker shop on a popular drag called South Street. Inside, a half-dozen men are debating cheesesteaks, the NCAA's one-and-done rule and the optimal team for Philly native Waiters—who is expected to enter free agency in July—to wind up with next year. It's Always Sunny in Philadelphia is playing on the TV. It doesn't get much more Philly than this. Except for one missing ingredient, and that's Mr. Philly Cheese Swag himself, who is running a couple hours late.
Waiting on Waiters—it's been a subplot of his career to date. After joining the Heat last offseason, his third team in four years, many prognosticators wondered if the talented shooting guard's on-again, off-again signs of maturity would ever be more than ephemera. Sure, Waiters could be a fan favorite gunner like Eddie House or JR Smith. But could he ever be The Man like Dwyane Wade?
When Waiters arrives, he's donning a fluorescent pink hat and a shirt that says "Pray for my competition." It's his motto for this summer. "I'd rather be playing right now, no question, but right now it's all about game-planning for the future," he says.
For years, Dion was known as the guy who mesmerized crowds in Cleveland and Oklahoma City with a flurry of beautiful rainbow jumpers and crossovers one minute, only to follow them up with an ill-advised one-on-one play the next. Waiters was one of the League's most polarizing players, and your opinion of him likely depended on where you came down on his flash-in-the-pan brilliance. His inconsistency gave birth to a long-running joke—an epic piece of lore, really—known as Waiters Island. It's the mythical place where diehard proponents of Waiters lived out their years in pasture, waiting for his maturation. It was lonely on Waiters Island for a while.
But it turns out that Waiters showed up late because he had to get in a conditioning workout, running up hills and sprinting football-field-length distances. He did the same regimen yesterday, when the temperature hit 99 outside.
This is new Dion. He's the shredded man-child who, in his first season in Miami, took the Heat from a disastrous start to boasting the best record in the Eastern Conference during the second half of the season. "Signing with Miami made me look like a genius," Waiters says, sporting a wry smile. "You have to trust the process."
South Street used to be a place where a teenage Waiters chased girls and did wheelies on his bike. Today, it's where he cools down. At the sneaker shop, Waiters is straddled by two giant walls of kicks, mostly Jordans, each pair wrapped in plastic protection. As far as NBA sneakerheads go, he's a humble worshipper, though not one without ritual. Just prior to his arrival, his manager grabs him a fresh pair of all-white Air Force 1s so that he'd hit the ground running with a brand-new vibe.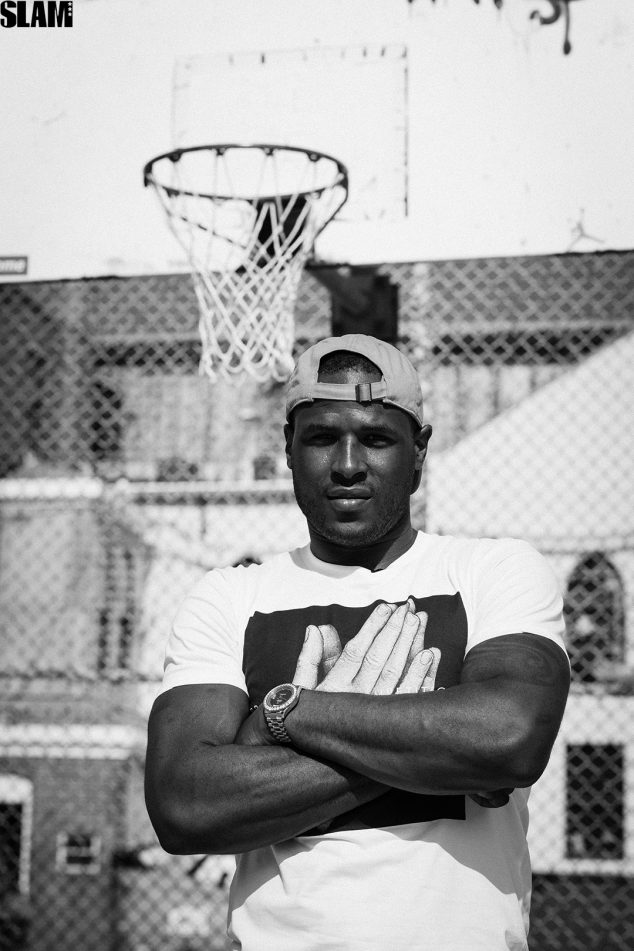 Waiters could be in store for a wardrobe upgrade soon. That's not only due to a possible max (or at least, like, very large) contract that he'll command this summer in free agency, assuming he opts out of his $3-million-per-year contract, one of the best bargains in the NBA this past season. "[Last season] was only an appetizer for the four-course meal to come," he says.
It's also because Waiters has emerged as one of the NBA's most fun personalities, scintillating on the court and uniquely charismatic off it. In a league full of "both-teams-played-hard," play-it-safe quotes, Waiters is something of a throwback. He hates analytics (except when they're good—"then I'm an analytics guy," he jokes). Until recently, his attitude toward the public was akin to Marshawn Lynch of the NFL: a badass, true-to-himself talent who refused to seek validation in the media.
That's something that will never change. "I don't care about my brand off the court. Forget basketball Dion. I'm still Dion from years ago," he says. "I don't care if I'm a superstar in the League, because I'm a superstar in my neighborhood."
Waiters reps Philly hard. He has a Phillies logo tattooed on his arm. Lovingly, he's nicknamed his son Philly Cheese Jr. Three days prior to our rendezvous, Waiters filmed an episode of ESPN's First Take with fellow Syracuse alumni and former Eagles quarterback Donovan McNabb—a dream come true. "Scratch that off my bucket list," he says.
Doing live TV spots hasn't been in his repertoire forever. Waiters may have been portrayed as a serial goofball, but those who know him say he's an introvert. During his days at Syracuse, rightly or wrongly, he was considered something of a headcase, prone to sulking when his touches lagged. He had a hard time shaking that reputation as a pro.
That all changed on a dime once Waiters opened up in earnest. In May, he penned a thoroughly entertaining piece for The Players' Tribune, which prompted a blitz of blog posts and tweets that declared Dion Waiters everyone's new favorite player. In the story, Waiters described his hardscrabble beginnings in South Philadelphia, his affinity for Pat Riley (whom he compared to Robert De Niro's character in Casino), and the basketball odyssey he's been on since the age of 14 (Waiters committed to Syracuse in 8th grade before attending four different high schools). More revealing was the candor with which he discussed all the death that's followed him like a shadow. Just a year ago, his brother, Demetrius Pinckney, was gunned down a few blocks away from where he grew up; his best friend as a kid, Rhamik, had the same fate. Even Fab Melo, his onetime roommate, died of natural causes in February. He was 26.
After a breakout season, Waiters bared all—the good and the bad, the triumph and the tragedy—that comes with a Philly baller. He's straight grit, like Rocky Balboa.
No surprise that Waiters takes exception to the hands-off nature of today's NBA. "The game is getting soft," he says. "I think the game is more fun, because there is more spacing, but still, when did basketball become all that?" Waiters claims you can't check anybody nowadays. When he watches the slugfests of the mid-'90s on NBA TV, he thinks he'd match up better in Jordan's era compared to now.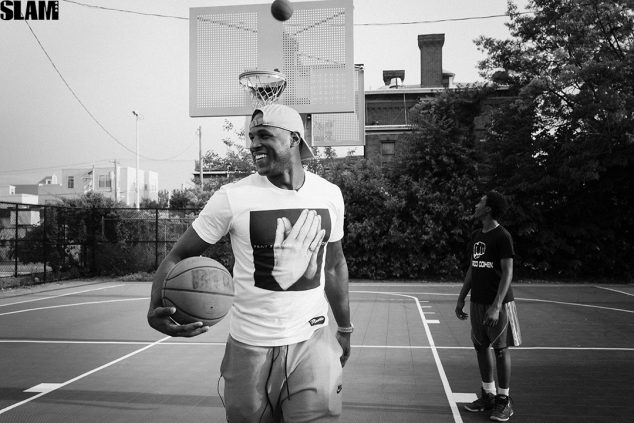 One thing Waiters doesn't criticize about this new-look league is its interest in health consciousness. After shrinking from 230 to 215 last year, and seeing the results pay off, Waiters has committed to a steady diet of fish and rice, even during the offseason. Being back in Philly is a special occasion, of course, which is how we end up at his favorite cheesesteak place, Ishkabibble's. Waiters orders a round of "turkey burger chop"—a modified cheesesteak and his personal favorite—for the crew. He can't help himself but to indulge in one.
And then he begins to open up as we break bread.
"I'm going to be honest with you—after that whole OKC thing, with the contract and all, it felt like my back was against the wall," he says, referring to last offseason. The Thunder kept Waiters in limbo while Kevin Durant pondered his future. Once KD bolted, Waiters was no longer in the franchise's long-term plans, despite the team previously hinting that he was. "It felt like they played with my life and with my family. I had offers—stuff you can't pass up—and for them to hold out that long? It's messed up."
By the time the Thunder cut him loose, most teams had already depleted their free-agent budgets. To hear it from Waiters, the team's hesitation forced him to miss out on the largest spending spree in NBA history. "After the year I had in the playoffs in OKC and everybody out here getting money, and I know I'm better than these dudes…" Waiters says, ripping chunks of bread off his sandwich. Despite having to take a discount with the Heat, his confidence never wavered. "Pat [Riley] said, 'Trust me, we'll take care of you.' I knew I wanted to go to Miami when I first met Pat."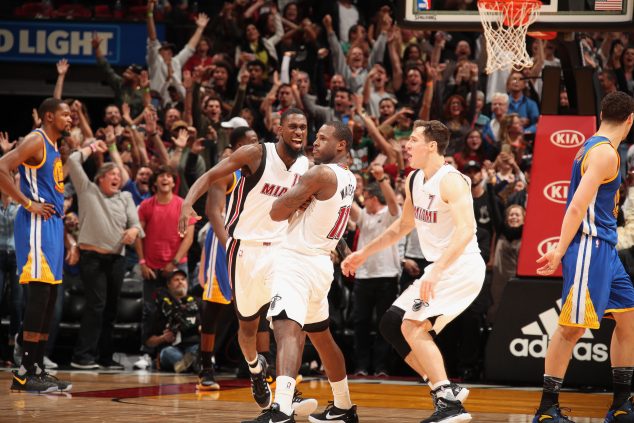 We all know what happened next.  Dion averaged career highs in most statistical categories. He credits the Heat's players-first culture for not only his own development, but also several of his teammates', such as James Johnson, a journeyman forward who also turned in a career-best year in Miami. That's why this season's squad, despite missing the playoffs, was often compared to the electric early-Wade years. This year, fans fell in love all over again.
Waiters has consistently been compared to Wade since he declared for the NBA draft. He's now playing for Wade's old team, doing his best to replicate Wade's South Beach magic. He says he's got unfinished business with the franchise. For the first time since entering the NBA, he feels sure of his footing, though he'll never forget his roots.
"The love around the League is different. The love in Philly always going to stay the same."
With a mango water ice in hand, Waiters makes his way to one of his old basketball dynamos, an outdoor court less than a mile away from his childhood home. A kid shooting on the court recognizes Waiters and the two quickly start a game of HORSE. The kid has game and before you know it, the each of them have an "H." "Pressure don't bust pipes," Waiters says, before knocking down a series of threes to seal the game. "You can tell your friends that you almost—almost—beat Dion Waiters."
—
Malcolm Burnley is a contributor to SLAM. Follow him on Twitter @malcolmburnley.
Portraits by Jamal Burger; action photo via Getty
Video by Due Pinlac