Dirk Nowitzki no longer runs, exactly. Instead, he jogs gingerly, his thin elbows bobbing by his hips, shoulders pinched back, nothing coming easy. He is typically the last Maverick downcourt following a team rebound. Occasionally, as his teammates sprint ahead, he will walk for a few seconds—a brief I'm too old for this shit moment—before acknowledging that, even at age 37, he is needed. And so off he goes on one more run toward the offensive end, where nobody has ever looked or played like him. It's not a graceful dance, but it's not lazy or sad, either. Think the stride of a long-distance runner.
Dirk is pacing himself on a December night at Madison Square Garden. The season is still young, and this is the second game of a road back-to-back. A few minutes in, Nowitzki plants himself at the left wing and receives the ball inside the arc. He creates a sliver of separation with a modest jab step and releases his trademark high-arching jumper. As the ball flies, a satisfied Dirk edges back, and the New York crowd emits a sort of perverse cheer as it finds itself rooting for the wrong side. The shot rips through. That makes 11 points over Dallas' first six possessions for Nowitzki, who's making Father Time look like the most overrated defender in the League.
***
It's a month after Dallas' win in New York, and the team is home, holding strong at 25-19, fifth-best in the West. Dirk is at a conference table that's too low for his comfort—he's rotated his chair out to extend his legs. He's wearing sandals, half-length socks striped in clashing shades of purple, shorts and a gray collared shirt buttoned all the way up. A thin black brace covers his right knee. His dirty blond hair is thinning slightly in the front and grazes his shoulders in the back—finally a sensible 'do after two decades of frosted tips, mini-fades, long surfer-dude locks and more.
Nowitzki, the ninth pick of the '98 Draft, is "extremely unique," according to his coach, Rick Carlisle. There are his quirky mannerisms: tugging the upper left corner of his jersey after buckets; the approximate W his hand forms (thumb sticking straight out) after a three; his knees nearly touching as he shoots free throws. And then there are the important distinctions: that he's "the best player on earth who doesn't have an ego," according to his GM, Donnie Nelson; that he's within 200 games of John Stockton's record for most played with one team; that his skills inspired an Xs and Os revolution.
And of course there is his 2011 Finals MVP honor, distinct in its own right—that summer, Nowitzki proved that a Championship team's best player could be a jump-shooting big man. "Dirk had drawn a lot of criticism because he hadn't won a Championship," Carlisle remembers. "But he virtually carried that team on his back as the lone superstar." The triumph changed the game as we know it—the small-ball boom is a direct result of Nowitzki's success. And his longevity—nearly 18 ppg this year, all these seasons later—is owed, in no small part, to that transformation.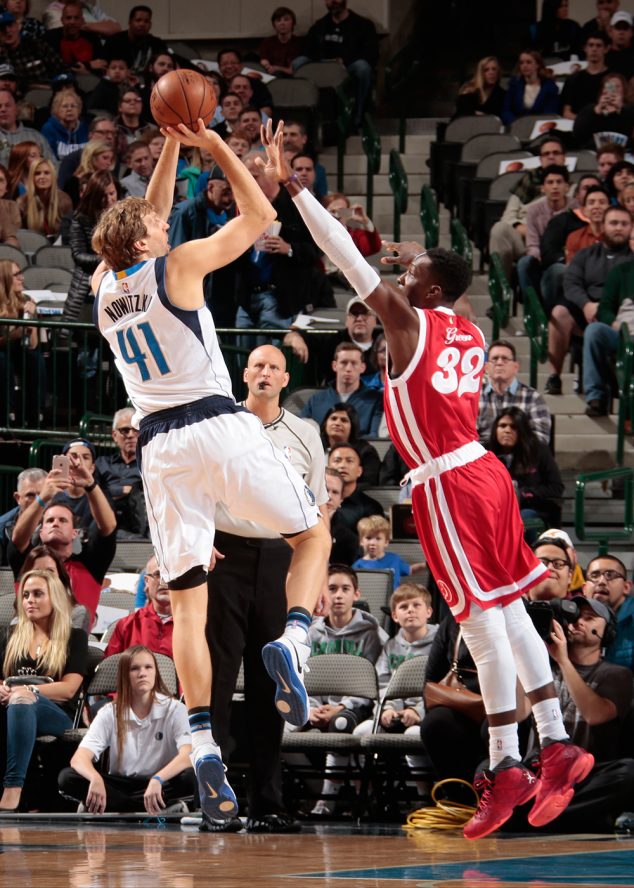 When asked how he feels about the League's evolution, Dirk scratches his head and jokes, "There's a lot more running now."
That seems like it would be a problem for Nowitzki (he's top-15 all time in minutes played), and yet he rolls on. Only four guys have ever averaged more points per game at 37 or older—Nique, MJ, Kareem and the Mailman—and only the latter two did so for a Playoff team; Nowitzki will likely soon join them. In December, Dirk became the NBA's sixth-leading scorer, passing Shaquille O'Neal on a jumper from the left wing.
"I'm not surprised he's sustained his greatness," says Carlisle. "You should see the amount of work he puts in—not just on his game, but the dieting and the strength training to allow him to function."
Sadly, admirable snack-discipline has done little for his mobility. As old teammate Michael Finley points out, "Dirk was never the quickest—and now he's a little less quick than that."
"Obviously my strength will always be my shot," he says. His jumper inspired the 2014 documentary Nowitzki: The Perfect Shot. Nowitzki himself has noticed stars like LeBron James, Kobe Bryant and Kevin Durant trying out the wonky J. In February, Sports Illustrated called his form "ungainly and unblockable."
"Guys have to respect my shot," Dirk says. "That's why I'm still able to produce a little bit. I don't play in this League on dribbling or athleticism."
Nowitzki is thoughtful and modest. Ask him what it's like to be considered a senior citizen at 37, and he'll emphasize the upside. "The good thing is, you gain experience over these years," he says. "Even though you lost a step or two, you know more about the game than you did in your 20s. You're smarter: OK, how do I get my shot off against this guy—OK, last time he kinda reached—OK, let me go under his arms and make him stop that one time, or—you're just smarter."
Ask about his still-unbelievable '11 Playoffs, and here's what you'll get: "You know, I think the first round in Portland I wasn't that great, and in the Finals I didn't shoot the ball as well as I thought. In the middle rounds, I was pretty good, I gotta admit."
Tyson Chandler remembers the Finals, where Dallas vanquished Miami's Big Three in its inaugural season, a little differently. "I've never seen anybody play like that in my life," he says. Nowitzki averaged 26 in six games, leading the Mavs to a title and ascending from an all-time great scorer to, simply, an all-time great. "Dirk's not a vocal guy, but I saw it in his eyes—his belief in himself, and how locked in he was. It was infectious. We were like, 'We're not losing.'"
Ask Dirk about his influence on the stretch-4 craze, and he'll again speak dismissively, crediting German forward Detlef Schrempf (his idol) and some favorable rule changes.
"When I first came into the League, there was a lot more 1-on-1 game, a lot of iso, a lot of post-ups," he says. "They didn't wanna watch someone take 15 dribbles on the block anymore. So they put in the five-second backdown rule. I think it forced teams to play a little more European style, which is a lot of passing, a lot of motion. Even the 5-men have to be able to shoot and spread the floor."
Consider the shape of the League back in '98 when Dirk was drafted. The West was entering a golden age for physical big men—the classic types—and Nowitzki arrived as a scrawny 20-year-old, tagged with the stereotypical "soft European" label.
In his fourth career game, Nowitzki faced a Houston frontcourt comprising Hakeem Olajuwon, Charles Barkley and Scottie Pippen. He shot 3-9 in a loss. (He'd shot 0-5 in his debut a week earlier.)
"When Dirk first came in, I didn't think he was that good a player," Finley remembers. "Coach Nelson had hyped him up to be the player he is now, and I just didn't see it. But I did see a Hall of Fame work ethic."
Two years later, Nowitzki beat the Stockton/Malone Jazz, dropping 33 in each of Games 3 and 4 to erase a 2-0 hole. He swept KG in '02. He won Game 7s against Yao's Rockets and Sheed's Blazers. He met C-Webb's Kings three straight postseasons. He's faced Duncan six times (and survived twice).
In '98, the West All-Stars started Kevin Garnett at the 3. This season, they started Kevin Durant at the 5.
"It's Dirk's fault," says Al Jefferson, half-joking. Big Al began his career at power forward in '04 but has since been bumped to center. "When I got into the League, every team except Dallas had a big power forward and a big center. I'm not saying Dirk wasn't a big power forward; he just wasn't like any other power forward. A 7-footer who could shoot?"
There were tall-and-good shooters prior to Dirk (mostly other Europeans), but none could score like him. As fellow '98 draftee Paul Pierce says, "I hadn't seen a player like him—a 7-footer who could put the ball on the ground and shoot threes with range."
If Nowitzki didn't invent the stretch-4 ("There was Detlef and Toni Kukoc and others before me," he argues), then he certainly perfected it. Since the '04-05 season, not once in a given year has a player made more mid-range shots per game than Dirk and shot them at a better clip. Not once. He is the best mid-range shooter of this era, and may be the greatest of all time. Just ask those who have seen him up close.
"He mastered that one-legged shot, man. That's just automatic," Vince Carter says.
"With that height, and that accuracy," says Finley, "it's unstoppable."
"It's buckets," says Jefferson. "Sometimes it makes me so mad—it's like, how can you hit that over and over?"
"That shot is certainly one of the most," Carlisle begins, before a pause. "Let me find the right word…"
"Actually, it's not a hard shot to shoot," says Nowitzki.
***
As of early July, the Mavs' only reliable player was Dirk, the 10th-oldest guy in the League. Chandler Parsons had quietly undergone knee surgery a few months earlier. Raymond Felton was slated to start at point. Charlie Villanueva was the second-tallest dude around.
Then-GM Donnie Nelson and owner Mark Cuban pulled the team together: Wesley Matthews (free agency) and Zaza Pachulia (trade) arrived on July 9, followed by Deron Williams (FA) the ensuing week. By August, there was a roster in place—in theory. Matthews was recovering from an Achilles tear, Williams had endured multiple ankle surgeries while with the Nets, and Parsons' status was murky. Heading into November, the quality of the team remained a mystery.
"I wrote the Mavericks off in the preseason," admits Tyson Chandler, who left Dallas for Phoenix over the summer. "I thought, they're just not a Playoff team anymore."
Nowitzki grins as Chandler's harsh words are read to him. "I don't think anybody really expected what we'd do—we really didn't know," he says. "But it came together. It's all veteran guys that want to win—they don't care about stats. Everybody sacrifices."
That includes Nowitzki, who takes the most shots on the team but ranks 38th in the League in attempts per game. (Also, his team-friendly, three-year, $25 million contract, signed in 2014, provided Dallas with enough flexibility to bring this group together.)
"A lot of superstars would be impatient with roster overhaul," says Carlisle. "Dirk just wants to lead and make the team as good as it can be."
For the 15th time in 16 seasons, the Mavericks appear to be Playoff-bound. The reality, however, is that they might only serve as first-round fodder for one of the West's three giants (Golden State, San Antonio and Oklahoma City). Nowitzki emphasizes the team's desire to "plug and fight," but that might not be good enough. But then, that wasn't expected to be good enough to get them here, either.
"They weren't even supposed to be in the mix," says Chandler of the creaky, feisty, familiar Mavs. "But Dirk is just being Dirk."
—
Leo Sepkowitz is an Editorial Assistant at SLAM. Follow him on Twitter @LeoSepkowitz.
Photos via Getty Images