When the sun no longer illuminated Guthrie Street, it was time to return home. That was the rule and there were no exceptions.
From the balcony of his third floor apartment, a young E'Twaun Moore could hear the reasons why.
Gunshots rang out. Sirens blared. Noise from nearby dice games, which often precipitated the violence, carried through the halls.
East Chicago, Indiana is a small, hard-nosed, blue-collar city situated between Gary, IN and Chicago, IL. When Moore's family moved there in 1989, crack cocaine had flooded the area and crime was rampant.
Especially on Guthrie Street – a long strip of crowded, low-income projects.
"It was one of the toughest streets, I feel like, in America," E'Twaun, now a starter on the New Orleans Pelicans, says of his old neighborhood.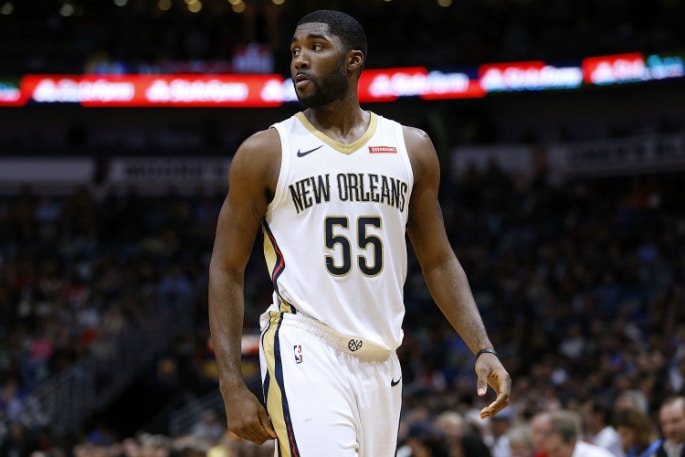 The community had its rough parts, but the love was also strong — as was the passion for basketball.
Locals gravitated towards Moore. They looked out for him, rooted for him to make it and tried to ensure he avoided trouble.
Yet the stories of anguish in East Chicago are endless.
Ezell Jr., E'Twaun's older brother, remembers losing his childhood friend to a drive-by shooting in eighth grade and serving as the pallbearer at his funeral. A few weeks later, another of his classmates was murdered at her own birthday party.
Ezell Sr. remembers leaving one morning and stumbling upon a man "with a hole in his head" lying in the second floor hallway.
Ekeisha, E'Twaun's older sister, remembers going with E'Twaun to retrieve a stolen necklace from an old boyfriend, only to have a gun pulled on them.
E'Twaun remembers getting a call while at Purdue and being told that his best friend and basketball teammate, Donte Brown, had been stabbed to death.
To keep one's head on straight amidst such conditions and experiences isn't easy; and E'Twaun was, as his siblings tell SLAM, a bit "mischievous" in junior high. He was sometimes hanging with the wrong crowd. Sometimes getting into fights. Sometimes letting his grades slip. Constantly pushing limits and taking risks.
At 13, E'Twaun and a few of his friends got caught breaking into the Boys and Girls Club. They were arrested and taken down to the police station. It was at that moment, his hands in cuffs for the first time, that a light went on. This is not me, E'Twaun recalls thinking. There's got to be more out there.
"That was probably the turning point in my life," he says. "Either I'm going to be in the street or I'm going to get my education, play basketball, and try to become something."
As he transitioned to E.C. Central High, E'Twaun fully committed to cleaning up his act.
"I never got a call from the dean," Robert Miles, his basketball coach, says. "I never got a call from the security people around the school that he was hanging out or late to class. No teacher ever called. I mean this sincerely, in [high] school, he was squeaky clean. He was always on time. Never late on assignments. Anything."
His schedule was strict and demanding. Coach Miles made an offer to all of his players: If they wanted to come in early and work on their game, he would personally pick them up at 5:30am and take them to the gym.
"E'Twaun was the only one who did that," Miles says. "The other kids would say, OK coach I'll get in there. I'd come by the house, ring the doorbell, knock on the door. Nobody ever came out."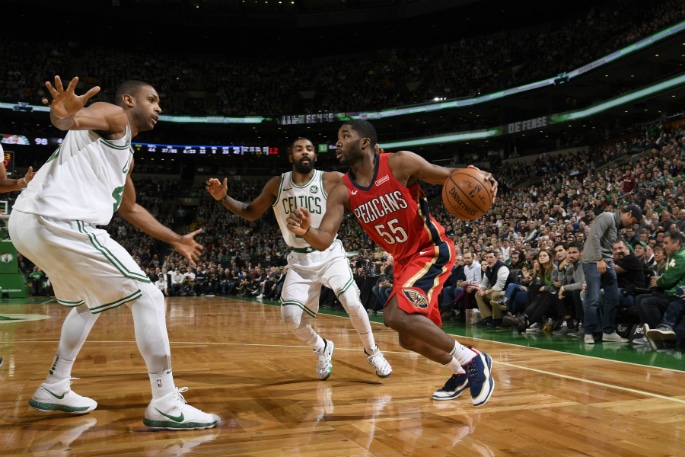 It was a work ethic instilled in E'Twaun by his parents. His mother, Edna, volunteered at E'Twaun's preschool with such drive that they ended up hiring her full-time. Twenty-nine years later, she is still employed there. Ezell Sr. did arduous manual labor delivering furniture around town. Neither of them ever missed a day. They never made excuses.
The Moores did everything together. It was one way, however unpopular, that Edna and Ezell tried to ensure their children's safety. Simple tasks became family affairs. If they were going to the grocery store or running a hasty errand, all five of them would go.
"That's the way we pretty much stayed out of trouble," Ekeisha says. "Just being an extremely close-knit family. Doing stuff together and looking out for each other."
There were times when the kids protested. Times when they complained and grumbled. Times when they longed for a life devoid of these obligations.
But all of them graduated, earned college degrees, and are leading successful careers. Ezell, previously a college counselor at Brebeuf Jesuit Preparatory School in Indianapolis, is now the founder of his own consulting firm. Ekeisha is a fourth grade teacher. And E'Twaun, who has "Edna" tattooed on his left bicep and "Ezell" tattooed on his right, is a professional basketball player.
And none of them regretted living on Guthrie Street. It was a setting that shaped them, that made them stronger, that they will forever feel connected to and be proud of.
"I wouldn't have it any other way growing up because we learned a lot along the way," Ekeisha says.
E'Twaun agrees.
—
Adversity defined the early stages of E'Twaun Moore's NBA journey.  He was a late second-round pick in 2011. Critics said he didn't have the athleticism to make it. His minutes fluctuated tremendously. Boston, Orlando, and Chicago all moved on from him after two seasons or less.
New Orleans was the first organization to show real confidence in Moore, inking him to a four-year, $34 million deal back in 2016.
With a greater opportunity, the 29-year-old has shown what he can do. He earned the starting small forward role this season and has averaged a personal-best 12.5 points on 51 percent from the field and 43 percent from deep (12th in the NBA). He hung 30 points on the Grizzlies last Wednesday and shot 7-of-7 in a crucial victory over Golden State this past weekend. His contribution on both ends is a major reason why the Pels, even without DeMarcus Cousins, clinched a playoff spot on Monday night.
Others around the League have been put on notice. Defenders are acknowledging E'Twaun as a serious threat to put the ball in the basket, closing out with more intensity and becoming less inclined to help off him.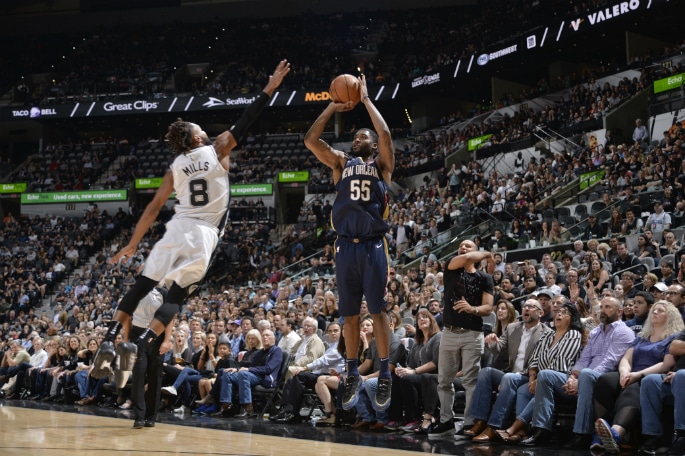 "He has such a mature pulse to his game," Matt Painter, E'Twaun's coach at Purdue, says. "Very good change of direction, very good instincts. He has always had the ability to score."
To some, his success was unforeseen. But those who know him well, and know his background, aren't at all surprised.
He has fought far tougher fights. And won.
"Battling on the court is nothing like battling for your life," Ezell Jr. says. "Surviving where we come from – where you're just happy to make it to be 18-years-old. Or if you graduate high school – that's an accomplishment. Fighting and battling on the streets. Now doing it on the court is nothing."
The pressure of the game – and of the upcoming postseason – won't unsettle Moore. It pales in comparison to the pressure of coming up in East Chicago.
"If I could make it through those conditions," E'Twaun says, "anything now should be easy."
Off the court, E'Twaun has become involved with a non-profit called "Elevate" that provides after-school activities to youth in NOLA. The program offers basketball lessons, tutoring, leadership development training, and more. One hundred percent of its alumni have gone on to college.
I ask E'Twaun what advice he would give to kids in a similar environment to Guthrie. He references one of the adages of motivational speaker Eric Thomas, known as the "hip hop preacher."
"What's your why?" Thomas implores listeners to consider.
"I feel like if you have a goal then you have something to keep fighting for and you won't let anything get in the way of it," Moore adds. "So if you have a why and a purpose, then put everything towards it – all your efforts towards that goal.
"And ain't no way you can go wrong."
—
Alex Squadron is an Associate News Editor at SLAM. Follow him on Twitter @asquad510.
Photos via Getty Images.