With the Islamic holy month of Ramadan coming to a close this week, a number of NBA players are participating in its daily fasting–which entails refraining from any food or drink (yes, water included) from the time of dawn until sunset for 30 days. On the longest days of the month, the fast lasts from before 4 A.M. until 8 P.M. in some U.S. cities.
With many NBA matchups tipping off at 7:30 P.M., and some during the afternoon, players like Kyrie Irving, Enes Kanter, and Rondae Hollis-Jefferson fast while suited up on the court. Even if they are able to break their fast in the middle of the game, their previous full meal was likely at least 15 hours prior.
"Me and [Rondae] sat down on the bench, and I started to eat pasta, and he started to eat fruit," Kanter says about breaking fast. "I was like, wow, we are really eating food in the middle of a game…it was just amazing to see another teammate fasting with you."
For Kanter, the support from his teammates has been extremely uplifting over the years.
In 2019, the first day of Ramadan fell in the middle of the Blazers' Western Conference Semifinals series against the Denver Nuggets that went to a Game 7. Before starting warm-ups on the court one evening, Kanter wanted to break his fast in the locker room, as sunset was about to occur. He told his teammates to go on without him and that he'd join after he opens his fast.
"Everyone just stopped in the locker room, and…they waited for me," Kanter says. "They waited for me to break my fast, so we can all go out there as a team, so we can all play together. That gave me so much hope and made me so happy."
Solidarity like this from his teammates is not a rare occurrence for Kanter. Throughout his career, he has been very open and vocal about his belief in and practice of Islam, and he says he has only ever been shown respect from the NBA.
"I'm a practicing Muslim, Alhamdulillah (all praise is due to God)…all I'm trying to do is bring peace and love into this world through my religion," he says. "One thing my religion taught me…is leaving your differences on the table and trying to find what we have in common. We only have one world to live in, so we need to make this world better together."
Kanter often reads up on different religions so he can have respectful and meaningful conversations with his teammates of other faith backgrounds. He says he sits in his hotel room and opens the Bible or the Book of Mormon to gain some understanding.
"One thing especially I saw in the NBA—what amazed me the most—is respect. Me and my teammates come from different religions and different cultures, different countries and backgrounds, but…we left our differences in the locker room," Kanter says. "[We] try to go out there and play one language—basketball. That made us better friends and better teammates."
On an organizational level, Kanter also saw those same signs of respect. The Utah Jazz, Oklahoma City Thunder, New York Knicks, and Boston Celtics all provided him with halal meals that were in line with his dietary restrictions. OKC even gave him a private room so he didn't have to miss his daily prayers that have designated times throughout the day.
Yet, Kanter's parents were initially worried about their young son maintaining his religious duties in the United States when he left for college. However, the 6-11 big man proudly practices his faith with hopes to inspire others to do the same, the way Hakeem Olajuwon did for him.
"Two years ago, when I decided to fast, I texted Hakeem Olajuwon," Kanter says. "He was just very happy. He was very proud of me…he told me to eat dates and oatmeal and drink water for suhoor (the pre-dawn meal). I could not believe how he survived just eating dates and oatmeal and drinking water. But this year, I did the same thing. I texted him, and he told me the more challenging it is, the more reward you're going to get."
To limit the shock on his body, Kanter maintains fasting once or twice a week on non-game days throughout the year. Still, the month-long Ramadan is a different ball game. It's not easy seeing your teammates cool off with water or Gatorade (although Kanter says they often try to turn away as to not tempt him) during a timeout while you're just as parched, but so much of fasting is a mental practice in addition to a physical one.
"I am more focused, I play way better, and I feel so much better on the court [in Ramadan]," Kanter says. "That's why I say my superpower comes back…I feel like my mind is super sharp, and my body is ready to go."
This Ramadan seems to be Brooklyn Nets' superstar Kyrie Irving's first time fasting for Ramadan, and yet, he's logged six 30-plus point games since the start of the holy month. After Irving confirmed in April that he's fasting, he went off for 35 points, 12 assists, and 6 rebounds in 34 minutes of play against the Suns, earning himself the nickname "Ramadan Kyrie" from Muslim fans across the world.
For those unfamiliar with Ramadan's practice, not consuming food or drink for so many hours could seem torturous. While fasting most definitely requires an "adjustment," as Irving says, there is a reason those who follow the Islamic faith make such a sacrifice.
"I am taking part in Ramadan with a lot of my Muslim brothers and sisters," he recently shared. "Just being committed to my service to God—Allah—and then continuing on with whatever I'm guided with…fasting is definitely part of it, if you know anything about the Muslim community. I'm just really blessed and grateful to be taking part in this."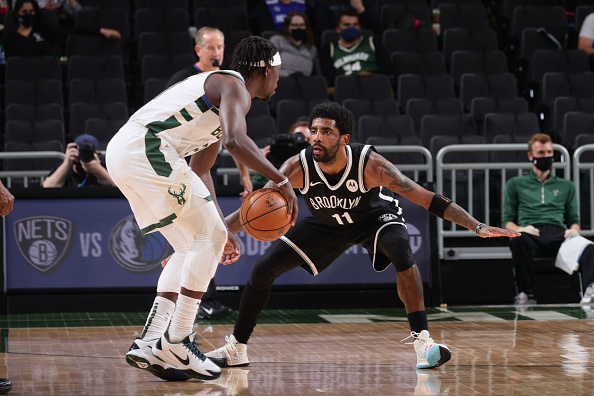 Commitment to service, community, blessed, grateful. If you ask any Muslim about Ramadan, you're likely to hear them echo many of the same words as Irving.
That's because instead of viewing fasting as some kind of punishment, Muslims see it as an opportunity. It is a time to remove distractions and reconnect with God, with yourself, and with your community.
A Muslim's observation of Ramadan should ideally result in him being a better person beyond the month, both in interactions with those around him and with the world. The fast is not only rejecting food and drink, but it's also refraining from negative behavior in general. Patience, sympathy, forgiveness, kindness, and charity are all greatly emphasized.
"This whole month is giving your mind, your soul, and your body a break from everything. It's focusing on your inner world and trying to be a better person," Kanter says. "That affects not just yourself, but the people around you, your teammates…and the whole world."
—
Habeeba Husain is a contributor to SLAM. Follow her on Twitter @HabeebaHusain.
Photos via Getty Images.