Everyone in the gym was confused. Who's this little kid warming up with the seventh grade Panthers travel team? Someone's younger brother? The waterboy? Mascot?
"They didn't believe that he could play. In Indiana, seventh grade AAU basketball is pretty strong. So Eric being a fourth grader, they go, 'Fourth grade, are you kidding me?'"
That's how the boy's father, Eric Gordon Sr, remembers the scene that day at North Central High in Indianapolis. "They only had him come off the bench because he was a fourth grader and everyone else was in seventh grade. They won the state AAU title that year, and Eric came off the bench, but he was the leading scorer on the team and he led them in steals. I guess they didn't want a fourth grader to start over a seventh grader."
And that, before this season—his first with the Houston Rockets—was the last time Eric Gordon Jr came off the bench as a basketball player. So forgive him if it's taken some time to get used to calling himself a reserve.
"When I signed with this team, I didn't think I would be coming off the bench, that's for sure," Gordon says on the phone the morning after an early March loss to the Spurs who, along with the Warriors, are the only teams ahead of the Rockets in the West. "I never really came off the bench hardly ever. So yeah, I was a little skeptical at first."
A few seconds later, EG adds, "But I definitely want to win Sixth Man of the Year, that's for sure."
Barring something crazy, he will. Gordon is averaging a shade over 16 ppg off the bench and hitting a career-high 3.3 three-pointers per game despite playing his fewest minutes since '12-13. He only needed 49 games to break the single-season NBA record for most threes (180) off the bench. He's now at 243 and counting—only the Splash Bros and teammate James Harden have buried more threes this season. (His fiercest competition for 6MOY, in fact, may come from another teammate: Lou Williams, acquired from the Lakers at the trade deadline. Lou Will actually leads the League in bench scoring this season, at 17.7 ppg.)
Yet not a single expert picked Gordon to win that honor before the 2016-17 season tipped off. In fairness, when the nine-year vet inked with Houston over the summer, he was expected to start alongside Harden. And he did, for a handful of games, before Rockets coach Mike D'Antoni moved him permanently into the sixth man role. As you might imagine, that's not an easy conversation for a coach to have with a player who's been a starter for the entirety of his high school, college and pro career.
The mental adjustment is nothing to scoff at. Gordon says, "You've got to let your talent override that. But it is an adjustment. You're playing with different players, with more younger players and inexperienced players coming off the bench. And you've got to make a quick effect on the game.
"You gotta do whatever it takes to win. D'Antoni's a good communicator, and when you're a good communicator, that's what players like and that's what I like," Gordon adds. "That made me feel more comfortable doing it, and hey, the results are—it just makes us a better team, and a deeper team."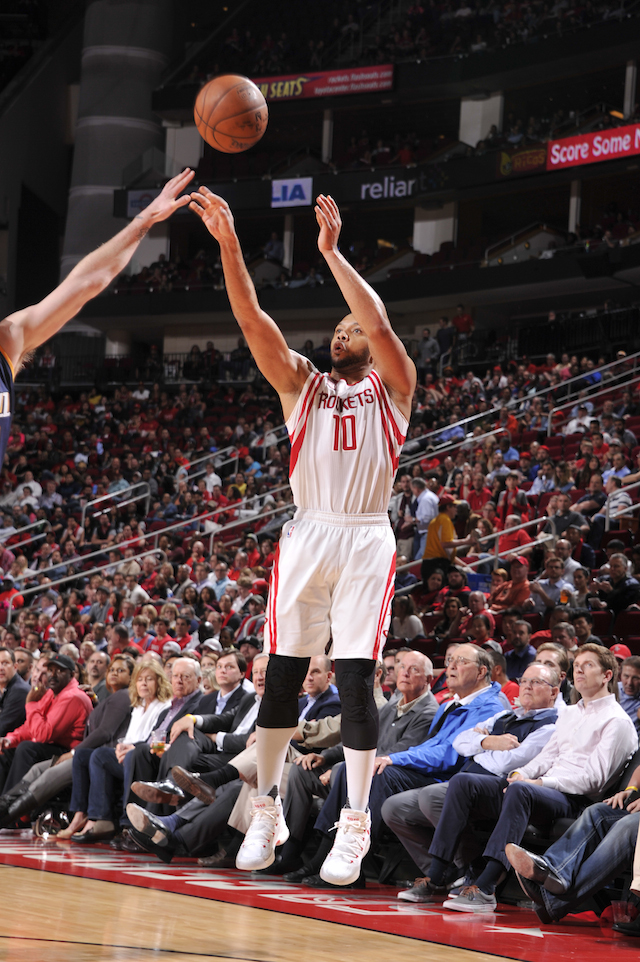 Gordon arrived in Houston after eight seasons in L.A. and New Orleans. With the Clippers, he was a top-10 pick and presumed franchise cornerstone. But his breakout third year was hampered by injuries to his shoulder and wrist, and that summer he was moved to the Hornets in the trade that brought Chris Paul to Lob City. In NOLA, the injury problems persisted—he had issues with one knee, then the other. He suffered a torn labrum. And just when he was finally given a clean bill of health, he broke a finger on his shooting hand.
Gordon Sr says that was his son's lowest moment. Rehabbing a knee injury or repairing a torn muscle, that's one thing. But a broken finger? You've gotta be kidding me, Eric thought.
He was down, but not defeated.
"It's funny," the 28-year-old guard says of being labeled injury-prone. "When people look at you when you deal with injuries, they almost forget that you're still a basketball player."
The Rockets hadn't forgotten. Houston saw past Gordon's injury history and signed him to a four-year, $53 million deal in July. Motivated by a fresh start in a new city, Gordon changed up his gym habits. He wanted to get stronger and build a more stable foundation so that he could hold up and stay fresh over an entire regular season and into the playoffs. So he started doing more Olympic weightlifting, focusing on his body's functional movements. The on-court results speak for themselves: His minutes have been shaved down from a career average of 33.5 per game to more like 30, and with the fresh legs, he's already played in more games than he has in any year since his rookie season.
Not to mention that Houston (54-27), with Harden playing at an MVP level and Gordon launching missiles off the bench, is all of a sudden a serious title contender. That part has surprised even Gordon himself.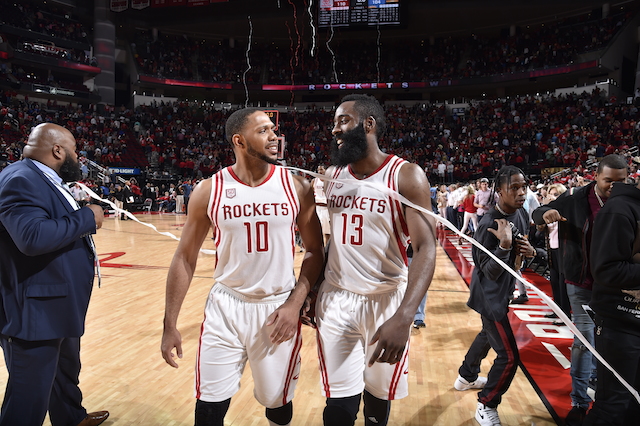 "I expected us to be pretty good," he says, "but to be a third seed and potentially make a really good run in the playoffs? Probably not—but I knew we would be a good team though.
"I think I made the right decision going to Houston," Gordon continues. "It really let me be a big-time playmaker and not just a shooter. I think that's what really helped me. They really care about you being successful."
The camaraderie between star player and key sidekicks in H-Town has been evident from the start. When Gordon was moved to the bench, Harden, a former Sixth Man of the Year himself, pulled him aside. The message was simple: "He just said, 'Come in and be yourself, do the things that need be,'" Gordon recalls.
In January, Harden publicly touted Gordon as an "All-Star for sure." EG wasn't named to the West squad, but he still had his All-Star moment.
The annual Three-Point Contest on All-Star Saturday night is often nothing more than an appetizer. But for Gordon and his family, this year's competition was special.
"I've been with him since he first touched a basketball," says Gordon Sr, who runs his own basketball academy in the Indy area. "So I knew he was a little nervous, a little anxious to get going. He walked in and started looking around, because he didn't know where family and friends were. I stood up and put both hands in the air, and he saw me and shook his head. So then I said, OK, he's ready, he's confident. As a kid, he'd always acknowledge me. So as he got older, I don't care if it's college or pro or whatever, he would glance over. So when he looked up and saw me, and we made that connection, I knew he was ready to go."
Watching Eric Gordon shoot five racks worth of three-pointers is, in NSFW terms, basketball pornography. If Gordon's shooting motion is unique, it's only because it's so damn perfect, every single time. He's made tweaks to his form here and there since the fourth grade, but it's still pretty much the same stroke he developed while learning the game from his father as a toddler. On All-Star Saturday night this past February, it took two rounds plus a tiebreaker to beat Cleveland's Kyrie Irving, but Gordon came away with the trophy. "I know that was a dream come true for him," Eric Jr says, of winning it in front of his pops.
"It was an incredible moment, a special moment. Matter fact, it's kind of crazy, I actually cried," Dad admits. "Tears just came out of my eyes because I was so happy for him."
The texts started pouring in, Gordon Sr says. Back home, restaurants and bars erupted. It's no secret: The Hoosier State takes its basketball serious. And from No. 2 high school player in the country to potential Sixth Man of the Year, Eric Gordon Jr remains a source of immense pride.
"People loved him around Indiana," says Pacers wing Glenn Robinson III, who won the Slam Dunk Contest later that same night. GRIII grew up near Gary, IN, about two hours from where Gordon played. He remembers the epic battles between Gordon and fellow local star E'Twaun Moore, now with the Pelicans. "It was pretty cool that we both won on that night and represented Indiana like that."
Of course, for as happy as Gordon was in that moment at All-Star Weekend—in New Orleans, a city where he has some rough memories, no less—he can't help but envision making an impact on Sunday, not Saturday, next year around the same time.
"You can't really argue with the All-Stars that were there," Gordon says of Harden's declaration that he should have been one of them. "But this ain't gonna be the only year. I'll definitely have a chance, either next year or over the years. I'll definitely have the chance as we continue to win—I had two years where I averaged 20 and all that, but the thing is, we didn't win as many games."
Should he continue his scorching shooting streak, the individual accolades will come. And, should he encounter more adversity along the way, Gordon's proven this season that he can persevere. "He has a strong will," insists Gordon Sr. "From a young age, he knew that he wanted to play professional basketball."
—
Abe Schwadron is a Senior Editor at SLAM. Follow him on Twitter @abe_squad.
Photos via Getty Images
2,030