As the fantasy basketball season revs into gear, November can prove to be the best time to improve your team, either by pursuing trades with fresh buy-low and sell-high candidates, or by gluing your eyes to your waiver wire and NBA box scores. If you intend to win your league this year, why stand pat with the team you drafted when other impatient owners can't wait to get rid of their slow starter on a discount?
This isn't to say that you should attempt an extreme roster makeover if you believe that everything went your way in the draft. If you believe in your team, stick with it. The two biggest mistakes fantasy basketball owners can make early in the season are falling in love with players exceeding expectations, or falling out of love with players failing to meet them, based on a bad box score or two. In both cases, there is a chance of progression or regression to the mean. Everything is magnified given a smaller sample size, and the owners who best decipher which players are a long-term solution will give themselves the best shot at a championship.
Times are Changing
Despite it being such a young season, we have already witnessed how destructive a new team structure can be to any player's fantasy value. Who was bold enough to draft Kevin Love or Kyrie Irving high in the draft after witnessing the sacrifices made by Chris Bosh and Dwyane Wade in Miami? The Cleveland Cavaliers' big three is still gelling, and it's hard to make any firm determinations about Irving's or Love's value this early. All we know so far is that Irving is somehow averaging fewer assists now despite playing with Love and LeBron James. And on the other hand, Bosh and Wade are making more of an impact for their fantasy owners than they have in quite some time.
Meanwhile in Milwaukee, John Henson is struggling to find the court, thanks to new coach Jason Kidd, who for some reason doesn't see value in a 23-year-old who averaged 11 points, 7 boards and 1.7 blocks in just 26 minutes last season. While Kidd would rather give veteran Zaza Pachulia additional minutes, eventually Henson (or the front office) is going to force Kidd's hand. As of now, it's probably hard to keep Henson on your roster, but keep a close eye on his minutes moving forward. His situation is an especially strong reminder that the circumstances surrounding a player can at times be as important to that player's success as his abilities are, and that these circumstances can change in the blink of an eye.
The Phoenix Suns, for example, added guard Isaiah Thomas over the offseason, creating a trio of dynamic point guards. While the team looks to be benefiting from the move, fantasy owners are not. Goran Dragic is not playing any worse than last year, but his numbers are and will be down. If you own Dragic, it would be smart to see if you can get last year-level value for him in a trade. Thomas and Eric Bledsoe have seen a similarly expected numbers drop. It's important to note that none of the three are bad options even as currently constructed, but owners need to keep their value (and expectations) in perspective.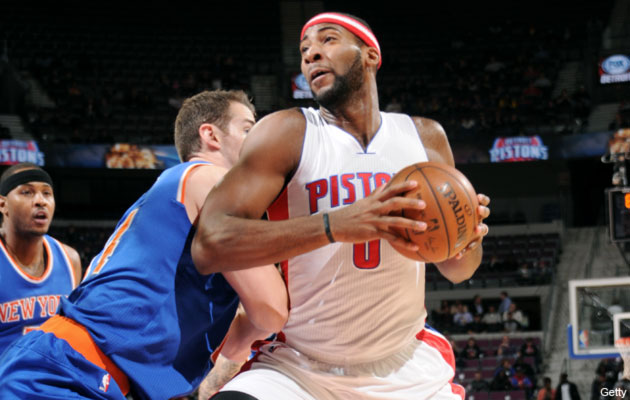 Frigid Starts (Buy Low)
Several players already present an excellent buy-low opportunity. A couple rough weeks to start the season can be just enough to make an impatient owner worry about their investment. The most obvious buy-low candidate thus far is Andre Drummond, who is almost certain to return to last year's form at the very least. His field-goal percentage currently sits 20 percentage points lower than the last two seasons, which is a strong sign of an impending rise. He'll never hit his free throws, but this is without a doubt the time to make a move to acquire the big man. If you already own him, don't panic and stick with him.
If commissioner Adam Silver is even making snide remarks about the Knicks, you know trouble is brewing. Carmelo Anthony probably should have gone to the Chicago Bulls if he wanted to win a Championship, but he stayed in New York and was nevertheless projected to continue to put up elite numbers. As it stands, Melo is off to the slowest start of his career as he learns a new system and familiarizes himself with new teammates. This won't last, but owners will have to wait it out and deal with lower numbers than usual across the board for the time being.
When he has been on the court this season, Derrick Rose has definitely passed the eye test and showed flashes of being as explosive and quick as ever before. His value has taken a slight hit so far due to a couple minor ankle sprains, but it wouldn't be surprising to see Rose at a truly elite level by mid-season and for the fantasy playoffs. Try and pounce on him in your league and see if his owner is feeling overly nervous about Rose's missed time and past. It is possible he could be had for a price you can live with. Sometimes, you really do need to take a risk to take a title, and in this case Rose might not be as much of an injury risk as it seems. If you drafted him, stick with him.
Oklahoma City is in a difficult spot with Kevin Durant and Russell Westbrook sidelined, and it has led to a somewhat slow start for Serge Ibaka. On one unexpected hand, Ibaka is lighting it up from three-point land, attempting over 4 per game and hitting 40 percent (compared to just 0.7 attempts per game the last two years). This is an impressive attempt to fill an offensive void, but it has actually hurt his overall field-goal percentage and the defensive statistics he was probably drafted for. It's hard to believe that his rebounding rate and the blocked shots won't get back to normal soon, but owners should keep this new Serge's style in mind when managing their lineups.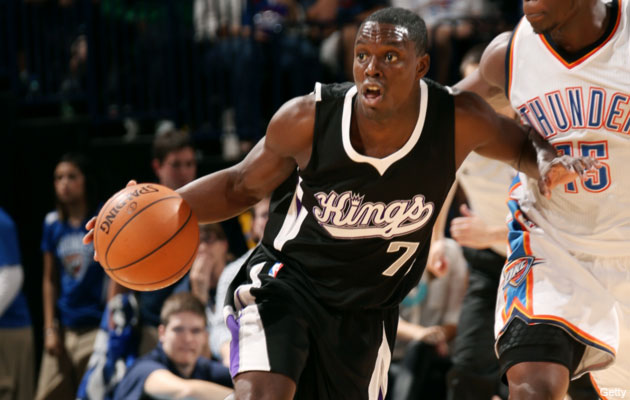 Fool's Gold
Darren Collison, the Sacramento Kings' new starting point guard, is off to a red-hot start, but sometimes an ugly duckling doesn't become a swan after five seasons. OK, maybe ugly duckling is a little harsh; Collison has always been a solid point guard, but that's all that should be expected from him moving forward. If you have been the lucky benefactor of Collison's increased numbers across the board, and aren't a die-hard Kings fan, now is the perfect time to sell high.
Collison is just one of many players across the NBA who will tease fantasy owners with an explosive start, making them completely forget how early it is in the season. Brandon Knight has taken the reigns in Milwaukee under the guide of Jason Kidd, but if you are planning on counting on him to retain his current averages, you might end up disappointed. While Knight's improvement is not a fluke, the rate of ascension seems too good to be true and he is bound to have some ups and downs as he continues to learn the game.
Remarkably, Tony Wroten is putting up fantastic stats so far, averaging over 21.9 ppg on 44.1 percent shooting, to go along with over 6 assists, 4 rebounds and 2 steals per game. The downside with Wroten has been his 63 percent at the charity stripe and an abysmal 4 turnovers per game. His value is nevertheless certainly at its apex. With Michael Carter-Williams returning, Wroten will be handling the ball a lot less and is guaranteed to see a drop in production. Try and sell high, and if you can't get a return you are happy with, keep him on the bench as a backup.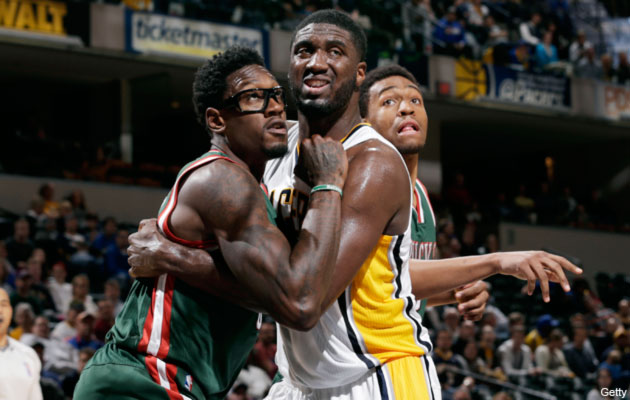 Back on Track
Roy Hibbert was an obvious draft day value this season after suffering through the worst stretch of his career last season. Appearing both physically and mentally drained, Hibbert shouldered a lot of the blame for the Pacers' late-season collapse. Whatever the problems were, previous seasons indicated a certain comeback to the norm, and that's what we have witnessed so far. If you can find a way to acquire him from somebody fearing another Hibbert collapse, do it. It's not going to happen this year.
Milwaukee Bucks center Larry Sanders had a disastrous year, but there are clear indications that he is on track to return to the form that earned him a four-year, $44 million contract. His per-minute averages for blocks and rebounds are back up, and Sanders is a great piece for any fantasy owner, especially for those who drafted him in the late rounds this year and are feeling pretty smart right now.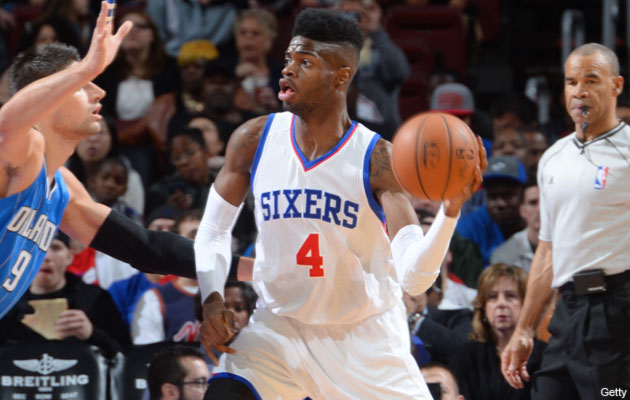 Rookie Meter
There hasn't been much to talk about from a fantasy perspective when it comes to the new rookie class. Nerlens Noel has impressed and is going to surpass his average draft position as he gains momentum. He has a leash as long as the Great Wall of China for the rebuilding Sixers, and is a great source of blocked shots. Jabari Parker seems to be worthy as a bench option on fantasy rosters, but his inconsistency and Jason Kidd's minutes distribution for the Bucks will make him a risky play at times
Up in Minnesota, Andrew Wiggins has struggled to adapt to the NBA. While he remains very valuable in keeper leagues, you shouldn't expect him to provide much value at all this season. Of more interest in Minnesota right now is Zach LaVine, who has been thrust into the spotlight and could be a useful play at times, at least until Ricky Rubio returns from his injury. His potential is additionally appetizing in all keeper leagues.
Quick Bits
Anthony Davis has reached elite status with emphasis, DeMarcus Cousins still doesn't have a technical foul, Pau Gasol is rejuvenated in Chicago while Carlos Boozer is definitely not with the Lakers. Chris Bosh is reminding us all that he sacrificed a TON for Miami the last four seasons, Lance Stephenson is redefining the term "shooting" guard, Kobe Bryant is showing people that he can actually attempt even more shots than what was previously thought, and Kyle Korver is, in the immortal words of Marv Albert, on fire. It's going to be a long and sensational season, and hopefully you're in it for the long haul with a fantasy basketball championship on the horizon.
For advice on your fantasy team, post questions in the comments section.
Dan Hanna is SLAM's weekly fantasy basketball columnist and a life-long Bulls fan. Follow him on Twitter @i_am_danhan.