While the creation of a "Big Three" will almost certainly result in a decrease in statistical production, superstars who play with only one fellow "star" generally thrive off each other on the court and statistically.
The recent Big Threes in Boston and Miami, as well as the current Cavaliers trio, are prime examples of this idea of sacrificing individual performance for the sake of the team. While a trio of stars is ultimately more likely to lead to a Championship, based on recent history, there is an invisible limit of two stars per team if we are talking about individuals retaining their elite fantasy status and top-of-the-line statistical output.
Fantasy owners who understand the true impact of team development and the subtle nuances that affect performance are more likely to dominate their league. There are several star duos in the league, but which ones are the best?
Kevin Durant and Russell Westbrook
You sometimes have to wonder how Westbrook would perform if he were considered "the man" on a roster for a long stretch of time. While Durant's off-season injury was devastating for the Thunder and fans, it would have been intriguing (and entertaining) to watch Westbrook take sole control of the squad without Durant by his side. It wouldn't be surprising to see Westbrook lead the League in scoring in such a situation. Shots for days!
As it happened, Westbrook broke his hand immediately, and by the time he was ready to return, Durant was too. Without the two stars, Reggie Jackson and Serge Ibaka shined statistically on the offensive end, but nobody else was able to sustain any real success. As a result, the Thunder slowly rumbled to a 3-12 start. From a statistical perspective, fantasy owners might actually benefit from the slow start moving forward, as Durant and Westbrook are going to have to go all out, no holds barred, through game 82 in order to nail down a playoff position and any sort of home court advantage. Currently, the Thunder are 7.5 games back of the 4-seed, and 9 games back of the first seed in the Western Conference. The 9-1 record for the Thunder in the last 10 makes such an endeavor seem at least possible, despite the tough odds.
Most encouragingly, Westbrook has improved his field-goal percentage, which is pushing 50 percent (44 percent for his career and last season). If he can keep it up, Westbrook's current 26 points per game is likely to continue for the entire season (he is only averaging 29 minutes this season, compared to a healthy career average around 34 minutes). Along with his rebound, assist and steal numbers, this is the sort of statistical output that could place him firmly in the MVP discussion assuming an impressive Thunder finish. His minutes are likely to increase as the season wears on, and while Kevin Durant is certain to increase his own scoring moving forward, there isn't any reason Westbrook can't retain his own scoring pace assuming increased court time.
When it comes to Durant, you can't just expect a return to MVP form after an off-season broken foot with a snap of your fingers. There is nothing that fantasy owners have to fear regarding Durant, and while his 21 points per game thus far has been a major drop off from the 32 he averaged last year, Durant has performed nearly as efficiently per minute as he has in recent seasons. It's only a matter of time.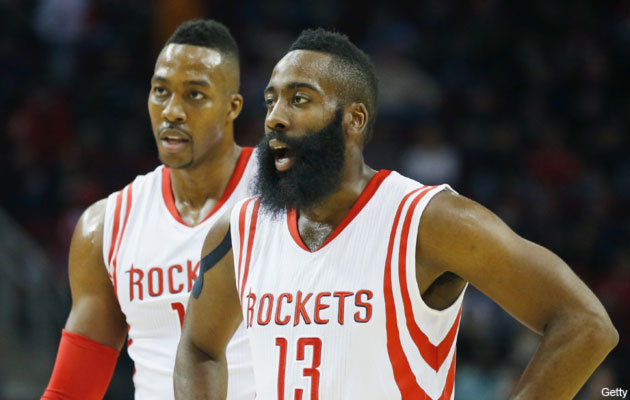 Dwight Howard and James Harden
Despite the negative aura hovering around Howard thanks to a—let's call it "short"—tenure with the Lakers, he is an elite center and makes the Rockets a title contender. Howard's game perfectly compliments Harden's, with no requirement for the offense to run through him to garner success. Since joining the Rockets, he has averaged only 33 minutes per game and received more rest, meaning seasonal averages of 22 points, 14 rebounds and nearly 3 blocks per game that we saw at times with the Orlando Magic are a thing of the past. Still, Dwight is nearing a career high in blocks per minute this year and is having monster games on a regular basis. There aren't many centers you'd want over Dwight, who might even push 60 percent from the free-throw line again (glass half full). It would be nice to see the public start rooting for Dwight, just as they did when he donned a Superman cape for the dunk contest. His Stan Van Gundy impressions are worth it alone.
Harden, meanwhile, is averaging career highs across the board with 26 points, 6.5 rebounds, 6.5 assists, 2 steals and 1 block per game. Sure, he's also nearing a career low field-goal percentage, but that only speaks to the level at which Harden has shouldered the load for the Houston Rockets. He is getting to the free-throw line at a ridiculous pace, which has kept his true shooting percentage up near 60 percent. Statistically, he is also benefiting from Houston's lack of a trustworthy point guard (apologies, Patrick Beverley). The increase in his defensive stats demonstrates that Harden is taking the game more seriously than ever before, and it wouldn't be surprising to see him continue to increase his offensive output for the rest of this season and moving forward, assuming he can bring his field-goal percentage closer to his career average.
At this point, it's hard not to dream about an Oklahoma City Thunder squad featuring the aforementioned Durant and Westbrook alongside Harden. Could anybody come close to beating them? While from a fantasy perspective all three might have suffered (just as Big Threes of recent history have) and we never would have seen this independently dominant Harden, the trio could have been more devastating than the Miami Heat's of the last four years. As it is, all three players provide first-round draft value, and will for the foreseeable future. Westbrook and Harden are essentially untradeable fantasy assets for what they bring to the table across the board statistically.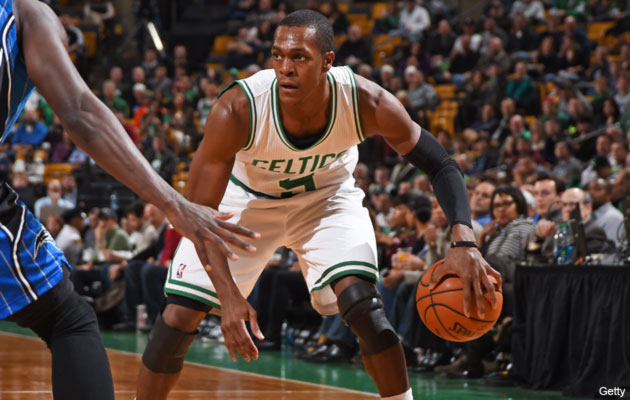 Quick Bits
The Sixers' Robert Covington is all of a sudden a wanted man in fantasy circles, and considering the situation in Philly, it wouldn't be surprising to see him keep it up given the chance. Ricky Rubio is on pace to return in January from his sprained ankle, which will render Mo Williams and Zach LaVine useless in fantasy circles. George Hill's imminent return to the Pacers lineup means fantasy owners should keep an eye on him, as the lack of talent nearly guarantees that Hill matches his best career production, and that Donald Sloan's decent run is likely over.
Rumors of a Rajon Rondo to Dallas trade are hard to ignore, and the fantasy implications of such a deal would be wide ranging. Andre Drummond appears to be rounding back into form following a slow start and his 19-point, 24-rebound, 4-steal and 3-block game this week is only a sign of things to come. On the other hand, Greg Monroe owners must be furious, as the talented big man's 4-point and 5-rebound line in the same game that Drummond dominated only demonstrates how little interest the Pistons have in making him happy. It's impossible to say whether or not any Pistons will actually get traded, so Monroe is not really a buy-low candidate at this time unless the price is almost nothing.
Dan Hanna is SLAM's weekly fantasy basketball columnist and a life-long Bulls fan. Follow him on Twitter @i_am_danhan. For advice on your fantasy team, post questions in the comments section.
144