From year to year, there is a general expectation that certain players will not live up to prior years' performances, just as there are players who will burst onto the scene. The identification of these players prior to a draft and over the course of the long season is as essential to a fantasy team's success as is identifying key sleepers late in the draft.
Joakim Noah, Chicago Bulls
This one was easy to see from a mile away, but Noah was nevertheless overvalued in most drafts this year. Noah is still the heart and soul of the Bulls, but it would have been impossible for him to live up to last year's across the board numbers, and downright ignorant of fantasy owners to expect it. With the return of Derrick Rose, the emergence of All-Star-to-be Jimmy Butler, and the signing of Pau Gasol, the Bulls are no longer running the offense through Noah.
As a result, he is no longer leading NBA centers in assists, the scoring is way down, and the rebounding has declined. He is still the same player, but the Bulls have a better team around him. Fantasy owners should also pay close attention to Noah's injury situation, as he failed to play more than 66 games prior to last season's healthy 80 games. Owners need to adapt to this year's Noah and lower their statistical expectations.
Deron Williams, Brooklyn Nets
It's hard to believe that some fantasy owners still had expectations for Williams, perhaps swayed by an all too common theme of "finally healthy" that we've actually been hearing for a few years. At just 13.9 points, 6.3 assists and 1 steal per game, accompanied by a rib injury and Jarrett Jack sniping some of his playing time, D-Will is simply not a desirable guard to own.
Don't expect that to change anytime soon, even after he returns from his most recent malady. His 39.6 field-goal percentage is a career low, and if you are counting on him to give you anything in the second half based on his past All-star performance, you'll end up disappointed. The 30-year-old will still be productive in his career, but at a level several tiers down the point guard totem pole.
Larry Sanders, Milwaukee Bucks
Season averages of 9.8 points, 9.5 rebounds and 2.8 blocks in 27 minutes per game would make fantasy owners pretty happy, but Sanders is now two years removed from that break-out season that landed him his huge contract. Still, some fantasy owners had reasonable expectations that he could return to that form this season after everything went wrong last year. Dominoes kept falling however, and even more has gone wrong this year.
Various injuries have accompanied inconsistent play, and Sanders isn't even traveling with the team at this point due to personal reasons. Sanders will tease owners in drafts again next year with clear late-round sleeper potential. Owners can safely look elsewhere this season though, as coach Jason Kidd has settled on minutes for his big men and there won't be much room for Sanders to make an impact on fantasy box scores even if he finds his way back to the court.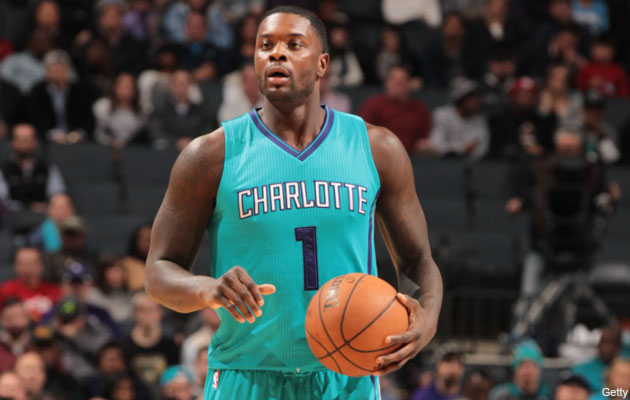 Lance Stephenson, Charlotte Hornets
After shooting 49 percent for the Indiana Pacers last season, Stephenson was expected by some to make strides and take on an increased scoring role in Charlotte, but everything unraveled quickly. He is shooting just 39 percent from the field and a miserable 15 percent from three, rendering him almost useless to fantasy owners after leading the League in triple-doubles last season.
He simply hasn't fit in with his new teammates and a fresh start is pretty much necessary at this point. Rumors of the Hornets shopping him around have been loud and clear for a while now, so it's only a matter of time before he is dealt. Fantasy owners would be wise to keep an eye on where he ends up, because the right situation could lead to a return to last year's numbers or better for the seemingly volatile guard. There's simply no reason for Charlotte to keep him.
Dwight Howard, Houston Rockets
Dwight hasn't been bad, but he's nowhere near elite at this point and owners expecting a return to such a level have been left with a sour taste in their mouths. It's possible injuries are playing a role, but 1.6 blocks per game, his lowest average in nine seasons, has to be concerning. His 11.2 rebounds per game, which would be excellent by most players' standards, is his lowest since his rookie season. Howard has shown flashes of dominance at times with some huge box scores, but it might be time for owners to resign themselves to the reality that 14-rebound and nearly 3-block averages are in the past.
This being said, Dwight gets a little too much hate directed his way due to his tumultuous season with the Los Angeles Lakers. He wasn't the reason that team failed, even though the media and that team scapegoated him. As long as he is healthy when the Playoffs roll around, the Rockets are a title contender. Chances are that he can get his numbers up slightly for fantasy owners by season's end as the Playoffs near. He's still a strong fantasy option, but your fantasy team's title hopes would be stronger if there are a few stars ahead of him on your depth chart. In the end though, a disappointing Dwight Howard is still better than a lot of players.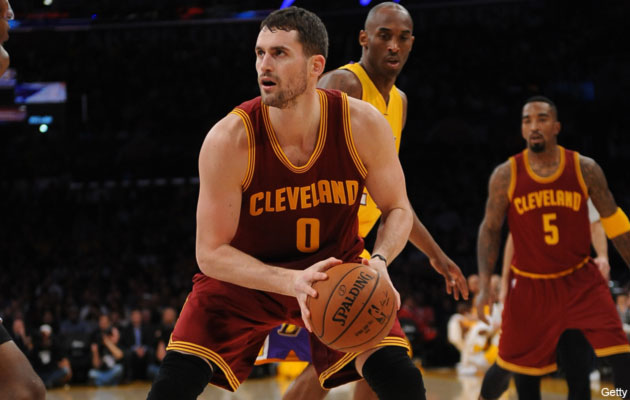 Kevin Love, Cleveland Cavaliers
Love has dropped from 26.1 to 17.9 points per game, and is pulling in only 10.4 rebounds per game after averaging 13.7 over the course of the last four seasons in Minnesota. His field-goal percentage and assist numbers are down as well. One might think that his efficiency would improve with the defenses' attention on LeBron James and Kyrie Irving, but that simply hasn't been the case.
A drop in production was to be expected; after all, we saw it with Chris Bosh and Dwyane Wade in Miami. But fantasy owners probably weren't expecting this quick decline amidst a disappointing 20-20 start by the Cleveland Cavaliers. Don't expect much improvement from his current line of production moving forward as the Cavs are currently constructed, but Love would still flourish in the right situation.
Terrence Jones, Houston Rockets
After coming out of nowhere last year in his rookie season, expectations were high for Jones coming into the 2014 campaign. He got off to a strong start, but it only lasted a week before a major injury took him out. He hasn't returned yet and the Rockets haven't exactly been forthcoming with his timetable. He should still return this year but unfortunately, the emergence of Donatas Motiejunas and the acquisition of Josh Smith are likely going to keep Jones in a bench role even if he does find his way back to the court. Fantasy owners can't help but be disappointed that Jones wasn't able to be the sleeper many expected him to be, but he is still going to be worth keeping an eye on if he gets healthy.
Tony Parker, San Antonio Spurs
Parker's decline to 14.8 points and 4.7 assists per game has been a result of some combination of age, injury, and Gregg Popovich strategy. While there's almost no doubt that Tony Parker will be back to being Tony Parker when the playoffs roll around, fantasy owners are suffering as he takes his time getting back into form during the regular season. He makes for an interesting buy-low candidate, as he certainly can't perform worse than he has, and his long career suggests improvement is likely. Keep in mind though that he will likely sit some games out at the end of the season, and that his minutes will be kept in check at times to keep his 32-year-old legs fresh.
Dan Hanna is SLAM's weekly fantasy basketball columnist and a life-long Bulls fan. Follow him on Twitter @i_am_danhan. For advice on your fantasy team, post questions in the comments section.
89