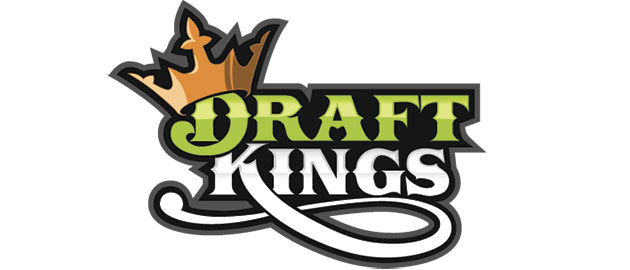 This column is powered by DraftKings, the leader in daily fantasy sports. Sign up for a chance to win $1,000 in prizes. Entry is FREE.
There's no getting around it: The New York Knicks are terrible. As the season has moved forward in time and further back in the minds of fans, opportunities have emerged for several players. No, these players aren't emerging as stars, and they won't necessarily be a major part of Phil Jackson's rebuilding plan. That doesn't mean that they won't squeeze every last drop of opportunity out of the Knicks and the stage that is Madison Square Garden.
From a fantasy perspective, this is the time of the year that players emerge from seemingly nowhere, often from the dregs of the worst teams in the League. Players can become contributors to fantasy squads in the final weeks and months, after doing nothing prior. There is value in the plug-and-play of certain guys. This is what the New York Knicks have become.
Andrea Bargnani
Bargs has put up stats before, and received a major contract as a result, but it's been a while since he's been impactful. In the 2010-11 season with Toronto, he averaged 21 points and 5 rebounds per game, and 19 points per game the following year in only 33 games before falling off. Let's be clear, we are talking about offense here—he's not going to put up blocks, steals, or big rebounding numbers, and he makes Carlos Boozer seem like an All-NBA defender.
It's better to focus on the positives he brings to the table. Bargnani is, believe it or not, a go-to guy on the Knicks right now, with a usage rate that has climbed to unexpected levels. When he has an off night shooting the rock, it will be a tough pill to swallow for his fantasy owners. If you take away the one dud he's had in the last nine games though, his stats are 19.6 points and 5.2 rebounds per game. He is also 80 percent from the free-throw line on over five attempts per game. This puts him back near his peak with the Raptors.
There's no reason he can't put up numbers like these for the rest of the season, which can make him valuable for fantasy owners in a championship run.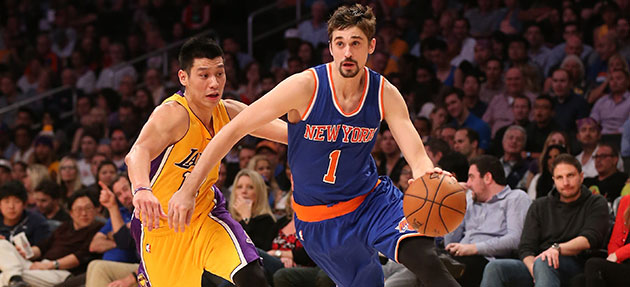 Alexey Shved
He started the season off as a member of the Philadelphia 76ers, a team boldly proclaiming to the world that they are, with certainty, the masters of the tank. He didn't always get a lot of minutes in Philly, but he played relatively efficient basketball from a statistical perspective. He was then shipped off to the Rockets, where he saw little time. Now the Knicks are seeing if they have landed themselves a keeper, and are giving Shved as many minutes as he can handle. Fantasy owners should expect it to continue, as there is nobody who will steal minutes from Shved at this point.
Over the last nine games, his minutes have steadily increased, demonstrating that it's likely he'll keep it up even when Jose Calderon returns from a recent injury. This has culminated with 17.5 points, 6.5 assists and 10.5 rebounds in 37 minutes per game over the last two. This is a guy who averaged under 7 minutes per game for the Rockets. The bargain bin on fantasy waivers is always deeper than you think at any point during the season. You might have been tempted to pick up a bigger name than Shved, but it would have been a mistake.
Lou Amundson
Lou is a journeyman at this point who has always been a gritty bench guy, but he has found a consistent role with the Knicks this season thanks to the injuries and eventual waiving of Amar'e Stoudemire. Now 32 years old, Amundson is as valuable as he's ever been, and is at least worth a look in deep and daily leagues. Per minute, he's been great this year, but he won't always put up big numbers that represent his performance on the court. Still, he's had some good lines this year, and if the Knicks are ever short on big men, Amundson is more likely to perform statistically.
His three-game run at the end of February of 10 points, 6.3 rebounds and 1.5 blocks per game are representative of the kind of streak he could go on. He's not exciting from a statistical perspective, but he could be a valuable substitute in a pinch, and it's only possible because the Knicks have nobody else to play.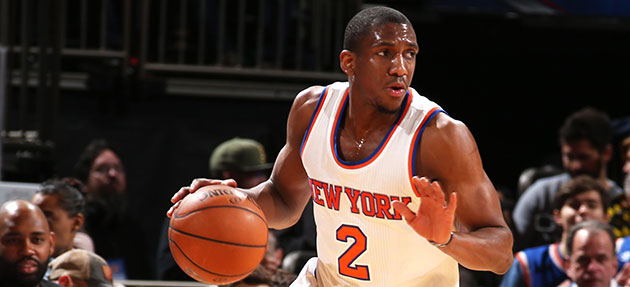 Langston Galloway
Since the turn of the new year, Galloway has seen good minutes for the Knicks and has taken advantage. Overall, his numbers aren't special, but he has scored in double-figures in 16 of his 27 games so far, and is averaging 4.4 rebounds from the guard position. The key stat to remember is that Galloway is averaging over 30 minutes per contest, which means he could put up stats on any given night.
Tim Hardaway Jr
Hardaway hasn't been especially consistent this year, but the Knicks have continued to go to him, especially in the absence of Carmelo Anthony. His explosive scoring ability would make him just another guy off the bench on most teams, but with the Knicks he is able to approach 30 minutes most of the time. Overall, his average only sits at 11 points per game, but that is due to a combination of duds and high scoring games with tons of threes going down. As a result, Hardaway can be a sneaky pick in daily leagues, but can't be relied on for consistency. If you choose to play him any particular night, make sure the matchup is to his liking, or you could end up paying the price.
In the end, looking at a list of the players making a statistical impact for the Knicks is sort of mind numbing. Phil Jackson can dance around the tanking question all he wants, but it's been clear all season that the Zen Master is trying to change the culture of the team for the long term, and would prefer the team lose this season. Carmelo Anthony would be playing right now if the Knicks were a playoff contender, and it wouldn't be surprising to see a healthy Melo lead a new Knicks roster to a playoff appearance next season.
For now, fantasy owners shouldn't fear using the Knicks to fill out their fantasy lineups over the final stretch. The question then becomes: Will any of these guys be around when the Knicks are good again?
Dan Hanna is SLAM's weekly fantasy basketball columnist and a life-long Bulls fan. Follow him on Twitter @i_am_danhan. For advice on your fantasy team, post questions in the comments section.
Images via Getty