The impact Tyson Chandler is having all over the court for the Dallas Mavericks really makes you wonder about what exactly went wrong in New York, because it is almost impossible to believe that a player could be so Dr. Jekyll and Mr. Hyde without any explanation. For whatever reason (reasons), the Knicks situation was toxic, and there's no getting around it. Leaving the Big Apple has rejuvenated Chandler, who is eclipsing or approaching a career high statistical output across the board, with a stat line of 11.3 points, 11.9 rebounds and 1.5 blocks per game on nearly 70 percent from the field in under 30 minutes per contest. The biggest question lingering on the minds of Chandler's fantasy owners is whether or not he can keep up his currently outstanding pace. In most formats, he has been a top-25 player thus far.
Chandler is simply a perfect fit in the current Dallas lineup. This being said, he is the definition of a sell-high player at the moment. His value will not get any higher, and owners should be looking to trade him as soon as possible, because the haul that he can currently bring in on the trade market is almost certain to perform better statistically from this point forward. Fantasy basketball is a numbers game after all. Maximizing the overall statistical production of your fantasy lineup is accomplished by reading the tea leaves (or attempting to) and analyzing what kind of performance can be expected moving forward from each individual on your squad. Think about this: Chandler is currently approaching his career high of 12.4 rebounds per game, which he achieved in a full load of over 34 minutes per game with the New Orleans Hornets seven (7!) years ago. If coach Rick Carlisle didn't trust his bench, it's reasonable to think that Chandler would be averaging a career high in rebounding (in addition to the scoring and field goal percentage) given equal minutes.
This isn't to say that Chandler is a fluke—he will continue to be a force for the Mavs. In fact, if you decide to keep him, I wouldn't go so far as to guarantee that he will be a disappointment from here on out. Will he be a top fantasy performer, though? One major issue is that he hasn't ever put up equal numbers per minute across the board; he is producing as efficient of a season statistically as he ever has in all categories. Expecting him to keep this up wouldn't even be fair. Also, given his injury history dating all the way back to his final season with the New Orleans Hornets in 2008 when he only played 45 games, it would be hard to expect Chandler to play 70 games or more.
Even if you want to blame the Knicks for Chandler's decrease in recent production, you just can't ignore the 32-year-old's documented issues with staying on the court and the simple fact that he hasn't been this good statistically across the board yet in his career. When it comes to the real world though, Dallas looks like they can again contend for a title with Chandler in the lineup. The Mavericks' decision to bring him back was without a doubt one of the best moves in the entire NBA offseason. Somehow, despite only playing just over one full season with Dallas, it's hard to picture Chandler in anything but a Mavs jersey.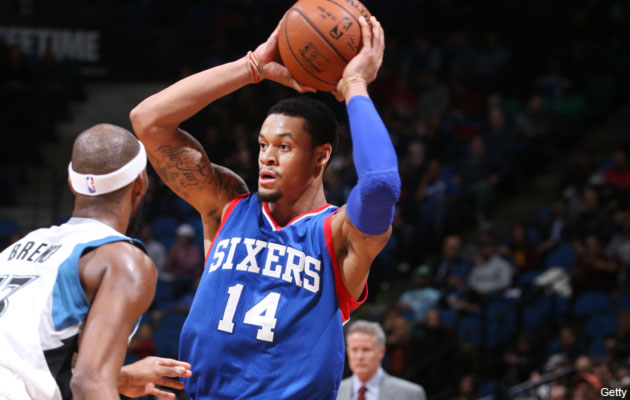 The 76ers Watch
Well, the wait is over, and the Philadelphia 76ers have avoided an NBA record 18th straight loss to start the season, defeating a Ricky Rubio and Nikola Pekovic free Minnesota Timberwolves squad (they'll take it) to move to 1-17. Despite the dreadful record, believe it or not the Sixers do actually have players that you would want on your fantasy squad. One interesting development has been the Michael Carter-Williams and Tony Wroten court-share, which has been a battle for the ages—when it comes to fantasy output. First, Wroten benefited heavily early in the season while Carter-Williams continued to recover from his injury, and he was averaging over 20 points and 6 assists.
When Carter-Wiliams returned, Wroten was in possession of the ball a lot less, which immediately impacted his scoring. Now Wroten has missed the last week, and in the three games without him, MCW has looked like a top fantasy point guard for the first time since his rookie of the year campaign ended, averaging a triple-double during that span (20.7 ppg, 10.0 rpg, 10.7 apg, 1.3 spg). Coach Brett Brown needs to find a way to get these two young explosive players in sync, and fantasy owners everywhere would benefit. The Sixers don't exactly have a lot of scoring, so there is no reason that both can't put up big numbers if they can adapt to each other. If they can't, it will be Wroten's numbers that suffer long term.
Of increasing interest right now is rookie KJ McDaniels, who despite being drafted 32nd in this year's Draft, has looked like he could be a top-five rookie performer by season's end. He should be owned in all leagues at this point as the Sixers are certain to give him whatever minutes he can handle. He has played 30 or minutes in four straight games, which will be good for both his development and his stat lines. His scoring should increase from the current 10 ppg, to go along with impressive rebound, block and steal totals for a rookie small forward. Fellow rookie Nerlens Noel has been inconsistent all season, but has shown flashes at times (including a 17-point and 12-rebound performance). Keep in mind that he didn't play organized basketball for well over a year, and that it will also take time for him to adjust to the NBA game. His blocks and rebounding numbers have nevertheless been disappointing, and while he should be owned for his potential in those categories, he belongs on fantasy benches at this point. He should still be a coveted commodity in all keeper leagues.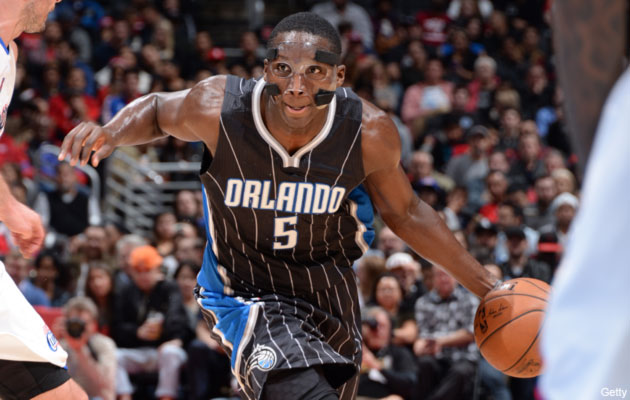 Quick Bits
Bulls rookie Nikola Mirotic looks like the real deal, but it's hard to see him being impactful from a fantasy perspective yet, stuck in a deep frontcourt rotation that includes Joakim Noah, Pau Gasol and Taj Gibson, all much better defenders (Tom Thibodeau just smiled). Victor Oladipo's all-around game is starting to reach its potential after a slow start, including a recent 27-point outburst. DeMar DeRozan's injury has fantasy owners scrambling and while it is possible he returns in a month, it seems like he could be out longer than that, leaving Lou Williams and Greivis Vasquez as benefactors in the meantime. Dwight Howard's knee continues to be a concern for the Rockets, as it seems like the team wants him at 100 percent before he returns to the court. This plan worked well for Dwyane Wade, who looks to have returned to star form for the Heat after a hamstring injury. Ty Lawson also appears to have overcome his injury concerns, eclipsing top-10 point guard value and almost singlehandedly leading the Denver Nuggets back into the Western Conference playoff race.
Dan Hanna is SLAM's weekly fantasy basketball columnist and a life-long Bulls fan. Follow him on Twitter @i_am_danhan. For advice on your fantasy team, post questions in the comments section.