Setting of arguably the greatest basketball film of all time in He Got Game. Setting of one of the greatest basketball documentaries of all time in Through The Fire. Home to some of the most famous NBA players to have come out of NYC in Stephon Marbury, Sebastian Telfair, and Lance Stephenson. Coney Island is a sacred place in New York City's rich basketball history.
This past spring, though, the neighborhood was known for being home to one of the highest COVID-19 death rates in New York City—right as the Big Apple was the epicenter of the global pandemic. Coney Island's 11224 zip code had the second-highest death-rate in Brooklyn with a ratio of 1 in 240. Among those CI residents who passed away due to complications from the virus in the spring were Dan Turner and Erica Telfair, brother and mother of Sebastian Telfair and (we'll explain) NYC hoops legend Jamel Thomas.
Thomas, who starred at famed Lincoln High and Providence College before hooping in the NBA with the Boston Celtics, Golden State Warriors and New Jersey Nets, was actually a cousin and nephew of Dan and Erica, respectively. Yet, a series of life events beyond his control led to him being taken in as one of their own.
Thomas' biological mother was murdered by her boyfriend when he was four years old. He never met his father. After his mother's passing, Thomas was raised by Mrs. Telfair. He lived with them in the Surfside Gardens public housing complex. Eventually, the household added up to 10 people in a two-bedroom apartment.
"My aunt, Erica, she raised me and my brother. I was four, he was one and a half at the time. She took us in and she had four kids of her own already. This is before Sebastian was here. It was rough growing up. Her husband was in and out of jail a lot. He was on drugs. He didn't hurt us physically, but just seeing what was going on was as painful as physical," he recalls. "I was in a lot of pain back then. Nobody understood it. I don't think too many people could understand your mother being shot by her boyfriend and never meeting your father. So, fast-forward to 13 years old, that's when I started selling drugs in the streets."
Despite the against-the-odds obstacles throughout his adolescence, the Brooklyn native went on to have an illustrious career at Providence in the Big East starting in 1995. He currently ranks sixth all-time in scoring at Providence with 1,971 career points. He helped Providence reach the Elite Eight as a sophomore, and then led the team in scoring as a junior and senior with 18.5 points and 22.0 points per game. He finished his career as a First Team All-Big East honoree. He then went on to enjoy a professional career that included shorts stints around the NBA and eventually hooping in Turkey, Italy and Greece.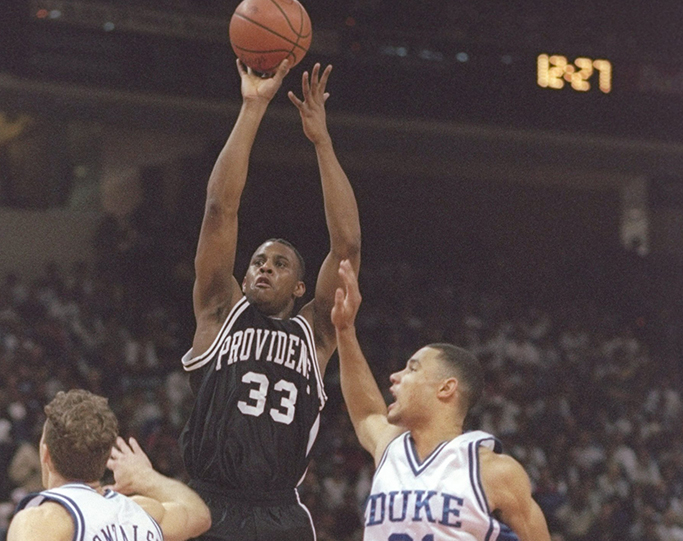 In Greece is where a couple of the most memorable scenes in the Through The Fire documentary take place. Bassy, in the film, goes across the pond in the spring of 2004 to spend time with Thomas before the NBA draft. The Friars legend, who was playing for Apollon Patras Carna at the time, trains his little brother while he's in town and also plays in a league game with Bassy in the stands. By the end of the doc, Thomas and Bassy are embracing each other in tears at Jay Z's 40/40 Club after Sebastian was drafted with the 13th overall pick. Fifteen years later, the doc is still one of the most highly heralded in the hoops world and especially in New York City.
After the deaths of his brother and mother in the spring, Thomas admits that he wasn't in the proper state of mind for quite some time. The sudden news made his world feel like it was crashing down. And the fact that we were in the midst of a nationwide lockdown didn't make things any easier. It was weeks of the same. Unproductive hours when the sun was up, long nights overthinking when the sun came down. He didn't tell his nine-year-old son about the passings for months. He didn't know how to. And then one night he could hear the voice. It was her. She was speaking to him.
"I lost my mom. I lost my brother. It hit hard. But it didn't hit me that hard [at first] because it didn't seem like it was real. It took like a week for it to really settle in. I was really just losing my mind a little in bed. I was like, Damn, what am I going to do? I wasn't busy. I wasn't really focusing on my son. I was kind of yelling, talking loud, kind of scaring him. I needed something to do because I was just locked up in the house. [So] I just called my business partner and I said, Listen, I know we've been working on this for two years. Initially, we wanted to get started on the clothing brand in like September. But I said, We have to do it now. We have to put the line out now. In memory of my mother and my brother. Let's do a soft launch now." Thomas, aka 530, recalls. "I could hear my mother's voice, Jamel, get up! It brings me back to 1999 when I didn't get drafted. It kind of sucked the energy out of me when I didn't get drafted. And during this pandemic, when she passed, I remember her saying, Jamel, get up, get up! You gotta move forward. It doesn't stop here. So that's what I did. I'm moving forward with her behind me
"My wife has been there for me and we've talked about a lot of the good times my wife and I had with my mother. My brother was my first basketball coach when I played on a team. I woke up and I was crying in my bed. My wife just said, Jamel, everything is going to be okay. I just saw one of my hats sitting on the bench beside my bed. And I just looked at my brand and I said, Fuck it, I'm calling my business partner. I told my wife, I'm gonna call him and we're going to do it. And I'm gonna tell him that we're going to do it now."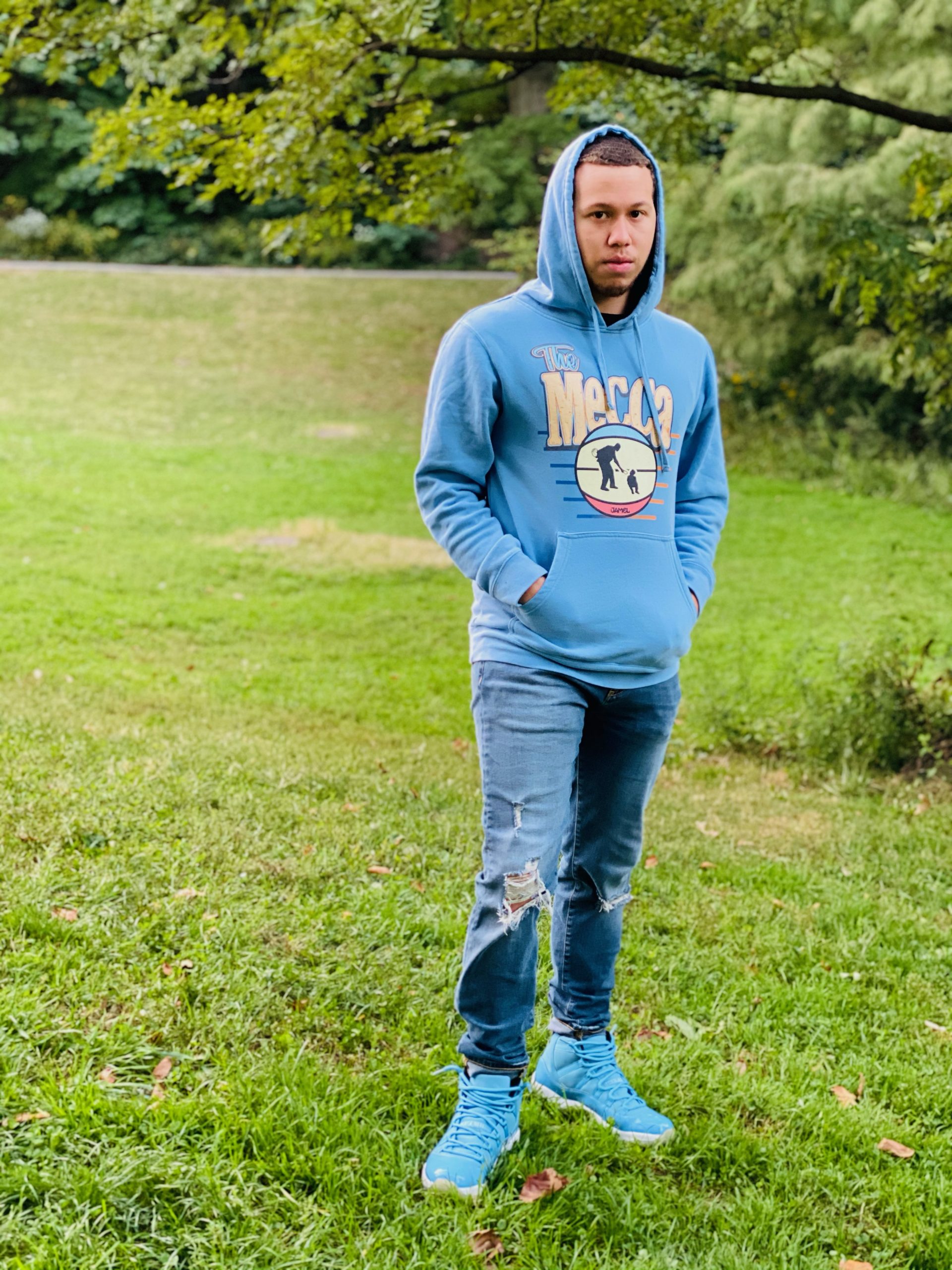 The following morning, he called his business partner, a real estate developer. Thomas no longer wanted to wait. There was new found urgency and motivation. By all means necessary, he now wanted the brand to be out by the summer of 2020. And that's exactly what they did. The Jamel NY clothing line was soon born.
A few weeks later, a handful of designs were ready to go into production. The first three designs were titled The Mecca, The Blueprint and The Pallacanestro. Each was meant to pay tribute to different chapters of Thomas' basketball journey. The Mecca is a nod to his days starring at Madison Square Garden when balling in the Big East with Providence. The Blueprint is a reference to all the stages and levels of the game that serious hoopers have to experience along the way. The Pallacanestro, which is Italian for basketball, touches on his time playing in Europe, specifically Italy, while also acknowledging the true globalization of the sport.
"One of my favorite places to play at was The Mecca. Everybody says that's Madison Square Garden. Lebron, Michael Jordan, Kobe Bryant—they've all said it's The Garden. That's where I got The Mecca hoodie from. I'm a New Yorker, so it's not only about playing in The Mecca—I represent The Mecca. So, wherever I go, I put on for my city," says Thomas, who is also a cousin of Stephon Marbury. "The Blueprint is for all basketball players. In order to play at any level, you gotta play in AAU, high school, NCAA, NBA or overseas—you're going to play at one of those levels if you're a hooper. And if you're not a hooper and you just enjoy the game, you love one of those levels of basketball.
"The Pallacanestro—I use it for Europe. My first stop in Europe was Italy. They treated me so nice and I had a lot of fun there. I still have family and friends there. They honored me last year to be part of the Hall of Fame over there. It was just a great experience. They made me feel comfortable. I was always nervous about playing in Europe because I always felt like I didn't belong there but my time in Biella was great. They welcomed me with open arms. I appreciated it and so that's why I used [the word] Pallacanestro."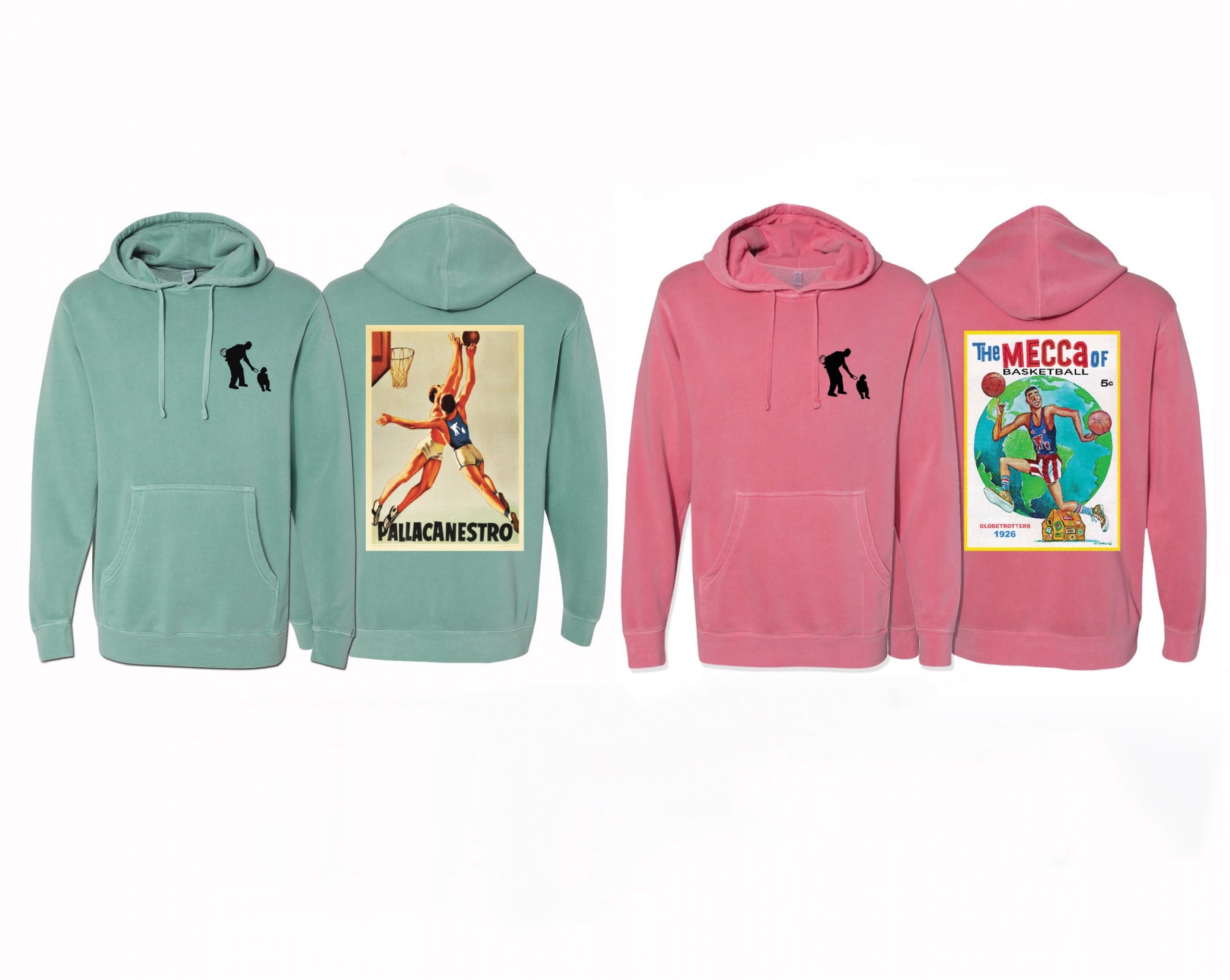 One of the main emblems on the pieces is that of an adult extending their arm out to a child. The story and meaning behind it, though, tell a story that transcends basketball and even sports in general.
"The logo is me as a young boy that never met his father and lost his mother to gun violence, and just grew up in poverty—one pair of sneakers and one pair of pants. But the man in the picture is the older me, telling my younger self, Listen, everything is going to be okay. I know what you're going through. I got your back! The logo is a sense of hope. I wanted to name it something else, but my partner said, No, let's name it Jamel. Let's name it after you and your son," says the former 6-6 wing. "People probably don't want to say this but if it wasn't for Through The Fire, a lot of dudes probably wouldn't have been inspired to play in Europe. I understand what the movie had done for a lot of hoopers since 2005 when it came out. I was in Greece at the time and me training Sebastian is part of my logo as well. It's me giving back. I had a lot of information and had been through a lot of wars as far as trying to reach a certain amount of success, and so whatever mistakes I made, I tried to make sure that Sebastian didn't do them."
Aside from the clothing brand—which has garnered enormous support from the basketball community, with the likes of NBA legend Rasheed Wallace, Denver Nuggets Head Coach Mike Malone, former NBA player/teammate and current Dallas Mavericks player development coach God Shammgod, former NBAers Speedy Claxton and Quincy Douby, and even actor Hassan Johnson, all rocking the new line recently—Thomas has always been known for venturing out into different sectors. He published a book, The Beautiful Struggle, in 2008, which he then turned into a live play production in 2009 that was ultimately performed at the Helen Mills Theater in NYC on two separate nights.
"A lot of people don't know, since I was fifteen, I was raised by a Jewish couple. The Bravermans in Rockaway, Queens. Lenore Braverman, she was my English teacher. I wanted to give people their flowers while they were still here," recalls Thomas. "My mentor, Mr. Lou [Robert Williams], my [HS] coach [Bobby] Hartstein—a lot of people that helped me. I put my mom on there. I called her Wonder Woman in my book because I said that I wondered how she was able to do all those things and show no signs of weakness."
He also operates a training business that throughout the summer led workouts in schools in the mornings, with a group of kids in Harlem in the afternoon and then some more private workouts in downtown Manhattan at night.
"I have one kid, Jair Bolden, he's my nephew through my wife's side. He's at Butler right now. He just transferred from South Carolina. I have another kid that's at Harvard right now. He's a coder. His brother just graduated from Yale," says Thomas. "Wolfgang Novogratz—that kid worked so hard and had at least five Division I offers from UNLV to Wichita State, and he just decided to be an actor."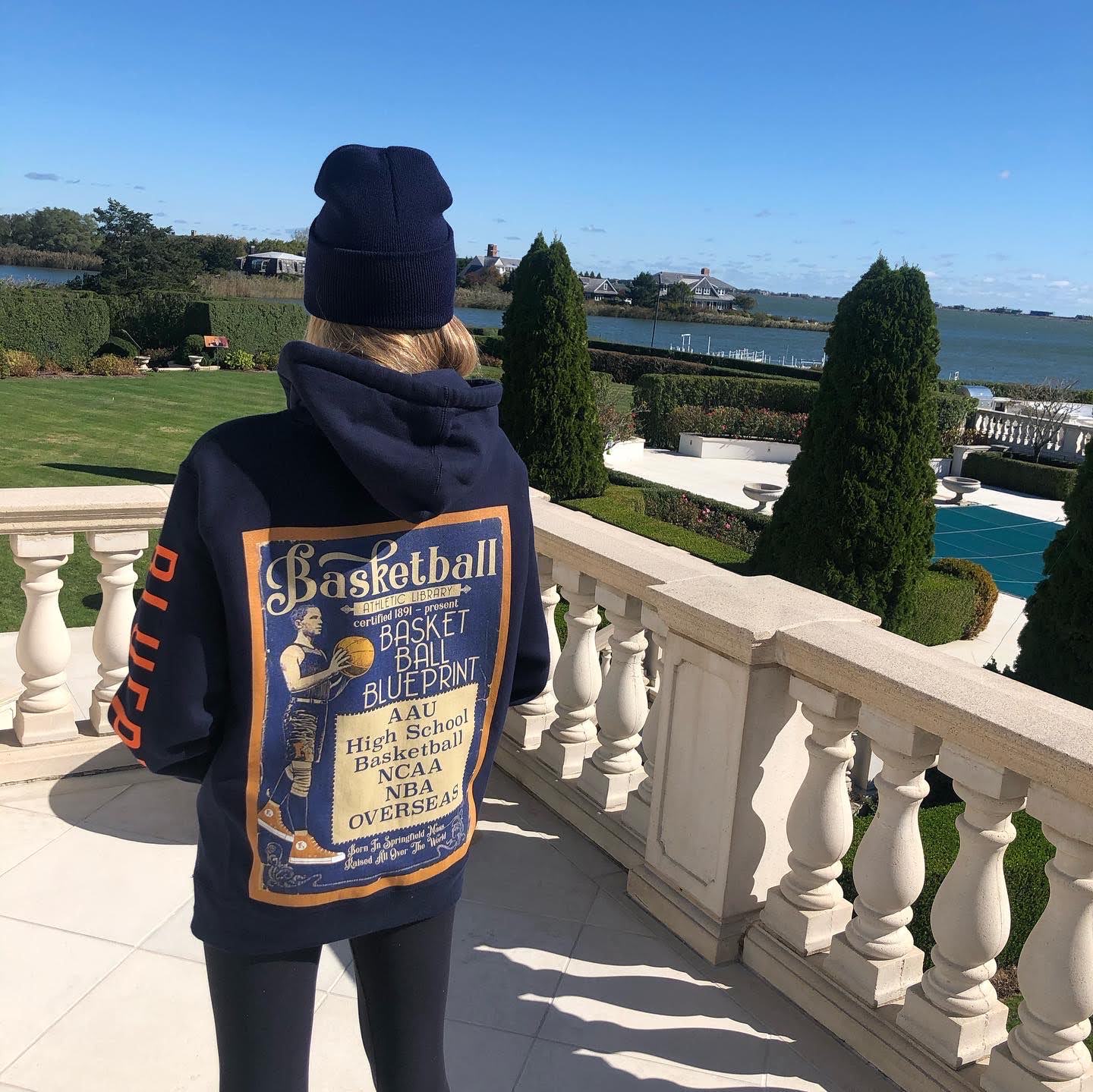 Beyond the impact he's had on the local hoops community—via his game, memorable scenes in the documentary, his book and subsequent play production, his training sessions, speaking engagements, and now his newly launched clothing brand—Thomas wants one of the biggest takeaways from his story to be the importance of having the right people around you.
"It seems, like, Oh, Jamel Thomas. He's a strong guy. He could get through anything. But to be honest, I have strong people in my corner," he says. "I have my wife and got my best friend back in Coney Island—his name is Andrew Lee. Those are the ones that keep telling me, Five—you gotta keep moving forward."