Alex Saratis and his client Giannis Antetokounmpo were having dinner in Taiwan last summer when Saratis realized what so many of us would recognize over the following year: Giannis was changing.
Saratsis is Giannis' agent, and the two were in East Asia as part of an NBA tour that brought the Bucks' up-and-comer to meet with fans throughout China and Taiwan. As is often the case for NBA players in public, fans were gawking at Giannis everywhere he went, including the hotel restaurant where the two were dining. But not only did Giannis not seem to mind, he was comfortable, embracing the situation. And then he delivered a message that still resonates with Saratsis to this day.
"He was saying, 'OK, I understand that people are watching me now, I understand people are looking at me, and I'm learning how to deal with these expectations,'" Saratsis says. "He was almost like, 'I welcome this pressure and I'm welcoming this challenge because this is who I want to be and whatever comes of it, I know it's all in my hands.'
"Whereas before it was like, 'Wow, golly gee, I'm lucky to be here.' And now he was like, 'I want this to be my team.'"
That team is of course the Bucks, for whom the man known as the Greek Freak has played since he was drafted by the organization in 2013. This past season, though, unlike the previous two, we saw a bit of a new Giannis. For the most part it appeared as though the happy-go-lucky kid who was excitedly learning about NBA life and American culture right in front of our eyes had faded, a focused, more serious version of Giannis taking his place.
I spent the better part of a week in Milwaukee in early April to find out if this was true. And the short answer is yes, of course it's true. Part of this is simply because of time; as basketball players (and humans) get older, they mature, gain their footing on their surroundings, grow into themselves, etc.
And yet there's also a conscious effort made by some NBA players who push themselves a little harder to become leaders because that is what the future so clearly holds for them. This is where Giannis fits. He stands at 6-11 with an absurd 7-4 wingspan, and is still capable of handling the ball like a point guard—which, unlike his first two seasons in the League, he now is.
"We looked at [Giannis bringing up the ball] last year in preseason, and he wasn't ready," Bucks coach Jason Kidd says after a late-season practice. "As time has gone on, we've seen different situations take place, and we thought this was a good time before [2016's] All-Star break to take a look at it. He's run with it."
Antetokounmpo is the ideal mold of a player in a form the NBA hasn't seen since…LeBron? KD? Damn near 7-feet tall, Antetokounmpo has legit point guard handles, can finish around the rim with an acrobatic lay-in or an in-your-face dunk, and is delivering crisp assists to teammates at an increasingly effective rate. He earned a Bucks franchise record 5 triple-doubles this season—coming very close to a few more—and can defend any position, 1-5.
He's essentially a basketball robot. He's also 21.
https://www.youtube.com/watch?v=Kj-skIBTiUE&feature=youtu.be
The first thing you notice watching him play is the vast array of ways Giannis makes things happen. During a Bucks-Bulls game in early April I witness in person, he scores 12 of his team's first 18 points, and no 2 are alike. A mid-range jumpshot. A lay-up off a fast break. A dunk in the grill of Chicago big man Pau Gasol. A Eurostep around a Bulls defender that leads to a floater. And it all looks so smooth, as if he was designed to be this all-in-one hoops machine, a one-man-does-all NBA 2K cheat code.
"He's a playmaker," Kidd says. "He's unselfish. He can make passes that most guys can't with being 6-11—he can see over the defense. We wanted to put him in as many scenarios and situations to see how he'd respond. He's responded in a positive way."
"I knew that one day I'd be able to handle the ball," Antetokounmpo says. "Coach, he saw I was getting comfortable, and it's a thing that I did when I was younger, too. So now doing it, it's a little easier for me."
As the Bucks-Bulls game trudges along, Giannis' (and the Bucks') youth becomes evident. Chicago star Jimmy Butler locks him down in the fourth quarter, and a veteran-filled Bulls team picks up a rare late-season win over the young Bucks. But Giannis' mere presence on the court carries Milwaukee for the majority of the tilt, his effect on both sides of the ball obvious to even the most casual fan in the building.
During his first two years in the NBA, Antetokounmpo's defining characteristic was how green he was. His rookie season he marveled over newfound delicacies: "I just taste for the first time a smothie [sic]..MAN GOD BLESS AMERICA," he tweeted. Per a Sports Illustrated report, he once took a cab to Western Union to send money home, then realized he sent all his money back home, so he began to run to practice—until a local couple spotted him and gave him a ride. A year later, he told me that he had never eaten pancakes before coming to the States. "Pancakes was something that I had here in America," he said. "They're the best. Every morning I love pancakes, with a lot of syrup. I fill the bowl with syrup first, then after that I dip the pancake on top of it. I put some strawberries, too."
The basketball blogosphere ate up each anecdote the way Giannis gobbled up those pancakes. This season, Giannis' third in the L, those fun little tales slowed as he has assimilated to American culture. He hasn't faded from consciousness, though; instead, his name flowed through NBA Twitter on a nightly basis for basketball reasons.
Outside of Stephen Curry, no NBA player was more Vine-able in 2015-16 than Giannis. It could be a Eurostep into a poster dunk. Or an end-to-end fast break that consisted entirely of three dribbles. Or maybe a drive to the hoop that'd pull multiple defenders and conclude with a sick pass to a wide-open teammate. Though his team took a step back this season, falling from the 6-seed in '14-15 the East to a 33-49 mark and a trip to the Lottery, a six-second Vine doesn't take into account win-loss record or final score. These clips were basketball crack, visual drugs for hoopheads, even if they've yet to break into the mainstream just yet. (Give that one time, though.) This was the next step in the Giannis story: not yet a full-fledged superstar, but no longer an out-of-place young'n unsure of his role on the team and in the League.
"We had lunch in his house about a month and a half ago, and he was just telling me, like, 'I feel like a different player. I feel like no matter what I do, no one can stop me,'" Saratsis says. "He has confidence. He knows he can make mistakes. Like, 'If I make mistakes, I know I'm not coming out, because I have the ball in my hands and I can impact the game so much more.' I think you're finally seeing this is his natural position."
"I am more comfortable," Giannis confirms. "It's my third year in the League and I've put a lot of work in. Coach tells me every day, you've got to feel comfortable, and it's built up my confidence, so that's what I think shows up on the court."
The stats went up across the board, too. This season, Giannis averaged 16.9 ppg (up from 12.7 the season before), 7.7 rpg (up from 6.7), 4.3 apg (2.6), 1.2 spg (0.9) and 1.4 bpg (1.0). (It feels excessive to list all of that, but the point is this: The kid does everything.) His field-goal percentage crossed 50 percent (up to 52), and his three-point percentage went from a dismal 15.9 to 25.7, far from impressive, though it nods to another fact: He's done all of this without being a real threat from deep whatsoever. The first thing he'll be working on this summer is his jumper, and he'll assuredly return in October with another step or two added to his range.
The second thing he says he'll be thinking about this offseason is the general manner in which he carries himself, which is exactly what Kidd references when asked what he'd like Giannis to work on: "Just his voice," the 10-time All-Star says. "The more we get guys talking to each other, the game becomes fun and easier. So his leadership is something that he's gonna continue to get better at."
A couple nights following the game against the Bulls, LeBron James and the Cleveland Cavaliers are in town for a late-season bout. The Cavs are in full prepare-for-the-Playoffs mode, and this one is a blowout before most fans even find their seats. Most of his numbers come when the game is already out of hand (it'd end with a final score of 109-80), and yet Giannis still finishes with 22 points, 14 rebounds and 8 assists—solid stats in just about any NBA context.
Afterward, Giannis is asked about matching up against LBJ, still the sport's best two-way player with an all-around game that Giannis strives toward and could possibly even achieve at the height of his powers, a few years down the line.
"I wasn't even thinking about it," he says. "I was just worried about myself and my team—what we're going to do right, and what we can fix in other moments."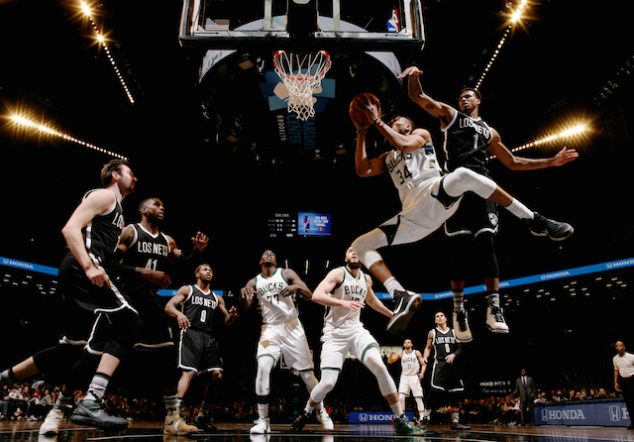 Here's Giannis in December of 2013, writing for the Greek website Sport24, on facing up against LeBron James two and a half years ago:
"When I arrived in the American-Airlines Arena, Heat's stadium, about three hours before the game, all sorts of thoughts were going through my mind. I was wondering how it will be out there when the lights are on and I'm in front of the best basketball player on the planet. Will I be scared? Will I be nervous? These thoughts kept coming and going. But when the game started, I told myself: You are just 18 years old and playing in the NBA. You are living the dream."
Twenty-eight months later, Giannis Antetokounmpo is still living the dream, still facing up against the best, but those nerves have stopped coming and going altogether. He's a full-fledged man now, one capable of standing tall as the primary leader of an NBA team.
"For as long as I'm playing, if I work hard and grab the opportunity, I'll be someone special," he says. "I think there's not a lot of people like me in this league who can handle the ball at 7-feet. When you've got something unique, you've got to work on it so you can be someone special and leave your legacy on the court."
"He told me the other day, 'I want to do for Milwaukee what Kevin Durant did for Oklahoma City,'" Saratsis says. "He was like, 'I want that legacy, so 20 years from now, I have built this into my own Oklahoma City, so people look at me and say, he left an indelible—I'm using the word indelible, though he didn't—but indelible mark on the city and franchise and organization.' Last summer, when we were having that dinner, I could see that's what he was thinking. That was him thinking, I'm at a point where I can be a leader on the team. And it's not like 'Me vs Jabari [Parker]' or 'Me vs [Khris] Middleton,' it's like, I can be a leader on this team and I want to leave my mark on this city and leave my mark on this organization.
"That's when I was like, OK, this kid is starting to get it. This kid is starting to understand."
Giannis 2.0 is a ballhandling point forward who can guard any position, create points in a silly variety of ways and conjure up a SportsCenter highlight at a moment's notice. Imagine what awaits us at Giannis 3.0.
—
Adam Figman is a former Senior Editor of SLAM. Follow him on Twitter @afigman.