He never won an MVP award. He was a minor role player long past his superstar prime when he finally found his way to a championship team. He spent most of his career in less-glamorous markets, where his game was overshadowed by higher-flying foes on higher-profile teams. For all those reasons, fans today probably don't fully appreciate just how incredible Gary Payton was.
The same could be said of his 1995-96 season in Seattle.
It was his sixth NBA season, and by almost any statistical measure, it wasn't his best. He had better years as a scorer, rebounder and playmaker, seasons in which he was more efficient and more careful with the ball. But there was no season in which Payton's all-around excellence—especially as a smothering defender—translated more directly into team success.
Coming off a '94-95 season in which they won 57 games but stumbled to a first-round playoff loss, GP and the SuperSonics came into '95-96 with a chip on their collective shoulder. And nobody carried that motivation better than the smack-talking point guard with the No. 20 on his chest. As always, Payton was the motor mouth who made the Sonics go, leading his squad to a solid start before a midseason burst lifted them to the top of the West heap. Sparked by a 32-point, 8-assist, 8-rebound, 4-steal game from Payton in early February, Seattle ran off a 14-game winning streak. For both the team and its star, it was a statement of intent.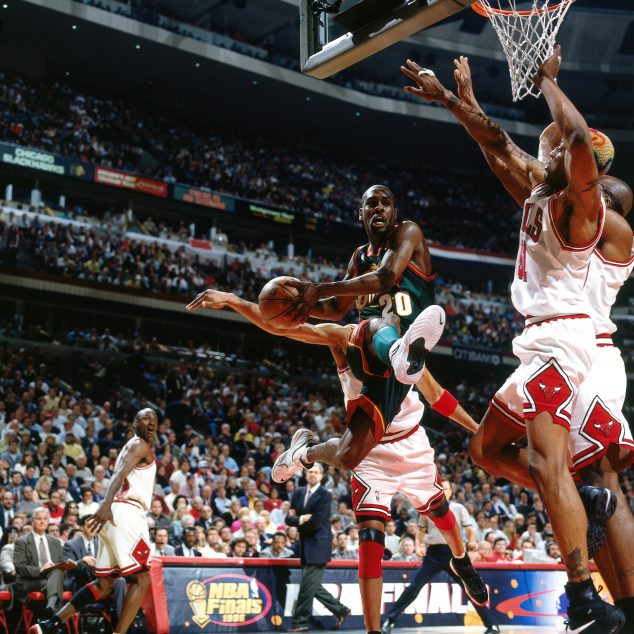 The Sonics finished the regular season 64-18, best in the Western Conference, and Payton led the way with 19.3 points, 7.5 assists, 4.2 rebounds and a league-best 2.9 steals per game. Then came the playoffs, and another statement from GP: 29 points and 9 dimes in a series-opening demolition of Sacramento, bookended by another 29-point outing as the Sonics closed out the series in four games. The second round brought a matchup with the defending champion Rockets, and Payton was once again dominant, averaging just shy of 25 and 8 in the four-game sweep.
Things got trickier in the conference finals, where Seattle ran into its parallel universe peers from Utah. If Stockton and Malone came off like a PG-rated version of Payton and Shawn Kemp, they were no less dangerous, pushing Seattle to an epic seven-game series. But the top-seeded Sonics pulled it out, earning a trip to the NBA Finals—and a date with Michael Jordan and the history-chasing 72-win Bulls.
For all of Payton's talents as a scorer and playmaker, he is rightfully remembered for his lockdown defense. The Glove faced no tougher test in his career than the one presented by Jordan in '96, the same season GP was recognized as the first (and still only) point guard to be named Defensive Player of the Year. Hampered by a calf injury, he didn't actually guard Jordan for the first three games of the series—not coincidentally, all of them Chicago wins. But with nothing to lose, GP, laced up in Nike Air Thrill Flights and insisted on matching up with MJ for the remainder of the series. It was a switch that altered the face of the matchup, as the Sonics stole two games and Payton harassed, fronted and frustrated Jordan into some of his worst-ever Finals performances.
In the end, Chicago was simply too much, but the series loss only served to solidify Payton's rep. Like the loud, bold, asymmetric jerseys he and his teammates wore that season, Gary Payton was iconic, brash and undeniable.
—
Photos via Getty Images