George Gervin sat in a suite at Barclays Center last week, watching LeBron James try to fend off the upstart Nets. The King couldn't overcome Brooklyn's three-point shooting and his Cavs eventually gave up a 112-107 loss. Before the game's final clutch moments, we caught up with the Hall of Famer, who was in the borough on behalf of the new VerizonUp program.
SLAM: When did you figure out that you were an elite scorer?
George Gervin: Probably once we got to the NBA.
SLAM: So you didn't feel that way early in your career?
GG: Well, I didn't have to. I had Dr. J on my team. I was obviously behind him. And then when I went to San Antonio, I was behind a guy named James Silas. Until he got hurt, I was just a 22, 23 average guy. Then when he got hurt, it was my turn. Then I started stretching out.
SLAM: What's your favorite performance from when you did stretch out?
GG: 1977-'78, when I got the first scoring title. I needed 59 points in the last game to get the title, and I ended up with 63 in 33 minutes. That's when my confidence really started to grow.
SLAM: You had to edge out David Thompson for that scoring crown. What made him so special?
GG: He was a great scorer. David was an athlete. I think David also was underrated for his size. He could shoot and score, at his size. To able to do the things that he could do athletically, we weren't seeing that in the League at that time.
SLAM: How would you describe the environment around the ABA during your time there?
GG: The ABA was just a bunch of young guys trying to vie for attention. The NBA got all the attention. The ABA was just another league, it was pretty much [known for] Dr. J. Once we merged in '76, they really saw some talent being infused in the NBA.
SLAM: Things weren't always easy as an ABA player, right? What was the craziest thing that you saw while you were playing?
GG: Well, a lot of it was crazy. It's how they were marketing it, we didn't have that much money for marketing. A lot of the ways that we got noticed was through fan participation, where somebody saw us play and then they went around the country talking about it. It was just a way of life, man. You had a bunch of young guys loving to play.
SLAM: Including yourself, the ABA had some of the best forwards to ever play. Rick Barry, David Thompson and Julius Erving, all in their prime. Who was the toughest one to guard?
GG: Probably for me it would be Doctor. He was an athlete. He was just different. He was long, he had big hands. He'd jump over you. He was just a special guy.
SLAM: Another special guy is LeBron. When you watch him, who does he remind you of?
GG: Nobody, he's his own. Ain't nobody like him, he's a locomotive. He's the best in the business right now. He's been playing for, what, 14 years now? He's a phenom, man. He's my favorite right now—between him and KD.
SLAM: What do you remember about your famous "Iceman" shoot with Nike back in the day?
GG: It was special, man. People are still talking about it today. Everywhere I go, people tell me that they grew up with that poster. Living in Texas, their favorite was Farrah Fawcett. People would always say that they had the Iceman poster and the Farrah Fawcett poster. That's something special to me. I never knew it was going to grow to be like it is today.
SLAM: What was your reaction when they showed you that throne of ice?
GG: I didn't know. I got to the studio and they built the throne of ice there in front of me. It was real ice. You just imagine you sitting on some real ice for five or six hours. It was interesting to do but after a while, hell, it's cold.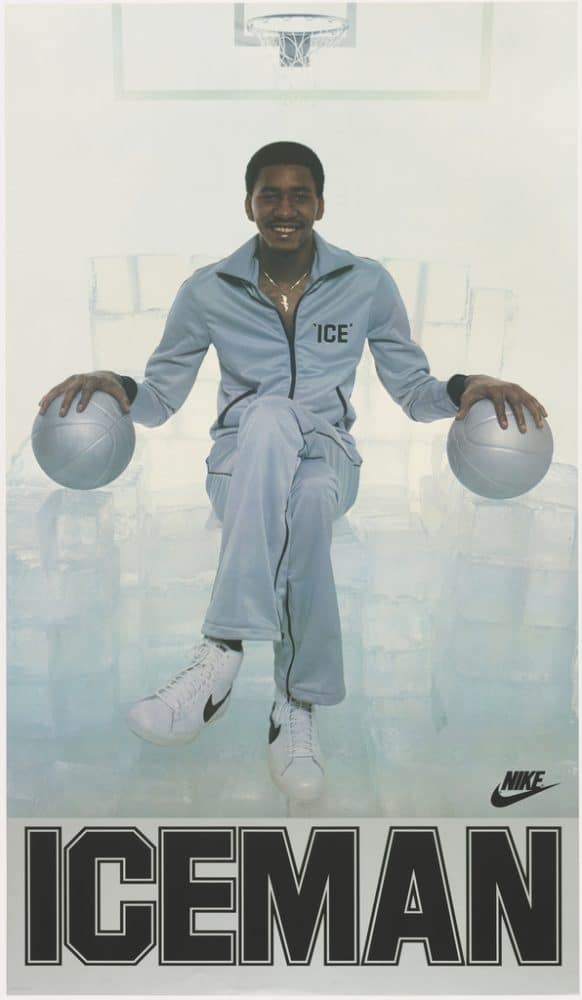 Related
The SLAM Respect the Game Podcast: George Gervin on Jelly Fam
—
Enroll in VerizonUp through the My Verizon App for courtside seats, VIP tickets to Lady Gaga concerts or a trip to NBA All-Star Weekend.