Move the 6-11 Giannis Antetokounmpo to point guard? The idea seemed radical last spring when Milwaukee Bucks head coach Jason Kidd first announced the switch. "I was like, Really? There's no way this is going to work," recalls Marques Johnson, a former Bucks forward who now calls the team's games on FOX Sports Wisconsin.
Sure, Antetokounmpo—or The Greek Freak, as most of us know him—was different than most of the game's giants. He could run smoothly and dribble cleanly and even shoot a little bit. But still—a near-7-footer playing the point? That's something the NBA game has literally never seen.
After all, being a point guard isn't just about being able to dribble the ball up the court or pass it to a teammate. There's more to it, something almost intangible, a feel, a touch. The great orchestrators have it. Maybe it's not something they're born with, but it—the pure skills but also the instincts to read the heartbeat of a team and determine on each possession what it needs from you, the leader on the floor—is certainly developed in the embryonic stage of a basketball career.
Playing point guard requires hours and days and years of practice—in-game practice, actual reps at live speed, the kind of reps that at the youth and high school levels are typically reserved for the smaller players.
And yet Kidd still saw something in his 21-year-old phenom that made him think this transition for Antetokounmpo was possible. And anyway, if there was any coach who could nurture this change it was Kidd, one of the greatest and most versatile point guards in the history of the game.
One problem, though: the 6-4 Kidd, large by typical point guard standards but an ant compared to his young protégé, couldn't relate to the angles and perspective Antetokounmpo was viewing the floor from. Kidd was used to peering between defenders; Antetokounmpo was looking over them.
So the coach got creative. At practice one day he dragged a folding chair out onto the court and climbed on top. From there he could see the game like Antetokounmpo does—and more easily explain the position's nuances.
That scene—one of most talented and physically gifted point guards in the history of basketball standing on top of a prop so that he could understand how it looks when Antetokounmpo attacks on the court—demonstrates perfectly what it is that makes this Greek such a freak. You can count on two hands the number of point forwards the NBA has seen over the past 50-plus years, yet it took Antetokounmpo less than a year at Kidd's position to morph into a player who looks like he could one day make his head coach's career feel antiquated.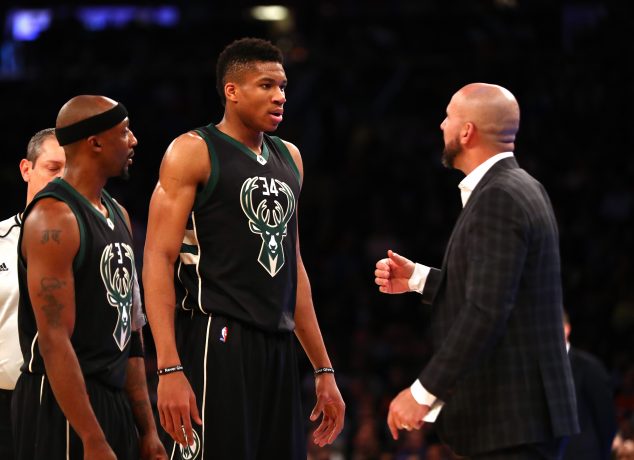 This is what makes the success Antetokounmpo has enjoyed since becoming the Bucks' point forward so special and unique. This season he was named an All-Star, became the first player in NBA history to finish in the top 20 in total points, rebounds, assists, steals and blocks in a single year and at times made the Raptors look like a helpless JV squad in the first round of the playoffs.
He's also offered us a glimpse into basketball's inverted future.
Today, Antetokounmpo is viewed as a gem, a unicorn—a freak, as his nickname suggests. The reality, though, is that more players like him are on the way. Maybe they won't boast 7-3 wingspans and 12-inch mitts, but there's a whole generation of "point forwards" ready to infiltrate the basketball world. Some day, we may see a whole batch of them running up and down NBA courts.
"The game, especially at the NBA level, is no longer being played traditional with traditional positions and position definitions," says ESPN basketball analyst Fran Fraschilla. "Kids growing up see this."
What does all this mean?
That one day soon there may be so many point forwards on NBA courts the moniker freak will no longer apply.
Many take credit, but Marques Johnson swears he was the first to ever use the term.
It was May of 1984, and Johnson's Bucks were struggling in their first round playoff bout with the New Jersey Nets. Milwaukee was thin at point guard and getting killed by Nets All-Star guard Micheal Ray Richardson. So Don Nelson, then the Bucks head coach, came up with a crazy idea: have Johnson, a 6-7 forward with a better handle than most of his peers, initiate the offense by bringing the ball up the court.
"So instead of a point guard I'm a point forward?" Johnson asked. Nellie, the NBA's resident mad scientist (who at the time Johnson says was wearing faded jeans with a corduroy shirt and "nasty" brown boots), thought the title was perfect.
Nelson's Bucks weren't the first team to employ point forwards as a means for triggering the offense. Rick Barry, also a 6-7 forward, spent much of the '70s running various pick-and-rolls from the top of the key ("We didn't call it the 'point forward' back then, but I'm pretty sure I was the first," the never-shy Barry says now.). And then there was the Seattle SuperSonics team coached by Lenny Wilkens in 1977-78, when Wilkens instructed forward John Johnson to dribble the ball up the court so that sharpshooters Gus Williams and Dennis Johnson could roam free of the ball.
But it was Nelson who would become the point forward's greatest proponent. He continued to use it in Milwaukee (with Paul Pressey) and would later bring it to stops in New York (Anthony Mason) and Golden State (Stephen Jackson). Meanwhile, more point forwards slowly began to show up on NBA floors. There was Magic Johnson and Scottie Pippen, Lamar Odom and, of course, LeBron James.
Yet it wasn't until the NBA's decision to ban defensive hand-checking in the summer of 2004 that the seeds for this new world were more firmly planted.
The rule change, implemented to create more free-flowing offense, set off a chain reaction across the basketball ecosystem. No hand-checking opened up the lanes for guards to penetrate, which pushed teams toward offenses constructed around dribble-drives, which forced defenses, freed from the shackles of the no-longer-existent defensive three-second rule, to react by packing the paint (mostly thanks to the defensive designs of Tom Thibodeau), which offenses then countered by spreading the floor with shooters and pinging the ball all around the court.
Suddenly, the rules of positions were no more. Point guards became rim hunters (10 of the league's top 18 scorers this season were point guards) and power forwards became long-range snipers and everything you'd find in a Coaching 101 textbook was rendered obsolete. Add in the increased presence of talent from international leagues where, as Fraschilla puts it, "big kids are trained at a young age how to handle the ball," and you get a league that looks completely different than the one Johnson was playing in.
"I was dribbling the ball up the floor," he says. "But I wasn't really playing point guard. Guys like Giannis and LeBron, they're on a different level."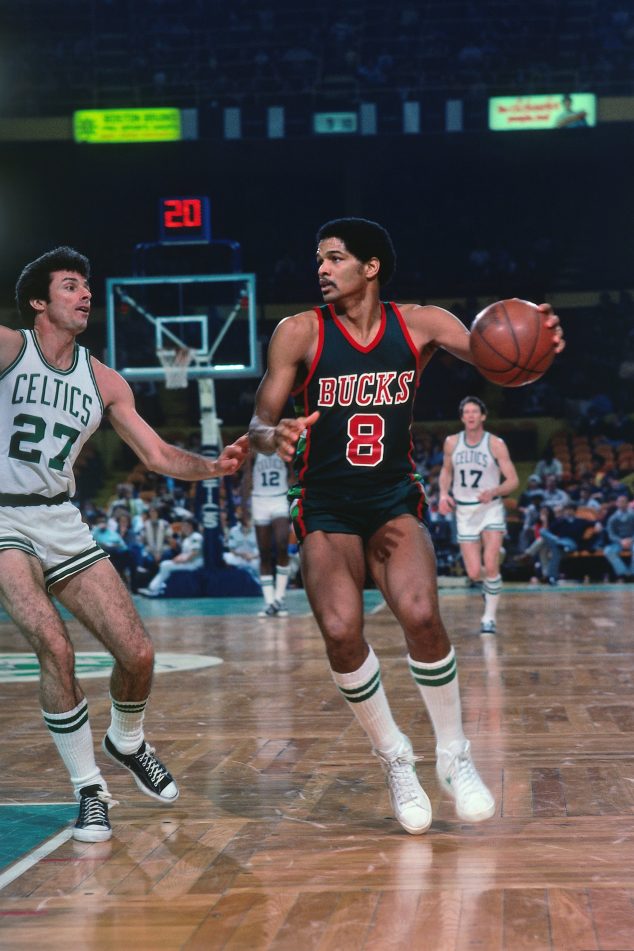 Bob Cimmino used to be just like everyone else.
"When I was a younger coach, I learned about positions the way you do chess pieces," he says. "The 1 is supposed to do this, the 2 this—that's how I used to coach."
Recently, though, Cimmino, the sexagenarian head coach at New York's Mount Vernon High School, one of the country's most successful basketball programs, has changed his ways. He says he's become more open to having his tallest players run the show (though only after they prove they can make a layup inside). He even offers proof: much of his team's success this season came with 6-5 Noah Morgan, a Fairleigh Dickinson University signee, playing the point.
Part of that, Cimmino says, is the result of a coach going through a typical evolution. But there's more to it, too.
"It's rare these days to have a kid grow up and want to play the 5," he says. "It's just unglamorous."
This, no doubt, was what the NBA had in mind when it initially banned hand-checking 13 years ago. Not only did the rules alter the DNA of the NBA game, but the move created a new product featuring new players boasting new skills for the millions of youth players throughout the world to study and mimic.
"Over time things trickle down," says Rob McClanaghan, a renowned basketball trainer who's worked with stars like Russell Westbrook, Derrick Rose and Kevin Love. "Now you see kids wanting to shoot like Steph and high school coaches trying to play like the Warriors."
To do so, though, you need to have multiple ballhandlers, which means you need to have multiple players who are well-rounded, which has led to an important change at the grassroots level.
"In the past, youth coaches would pigeonhole kids into positions," Fraschilla says. "Now everyone learns to shoot and dribble."
And so you have a whole army of young big-bodied players—players who in the past would have been relegated to the paint and forced to run suicides every time they dribbled the ball—honing their point guard skills. Some of them, no doubt, are bound to make the NBA, where they won't be viewed as one-in-a-million freaks or special weapons, or even point forwards.
They'll be known as point guards, all of them. The inevitable rise of the point forward will kill the term and all its built-in prestige.
—
Yaron Weitzman is a Senior Writer for SLAM. Follow him on Twitter @YaronWeitzman.
Photos via Getty Images