On Monday night in New York City, roughly 24 hours before the Indiana Pacers visited the Knicks at Madison Square Garden, 2017 NBA Slam Dunk Champion Glenn Robinson III hopped out of an SUV on 6th Avenue and stopped traffic with a dunk—literally.
With some help from NYC jeweler Mr. Flawless, and to the astonishment of hundreds of bystanders, Robinson shut down one of the city's busiest streets and showed off his bounce in a pair of Li-Ning WoW All-Star Lifestyle kicks available only in China.
We caught up with the 23-year-old Robinson, who is averaging career-highs in minutes (21.2), points (6.2) and rebounds (3.6) in his second season with the Pacers, the next day to learn how it all went down. Plus, we asked him about his growing celebrity since winning the Dunk Contest, what it was like growing up the son of an NBA star and who he's picking to win the NCAA Tournament.
* * *
SLAM: How did you dunk in the middle of 6th Avenue?
Glenn Robinson III: It was in between the red lights, we ran out there real quick and we had about a minute and a half. People from all over the street started to come out and watch and take videos. It was cool, I had fun doing it.
SLAM: Were you skeptical at first when you heard about the concept of the stunt?
GRIII: [Laughs] Yeah, I thought it was crazy, I didn't think it was possible. It was cold outside so it was hard to jump, but we made it work and just had fun with it. It was a Range Rover that was wrapped with my name and "Slam Dunk Champion" and Way of Wade, so it made it real fun.
SLAM: Did you think about throwing down a crazier dunk? You kept it pretty simple.
GRIII: I kept it simple, we just wanted to get a good shot for the cameras. And not get hurt or do anything crazy with a game the next day.
SLAM: What was the reaction from bystanders?
GRIII: A lot of people recognized me from the Dunk Contest. And that's kind of how it's been everywhere. The Dunk Contest has really led to more publicity and more people recognizing me. So yeah they were stopping and taking pictures and videos. We had a great time.
SLAM: More people are recognizing you now, huh?
GRIII: Yeah, it's been a lot of that. Going into it, I was like, the Dunk Contest is really the big stage. Everybody watches All-Star Weekend to watch the Dunk Contest. That's the really exciting moment of All-Star Weekend. So to win it, and especially to be a surprise to a lot of people, it's been eye-opening.
SLAM: Do any of your teammates give you shit now for being more of a celeb?
GRIII: [Laughs] They joke around with it. My teammates will joke around and be like, Man you won the Dunk Contest and now you've got all kinds of interviews and marketing to do. They're like, It's funny how quick things can change. But they've been great throughout the whole process and all my teammates, they were, I think, more excited than I was when I won it.
cashhh me outside when in #NYC #overlydedicated pic.twitter.com/egASk9Ejoq

— Glenn Robinson III (@GRIII) March 14, 2017
SLAM: How are you feeling about Michigan's chances in the NCAA Tournament?
GRIII: I'm feeling good, I think we could be a surprise team. We surprised people in the Big Ten Tournament and came out on top of that, so hopefully we can continue to do the same thing and get pretty far in this.
SLAM: Your squad went to the title game in 2013. What do you remember about your first taste of the NCAA Tournament?
GRIII: The first time in the Tournament, I was a little bit nervous. But we had such a good team—me, Tim Hardaway, Trey [Burke], Mitch [McGary], Nik Stauskas, Caris LeVert. We just played aggressive and kept at it, and I think after our first game we really started rolling, we weren't nervous, weren't thinking about anything. But that's a big-time stage—everybody's watching. I remember getting to the National Championship and playing in front of 75,000. Besides winning the Dunk Contest, that was the best feeling in my career. Playign in front of that many people and representing Michigan.
SLAM: Who's going to win it all?
GRIII: I have to go back and look at the bracket and fill one out. But I mean, I'm a Wolverine so I'mma take Michigan going all the way but I don't know, I haven't paid too much attention and I haven't had a chance to fill out a bracket. I'm about to get on that.
SLAM: What's the vibe in the Pacers locker room as you guys make this playoff push?
GRIII: It's a tight race right now in the East with all the teams. We know every game counts. We're not putting any added pressure on ourselves, but we feel like we're playing our best basketball right now and getting our chemistry together. Knowing that we need all these games and we can't afford to lose any or let tight games slip away, so I think our focus is really sharpened right now and we realize what's at stake.
SLAM: Who's the loudest voice in the locker room, leadership-wise?
GRIII: I think Monta, Monta Ellis is.
SLAM: Is there any specific message he's trying to give the team on a daily basis?
GRIII: In the locker room, he's kind of that leader who likes to take charge, but he also likes to lead by example. Same with Paul [George]. Monta is always trying to get us to play the right way. Move the ball, share the ball, not caring who scores but just really play together as a team, that's what he always stresses.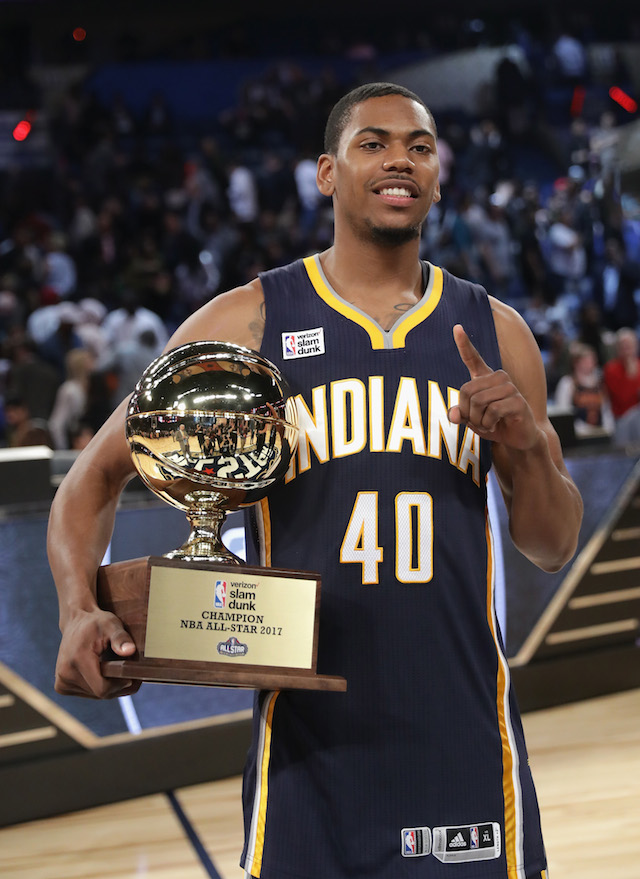 SLAM: You've already played on a few teams so far in your short time in the NBA. Do you finally feel like you've found a solid foundation to grow with the Pacers?
GRIII: Yeah, I do. I think that coming to Indiana has been a great thing for my career and really got my name out, and shown what I can do. I think I've gotten a lot better and continue to get better, and I think as these years come, I'll continue to get more minutes, continue to get better, and just keep proving myself.
SLAM: Being from Indiana, what's it like playing for the Pacers?
GRIII: Jeff Teague, he's actually from Indianapolis. I'm from two hours up north, by Gary. A lot of my family has to travel two hours, so I'm not too close to home, but not too far. So being an Indiana guy, it's been great for me just to be at home and playing, and giving back and going out to the community, I think that it means so much more from someone that's actually from there and wants to help the community that they were raised in.
SLAM: Were you a Pacers fan as a kid?
GRIII: I was more of a Bulls fan, because Chicago is only a 30-minute drive, rather than two hours. If we ever went to a city, we always went to Chicago.
SLAM: Your dad had a great NBA career. What's it been like to carve out your own path in the League?
GRIII: My mom and dad, they never forced me to play. It was always because I wanted to. I think that was the biggest thing for me. I always wanted to take my own first steps, and take my own path with my career. I think I've been doing that.
SLAM: What's the best part of having a former NBA player as a dad?
GRIII: Just getting that NBA experience, getting to see the lifestyle, getting to see the things that they do on that level, see how business is conducted. I remember going to some practices when my dad played with the Bucks, with Ray Allen and Sam Cassell. I don't have a vivid memory but I just remember going to practices and going to the arena to watch them play. That experience was the coolest.
SLAM: Will your dad ever get on you if you have a bad game now?
GRIII: Nah, nah, he's never been that type. If anything, he'll give me advice. When I was coming up, he never forced me to play, never was trying to force anything on me, was always just supportive.
SLAM: You still see people wearing his throwback jersey every once in a while?
GRIII: Yeah, I see the Milwaukee Bucks or the Purdue jersey sometimes. It's cool to see, my dad being as successful as he was in his career. I'm just hoping to be as successful or better. That's what he wants: He wants me to be better than he was.
—
Abe Schwadron is a Senior Editor at SLAM. Follow him on Twitter @abe_squad.