Watching the 2017 NBA playoffs, and the much-hyped but ultimately lopsided Finals in particular, there was a feeling that was impossible to shake.
What did we just watch? We watched the Golden State Warriors sweep to the Finals before dominating in three of their four wins against the defending champion Cavaliers. We saw the two guys responsible for the previous three League MVP awards, neither of them yet 30 years old, surrounded by a "supporting cast" that included two other All-Stars and a seemingly weakness-free mix of young dudes and vets, all of them happily sharing the ball and buying in defensively and generally just having a hell of a good time. We watched them go 31-2 over the final two months of the season, playoffs included. We watched LeBron James average a 30-point triple-double against them in the Finals, knowing all along it wasn't nearly enough.
We watched all of this, and whether we enjoyed it or not—a complicated question depending on your rooting interests and your definition of the phrase "super team"—nearly all of us experienced that same feeling: that this Golden State squad was just getting started. That they had quite literally changed the game, climbing a notch higher on basketball's evolutionary ladder than the rest of the League was yet ready to reach, and that barring injuries (or an ego-clash that, on available evidence, seemed highly unlikely), they had just claimed ownership of the League. That at their best they were literally unbeatable—and that there was every reason to think they'd remain so for the next four, five or six years.
In essence, these Warriors are the future, and that future is now—and for the rest of the League, the foreseeable future is bleak.
How the Cavs and the League's 28 other teams might adapt to this reality varies, of course; a small handful of squads in places like San Antonio, Houston, Boston and perhaps one or two other cities can at least theoretically try to improve enough to challenge the Dubs' dominance. But even those select few face long odds; for the rest, it'd be foolish to think they're playing for anything other than the right to contend in a post-Warriors world. The draft maneuvering, trades and free-agent moves to come over the next few summers will be interesting to watch, but nothing anyone does seems likely to matter.
Because maybe it's just this simple: If Golden State stays healthy and intact, everyone else is playing for second.
You can make a case that the real intrigue of watching the NBA over these next few seasons might center on that squad in Oakland—or San Francisco starting in a couple of years, which we'll get to—to see just how far they can take this thing. "They're going to be here for a while," said LeBron James in the hours after his team's Game 5 loss. "Pretty much all their big-name guys are in their 20s, and they don't show any signs of slowing down. From my eyes, they're built to last a few years. They're assembled as good as you can be assembled."
Where to start—or rather, who to start with? Who is this team's most valuable player? The fact that there's not an obvious answer speaks to the superstar depth that makes the Warriors unstoppable. You can start with the new addition, Kevin Durant, who was so good in these Finals that there was no serious case to make against him winning the MVP award despite LeBron's unbelievable series line of 34-12-10. With his 35.2 points per game and array of clutch shots in the series, Durant answered any doubts about his ability to mesh with an already loaded squad.
And then there's Stephen Curry, whom it's almost easy to forget owns a pair of regular-season MVP awards, and whose 27 points, 8 rebounds and 9 assists in the Finals route was pretty much taken for granted. Yet it was Chef Curry who set a playoff record with a +245, a testament both to all that he does with the ball, and to the impact of his presence in making things easier on KD and the rest of his teammates. (He did after all lead Golden State to 73 wins and a Finals appearance a year earlier, without Durant's help.)
So yeah, there's no wrong answer between those two, which might be the single most important factor in the Warriors' success. Throw in "mere" All-Stars Draymond Green and Klay Thompson, the ageless human Swiss Army knife Andre Iguodala, and reliable veteran role players from Shaun Livingston to David West, and you see a roster full of Ws who truly only care about Ws.
If there were people who doubted this group's ability to come together last fall, it's impossible to hear them now.
"I'm not sure there was really that much of a story about our guys not being able to co-exist," Steve Kerr said after the series. "I mean, come on—you got a bunch of guys who are talented and can shoot and pass and dribble, and they're unselfish. There was never any question in my mind that this was going to work."
In setting the tone for that team-wide commitment to winning over shots, stats or anything else, the Warriors themselves give Curry much of the credit. Said Durant, "It's amazing to see a superstar who sacrifices, who doesn't care about nothing but the group."
Asked in the post-Finals celebration if he could imagine another reigning MVP deferring to a newcomer, Warriors GM Bob Myers was blunt: "The only one I know so far is Steph Curry."
We all saw what made it work on the court: a team full of truly great all-around players—and lethal shooters in particular—each as willing to pass as to shoot. Or maybe more willing, given the team's staggering assist numbers: they dropped 30 or more dimes in seven playoff games, a total matched by the rest of this year's playoff teams combined. Then there's the team-wide commitment to defense, a tone set by the presence of a couple of All-League defenders in Thompson and Green, by the length of guys like Durant, Zaza Pachulia and JaVale McGee, and by the unmatched incentive of knowing that every stop meant a chance to get out and run.
All of which leads to another (terrifying) question: Can they actually get better? The predictions of a four-or-five-year title run are based largely on the idea that this team, which won 67 games the year after that record-setting 73-win squad, is virtually unbeatable now. But what if, to the rest of the NBA's chagrin, they improve?
Maybe that's not even the question to ask. No doubt, they could try to break the regular-season wins record that Curry and Co. set in 2015-16, push for 75 or 80 wins just to see if it's possible. But if anything, the question is less about win totals than about efficiency. And in that, a look at the Warriors' final 67 games last season might provide the answer.
The consensus within the Golden State organization is that the team's 109-108 Christmas Day loss to the Cavs was the turning point—for Curry, and by extension for the Warriors as a group. It marked the end of the post-KD adjustment period, and the moment when Curry figured things out. As Stephen himself said after the Finals, early on last season, he "tried to analyze and control the situation and make sure everybody was happy and getting shots. But honestly after that Christmas Day game, I kind of understood that we have such high-IQ players that if I could be aggressive, do what I need to do every single night, everything will kind of flow from that."
Draymond echoed his man. "Steph definitely took a back seat to start the season—until he realized we didn't need him to take a back seat. And when Steph turned that corner, I think it was after Christmas Day, we became almost unbeatable. That's what we needed. This whole thing, 'Who is going to take less shots?' None of them. The ball's going to find who it needs to find. So once they got to that point…I think everything changed for this team."
The numbers don't argue: Over the final 50 games, Golden State went 40-10, with five of those losses coming while KD was injured. Take away the games Durant missed, and add to that their 16-1 playoff mark, and you realize that Dray's "almost unbeatable" is no exaggeration. They may not be able to get much better, but health permitting, they could conceivably extend that indomitability over a near-flawless 98 games.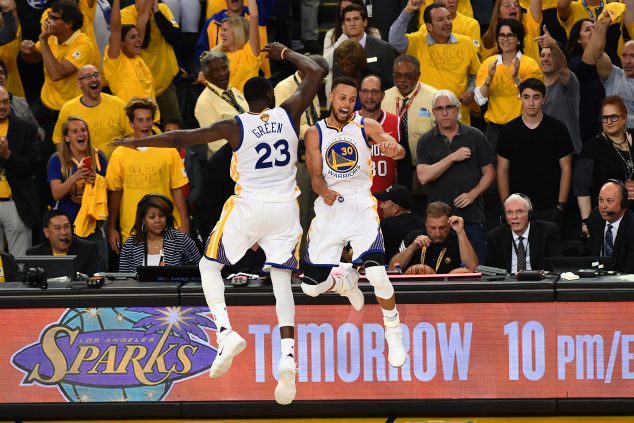 So what could slow them down? Probably not money. Hard as it is to believe, the Warriors were a middle-of-the-salary-pack squad last season, and through a combination of smart management and a bit of luck, there's no reason they can't keep Durant, Curry, Green and Thompson together through their peak years. For the front office, the challenge is three-fold: Find more role-playing veterans (like David West) who can provide reliable minutes at relatively low prices; develop more late draft picks (like Patrick McCaw) capable of the same; and be willing to take the luxury tax hit.
Of course, there should be no shortage of savvy vets and eager-to-please youngsters dying to sign up with Golden State in the coming years. Finding the right ones is where the Warriors' much-praised front office comes into play. "I can't believe I'm giving him a compliment considering we're about to go heads up in negotiating," Andre Iguodala laughed after the Finals, "but Bob Myers has done an awesome job of finding the right personalities to fit the culture and balancing it out. That's the culture that we built."
It's a culture that extends to the sidelines, where Steve Kerr has established himself as one of the game's best coaches. Said Iguodala, "Steve's got a great brain. He's trying to figure everything out, like, 'OK, I know how to get the best out of each one of these guys. But we're going to take it to the next level.' He does a great job of knowing how to communicate with each individual, which is key."
Kerr's boyish looks aside, his track record as both a player (count those five rings) and coach speaks to his savviness and competitive fire. It's ironic that it was the Warriors' head coach, and not any one player, whose health most threatened their success this season; of course, even when Kerr missed much of the playoffs with back issues, his squad didn't miss a beat. It spoke to the impact Kerr has had, but also to the kind of guys he's got playing for him; whether the Warriors could maintain this level long-term if Kerr had to step away from the game remains to be seen.
That word "culture" comes up again and again with this team, and from ownership on down to the end of the bench, that culture—put team before self, have fun and dominate—is a consistent one. With that in mind, maintaining consistency would seem to be priority No. 1. The sole change the franchise has committed to is its anticipated move from Oakland to San Francisco prior to the 2019-20 season. Will the shiny new Chase Center hold the same magic—let alone the same noise—that Oracle has provided? If these same Warriors are still playing historically great basketball, they could probably play out at Alcatraz and it wouldn't matter.
And there you have it: An all-time collection of talent, all at or near their primes, personified as much by their collective selflessness as by their skill; a breathtaking style of play that's as fun to execute as it is to watch; visionary leadership from the front office and the coach; manageable contracts for their All-Stars; and an organization that attracts exactly the sort of role players it'll need to fill in the gaps. At this point, it's almost easier to imagine Golden State stacking the next five 'chips than it is to think of anyone else stealing even one.
The future, like the present, belongs to the Dubs.
—
Ryan Jones is a Contributing Editor at SLAM. Follow him at Twitter at @thefarmerjones.
Photos via Getty Images