We spoke to Derrick Favors last summer, about five months after the Jazz were eliminated from playoff contention in 2016. Favors, a soft spoken and kind man, still had anger in his voice.
"I personally have a lot of expectations this year, especially with how close we were to making it to the playoffs last year," he said heading into this season. "I think every guy on the team knows that, and I think every guy on the team is out there working hard to improve their game so we can reach that goal this year. Big things are expected from everybody."
As Favors was saying that, Gordon Hayward was already back in Utah, working as hard as he ever had on his game, gearing up to have the best season of his career.
"It all really stemmed from losing," says Hayward, a first-time All-Star who is leading the Jazz to the postseason with 22 points a night. "The way that we finished the year. Actually, the last couple years we've been close to getting in the playoffs, but not good enough.
"I can't stand losing," he continues. "It sucks when you have to constantly watch the teams in the playoffs year after year. I wanted to make it into the playoffs and I knew I had to improve my game if we wanted to get there."
Hayward met with head coach Quin Snyder and assistant coach Johnnie Bryant after the end of last season to discuss what they could do to take the leap—Hayward as a player, Utah as a team. They targeted Hayward's finishing and footwork as areas to work on.
"We watched a lot of film and saw that we wanted to find easier ways for me to score," Hayward says. "And footwork and finishing around the rim, the ability to create contact and get to the free-throw line were big things for me in my game. Once we decided that's what we wanted to work on, we hit it hard."
Hayward didn't go home to Indiana during the summer. Instead he stayed in Utah to work with Bryant as much as possible. And he went to California to work with another Bryant.
Stories about Kobe's maniacal work ethic have swirled around for years. In high school he would show up at 5 a.m. to get shots up, go to school, then be in the gym until 7 p.m. When he was with Team USA in 2008, Dwyane Wade and Chris Bosh said he'd finish his workouts before they'd eaten breakfast. He'd even practice without a ball.
"He's one of a kind, for sure—I believe all those stories," Hayward says, though he wouldn't reveal exactly which trade secrets Vino shared in their private workouts. "I already respected him a lot, but then after working with him just for three days, it made me respect him even more. Just his work ethic, his intensity, his passion for the game were really inspiring. I was just thankful that he took his time and helped me out a little bit."
In the later stages of Kobe's career, his game was built on attacking from the midrange and high post. He used precise footwork to execute unstoppable spin moves that left inexperienced defenders searching for answers.
And while Hayward's not a scorer on Kobe's level (very few are), he's improving on his mid-range shooting and is up to a usage rate of 27.6 percent, which is close to Kobe-level.
Hayward is also posting career-highs in points per game, rebounds, three-pointers made and field goals made in 2016-17. He's up to 13 games of 30 points or more, another career-best. The seventh-year forward's having, by far, the best campaign of his career. A season like this one has been a long time in the making for Hawyard.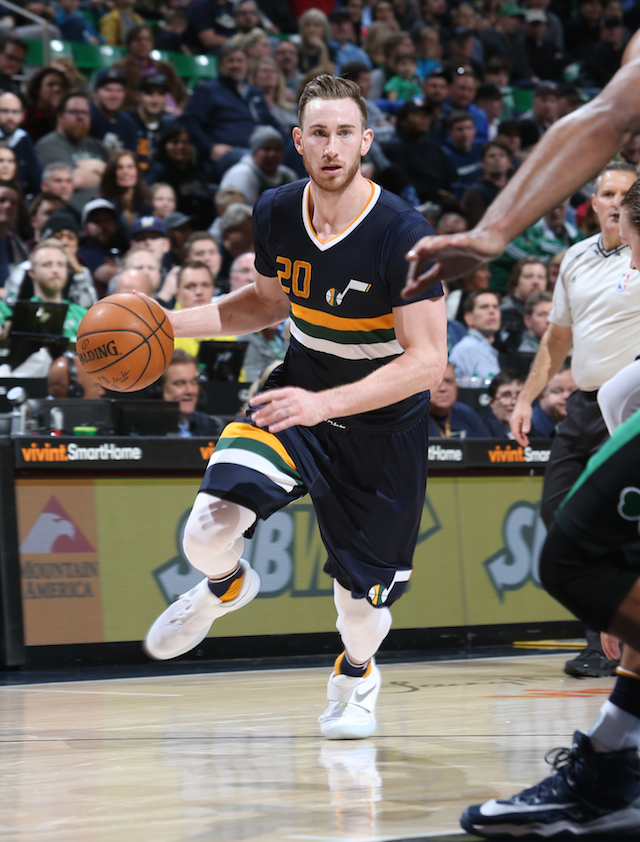 While Favors was giving his team an extra kick in the behind and Hayward was busting his tail with Johnnie Bryant, the Jazz front office was hard at work, too. Over a five-day span in early July 2016, general manager Dennis Lindsey signed Joe Johnson and made separate deals for Boris Diaw and George Hill. With a combined 284 games of playoff experience between those three, Lindsey reloaded his team for a playoff run and also gave all the young'ns on the squad some veteran leadership.
At one point, Johnson was starting at power forward. Though Diaw's only averaging 17 minutes per game, he immediately clicked with the team. He's still getting buckets—and producing buckets for others.
The real difference maker has been Hill. Without him, Utah's 18-15. With him, they're 32-16. And Hayward jumps at the chance to praise his PG.
"I was ecstatic when I found out that we had picked up George," he says. "I knew George because we're both Indy guys. I loved the way that he played and I thought he would be a great fit for us. He's a terrific defender: disruptive, long and can get in the passing lanes. He's a big guard. And then offensively, he plays with so much poise and is under control. And he's also been in big-time situations. He's been on teams that have gone far into the playoffs. I think that experience helps, for sure. Especially on a team where there's only a couple of us who have been to the playoffs and we were swept [by the Spurs] in the first round. To have that experience, along with Joe and Boris, it's really helped us this year."
With those veterans making an impact and the strength of the League's fifth-best defense, Hayward and the Jazz have jumped up to the top half of the West—they'll make the postseason for the first time since 2012, and finish either in the fourth or fifth slot in the conference, depending on how things shake out on the final night of the regular season on Wednesday. Hayward says he's not feeling the pressure anymore.
"I think there was pressure at the beginning of the year because media people were picking us to be a lot better this year, maybe surprise some teams," he says. "There was pressure from the fans, too. We've been rebuilding for a couple years now. They have a tradition of winning teams in Utah. I know they were tired of seeing us not make the playoffs. For us, though, I think there's no pressure as a player. I think all of the pressure is on Golden State and Cleveland and San Antonio. So for us we don't necessarily have that pressure on us."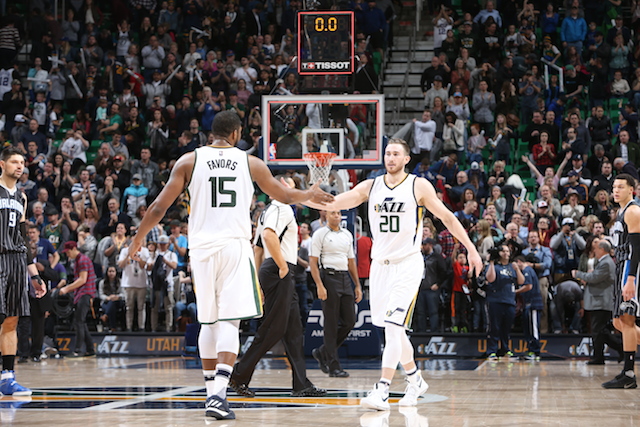 Gordon Hayward's been in the spotlight since his Butler Bulldogs made an improbable run to the NCAA National Championship Game in 2010. Since then, he's been climbing. He was picked ninth in that year's draft. He's increased his scoring average every season. He's an All-Star. He's the face of a franchise.
Hayward perks up when talking about Hill or Rudy Gobert—"He's a goofy dude"—but stays reserved when speaking about himself. During the All-Star Game in New Orleans, cameras caught him talking to Kemba Walker.
"Man, I don't got handles like you," he said to Walker.
"You got handles, though," Walker said, incredulously. "C'mon, now."
Of the whole All-Star experience, the Jazz stud says flatly, "It was really cool to be able to say that I was an NBA All-Star," which is about as real of a sentence as you could possibly utter, if you think about it.
The one time Hayward seems to enjoy talking about himself is when he discusses his dunks. On the low, Hayward's been bodying people for a solid two years. He's caught Giannis Antetokounmpo, Roy Hibbert, Miles Plumlee and Alex Len, just to name a few. He even put Paul George on a poster a few years back.
Even though he's a righty, he likes to jump off his right leg and lead with his left hand for most of his dunks. And about once a night, the Jazz clear out the right side of the floor for Hayward to fly to the hoop for an alley-oop from Joe Ingles. Seriously, when's the League gonna catch on to that one?
"It just happens in the game," Hayward says of his dunks, chuckling a bit. "I think people maybe underestimate me a little bit, but I'm just gonna keep doing my thing. I just go out there and try to get the points, try to get the bucket. If somebody jumps, I may dunk on 'em." That's the closest Hayward ever comes to bragging.
Expectations are a strange thing: often distorted with hindsight, and always difficult to live up to. Hayward put in the time this past summer. He didn't even go home to Indiana. His franchise is, suddenly, alive. Now the kid from Brownsburg, IN, is prepping his team for a playoff run.
"I expected us to be better than we were in the years prior," Hayward says. "I knew with the veterans that we added we were gonna take another step. I didn't quite know what that step would look like, and certainly this year we've had flashes where we've been really good and also flashes where we've been pretty bad. I think we're trending in the right direction and we're looking to close this year out strong."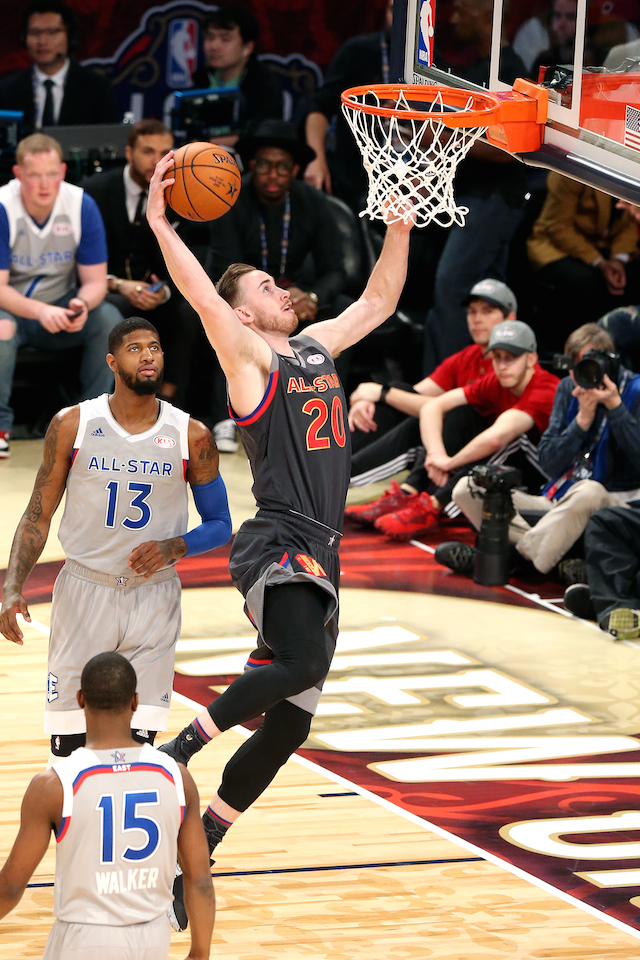 Max Resetar is an Assistant Editor at SLAM. Follow him on Twitter @maxresetar.
Photos via Getty Images