Grant Hill Talks Russell Westbrook, James Harden, Triple-Doubles and Steve Kerr's Transition To Coaching
Grant Hill retired from basketball in 2013, leaving a massive imprint on the game. Two NCAA championships at Duke. Seven NBA All-Star appearances. Five All-NBA selections. Career NBA averages of 16.7 points, 6.0 rebounds, and 4.1 assists through eighteen seasons. A memorable poster over Alonzo Mourning.
But turns out, he wasn't done with the game just yet.
Hill has remained close to basketball, as a part-owner of the Atlanta Hawks, co-host of NBA TV's Inside Stuff (which celebrated it's 100th episode this past weekend), NBA analyst and color commentator on TNT.  "Basketball has really been a part of my whole adult life," he told SLAM, "My life is consumed with the NBA, maybe even more so now than when I was a player. But it's great to still have the relationship to the sport and to the League. And to continue to contribute to its success. That's the way I look at it."
This seemingly never-ending relationship between Hill and the NBA has made him an expert on our evolving league. He shared his take on how styles have changed, the success of Steve Kerr, and more.
—
SLAM: How do you think the game has evolved since you retired?
Grant Hill: The game was in the process of changing at the end of my career, and I think it's changed even more since. It's more spread out, more pick and roll, shooting threes. When Sacramento and Phoenix started playing more open and free back in the early-to-mid 2000s , it was such a departure from what was popular at the time. It's almost like the rest of the League now has embraced that. Shooting more from the perimeter, playing with more pace, more possessions per game. So I think it's evolved. Better shooters, less physicality, and you know as a fan, as a consumer of it, it's fun to watch. There's still greatness on display every night.
SLAM: You were a stat-sheet stuffer back in your playing days, with 29 total triple-doubles. What are your thoughts on the ridiculous amount of triple-doubles were seeing this season from guys like Russ and Harden?
GH: It's fun to watch. It's great…I'm not trying to discredit in no way, shape, or form but I think one of the differences is in the 90s, the game was a little bit slower. I mean I remember a couple of those years in Detroit, I think we averaged like 85, 86 points a game. It was definitely more methodical, deliberate, walk it up, more grind…You know, it was tough. You didn't see a lot of people getting [triple-doubles]. Now, with more people shooting three-pointers, more possessions per game, more of the ball being in the point guard's hand or someone's hand and allowing them to really play and create for themselves and others.
And then, you got players who are capable. A guy like Westbrook, I don't think we've ever seen somebody like that. He has really been able to just have an impact on the game in so many ways…I think it's great for the game. It's fun. And I think it's a great storyline when one of our players gets a triple-double. It's part of the overall evolution of the League.
SLAM: Steve Kerr was the GM of the Suns back when you played for them, so you obviously got to know him well. Can you talk about his success as a head coach with the Warriors?
GH: Yeah, you know, I never knew he wanted to coach. When he was being pursued by the Warriors and the Knicks, I felt like he had a chance, from knowing him but also working with him in Phoenix.
He's a great communicator. And I know as a GM, he was one of the best at just knowing what to say at the right times. Having a great sense and understanding of what was happening—a great awareness collectively for the team but also individually. Whenever he addressed you as an individual, whether it was in his office or in the hallway or wherever, or talking to the team directly, he just had a real good sense of what was happening and what was needed—what players needed to hear. I don't think I had a general manager who had that talent, had that skill. I think so much of coaching is communicating and getting people to buy in and it's a little bit like a GM in the sense that you have to manage people. You have to manage personalities, expectations, the ebb and flow of the season. And as a general manager he was great. To hear about assembling talent, putting pieces together and making those pieces work, he was one of the best at that. And I think those same qualities combined with his intellect and understanding of how to maximize talent are certainly on display and have been for the last few years in Golden State.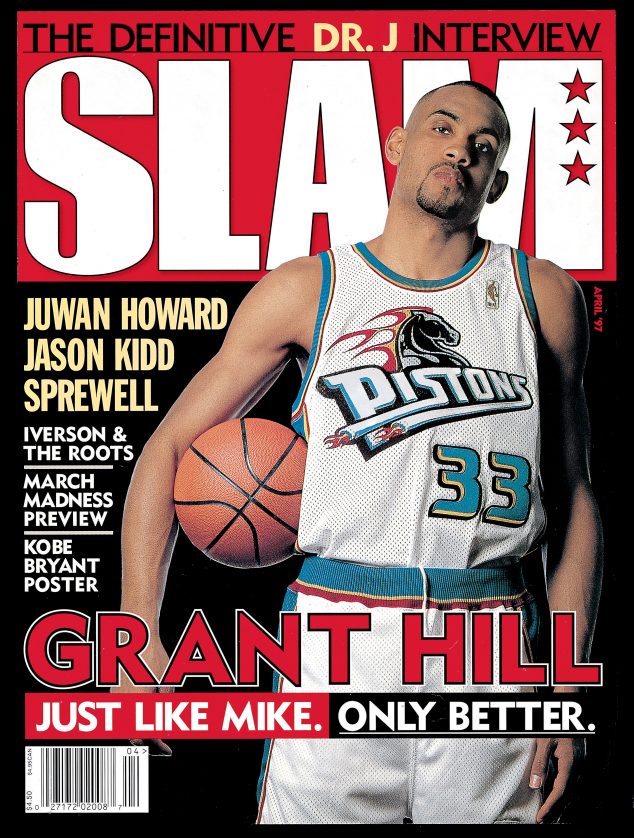 SLAM: You were on the cover of SLAM 17 in 1997 with the cover line "Just Like Mike. Only Better." Can you take me back to that time? What did you think about the cover and that bold proclamation?
GH: At the time, it was my third year and things were kind of rolling. You know, I was playing real well. I think when you're in the season and you're playing, you're just so focused and locked in that you don't really have time to reflect or internalize certain things. You don't really have time to focus in on it till your done and you look back. You're constantly going forward. But things were pretty good. The team was playing well. And at that point, we were kind of knocking on Chicago's door. I think at the All-Star break we had the second best record in the league behind the Bulls. So obviously we weren't on their level but you know it was just a good feeling. I was playing well, doing a lot of things for my team. So yeah, it was sort of a cool time because you're young and still got a lot in front of you. You're trying to prove yourself and establish yourself. And I think I was in the process at that time of doing that.
Related
Way Past Due — SLAM Story on the 1996 Olympic Team
—
Alex Squadron is an Editorial Assistant at SLAM. Follow him @asquad510.